Exploitation of Filipina migrant workers is the center of this Cairo Biennale artwork
Feminist Nikki Luna used actual hairs of domestic Filipina workers in making this piece
Jun 26, 2019
Abused. Raped. Assaulted. Sacked. Killed.
These are the verbs often accompanying the names of Filipina domestic workers when they hit the headlines. Upon hearing their tragic stories, we dub them as heroes and martyrs and praise them for their resilience. But what happens after that? When their stories fade away from the front page, their cases (if there are any) delayed, what do we do? We forget about them, until another tragic plight of a Filipina migrant worker surfaces on the news.
While they deserve to be called heroes and martyrs, their stories should never be something we should be accustomed to, let alone romanticize and glorify. Behind everything they bring home are long nights of pain and exploitation. They face their abusive employers for years just so they can protect and provide for their home, their children, and their parents. Many of them are discriminated and treated in inhumane ways. In the words of feminist artist Nikki Luna, they "work like cows, milking every blood, sweat, and tears."
READ: Nikki Luna's latest exhibit sheds light on the struggles of women in an anti-woman society
This is why Luna decided to create a cowhide rug for her featured work in the Cairo Biennale 2019.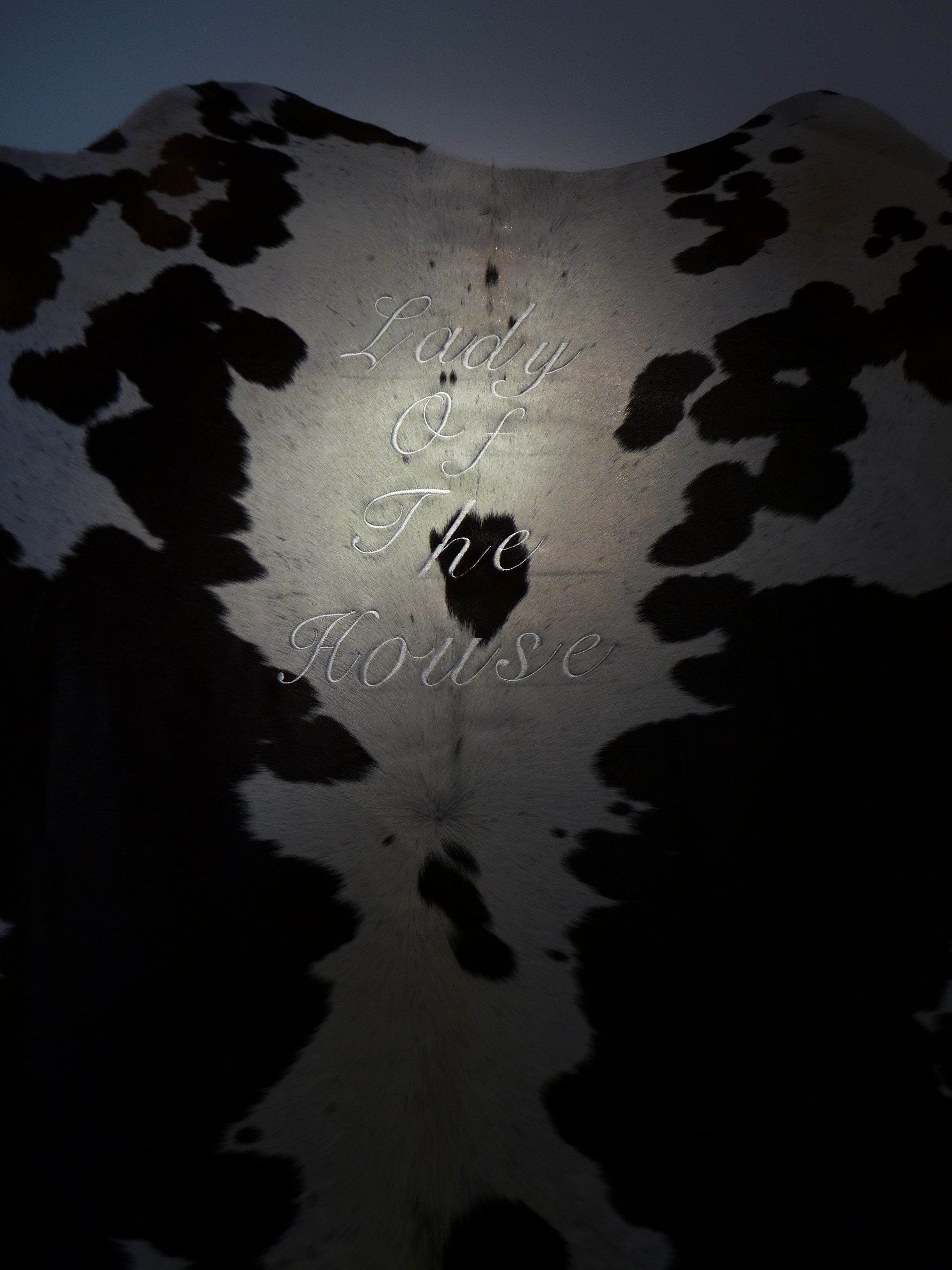 "I have been in contact with a group of domestic workers in Egypt and we have been sharing conversations for more than six months," she told Nolisoli.ph. "Along those conversations, l realized what I could possibly show at the Cairo Biennale [which is] the Filipino women's plight in Egypt."
Luna found out that in Egypt, migrant nannies and caregivers are not just working unprotected from mistreatment, they are also taking the roles of surrogate mothers. In some cases, they are forced to work illegally.
READ: A Filipino woman is raped every 72 minutes
"They come in with tourist visas in Egypt or are recruited legally in another country in the United Arab Emirates, but then they are passed on to another family and rerouted to Egypt. The system is entangled and they are left risking their lives."
Luna collected actual hair from the domestic workers she talked to and used it to create her fourth Cairo piece "Lady of the House."
"I was able to collect the hair from them in small amounts," Luna said. "They were very generous with their time and effort. They wanted my work to materialize the way I had shared my vision to them. It is their actual hair, all women, young, middle age and older. They are very much in this work."
View this post on Instagram
It took Luna roughly about six months to sew the hairs she collected. "It was actually still being sewn a day before it was shipped to Cairo," she said.
The process was tedious and time consuming for Luna, but "these details do not mean anything compared to the time they gave and lost as domestic workers in Egypt," she said.
Every year, thousands of Filipinos go abroad in hopes of providing a "better life" for their families. Yet they are more often than not faced with exploitation, and it's falling on the deaf ears and blind eyes of the people in power. Each strand of hair on Luna's work is not just a reminder of this plight, but also a call to action. We should not allow our fellow countrymen, who have already been victimized overseas, to go home and be faced with no justice. We should not allow the government to just sit back while this is happening, and just stand up when it's time to glorify the survivors. We need to do something before another Filipina worker hits the headline of a tragic story again.
Featured photo courtesy of Nikki Luna
Get more stories like this by subscribing to our newsletter here.
Read more:
To these women in MILF, peace and security means reclaiming their rights
"Nana Rosa" and how we're failing the comfort women
Our company is giving menstrual cups to our women employees because we care about the environment
What women and children wore when they were raped or sexually assaulted
Read more by Amierielle Anne Bulan:
Muses of the masters: A look into the women in famous paintings
Women in Philippine history you should know about
TAGS: art Cairo Biennale Cairo Biennale 2019 Cowhide rug Domestic festival Filipina filipino hair Nikki Luna OFW Overseas women Worker