Celebrate the last week of Pride with your queer family with these events
Resisting together is essential in a heteronormative society
Jun 26, 2019
June is for the gays!
For many in the LGBTQA+ community, Pride month is the most important time of the year. If you're in the closet or live in an area without any visible queer people surrounding you, seeing the bright, flashy, rainbow-filled parade of queer people confidently being out is a life saver. Equally important is seeing the swell of support from allies—and whatever you may think about rainbow capitalism, seeing brands push out campaigns targeting the LGBTQA+ community is uplifting.
Pride month is also just a great time for community building, period. There sadly aren't that many safe spaces out there for queer people, and for some people, going to a Pride event is one of the few times of the year you'll find fellow queer people in your area. And finding your chosen gay family is vital for a queer person's wellbeing. Because of this, we've compiled a list of events you can hit up this week.
Jun. 29
Marikina Sports Center, Sumulong Highway, Marikina

Of course, we have to start with Pride March. The oldest and largest Pride march in Southeast Asia, the Metro Manila Pride March emphasizes how Pride is fundamentally rooted in activism and protest. Without Marsha P. Johnson throwing the first brick at policemen during the historic raid of the Stonewall Inn in the U.S., the furious concerted effort of queer people around the world to fight for our rights wouldn't have happened (or at least, wouldn't have happened so soon.)
While queer people may have a better time now, it's not enough. Homosexuality is a crime punishable by death in some countries. Even here, queer people still don't enjoy the same rights as cisgender heterosexual folk. This year, the 29th MMPM's tagline is #ResistTogether, further highlights the need to take action.
Jun. 26
Commune Café, 36 Polaris St., Población, Makati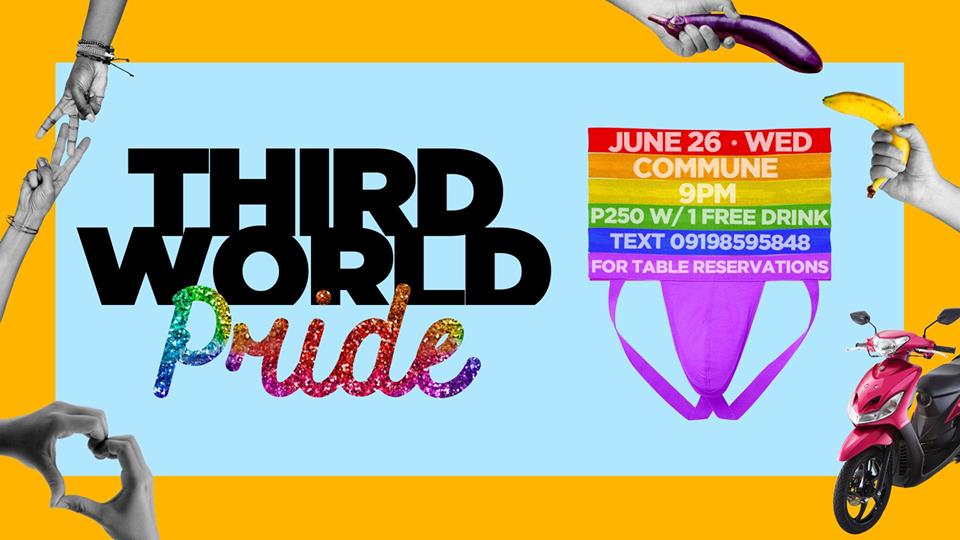 Third World Improv is a Manila-based comedy improv group that's inclusive to the LGBTQA+ community. Every year, they hold their special Third World Pride set that features their queer members. Price of admission is P250, which includes one free drink.
Jun. 28
XX XX, 20b, La Fuerza Plaza 1, 2241 Don Chino Roces Avenue, Makati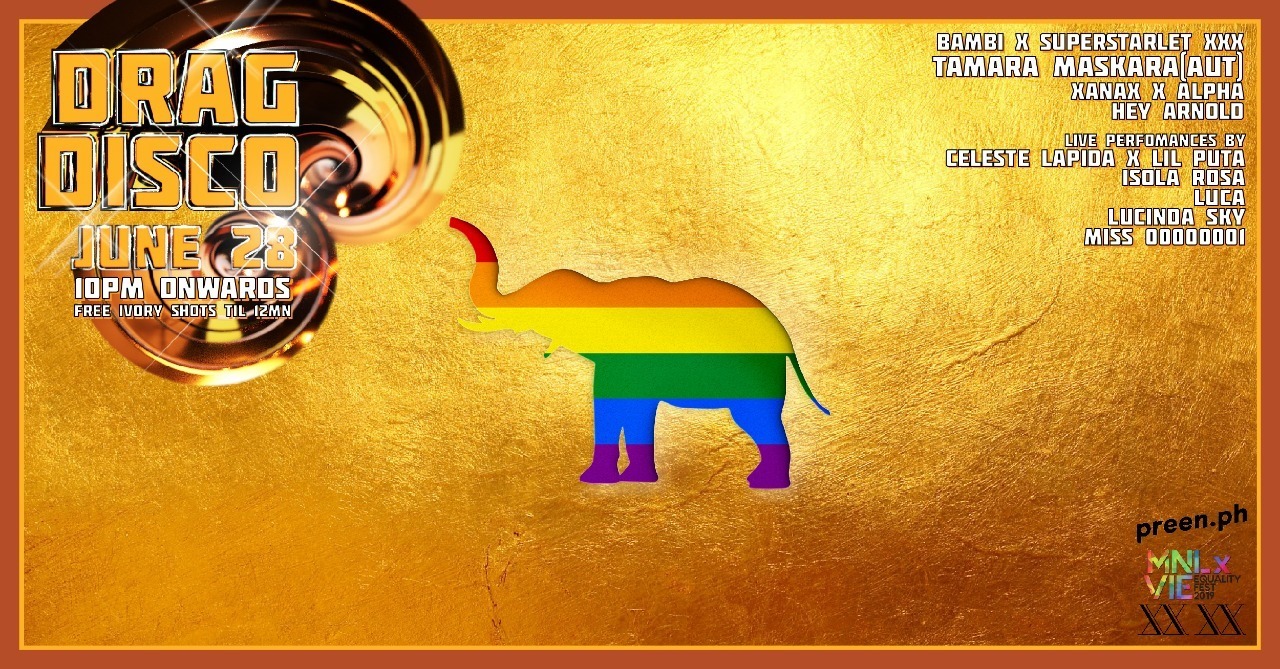 XX XX is a gay club inside arts hub La Fuerza Plaza. This month, they're holding a pride special in partnership with our friends at Preen.ph, the Austrian Embassy, and MNLxVIE. There'll be live performances by local queer acts Lucinda Sky, Celeste Lapida x Lil Puta, as well as by Austria-based guest Tamara Mascara.
Jun. 25-29
Tarzeer Pictures, 2288 Don Chino Roces Ave. Extension, Makati

Speaking of MNLxVIE, the joint campaign between the country and the Australian Embassy (VIE stands for Vienna) to support creative activism for LGBTQA+ rights and end gender-based discrimination and violence, formally commences on Jun. 25. As part of the campaign, there'll be numerous queer-related talks and performances at their partner venues Tarzeer Pictures, Tomatito Manila, UPFI Film Center – Cine Adarna, Cinematheque Centre Manila, School of Fashion and the Arts, and the aforementioned XX XX.
Jun. 30
Power Mac Center Spotlight, Level 2 Circuit Lane, Circuit Makati, Makati

Here's something a little different. You can celebrate Pride this week by watching a wrestling show by the Philippine Wrestling Revolution, the country's premier professional wrestling league. Queer activism and professional wrestling may not seem like they go together, but when you think about it, professional wrestling is kind of like hyper-masculine drag. (Now's about the time to point out that the fourth season of RuPaul's Drag Race did include a wrestling challenge.) Ticket prices are P450 per person, but they have an early bird discount price of P399 and a barkada bundle of P1,099 for three tickets.
Jun. 26
Nectar Nightclub, The Fort Strip, 5th Avenue cor., 26th Str., BGC

No pride list is complete without a drag show! Drag queens were an instrumental part of the initial Stonewall riots, and their radical queer performances encapsulate the very ethos of Pride. This week, The Drag Carter at Nectar Nightclub is holding a drag show where attendees can come in drag and lip-sync to iconic queer anthems ("get the chance to be crowned Drag Cartel of June!" says the event page). The queer campaign Project Headshot will also be launched that night.
Jun. 29
Cinema Centenario, 95 Maginhawa St., Quezon City
To celebrate Pride, microcinema Cinema Centenario (Read: Watch indie films past midnight at this new Maginhawa cinema) will be screening four films centered on LGBT+ characters on Jun. 29, the day of the Pride March. These movies include the iconic Nora Aunor and Vilma Santos lesbian flick T-Bird at Ako (a phrase that, almost forty years later, still seems unreal), Eddie Garcia's last feature film Rainbow's Sunset, Samantha Lee's sleeper hit Billie and Emma, and Cinema One Originals 2019 favorite Mamu; And a Mother too.
Jun. 16-28
Cinematheque Centre Manila, 855 T.M. Kalaw St., Ermita, Manila
The Ermita-based microcinema Cinematheque Centre Manila is devoting the entire month of June to Pride, with numerous talks and screenings of both local and international films. Admission for the regular Pride screenings is P100, while the screenings and talks under the International Pride Celebration, an event by the Film Development Council of the Philippines in partnership with the U.S. Embassy, Austrian Embassy and Swedish Embassy, are free admission.
Jun. 30
Cinema '76 Anonas, Unit 01, 3rd Floor Anonas LRT City Center Aurora Blvd. Bagumbuhay, Quezon City

At its Anonas branch, Cinema '76 is hosting a talk with LGBTQA+ directors and actors entitled Pride Sesh. Guests include Billie & Emma breakout star Zar Donato, 2 Cool 2 Be 4gotten director Petersen Vargas, Tale of the Lost Boys and Kasal director Joselito Altarejos, and the director and cast of Mamu; And a Mother too. In order to get a pass for the Pride Sesh, you'll need to present three tickets from any Cinema '76 screenings on June. Here are the schedules of their June Pride lineup:
Jun. 24 to Jul. 1
UP Diliman, Roxas Ave, Diliman, Quezon City

For Pride Month, UP Diliman's Gender Office is presenting a whole line-up of queer-related activities under Ginto's Pilak Namumulat. Some of the events are a LGBTQA+ art exhibit at Palma Hall on Jun. 24-28, free HIV-AIDS testing on Jun. 27 at Palma Hall, and Pride film screenings from now until Jun. 30 at Cine Adarna.
Get more stories like this by subscribing to our newsletter here.
Read more:
They deserve love, too: Underrated queer films you can watch Pride Month or not
These 10 films will introduce you to queer cinema
Tips for parents when their LGBTQ children come out
Read more by Zofiya Acosta:
Queer safe spaces that aren't clubs
Learn the Japanese art of making miniature sculptures on Jul. 1
The material and immaterial space of the Aquilizans' Fruit Juice Factory
TAGS: drag LGBTQA+ metro manila pride march nolisoli.ph pride professional wrestling queer