"I'm just here to hook up," Danton* told Czar Kristoff on Grindr, a dating app largely used by the LGBT+ community. "I don't understand what a workshop is for," Kristoff's match added.
Also on Grindr, Zeus Bascon paused, looking for the words to tell his match what the project really was about. Unfortunately, before he could finish, his match blocked him.
Selling a project to the art world in Manila and abroad was one thing, but sharing a community project with a sales clerk with limited opportunities and education was another thing entirely. "Do you feel safe when you go out?" Kristoff asked instead.
Hours later, Danton was still opening up about being a heterosexual-passing man in a hypermasculine space.
Later, it's Kristoff sharing at Danton's prompting, and the former talks about frequenting a skate park, having to hide his flamboyance, and "manning up."
Taking up space
For Kristoff and Bascon, both recipients of the Cultural Center of the Philippines' (CCP) annual 13 Artists Awards, coming to terms with their queerness was, and is, a gradual process.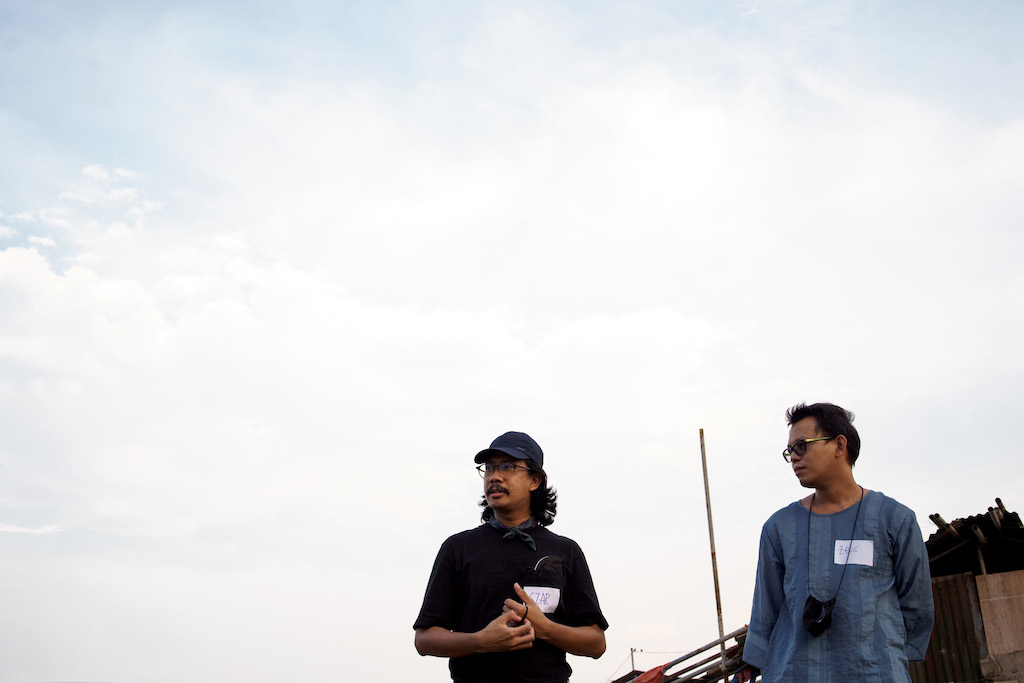 In a Zoom interview with Nolisoli.ph, the two Laguna-based artists share their mission and what drives them. Bascon also brings up the dilemmas of self-expression in a hypermasculine space. Recently, he attended a hip-hop event in a skate park, but he didn't hide who he was. He let them know "na may bakla dito."
Bascon cites a supportive family and tolerating neighbors as the water which lets him flower.
Unfortunately, as Danton's story shows, many queer Filipinos from less privileged backgrounds are not given the space or the institutional safety to allow this process to bloom. As such, many LGBTQIA+ folks sometimes hold mindsets that hinder their best interests, such as internalized homophobia or a fear-driven dismissal of human immunodeficiency virus (HIV) testing.
This urgency animates Bascon as he shares, "Since we're queer people here in Laguna, HIV testing is very important. We want to create a public space where HIV testing is seen as normal."
First discovered in the 1980s, HIV is a largely sexually transmitted virus that weakens the immune system. Scientists believe it likely originated from colonial prostitution in Africa and later unhygienic syringe use from vaccination campaigns in the region.
You take this specific role in a community as an artist to motivate or initiate movements within the community.

Arist Zeus Bascon
Presently, dated misconceptions persist that HIV is a disease exclusively created by and spread among LGBTQIA+ people. The Human Rights Campaign Foundation reports that HIV is notably present among the LGBTQIA+ community not because of same-sex practices, which many ideologues insist, but because of social stigma forcing many LGBTQIA+ people into unsafe sex work given the lack of employment opportunities.
In the Philippines, the Department of Health warned of the rising positivity rate of HIV results in the period between 2008 and 2017, from one positive case per day to 30 new diagnoses per day. Meanwhile, only 67 percent of people living with HIV in 2016 knew their status. In the same report, the World Health Organization added that a misdiagnosis rate of 10 percent occurs with dated test kits as one possible factor.
A safe sunset
Enter "Sunset Garden," a project which may just be Kristoff and Bascon's biggest undertaking yet. Is it a publication? A microsite? An ethnography? Group therapy? A community intervention?
The duo partnered not just with art institutions but also with medical and civil institutions, and the project heavily credits its rollout to Erroll Austria, a worker from a private HIV foundation attached to the Ospital ng Biñan HIV and AIDS Treatment Hub.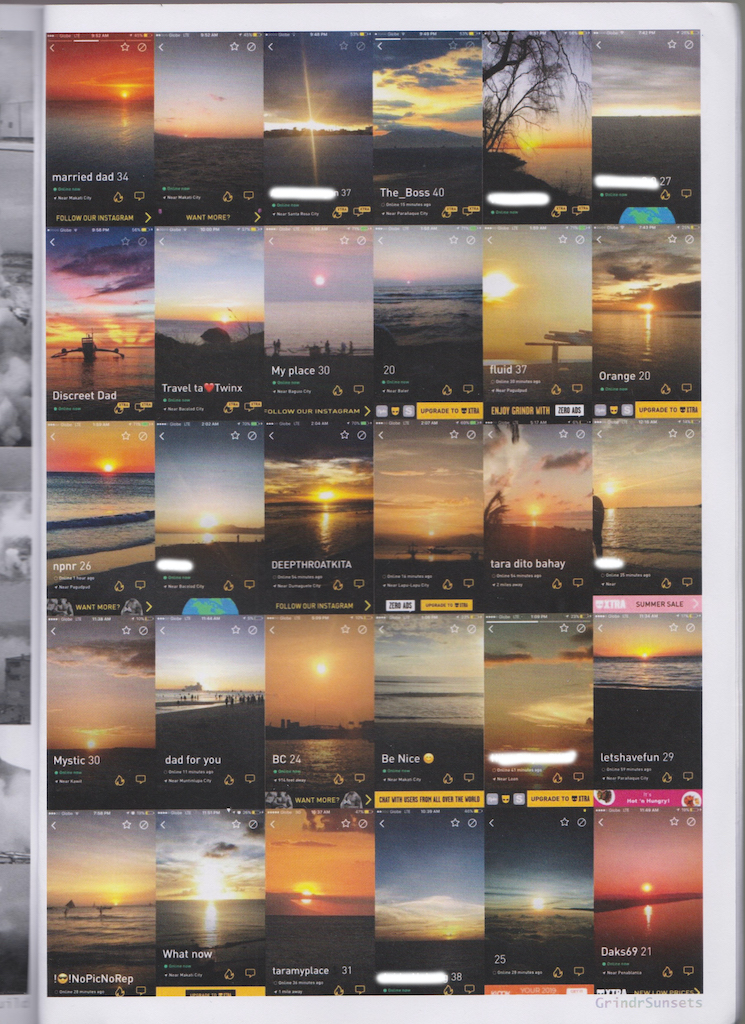 "Sunset Garden" is a continuing collaboration between the two artists that brings LGBTQIA+ individuals together by holding space for conversations and self-expression. It is a combination of individual projects they initiated in previous years, the first iterations of which were launched in early 2022. More iterations are also planned in the future based on feedback from the past and current sub-projects.
Kristoff observed something peculiar about Filipino Grindr versus when he used the app overseas: Some Filipinos used photos of sunsets as their profile pictures instead of face or body photos. He talked to these people and presented his observations in a multimedia artwork titled "Grindr Sunsets."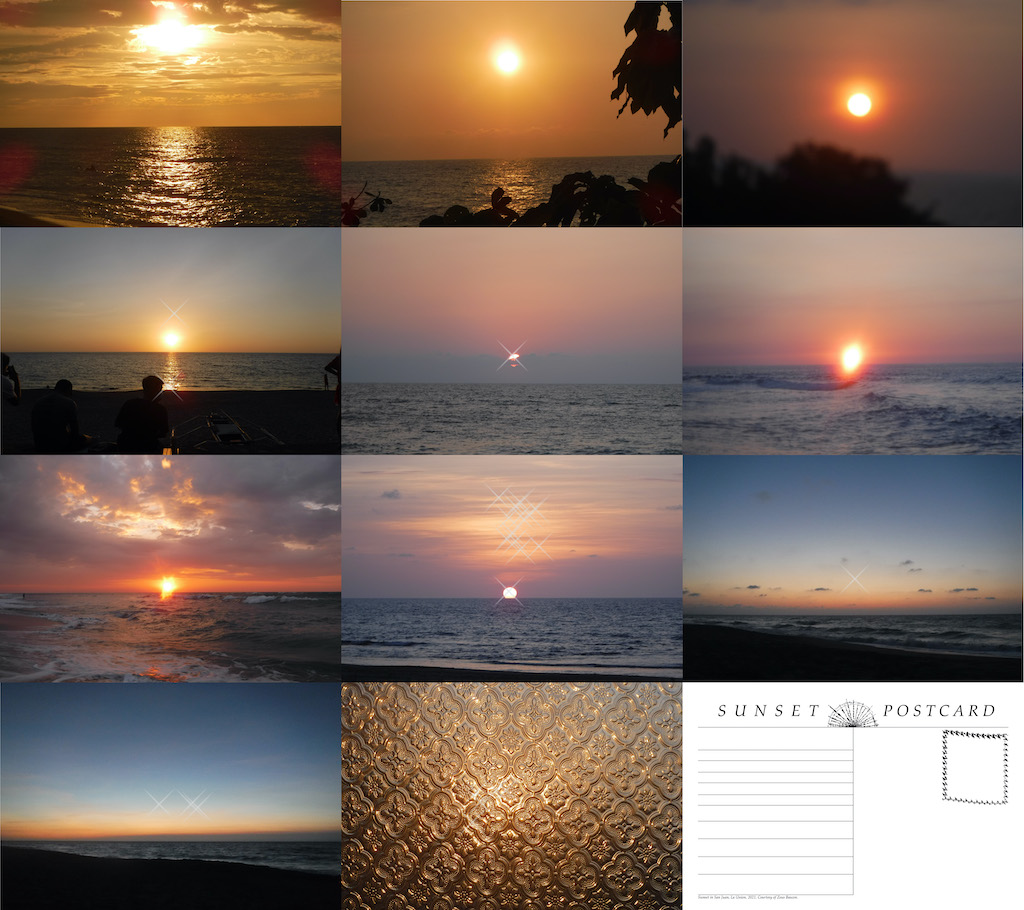 A version of this project was presented in Kwago Book Bar during Pride 2019. Building from feedback there, Kristoff presented a different version during the March 2022 run of the CCP's 13 Artists Awards.
Bascon, meanwhile, was working on an artist residency in seaside La Union under Emerging Islands. It was also a time in his life involving much inner work. The residency culminated in a series of paintings and postcards of sunsets titled "Cultivating a Garden."
"Sunset Garden" presently revolves around "congregations" of queer people and allies literally viewing sunsets at a reclaimed patch of land along Laguna de Bay, which Kristoff discovered during a bike ride. With Austria's help, they organized a sharing session at the said spot, documented it, and presented snippets of it all while respecting participant privacy.
The duo admits that the first run saw limited success and that they continue to face hurdles. During the said sharing session, only one couple arrived, and they were hesitant at first. But Austria was vocal in his support of the project, which won the couple over. They then began to open up candidly about their experiences as queer folk, including their choice to get tested for HIV.
Upon recalling that, Bascon lights up: "As all this was happening, this is when I realized: This should happen again with more participants." Psychosocial support and even caretaker support are crucial in living with HIV, similar to the holistic treatment of other chronic illnesses. "Sunset Garden," if allowed to continue, may just be that, but also with a component of creative expression.
The next session saw the launch of a "Sunset Garden" publication by their sunset spot, containing field notes and snippets of testimonies from the "Grindr sunset profiles" as well as from their first congregation, which was filmed. Amidst local DJ budots remixes, and with their voices altered to protect their privacies, only their silhouettes shown, the participants talk about what the sunset means to them, by the sunset on Laguna de Bay. "How we participate in Grindr affects our everyday life outside of it," one participant shares. The event was largely attended by writers and artists.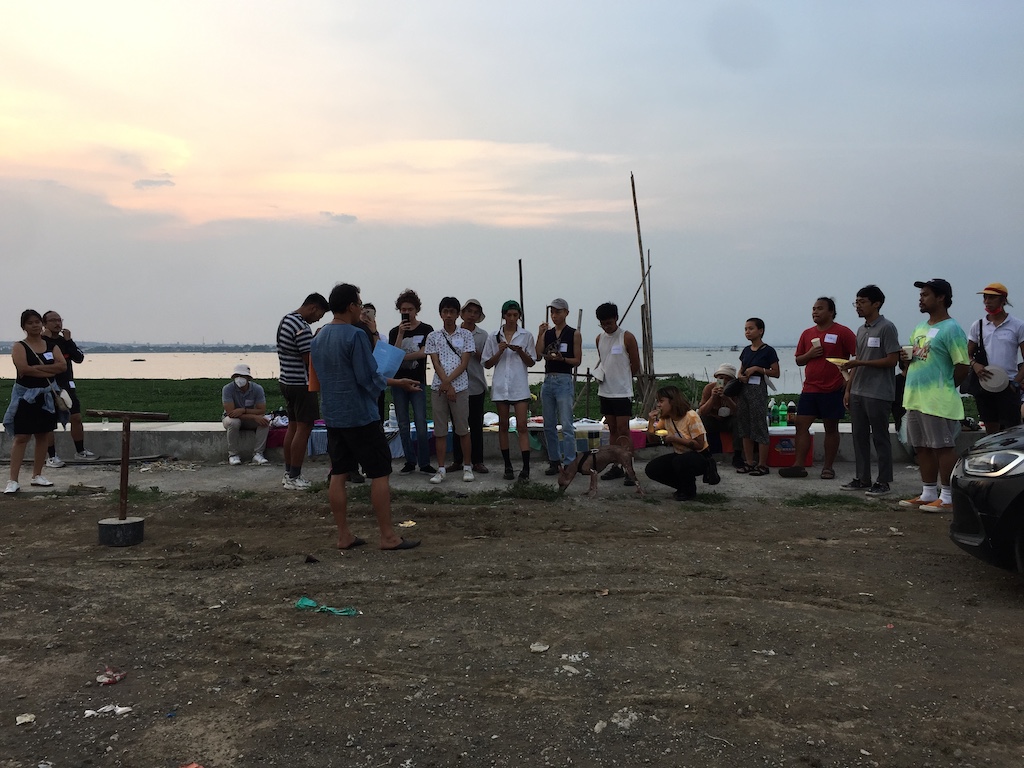 The duo tried distributing the publication at HIV clinics, and Bascon shares that the patients were kind enough to admit to the artists that they didn't understand the publication's content. "Many don't know what the word 'queer' means," Kristoff says of the people he interviewed on Grindr.
[
READ: Local queer literature to add to your reading list
]
Despite this, the artists were further galvanized into improving the work. Amid differences in language and education, as well as some initial hesitance, the subjects were always, always willing to share, to open up, to let someone hold space for them.
Kristoff and Bascon have each exhibited around the Philippines and abroad. And yet they feel that going home to Laguna and focusing on it is the most challenging and fulfilling project they've taken on so far. More iterations are planned, as long as there is a need for them, and the publication is one way supporters can help fund the project.
The Excel site and film (which was shown at the CCP) on which the publication is based is glittery and kitsch and reminiscent of a Multiply page from the early 2000s.
"That's because I'm a Multiply gal," quips Kristoff, before expounding that they used this specific visual language as it resonates more with home, with how people here express themselves. He adds, "It's hard to unlearn things if you won't go back to your past. Healing is a time-based process. You have to go back in time in order to heal."
Citizens then artists
The project thus also sheds light on the gap between the language of the art world and the language of the general public.
"Parati nating pinagsisilbihan ang mga collectors tsaka galleries (We always serve art collectors and commercial galleries)," Kristoff observes. Bascon meanwhile rounds it out by admitting that while painting in the gallery circuit pays the bills, he remains aware of "the concerns of the public beyond the art world" and because of this, he and Kristoff are straightforward with galleries in "expressing what we need to be able to work with them."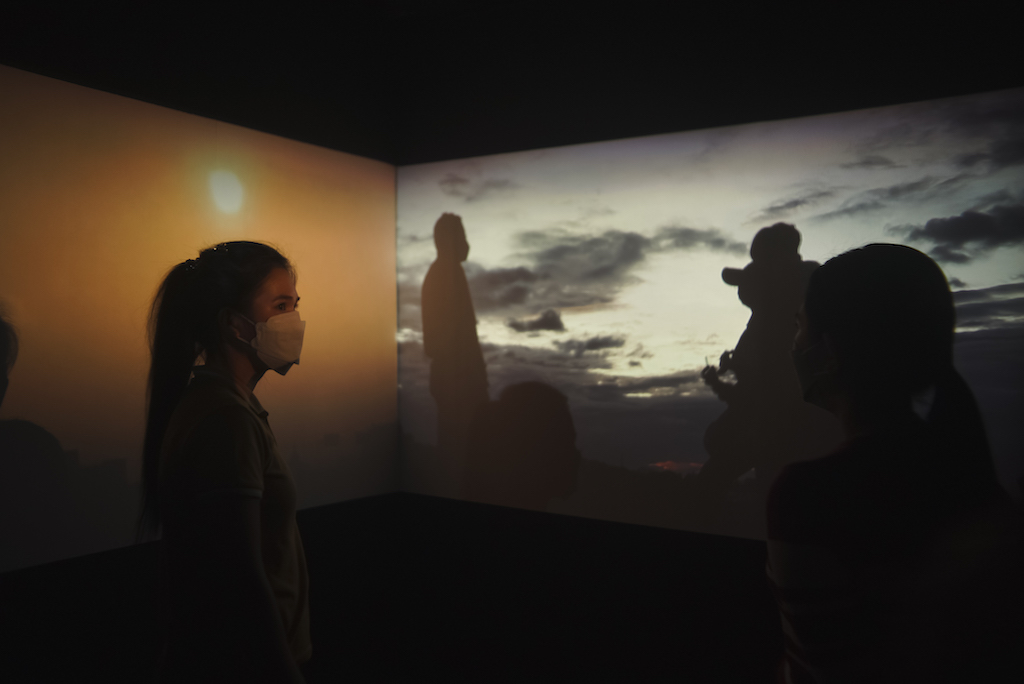 Feedback from the "Sunset Garden" congregations informed Bascon on how to be understood by the public instead of just the art-viewing community. "That's when I realized projects like these aren't meant to target art institutions and commercial galleries to tackle community issues but to target the local government and individuals with resources," he expounds.
While sunset viewing with Austria and the couple, Bascon noted that bystanders in the vicinity were within earshot of the group and could pick up on the stories being shared and how they were being expressed.
Something as small as that is a radical act, Bascon further believes, as being a citizen is essentially participating in public life. Being queer in public spaces where heteronormativity is equated with propriety, sometimes in spaces as mundane as one's commute, is one such example which the painter cites from his experience. "Ito nga ang ibig-sabihin ng occupying spaces. Kahit nag-uusap lang tayo, and other people are present. (This is what it means to 'occupy space': Something as seemingly small as conversing while others are present)."
Community mediums
In pre-colonial Philippines, the babaylan or shaman was roughly the equivalent of a priest but also a living library. The babaylan knew not just rituals to ensure a good harvest or which plants healed or poisoned but also the fables and legends representing community values. People visited the babaylan to seek advice, too.
The babaylan worked to embody and anchor the gods, the ideals, in their communities.
Storyteller, community guide, spiritual medium, medicine-person—these were the roles undertaken.
[
READ: Assured that they are loved by God
]
Babaylan were often women or men who lived as women. They held as much power as the military and political leader of a barangay, the datu, who was often a man but could be a woman. When the Spaniards arrived, babaylan were demonized in order to pave a new hierarchy. The datu meanwhile, became the overseers of Spanish authority.
Today there are still subconscious imprints of our communal past. It could be said that a manifestation of this is in the participants allowing themselves to be vulnerable with a group of strangers during the sunset viewings. It's precisely this that grounds the entire project: that primal need to commune in spaces created by those who've done thorough soul-searching.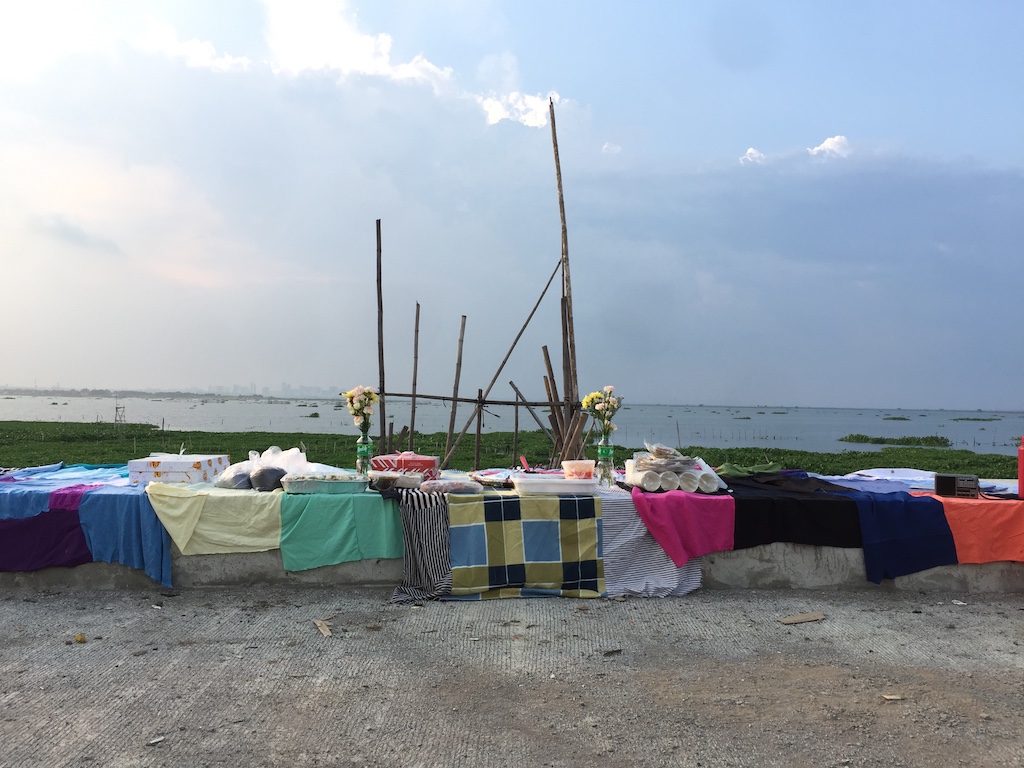 But Kristoff and Bascon aren't saviors, they are mediums helping others to embark on their own journeys, "the hero's journey," as Bascon puts it, alluding to the meaning of sun signs in astrology. It's not for the galleries, it's for the subjects, it's for the community.
He ponders further, realizing that "there's even the artist-as-performance. You take this specific role in a community as an artist to motivate or initiate movements within the community."
There's a spirit that the Sunset Garden project is trying to anchor, and it's currently taking many physical forms with no definite shape yet. But it's there. Perhaps Bascon, Kristoff, Austria, and their collaborators, in their own ways, answer the call of the Divine Feminine, a call which closeted clerks or hip-hop lads in skate parks are trying to heed, in their own way, in their own time.
When the sun sets, it's time for the stars to shine.
*Name has been changed
You can support the project by purchasing the Sunset Garden publication on Instagram and Facebook. Follow Czar Kristoff and Zeus Bascon to keep posted on future sunset sessions.