Heads up, choco butternut fans: There's a 3-layer cake of your favorite munchkin
It's available in a family-run bakeshop in Pasig
Jul 8, 2019
Thousands of Dunkin' Donuts' choco butternut fans probably felt their heart skip last April Fools' Day when the donut joint pulled off a Facebook prank saying the cult favorite product had been "phased out due to a global Butternut shortage." While it was all a friendly joke, it proved just how much donut fans treasure that bright orange ball of chocolate, coconut, and sugar mix.
Of course this is a joke – it's April Fools' Day after all. 🤣 Get some Choco Butternut donuts today and enjoy them to your heart's content! 😋❤️ Don't take anything for granted and #MakeEveryDayBetter! 🤗🍩

Posted by Dunkin' Donuts on Sunday, March 31, 2019
Dunkin's Choco Butternut donuts, specifically the munchkins, are no doubt highly popular among Filipinos. It has given birth to a nationwide food trend which a number of home-based and local bakers have jumped into, bringing their own  versions of choco butternut-flavored pastries.
A home-based Quezon City bakery called Trisha's Treats, for one, made the sweet munchkins into bright orange choco butternut loaves. Orders can be placed through their Facebook page.
This is only one of the many small-scale pastry shops selling choco butternut loaves, which one can find easily in the Facebook Marketplace. There are some in Imus, Cavite (called Chia's Kitchen), Muntinlupa, Valenzuela, and Binangonan, Rizal.
However, local bakeshops are not stopping at loaves. Among the takes on the choco butternut trend, one is standing out the most: and it's the biggest one to date.
Capturing our attention on this year's Inquirer Best Desserts, which happened last Jun. 3 at the SMX Convention Center of SM Aura, is Aging Food Delight's three-layer choco butternut cake.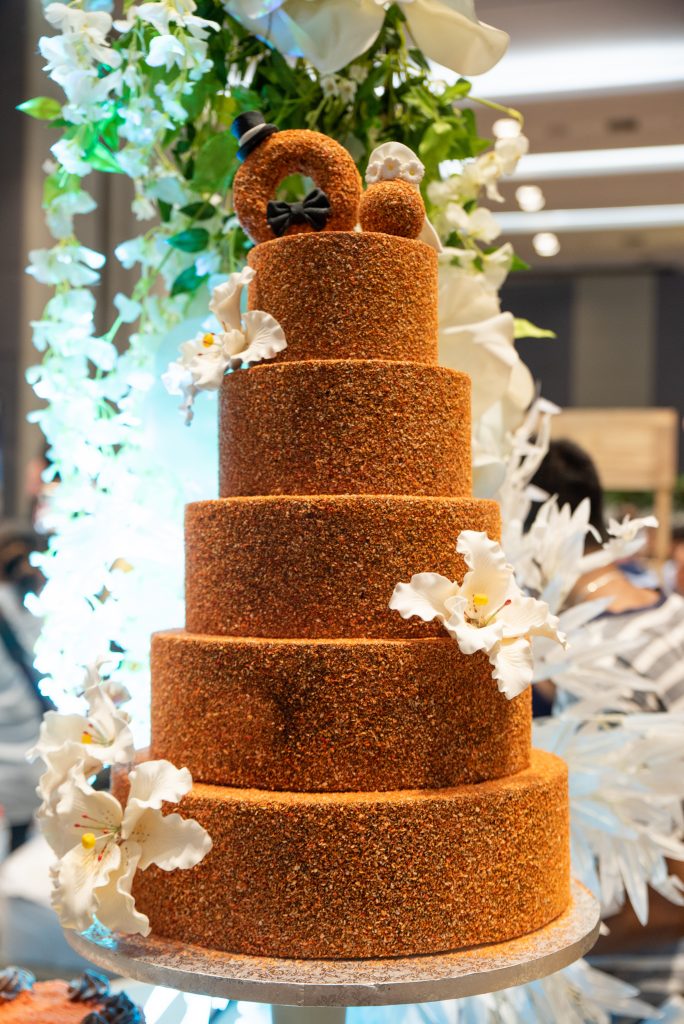 The Mercado family, who runs the bakeshop based in Bagong Ilog, Pasig City, has always loved the choco butternut donut of Dunkin' Donuts, Greggie Mercado told Inquirer Lifestyle. This is why they decided to recreate it into something bigger—a sight to see for serious donut fans like them.
Exhibited along with their Cutechinta (an even smaller version of the chewy and gummy kakanin) at the Best Desserts 2019 book launch, Aging's choco butternut cake is purely chocolate in the inside, topped and draped with butternut crumbs. The one they showed at the event is made like a wedding cake, with a recreated Dunkin' Donuts choco butternut donut and munchkin on top, as the bride and groom.
If you're not a fan of big cakes but still want to try this mouth-watering dessert, Aging's is selling round, eight-inch versions of it. Just make sure to contact them three days in advance at 671-0172, 0929-8410424, or 0917-1752891. They also have a Facebook and Instagram page you can check out.
Get more stories like this by subscribing to our weekly newsletter here.
Read more:
ICYMI: Liz Uy's cookie business, Mood Bake is doing a popup at Greenbelt
Raved BAKE Cheese Tart from Japan is coming to Manila
Have a golden chocolate cake and eat it, too at Aperitif
TAGS: Best Dessert 2019 best desserts choco butternut choco butternut donut donut dunkin Dunkin Donut food trends inquirer best desserts Trends