If anything saved my 2020 (or at least made it slightly bearable), it was food. There was a seemingly endless supply of new food trends from home cooks and bakers. With most businesses shut down for the first months of enhanced community quarantine (ECQ), home-based food businesses boomed and captured the hearts and stomachs of everyone privileged enough to be staying home and ordering in. 
For the first few months in quarantine, the food scene was a wonderland where people sought shelter—for a meal, at least.
Then 2021 happened.
Due to personal, political and global events, the world entered into this limbo where everything and nothing was going on at the same time. The lack of progress in fighting the pandemic and the liminal space which was my home wasn't helping my mental health. All of the shiny new things I leaned on at the start of quarantine started losing their sheen—especially food. 
Depression and the senses
Apparently, it's not just COVID-19 that can dull your sense of taste. According to a study published in the Journal of Neuroscience, depression and anxiety can affect how your brain perceives the taste of food. Specifically, it can dull sweetness, sourness and bitterness (which is a little funny, if you ask me).
For some people—like me—who are privileged enough to be cooped up in their homes, food was the lifeline. While there were no more friends to share the food with, the food was still there. I made a mess in the kitchen almost every day during ECQ. There were a million and one recipes that I wanted to try, in part to stave away boredom, but also just because a specific dish or recipe demanded to be made.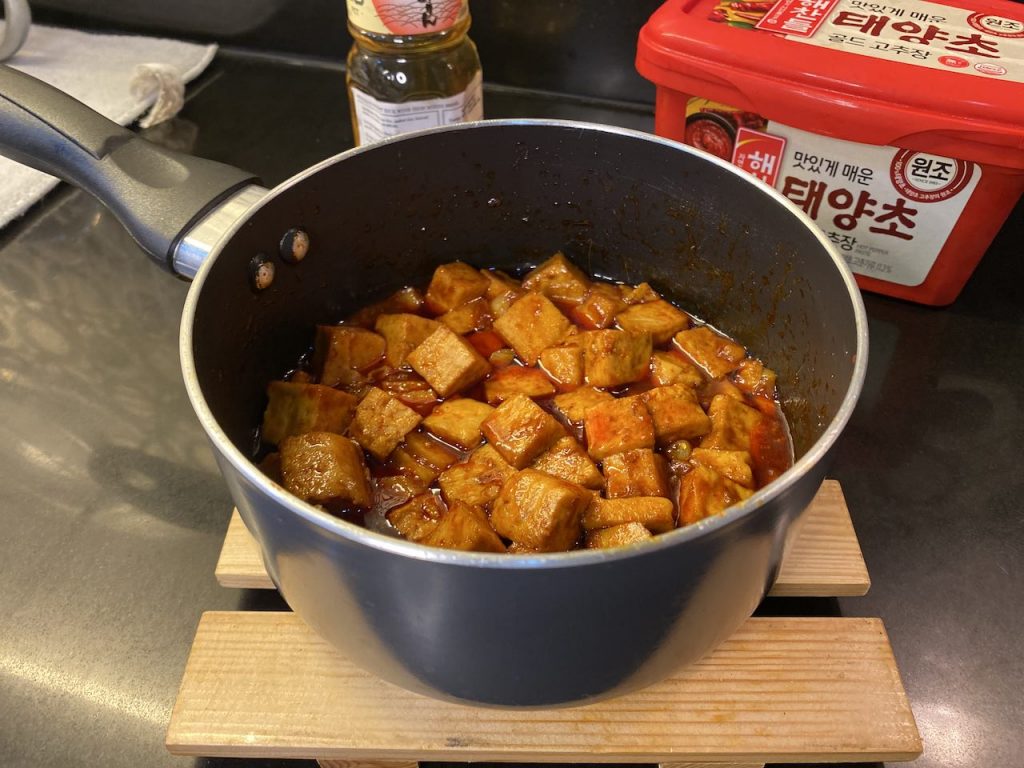 When it was deemed "safe enough" to get food delivered, I would order from all sorts of places that served up dishes that transported me somewhere else. It was fun and the food tasted amazing—until the Futility Of It All caught up with me and reignited my dormant depression streak. 
Food and community
Aside from the obvious socio-political and personal issues we're all living through, the one thing I miss the most about life before is being around other people. To this day, I still dream of the last time I was bumping elbows with friends over a delicious spread of food. There was not a mask in sight and we were having the time of our lives.
The act of eating, especially in the Philippine setting, is rooted in community. Families would gather around the dinner table at least once a day for a meal. Break times for most office workers would be spent around a street vendor frying up kikiam and other street fare. As much as human beings can help it, we never eat alone. 
But I have been eating alone for over a year.
Food isn't just about how something tastes, it's the overall experience of how it is consumed. My mom always says that food always tastes better when it's shared. Even though she was talking about how I should share some of my snacks with my siblings, it still fits.
When the shiny, newness of all the food trends disappeared, I was left with a gap at the table where my friends and family are supposed to be. 
Stepping back and seeing the bigger picture
My "food flop" era hasn't really come to an end, but I realized something about the way I enjoy food. Earlier I said that the act of eating is rooted in the community, which is still something I'm part of. I was so focused on my personal relationship with food that I forgot that it's not just about how something tastes.
If you're cooking at home, that recipe was probably handed down to you or developed by other people. When you open up your go-to food delivery app, people still make the food and deliver it to you before you get to chow down. Ordering from small businesses on Instagram most likely puts you in direct contact with the people who are literally making your food. 
I was so focused on my personal relationship with food that I forgot that it's not just about how something tastes.
The joy of eating isn't just limited to tasting and consuming, it's also about appreciating and helping the people who made your food. While my makeshift kitchen counter-slash-desk-slash-dinner table will remain mostly guestless for the foreseeable future, food isn't a solitary experience. Even in quarantine.