Making dinner when you're physically, spiritually, mentally and/or emotionally drained is hard. While it's always tempting to order in, I try my best to make use of the ingredients I have at home so they don't go to waste. My favorite exhaustion meal is a simple, mildly spicy tofu recipe that doesn't require precise measuring or ingredient prep. It all happens in one pot, and all you need are five ingredients.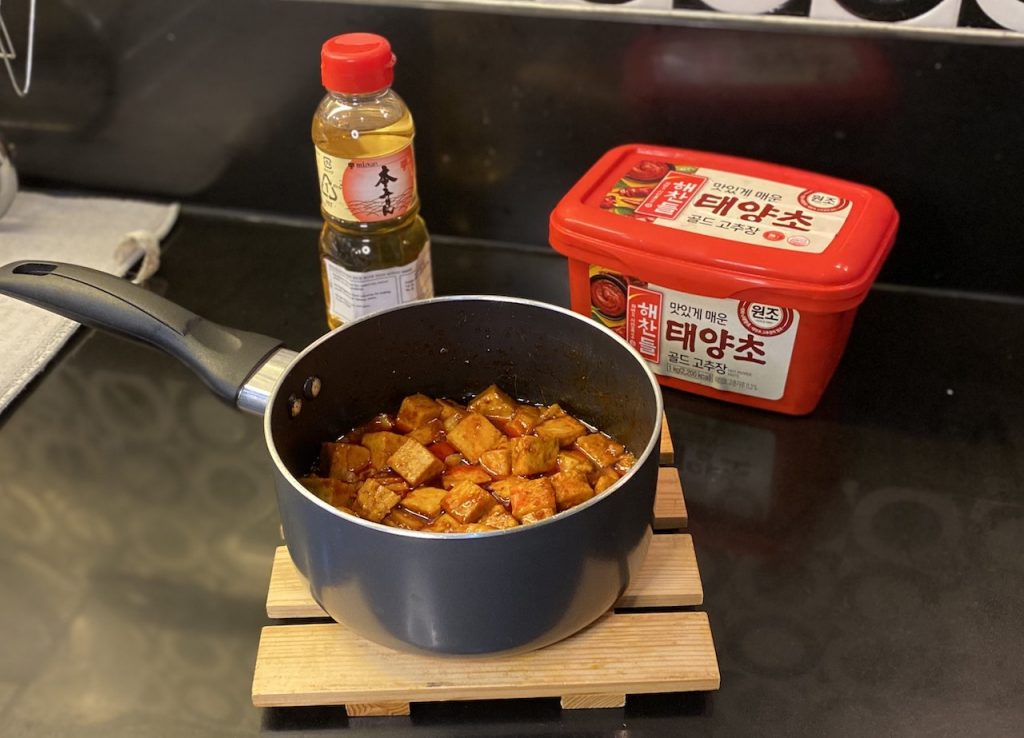 1 block firm tofu (sliced into cubes or chopped up with the ladle when it's in the pot)
3 tablespoons sesame oil
1 tablespoon gochujang or soybean paste (measurement can be adjusted to taste)
1/4 cup soy sauce (approximately)
3/4 cup mirin (approximately)
In literally any pot you can get your hands on, heat the sesame oil over medium heat (1 min.)
Sautee gochujang in the sesame oil until combined (30 sec.)
Add soy sauce and mix until combined (1-2 mins.)
Deglaze pan with mirin until simmering (1-2 mins.)
FOR CUBED TOFU: Add cubed tofu to the sauce and simmer (5-7 mins.)
FOR BLOCK TOFU: Add the block of tofu to the pot, chunk into smaller pieces with your ladle and simmer (5-7 mins.)
Serve with rice
No need for salt, pepper and other seasonings because the soy sauce and gochujang add enough flavor and kick to the dish. Tofu is the protein of choice in this recipe because you don't have to wait for it to cook and it absorbs all the flavors from the sauce. If you're feeling fancy—or just have enough energy to exert extra effort—you can mince up some aromatics like ginger, garlic and onion to add to the pot before sauteeing the gochujang.
Aside from how quick, easy and delicious this recipe is, my favorite thing about this is that it's a blank canvas. If you're not in a tofu mood, you can substitute it with other ingredients like tuna, shellfish or vegetables. You can also use the sauce as a base and add it to other recipes, or just use for marinating or dipping.
This recipe is especially great when you're in need of a warm meal after a tough day but don't want to order out. It doesn't necessarily need any chopping or measuring, just some pouring and patience.