Since it was established in 2018, Pawssion Project has committed itself to bring all kinds of dogs closer to loving, "furever" homes. The dog adoption center has rescued dogs from pounds and abusive environments, rehabilitated and taken care of them before helping them find a caring home.
If you're looking for a dog to welcome in your life, consider finding one at Pawssion Project. We got to learn more about the dogs that the adoption center is currently housing—and we can confirm, they are just as loving as all of the other dogs out there.
CHARLIE – At first glance, this dog may shy away from people. Once you get to know Charlie a little better, he turns into a sweet dog who welcomes any form of human affection: whether it's cuddles or a comforting rub.

TONDO – What makes Tondo stand out from the rest of the dogs are her expressive ears and her soulful brown eyes. This dog is a pretty laid back companion, paired with a sweet disposition and motherly instincts.

MOLA – If you're looking to adopt Mola, you better be ready for him to grow up to be a large, sleek, black dog who will fit right into your heart. Despite his playful nature, he's got a modest disposition, and he gets along with other dogs well.

ALBIE – Be a little patient with Albie, as he isn't used to a lot of people and may not do too well in cold places. Though he may be a little apprehensive of humans, he remains calm and pretty well-behaved.

ALBA – For people looking to bring in a puppy into their slightly busy lives, meet Alba! This puppy is pretty low maintenance and stands out from the puppy pile due to her long ears.

BLANCA – Don't let Blanca's quiet nature fool you—she's an inquisitive puppy ready to learn more about the world with you! For people looking to grow their dog family at home: Blanca also gets along well with other dogs.

BLONDIE – Blondie's beautiful golden fur is one of the things that make her stand out. As an inquisitive and curious dog, she's always down for some adventure. 

COCO – Coco is a shy, nervous girl who needs a strong, soothing presence. She may not be open to other dogs, but she'll always be open to extra-human affection.

LUIS – Want a furry friend who can match an active lifestyle? Meet Luis! He may spend a lot of time sniffing around his environment, but he's a dog who is always game to jump and play around. Additionally, Luis gets along great with humans AND dogs alike!

SPOTTY – Spotty may be a little shy when you first meet him, but it doesn't take him very long to warm up to people and dogs alike. He's a curious one, always sniffing around and wanting to learn more about the space he's in, but he's trained and will listen to you no matter what.

MARY – It's not advisable for Mary to go to cold places as she gets cold easily, but it could easily be solved by a blanket and a warm hug. Though timid and quite shy, following commands is never a problem for her. 

BILLY – As a curious dog, Billy seeks adventure. She may be shy and a little quiet at first but she's really good with people. More than anything, she likes to be pet and hugged. 

VICTORIA – Victoria is a solemn and chill-natured dog who could also be your next model. No one could obviously resist her sad eyes, as one of the things she craves is human affection. 

ARELLANO – Rescued near the streets of the university, Arellano needs a very patient and caring owner who would attend to his needs. This puppy may be blind but showing that he, too, can also be loved will make him your next best friend. 

SCOOTER – If you're looking for someone to have fun with you on a busy day, meet Scooter. He's a curious and eager dog, who's always down for some playtime. He also likes treats so rewarding him after a new trick won't be a problem. 

MJ – Timid as he is, MJ's beautiful and expressive eyes will really melt your heart. He's quiet and somewhat emotional but this charming boy is sure to follow commands. 

JOY – One of Joy's striking features are her expressive ears. As a survivor of distemper, she already has a couple of health issues like involuntarily clenching and mange. But don't worry, all of these are treatable; just be more gentle with her. Besides, a little extra affection won't hurt.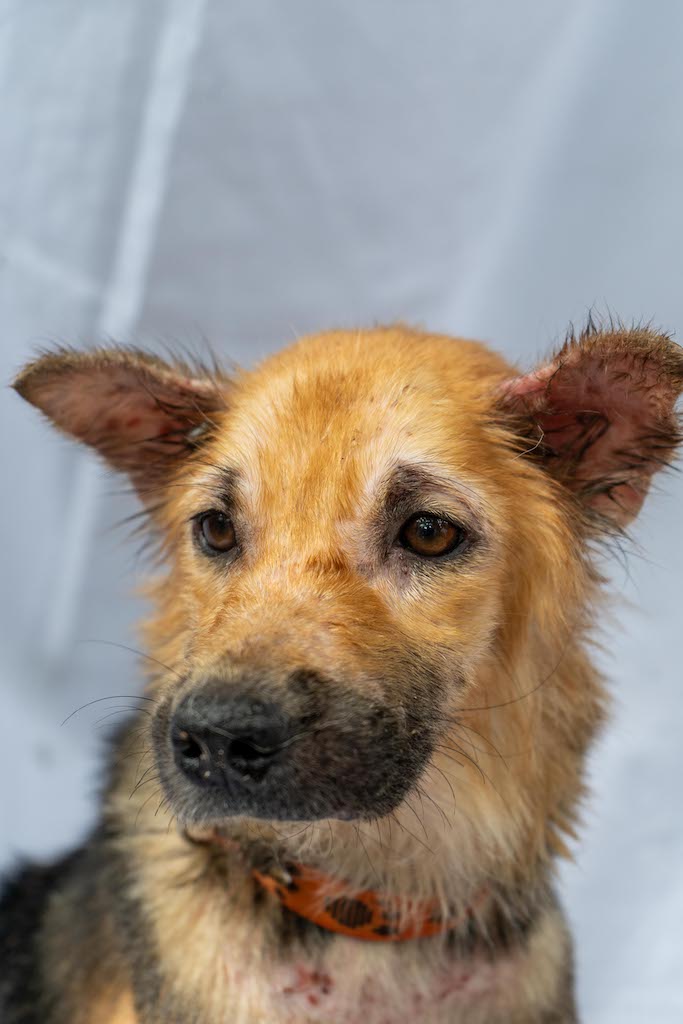 If you're up to care for some young pets, consider adopting these puppies. They're a generally curious and quiet bunch, but they've got personalities of their own:
LINDA – Linda may look like she worries all the time, but it's only in her eyes. Not only is she the next baby in the house but she's also a natural model; always camera-ready. 

BUTTON – Meet Button, a small puppy that'll fit into your pocket and to your heart. Though shy at first, but this white buttoned nose baby will surely come around with a bit of love and some cuddles. 

SAHARA – Sahara's striking leonine features is one of the reasons why you should adopt her. This cute little girl may look scared at first, just give her a hug and some pets and she'll surely come around. 

SAM – Just looking at this baby girl's eyes will already make you consider adopting her. She's a small quiet pupper, a perfect addition to the family. 

JAFAR – Jafar looks to be the perfect pal for someone who's always down to relax. But don't worry, this puppy is for sure a good listener and always obedient.
Get more stories like this by subscribing to our weekly newsletter here
Read more:
Heads up, these common house plants may be toxic to your pets
Here's how you can spay and neuter your pets for less
What it's really like rescuing dogs according to a woman who converted her home to a shelter
Writer: ANGELA PATRICIA SUACILLO and GABRIELLE PARLADE
PHOTOGRAPHY JP TALAPIAN and SAMANTHA ONG