These ride-hailing apps promise negotiable fares, 100% pay for drivers
Arcade City, a ride-hailing app, which originally debuted locally in 2017 is poised to be back next year. Plus, a new one called InDriver that promises negotiable fares
Dec 9, 2019
Many ride-hailing apps have come and gone in the country with varying levels of exit success. Uber has since merged with Grab while carpooling option Wunder has left the game altogether early this year.
In the absence of these apps, a new platform has gained traction: Angkas, a motorcycle taxi-hailing app. But that too has evolved much to public dissatisfaction. In areas like Mandaluyong, for example, out of fear of riding-in-tandem criminals, the local government has banned men taking an Angkas with another male driver. The app's surge system and pricing don't help much either as a ride sometime costs almost the same price as getting a Grab. 
In 2017, the Land Transportation Franchising and Regulatory Board (LTFRB), eventually shut down Angkas after it found out that the platform had no business permit.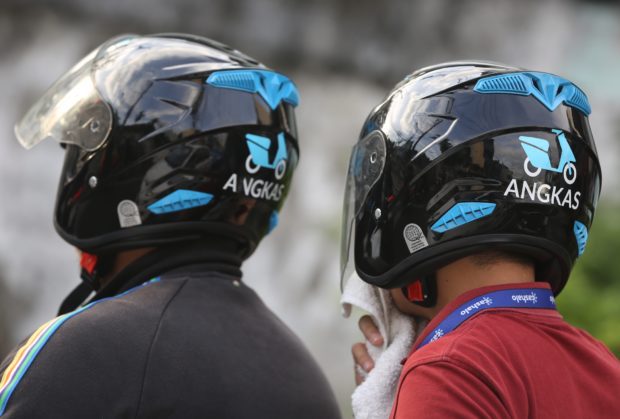 Savvy commuters and drivers in need of a quick source of income, however, had come up with a solution, free from government interference and that benefits both parties. Through a Facebook group called "Angkas Riders and Passengers Group," a passenger can simply post their intended pickup and dropoff and negotiate a price through private message. The scheme, though, still follows Angkas' fare matrix but does not account for surge thus making the fare significantly lower. This peer-to-peer fare negotiation has risen in popularity with over 600 thousand Facebook members to date. 
Following the shut down of Angkas and eventual relaunch with a six-month pilot test that started in June and expected to end this month, LTFRB said last week that they have six new ride-hailing apps that submitted their applications. And although the agency did not name any of them, one platform has already made a statement on their supposed "return."
A returning player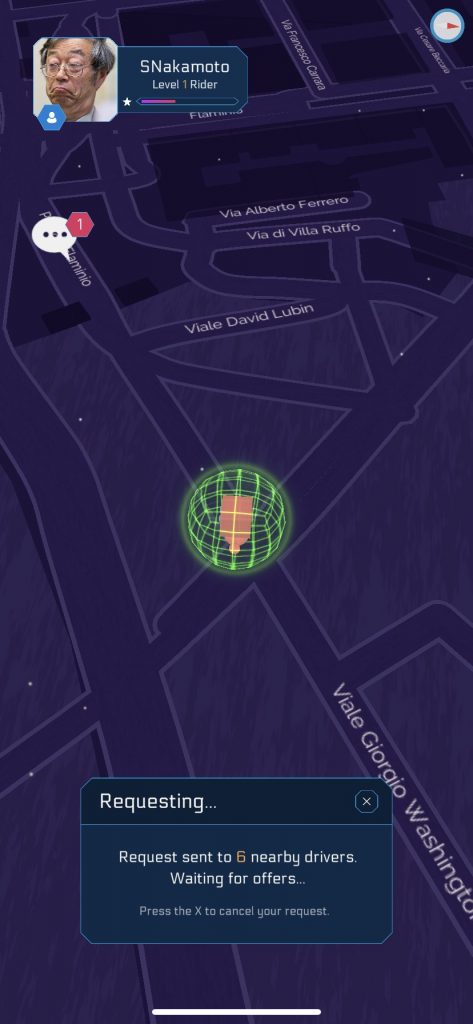 Arcade City, a ride-hailing start-up that promises "decentralized" and "deregulated" rides to commuters, first (tried to) entered the Philippine market in 2018 but was rejected by LTFRB who was then still drafting guidelines for ride-sharing services.
However, according to a report by Inquirer, it was not the first time it tried and failed. Its first attempt was actually in August 2017, around the same time the LTRFB temporarily suspended Uber operations.
But it was not simply a matter of limiting the number of players in the game. Arcade City, created by a former Uber driver Christopher David, promises a lot of things. Through the app, drivers and bikers (so it seems it has plans to cover the motorcycle taxi business) can take payment peer-to-peer, meaning passengers and drivers can negotiate prices, and the latter get to keep 100% of the fare, said Arcade City in a statement.
And we're back. Time for @grabph to have some competition. @angkas too. 👍

Drivers and bikers, keep 100% of your fare. 🤑🎉

Launching everywhere in the Philippines on Jan 1st. No "long orange folder" needed. 🤣https://t.co/ogs1Bb0k0o

— Arcade City (@ArcadeCityHall) December 2, 2019
In place of a government regulation, which will monitor and ensure the safety of the passengers, David says his platform will be governed by a team of drivers called "guilds," which he says is part of the cooperative ridesharing model that has been working successfully for three years in their flagship Austin network. He, however, refused to reveal more details about this.
David also doesn't identify his venture as a transportation network company (TNC) or as a transportation network vehicle service (TNVS). 
"We're kind of a network of users self-identifying themselves and being able to connect peer-to-peer. We hope for this network, this platform that we've launched to get people in communication with each other, so that people can find or form what we call guilds," David said in an interview with CNN Philippines back in 2018.
Our new rideshare app will have some really cool data visualizations 🙂 pic.twitter.com/xl2mIBhb79

— Arcade City (@ArcadeCityHall) August 1, 2019
Many media outlets have already called BS on Arcade City, including automotive websites Top Gear and Visor, who both said that the app's promises are too good to be true.
More than just the "guilds" part and David's firebrand, one of the criticisms that Arcade City has yet to convince people about it there fare scheme, wherein it promises no cuts to drivers and even free usage for the first month for both passengers and drivers.
Another "democratic" ride-hailing app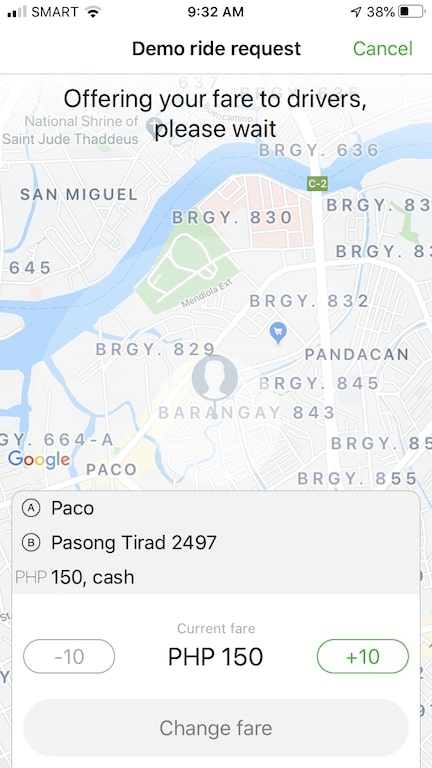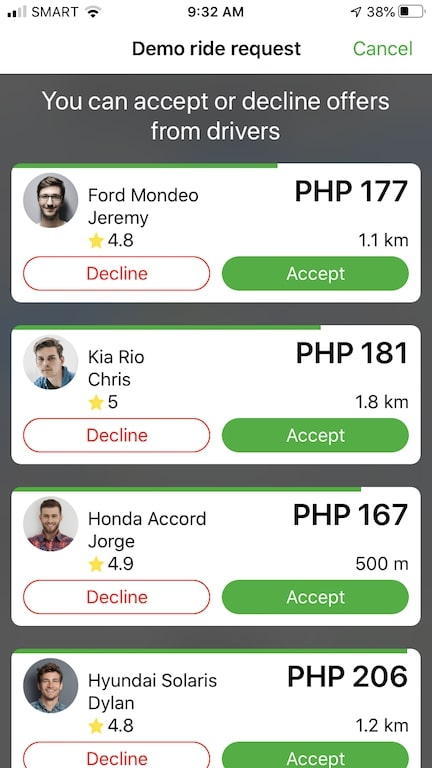 It's not really a concern about peer-to-peer pricing, much of this democratization has already existed and proved successful even before the rise of the Angkas Riders and Passengers  Group. In Serbia in 2012, following a taxi fare price hike, city-dwellers took to social media to create their own group where they can post a request for a ride and put the price they are willing to pay, and "independent drivers" answered. This is exactly the scenario that birthed Russian InDriver, another "democratic" ride-hailing app founded in 2013.
Just like the Angkas Facebook group, passengers can set their own fare and wait for a driver to accept it through the InDriver app. It is currently available in 300+ cities all over the world and rumored to be launched here as well.
As of writing, only an unofficial InDriver Philippines Facebook page exists apart from many hiring postings on pages. Trying to book through the app here in Manila doesn't yield any result, but it will let you test how it works including how drivers and fare options appear.
While this is good news for any Filipino commuter who has long suffered from horrible public transport conditions, still safeguards and assurances have yet to be put in place. The Angkas group, for example, is a kind of "ride at your own risk" option as there is no binding insurance clause or anything for that matter to make the rider or the absent operator liable.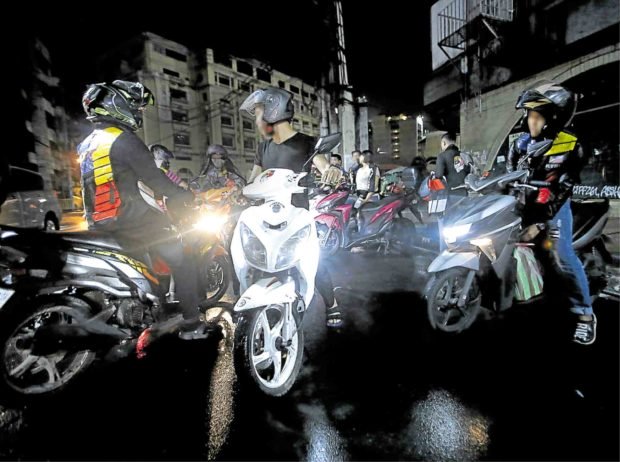 According to a report from Inquirer that dug into the inner workings of the group, only two out of 14 rules of the group govern passenger safety. In terms of accidents, it is only last July that the page started monitoring crash records.
When asked what happens if members get into a crash, one of the page's administrators and vice president said, "We will take care of them. We have this practice called 'pass the helmet,' where riders from each chapter can all donate however much they're willing."
So back to the Arcade City reentry. Apart from the vagueness of the so-called "guilds" that will govern the matters of Arcade City, detached from government regulation, there is really nothing much to back the safety of passengers through this platform. 
But knowing how desperate most of us are, many ailing Filipino commuters are likely to avail of this alternative. Until there are concrete and real solutions from the government and otherwise, we'll just have to gamble and pray that these alternatives aren't just start-ups manned and operated by white dudes, poising to offer salvage but in truth are only subjecting Filipinos to their money-making schemes.
Get more stories like this by subscribing to our weekly newsletter here.
Read more:
Netizens try to #SaveAngkas as the end of pilot testing period draws near
Commuters from the North can now book their bus tickets through Grab
Cavite-Manila to only take 15-40 mins with new "water jeepneys" and it's free till Jan 2020
TAGS: angkas arcade city commuting dotr Grab indriver LTFRB ride-hailing apps tnc TNVS traffic