Pancakes are like ice cream. 
Almost no one can't say no to them because, really, what's not to like? Owing to this fascination, we have been seeing new ways of enjoying this simple but palatable pastry, from generously topped piles of flat cakes to Instagram-worthy, fluffy soufflé pancakes. Even so, having pancakes for a meal isn't something we gravitate to during most times of the day except breakfast. Gram Cafe Pancakes' menu, however, might make you think twice about the possibility of pancakes being an all-around dish.
The Japanese franchise, a pioneer in premium soufflé pancakes, brings its original dark green color scheme and contemporary aesthetics at SM Megamall branch. The establishment isn't afraid to change things up, offering a handful of seating options either at a roundtable, a cozy booth or, if you're there for a quick bite, a coffee bar stool near the entrance.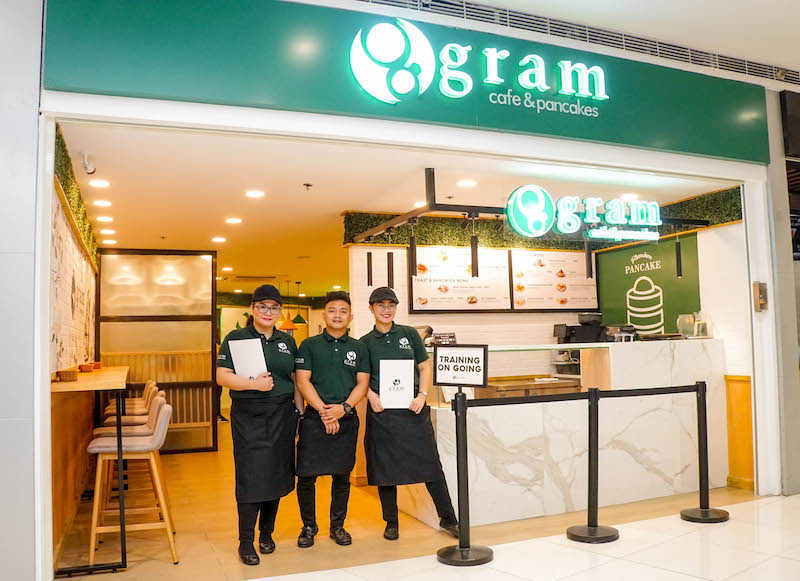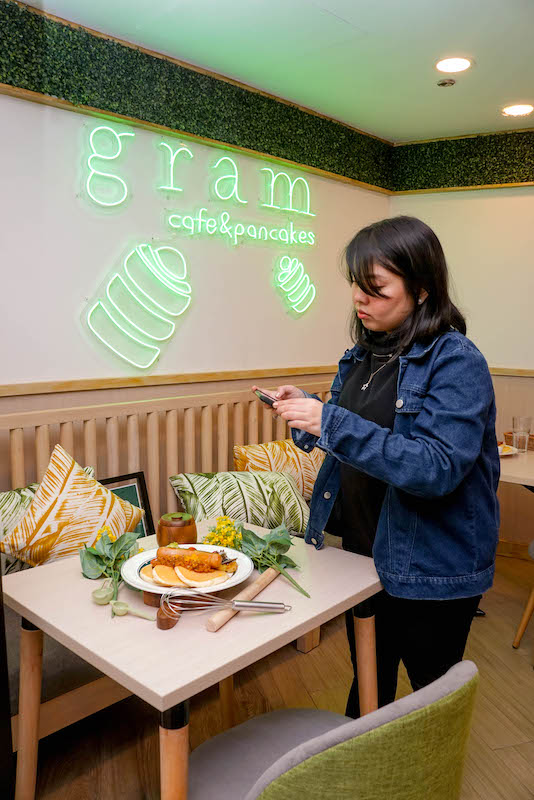 While it would've been nice for Gram to be a standalone café so it could serve early breakfasts, the wait for the mall hours proves to be worthwhile. The classic bacon and scrambled eggs combo takes it up a notch because they didn't just dump crispy bacon strips on the pancakes and called it a day. Instead, the pancakes are topped with thick slabs of premium smoked bacon as well as Japanese-style scrambled eggs and a salad on the side to balance all the flavors.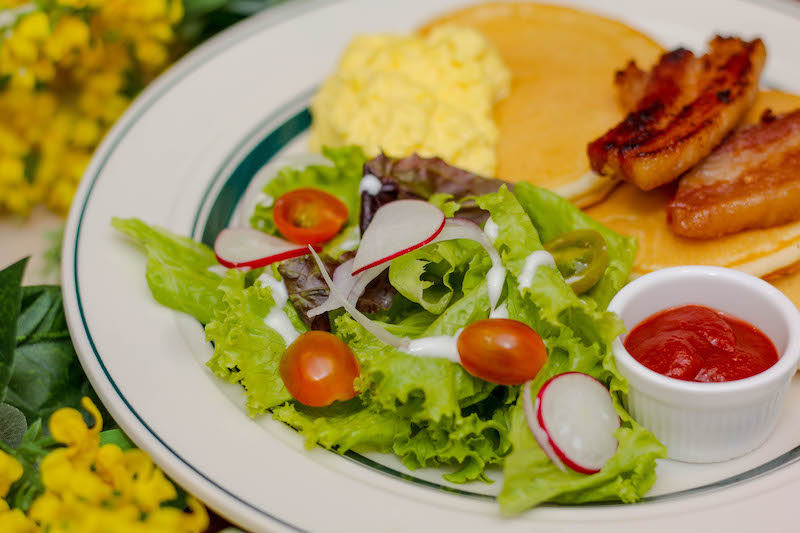 If you're one of those people with a sweet tooth even as early as breakfast, the Japanese café has French toast topped with whipped cream, vanilla ice cream and fresh berries.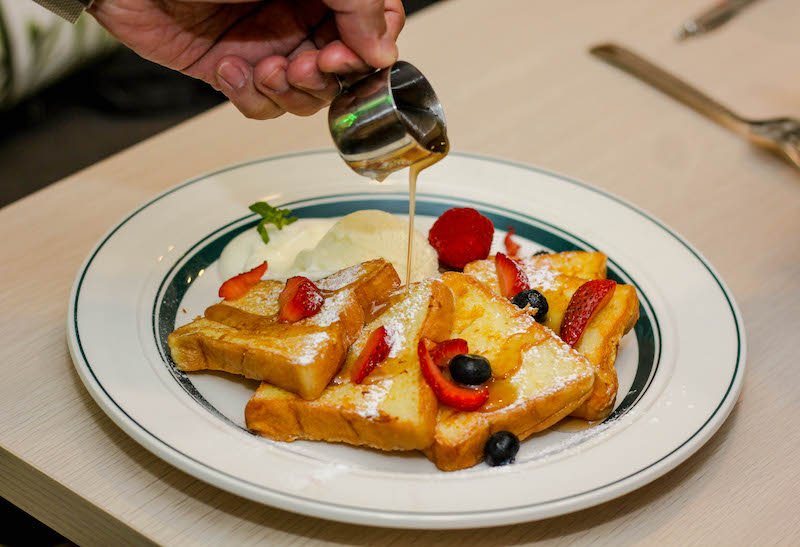 Something I didn't quite anticipate was a little Mexican influence in one of its pancakes. It was ingenious though. With everything that the chili bean sausage pancakes has to offer, with its melted cheese, chili beans sauce, mildly spicy Japanese sausage as well as breakfast potatoes and salad, I could see the dish making for a hearty lunch meal.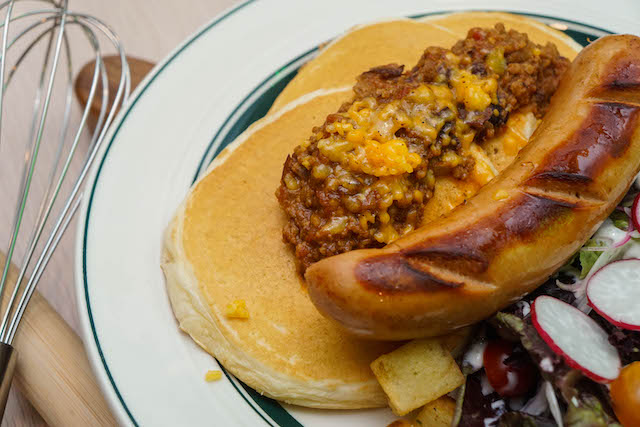 But the pièce de résistance is evidently Gram's Premium Pancake, which is a stack of its famous fluffy pancakes that take about 30 minutes to prepare and are precisely crafted that only 90 plates are served a day spread out across three batches (served  at 11 a.m., 3 p.m. and 6 p.m.).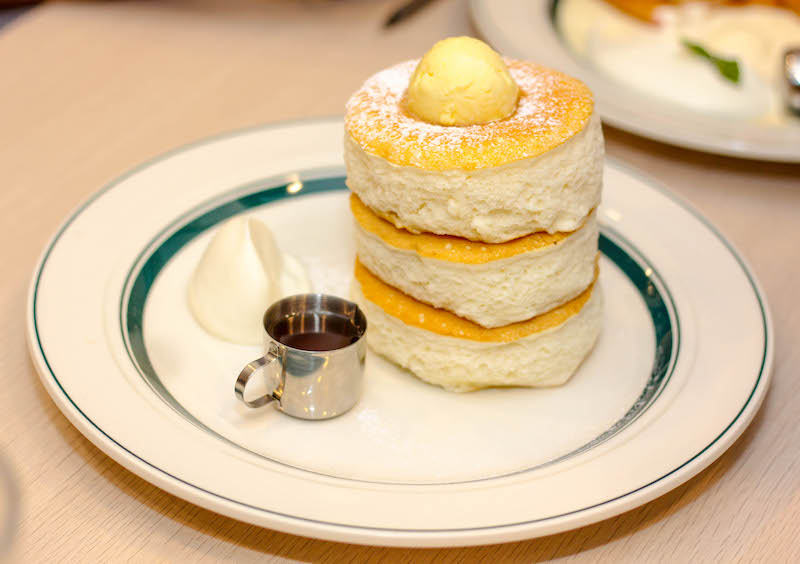 Get more stories like this by subscribing to our weekly newsletter here.
Read more:
WATCH: Make flourless banana and eggs pancakes in just one minute
We know where you can get Japanese souffle pancakes at 8 a.m.
Tokyo Milk Cheese Factory now offers sweet and savory dishes at its first cafes
Writer: JOY THERESE GOMEZ
PHOTOGRAPHY GRAM CAFE PANCAKES