A Filipino restaurant in Seattle, USA wins a prestigious James Beard Foundation "America's Classics Award." The award is usually given to small, family-owned businesses deemed to "have timeless appeal and are beloved regionally for quality food that reflects the character of its community."
Oriental Mart is a family-run hole in the wall eatery at the back of Pike Place Market started by Filipino immigrant Milo Apostol in 1971 as a small grocery store; think sari-sari store, hence the name. Though according to the Seattle Times, it was not until after a decade when the establishment gained popularity as Apostol and his family decided to add a counter seating restaurant that served five to seven native Filipino dishes a day.
The carinderia-kitchenette setting, which carries on to this day, affords less than 20 seats without having a set menu. The dishes served each day depend on the ingredients available at the nearby market and also the mood of Apostol's daughter Leila Rosas, the self-taught cook of Oriental mart. 
Apostol's wife Milagros Apostol, in an Inquirer feature in 2014, said that even though some of their customers are Filipinos looking for familiar flavors, most of the people who eat at Oriental Mart are actually non-Filipinos who work around the area and have found the place to be a lunchtime gem.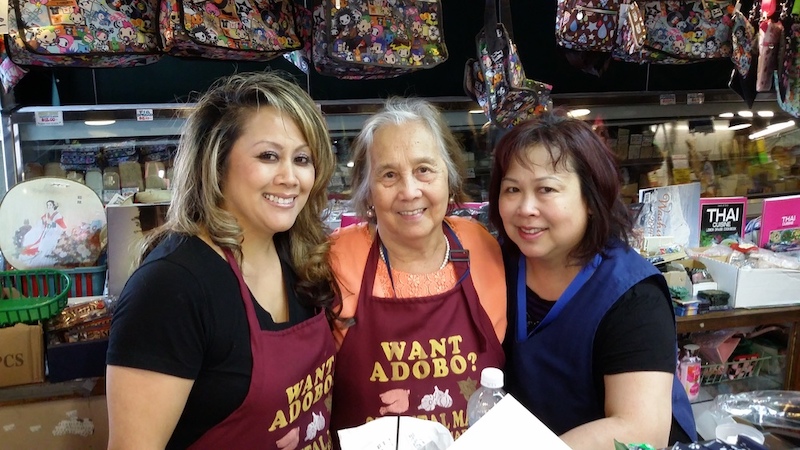 Famed bizarre food eater Andrew Zimmern in his show for Travel channel also got a taste of Leila's salmon sinigang and says that the dish was "one of the best I've eaten in a long time." The restaurant is famous for bringing home-cooked Filipino staples to Seattle like sinigang, dinuguan, pancit, longganisa, adobo and kare-kare. 
"We are typical of a large family wanting to lock in the Philippine dream in America and doing the best way we can to grab our piece of happiness here," says Rosas. "We take care of each other, and we try to help others as well." 
Oriental Mart is one of only six establishments who will be 2020 "America's Classics" recipients to be honored at the James Beard Awards Gala on May 4 in Chicago.
Header photo courtesy of of globalnation.inquirer.net
Get more stories like this by subscribing to our weekly newsletter here.
Read more:
Sinigang can be soupless, wrapped in a burrito and still be amazing
Mechado, caldereta, menudo. Still can't tell one from the other?
LOOK: Noma's René Redzepi reinterprets Toyo Eatery's kinilaw, sinigang, and silog