Come inside any Filipino household, and one essential question you'll have to face is: "Kumain ka na ba?"
For Filipinos, food is a priority. They are practically inseparable. As a country with hundreds of subcultures, Filipino cuisine is diverse with a constant gusto for experimenting with flavors, ingredients and textures. However, we've got a good share of Filipino classics that are consistent staples for every family.
That's why Filipino restaurants can sometimes be a hit-or-miss. Why go out and spend when you can have the same meals cooked at home? What can be better than your mom's adobo or sinigang? It's a challenge that some restaurants have taken on, and only a few have conquered. So to make sure that skipping out on mom's cooking is worth it, we've rolled out a list of Filipinos restaurants that have garnered a timeless reputation over the years as well as newcomers that are elevating local cuisine.
The Aristocrat Restaurant
423 San Andres St, Malate, Manila, 1004 Metro Manila / multiple branches
This is a restaurant that needs no introduction. Now in its 84th year, The Aristocrat Restaurant has cemented itself as a staple in the Filipino food universe. It has somehow become a cultural heirloom passed down from the first generation who witnessed it during the '30s to today who are still enjoying that classic Filipino taste our grandparents swear by. Other than the sought-after chicken BBQ and java rice combo, the sinigang, bulalo and sisig take on the same reputation.
Manam Comfort Filipino
Greenbelt 2, Greenbelt Dr., Ayala Center, Makati City / multiple branches
Relatively new in the Filipino dining scene, Manam has been a steady contender for modernized Filipino food ever since its opening in 2013. The menu is divided in two, called the Classics and Twists. Try out their pancit palabok and watch as the server pours orange sauce over a pile of crispy noodles, hard boiled eggs and shrimp. And if you're craving something new and exciting, the sizzling corned beef belly kansi, with its thick, gravy-like, sour soup, will keep you ordering extra rice.
Via Mare
Power Plant Mall, Lopez Dr, Makati, 1210 Metro Manila / multiple branches
Some people can say that you haven't really tried Filipino food until you've tasted Via Mare's pancit luglug (noodles with ground pork, shrimp and a savory orange sauce). This classic restaurant has been running since 1975, and has been the go-to for Filipino comfort food. Their chicken arroz caldo with its thick, aromatic broth and soft chicken cuts is the kind of cooking that actually reminds you of what mom would make. But what actually keeps the customers coming back are the oyster specialties: coated in parmesan, tomatoes and anchovies, or with spinach and bacon.
Locavore
10 Brixton St, Pasig, 1603 Metro Manila / multiple branches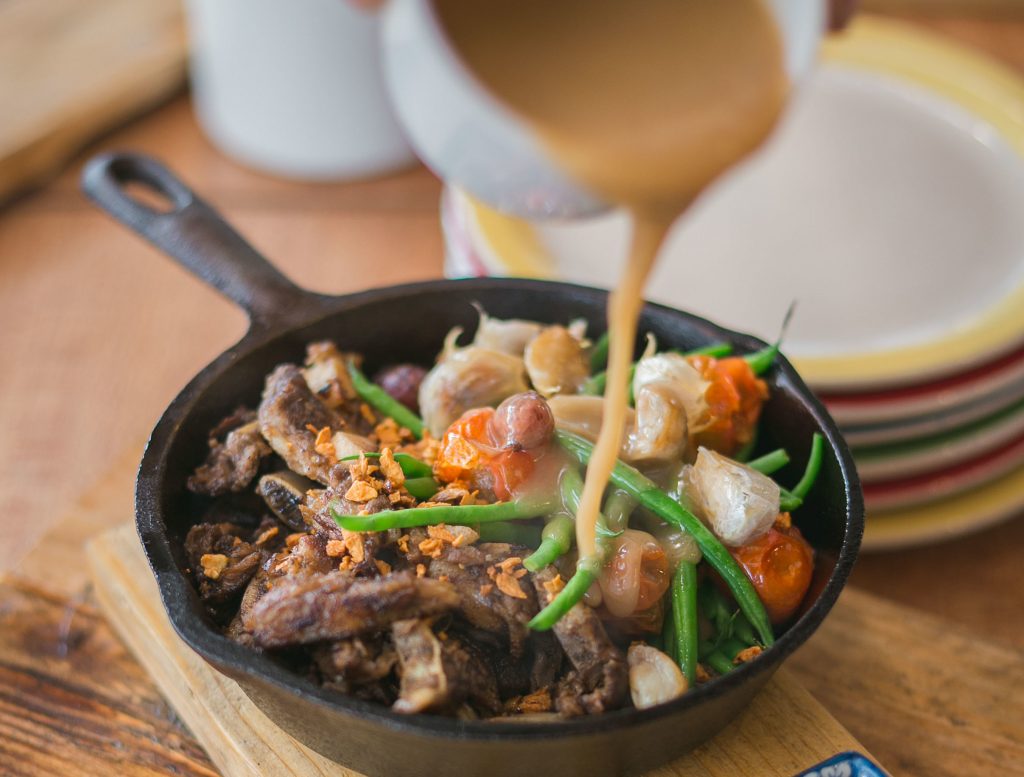 Sometimes it's hard to let go of the familiar. So when dishes like the classic sinigang gets upturned and deconstructed, there's a little bit of hesitance to come around. However, at Locavore, one bite into its contemporary take on Filipino dishes will fire up your tastebuds. Imagine sinigang but instead of the broth, it's doused in sampaloc gravy. And the lugaw is uniquely made with duck and foie gras. Locavore is all about pushing the envelope without losing touch of its roots.
MilkyWay Cafe
900 Antonio Arnaiz Ave, Makati, 1200 Metro Manila
Although it sounds like a coffee and dessert stop, don't be fooled. MilkyWay, which was first a dairy bar, has been serving quality Filipino dishes since the 1960s. A traditional charm marks itself into their classics like the baby crispy pata and sinigang na baka, something our parents would describe as nostalgic. And to stay true to its dessert roots, indulge in their famous house speciality, the halo halo, one of the creamiest you'll find in Manila.
Bistro Remedios
1911 M. Adriatico St, Malate, Manila
What Bistro Remedios aims to do is not only serve you traditional Filipino food but also bring you back in time with its antique-decorated ambience. The no-frills approach and dedication to achieving a "malinamnam" flavor is what has kept the restaurant well-established since 1984. Dig into their knockout kare-kare, which makes use of crispy pata to complement the thick peanut sauce. And there's a whole range of healthy options, like the gising gising, tortang talong and adobong puso ng saging.
Toyo Eatery
2316 Chino Roces Ave, Makati City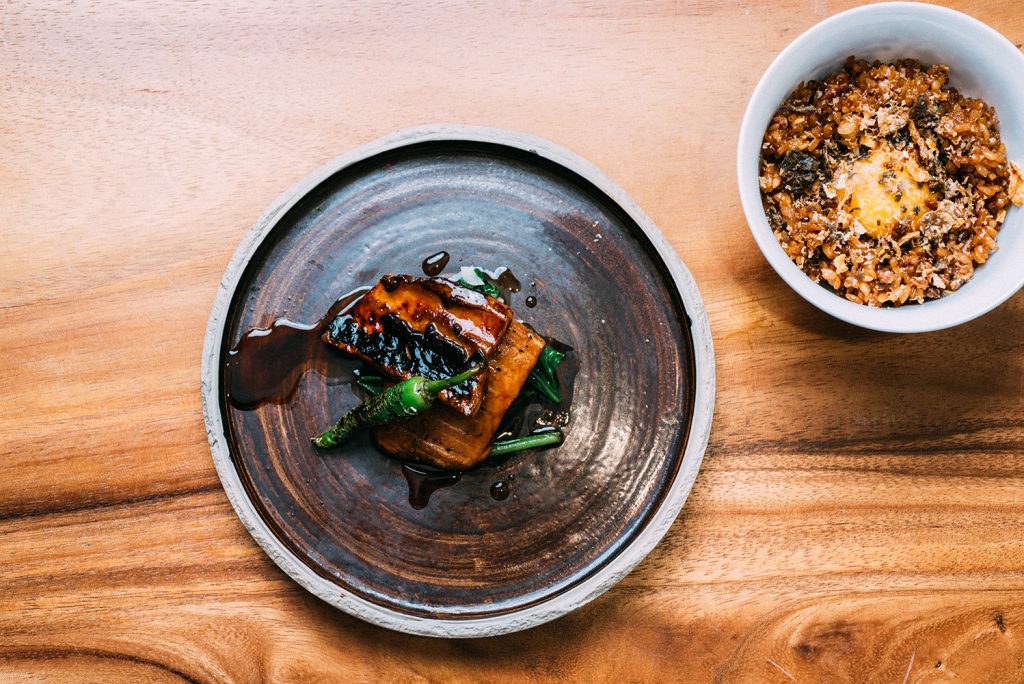 When we think Filipino cuisine, we imagine platters of rice and viands and huge calderetas of soup in the center of the dining table, hands reaching out for their share and all that. Forget about that for a second, and imagine Filipino cuisine as a tasting experience. That's exactly what Toyo Eatery has done. It's taken Filipino dishes and transformed it into smaller servings with elevated flavors served beautifully on a plate. Take their bangsilog; the bangus loin is separated from a bowl of sticky rice, egg and chicharon. Fancy and authentic, a reason as to why in 2018, it ranked 43rd on Asia's 50 Best Restaurants. 
Ilustrado
744 General Luna St, Intramuros, Manila
For a dining experience that's filled with history and tradition, head over to Ilustrado, a restaurant found inside the historic city of Intramuros. It's a fine dining experience that's been around since 1989, and continues to get better with age. Their take on the Philippine staple adobo, adobong bagnet and prawns with taba ng talangka, is a sensational dish that is sure to make your stomach full. Make sure to have a taste of their unique sampaguita ice cream to finish off your meal.
Mesa Filipino Moderne
Greenbelt 5, Ayala Center, Makati / multiple branches
This popular restaurant chain is a favorite among locals and tourists who are on the lookout for delicious Filipino food that's easily accessible. All the familiar favorites can be found here and mirror the taste of fresh, home-cooked meals. It's a perfect spot for big families or barkadas who can share platters of grilled meats and seafoods, and still have some takeout bags once done.
Romulo Cafe
Lazcano corner, Tomas Morato, Dr. Lazcano St, Diliman, Quezon City / 146 Jupiter Street Bel-Air, Makati, Saturn, Makati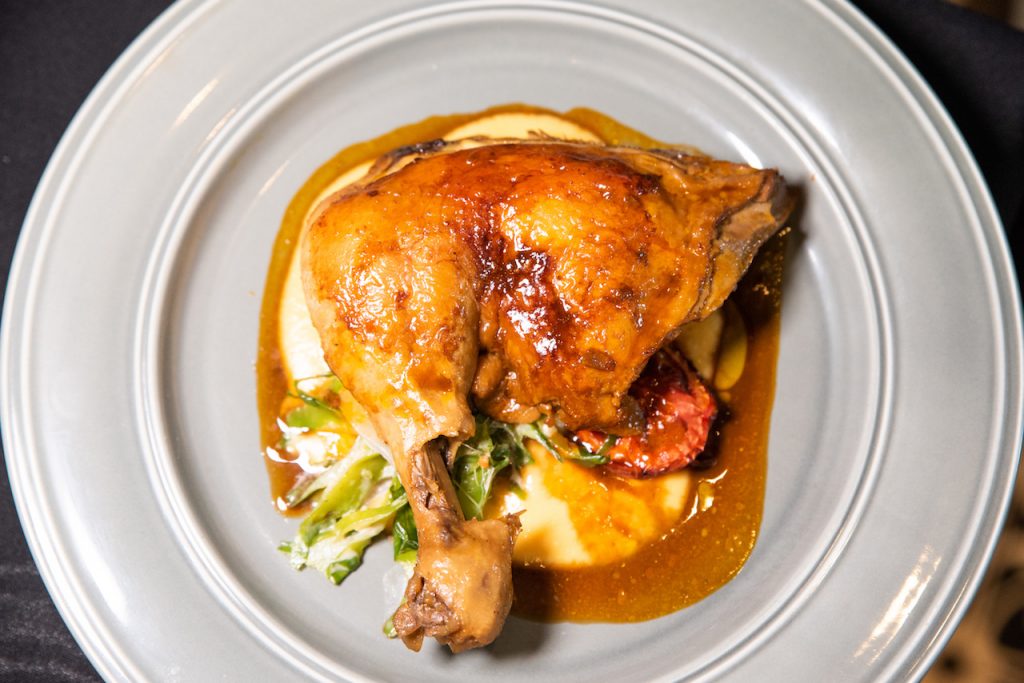 One visit to Romulo Cafe can make you understand what traditional Filipino food is all about. The restaurant is a tribute to the old-fashioned Filipino dining experience, one that's rooted in the concept of home and family. So inside the sophisticated but homey space, you'll be served dishes like Lola Virginia's chicken relleno, which is chicken stuffed with ground pork, raisins and chorizo, and Tito Greg's kare-kare, their house bestseller that stays true to the original recipe.
Get more stories like this by subscribing to our weekly newsletter here.Read more:
Toyo Eatery is the sole Filipino restaurant on Asia's 50 Best Restaurants list
The Filipino food brands making their mark abroad
Writer: THEA TORRES