What sets a Filipino restaurant apart in a saturated market? A lot of things really but mostly the name. Pinoys have a knack for name recall, after all (how else will you explain the last elections). Because a lot can be said of a name especially if its a storied family like the Romulos who trace their lineage to the late United Nations General Assembly president and Pulitzer Prize winner Carlos P. Romulo.
Since a decade ago, this establishment has purveyed Filipino cuisine the way our lolos and lolas would cook it. Reinvented Filipino classics? They aren't having any of that. For the couple behind the restaurant, Sandie Romulo Squillantini and husband Enzo Squillantini, a dish can still be elevated but it still has to look recognizable.
Four successful branches later—one located in London—Romulo Café is looking to stir the pot, to change it up.
Their resident chef A1 Rebueno knows just how to do it, thanks to his background, and in part to his lola.
Seven new dishes were unveiled one lunch at their Dr. Lazcano branch at the famed black and white room where lots of photo memorabilia of Romulo keeps watch as select few dine.
The lunch starts with a serving of chicharon bulaklak paired with spiced pinakurat vinegar, a favorite pulutan among many locals. Squillantini argues with a guest that it is actually a healthier food than bacon owing to the latter's preservatives. To which I seconded saying "and its taste can rival bacon's, too!"
Among the five new mains, the standout was clearly the adobong pula, a version of the ubiquitous dish that uses chicken leg quarters, tomatoes, and atsuete for its distinct color. Rebueno says he got the recipe from his lola who learned it from her connections in Batangas. The 30-year old chef's way of cooking, however, borrows from the way of the French by using the confit technique, resulting in almost fall-off-the-bone tenderness, while still maintaining the tomato flavors.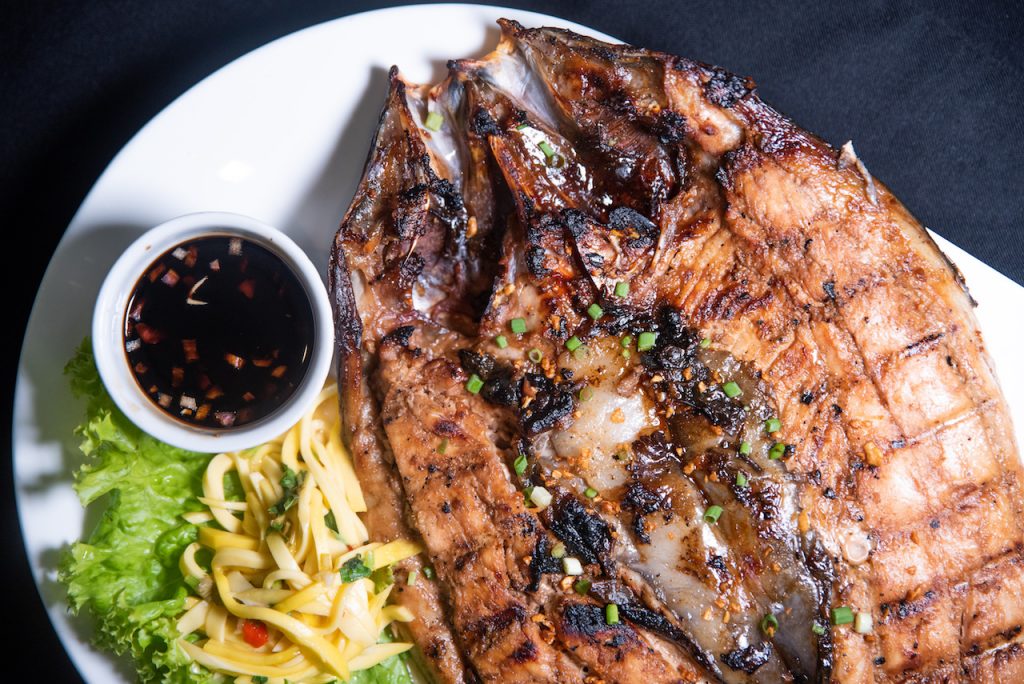 Instead of wholly transforming the dishes, knowing most of it is already available in some other restaurant, Rebueno looked into making it better by choosing premium ingredients. For their grilled bangus belly, for example, they get their bangus from Bonuan in Dagupan which has fatter bellies than the usual varieties.
For their Conchinillo de Cebu, the approximately two-kilogram suckling pig is roasted with the usual lechon ingredients like tanglad and garlic but it is not served with lechon sauce. Quite ballsy, if you ask me, knowing how Filipinos love their sarsa. Guests have to order in advance (seven days ahead to be exact) if they want to try this out.
The day before the preview, Romulo was also featured at the fifth installment of Inquirer Best Desserts with their new Pandesal and Leche Flan pudding. It's cooked the way the egg-based flan is done but with the bread bits at the bottom. Served upside down, the dish drips with caramelized sugar.
You can try out all these new dishes at any of the three Romulo Café in Metro Manila starting July.
Read more:
From heirloom recipes to '90s hits: Sobre Mesa is all about nostalgia
This vegan joint has meatless Filipino food to rival the real thing
Filipino diner Ma'am Sir is one of America's Best New Restaurants
Writer: CHRISTIAN SAN JOSE
PHOTOGRAPHY ARGYL LEONES