With a betamax on one side playing Backstreet Boys' hits on loop and posters of F.R.I.E.N.D.S. and Nirvana on the other, this restaurant proves that we haven't and really can't move on from the good old days of the '90s.
Since it opened its first branch along Sapphire Road, Ortigas in 2015, Sobre Mesa has been establishing itself as a restaurant that fuses Spanish, South and Latin American, and Filipino cuisine. However, when the owners decided to expand to Shangri-la Plaza, which is already booming with Spanish and Filipino restaurants, they gave Sobre Mesa a total makeover—from the menu to the market.
"We felt that we are quite similar to neighbors so we decided to revamp our style and focus on a theme we can relate to—which are titos and titas," co-owner Harvard Uy de Baron told Nolisoli.ph. "If you were born between 1975 to 1990s, you are our primary market."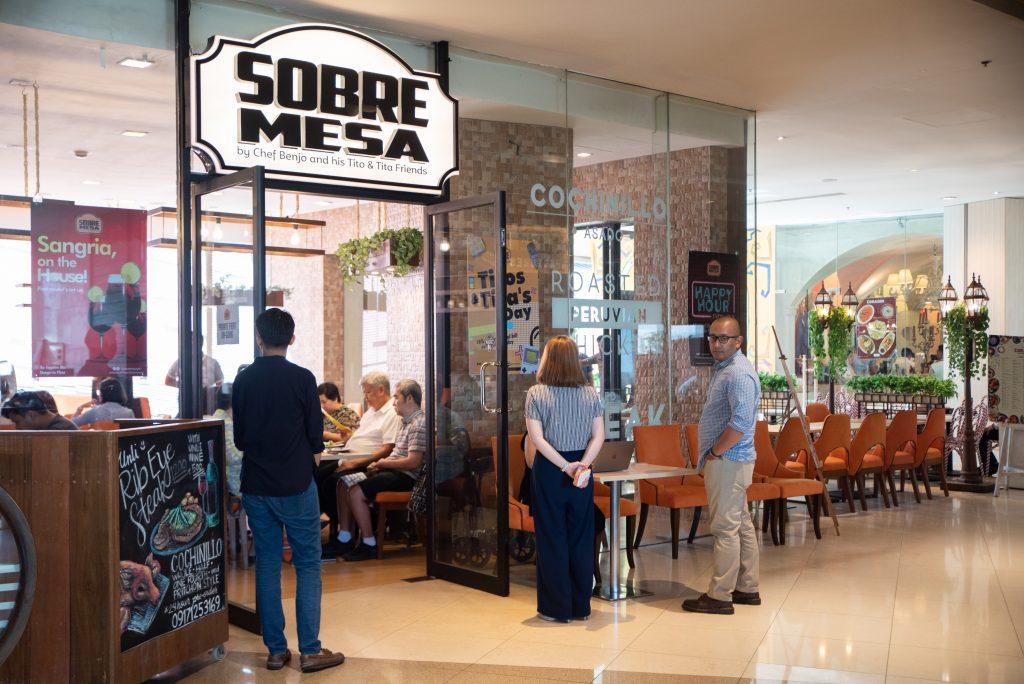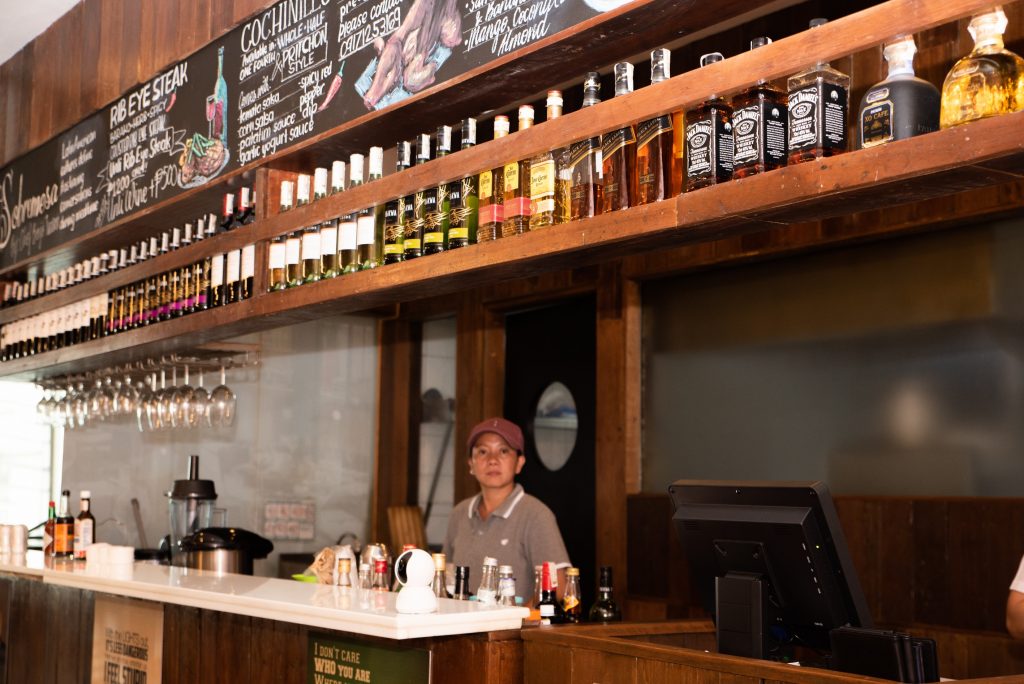 They turned the traditional vibe of the restaurant, including the script logo, into something more laid-back and retro, an aura close to Central Perk. Diners can enjoy hours-long of chilling and reminiscing with their friends on their favorite '90s shows while sitting on cushioned bright orange chairs.
They are also entitled to a bonus: upon entering the restaurant at 5 p.m. onwards, diners will be served sangria (either alcoholic or not) and a complementary bread for free. It is a way of preparing the "warm atmosphere" Sobre Mesa aims to establish, as chef Benjo Tuason said.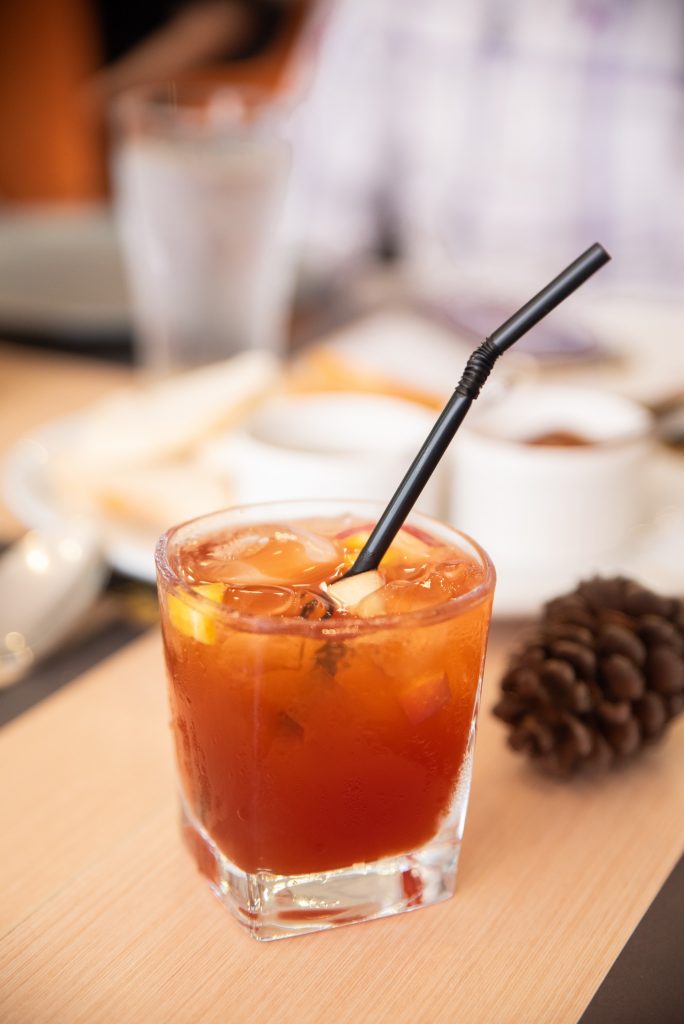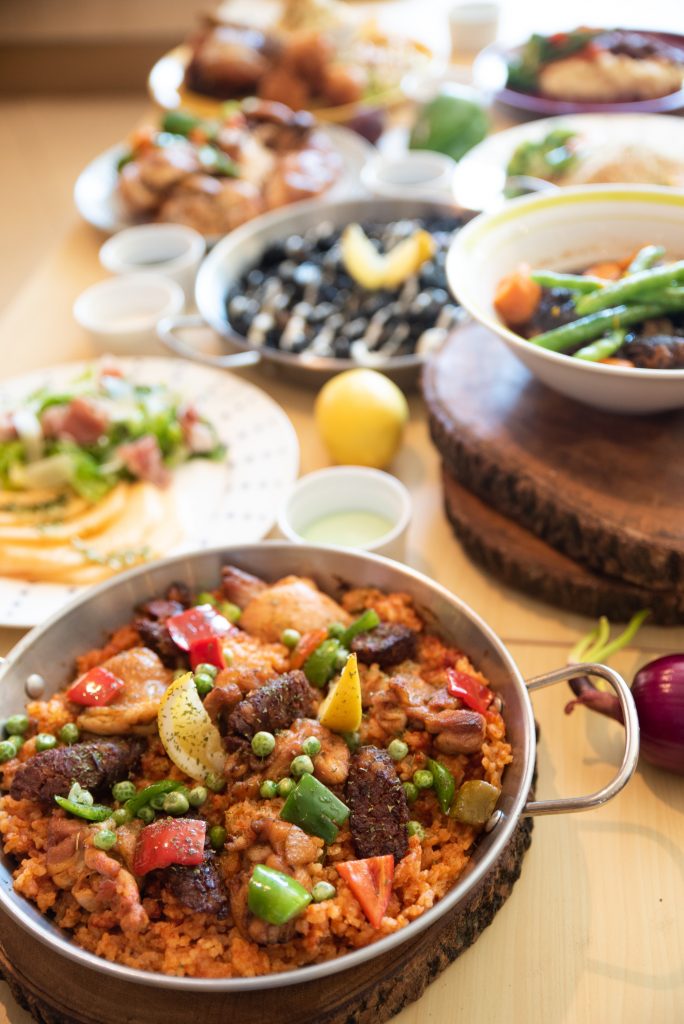 Aside from the market and interiors, a lot of changes have also been applied to the menu, starting with the names of the dishes. Once you flip through it, you'll notice that nine of the meals are named after a certain tito or tita, who turn out to be co-owners or partners of the restaurant.
The dishes are named after the partner who considers it as his or her favorite, said De Baron who got to have Osso Buco (a.k.a. Sobre Mesa's take on Italian braised veal shanks served with pleasantly crispy vegetables) named after him.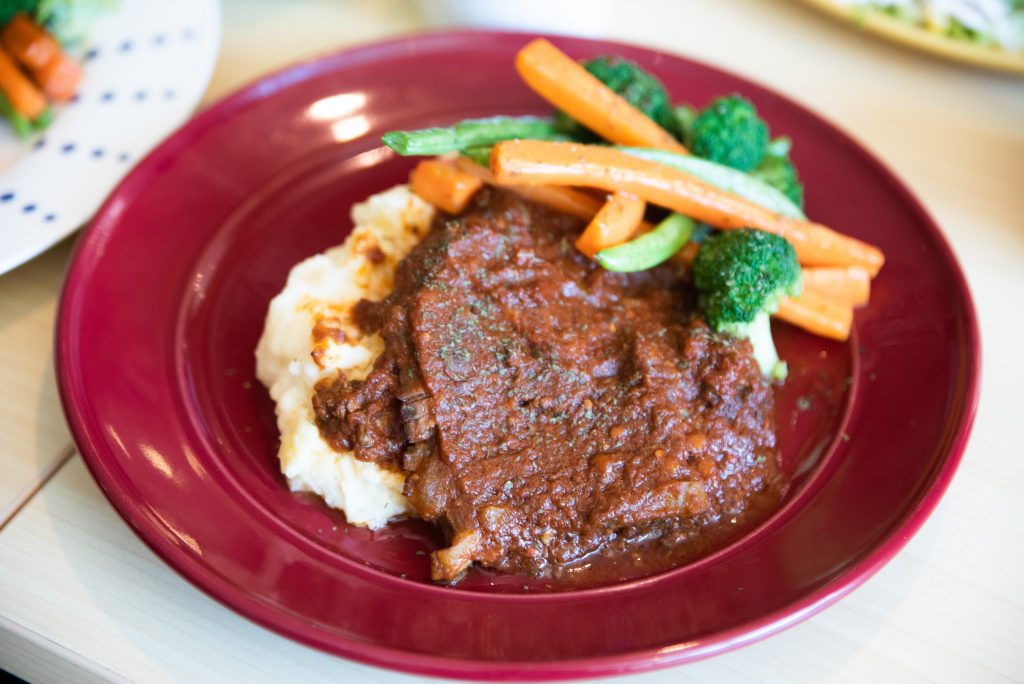 The Tito Japs' Bulalo Estofado, one of the partner-favorite dishes you shouldn't miss, will save you a trip to Tagaytay as it is a gratifying bowl of slow braised beef. Sobre Mesa's take on this, however, unlike your usual light-colored bulalo since the beef is accompanied by piping hot broth of soy sauce and citrus sauce. "It came from a family recipe handed to chef Benjo by his late mother," sous chef Arman Panahon said.
Panahon, who has been working with Tuason since 2011, told Nolisoli.ph that almost 50 percent of the menu is new. "Kung hindi naman, it's most likely an upgraded version of our bestsellers," he said.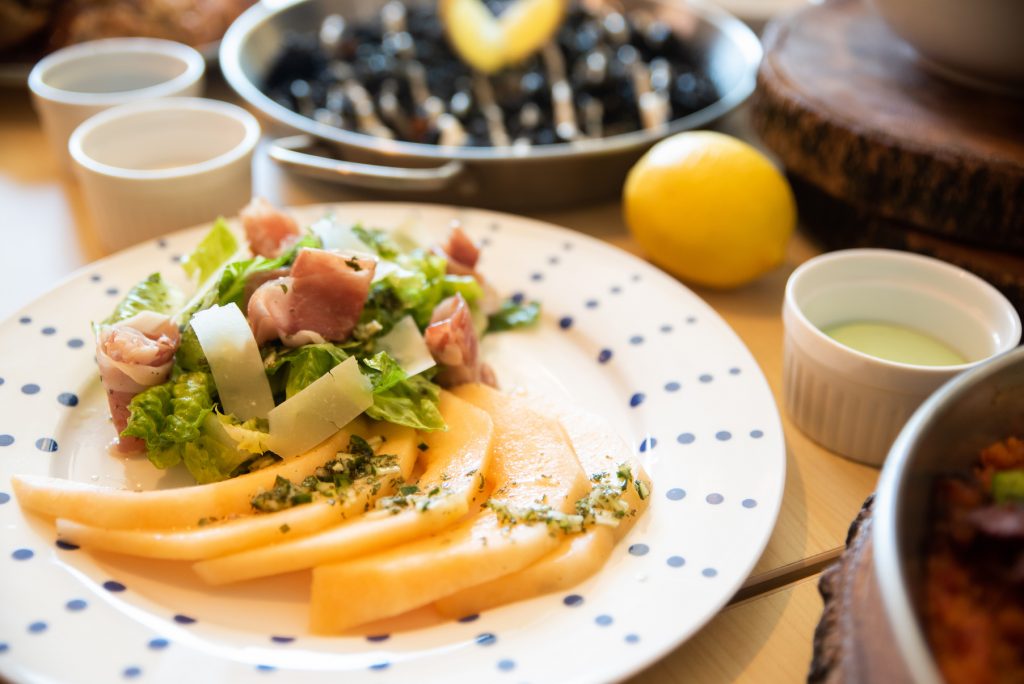 Since Sobre Mesa is aiming to establish their space as a place where groups can hang for hours, they added the huge Chicken and Steak Platter made to share. The platter is bursting with flavors of the sweet corn fritters, salad, deep-fried banana, chicken, and a gorgeous slice of steak.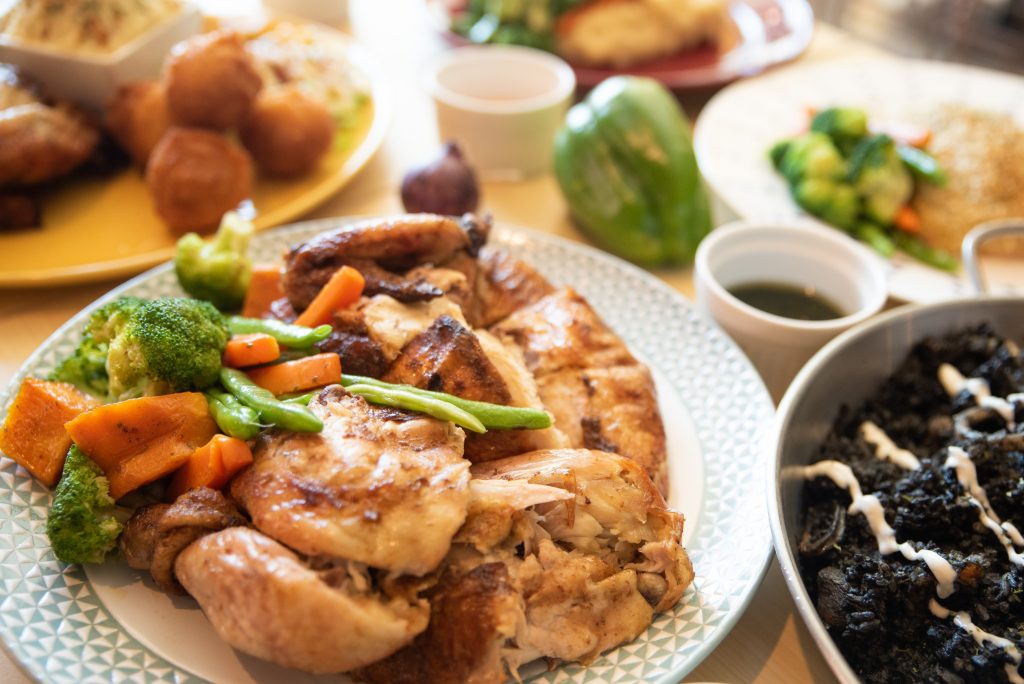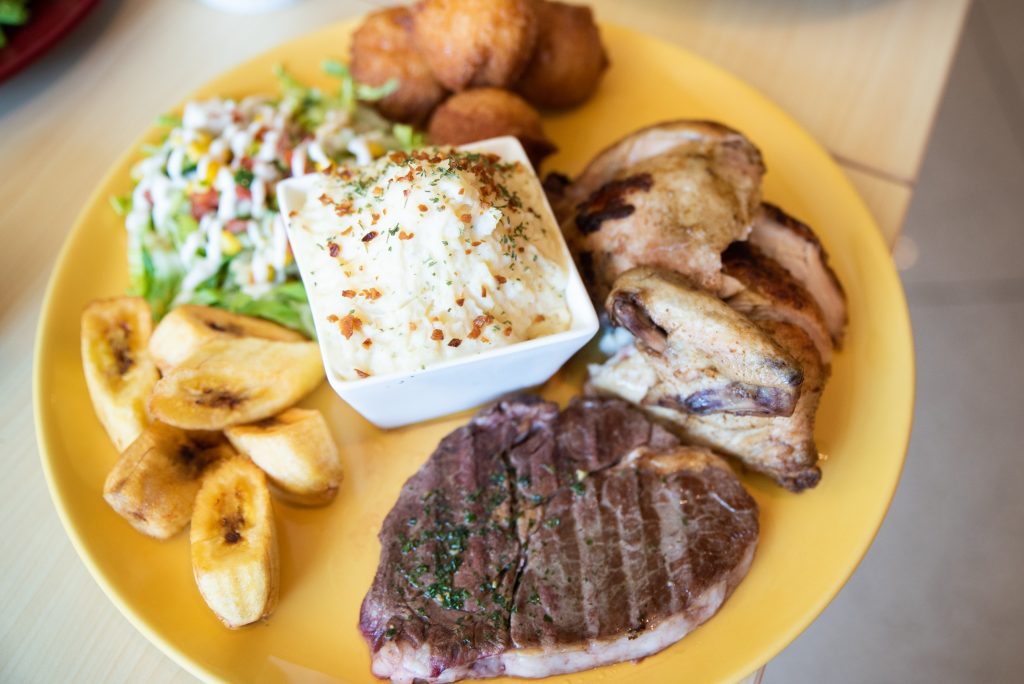 You can pair this full package of a meal with Sobre Mesa's rice dishes Arroz Negra, black rice with light hints of sourness, and the Spanish staple Arroz Con Pollo y Chorizo or, to simply put it, a flavorful melange of chicken, rice, and chorizo.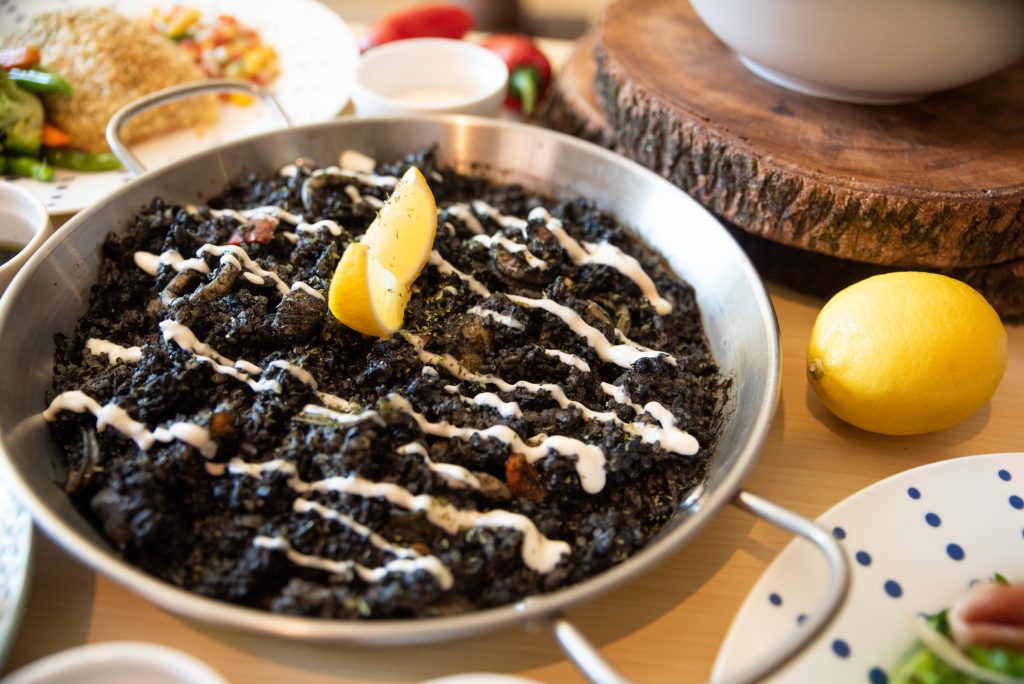 For a full dining experience, try two of the Sobre Mesa's cheesecake entrees: the salted caramel and banana cheesecake and the mango coconut and almond cheesecake, which is named after a certain Tito Augusto. Both of the fruit and cheesecake combinations will remind you of the sweet after-siesta merienda you loved as a child.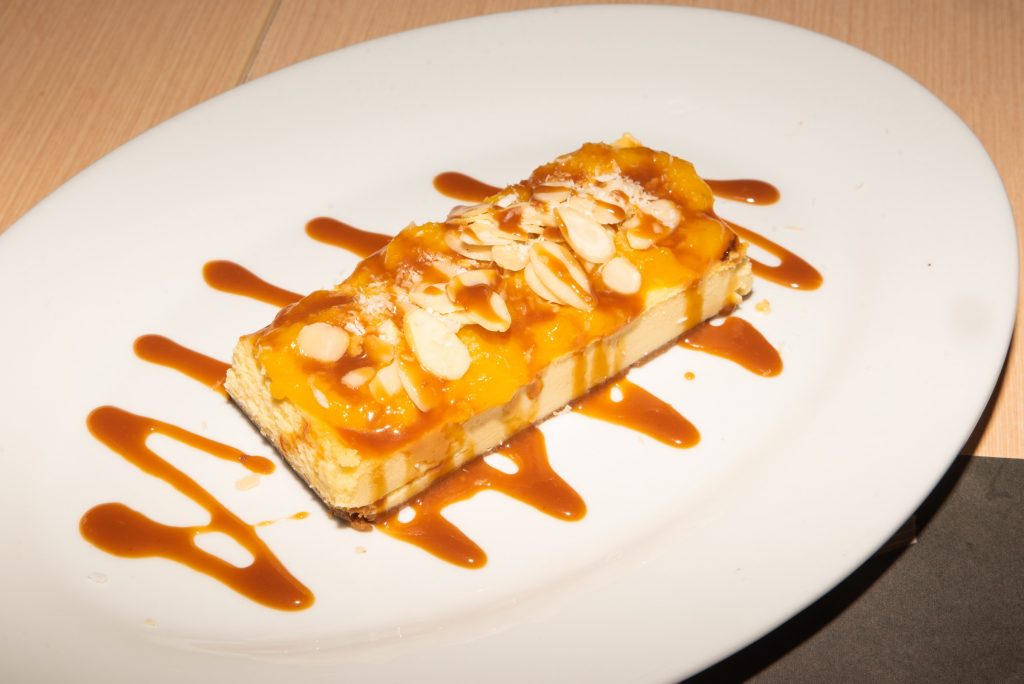 Besides the nostalgic series of meals, Sobre Mesa also has more in store for titos and titas born between 1975 to 1990. They are entitled to a "pre-senior discount" (what a great time to be in your 30s to 40s, right?) in time for the re-opening of Sobre Mesa's Shangri-la branch.
Get more stories like this by subscribing to our weekly newsletter here.
Read more:
Instead of bulalo, have paella and sangria at this Tagaytay "social club"
Nolisoli on the road: Where to find the best bulalo in Tagaytay
Have you tried the bulalo-sinigang hybrid at Pat Pat's Kansi?
Read more by Amierielle Anne Bulan:
There are "cakesicles" at this dessert bar in Mandaluyong
Milk tea is served shaved in this Manila dessert shop
Writer: AMIERIELLE ANNE BULAN
PHOTOGRAPHY ARGYL LEONES