There are "cakesicles" at this dessert bar in Mandaluyong
Here's a new and convenient way of eating a bar of cheesecake
info
Tochi Dessert

Desserts

11 a.m. to 9 p.m.

₱

P165 to P180
The Salcedo-based Japanese restaurant Ikomai is not only celebrated for their various kushikatsu offerings. Ever since they opened their doors to the public in 2017, the cookies they sell at Tochi, their dessert bar located at the entrance of the restaurant, have also been making a buzz.
(READ: This is what you get when a Japanese chef knocks on your door)
People all over the metro flock to Makati to try chef James Antolin's homemade cookie recipes that has flavors varying from the soft and thick double chocolate chip and espresso walnut to the crispy and bestselling salted Macadamia.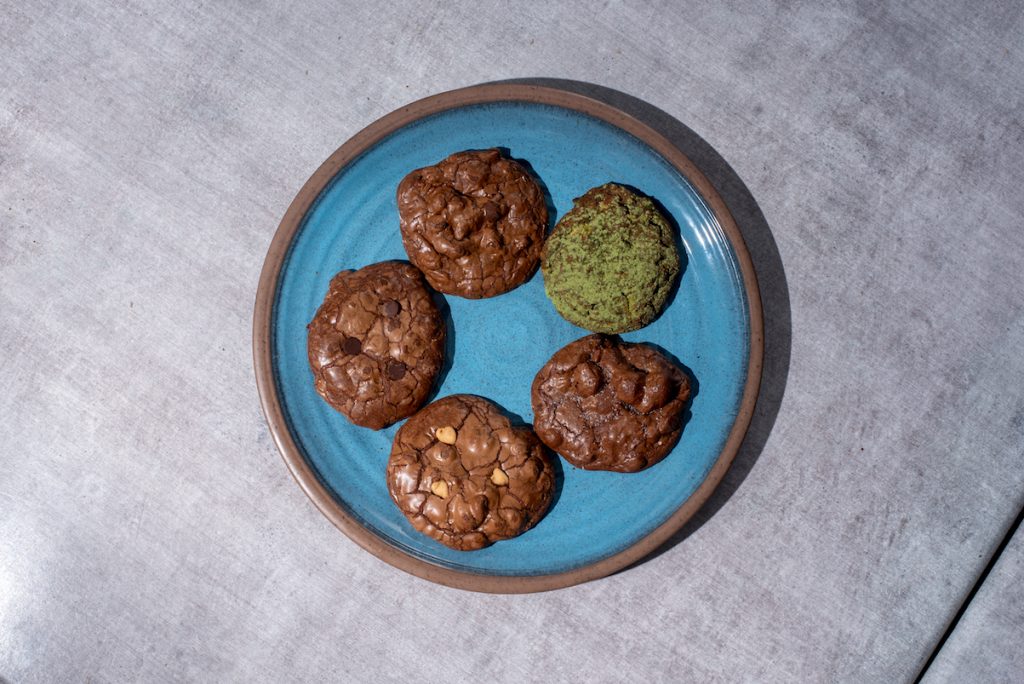 To make these mouthwatering confections more available to the public, Antolin and the chefs behind Tochi decided to expand to the north. They got an area at the Main Wing of EDSA Shangri-La Plaza in Mandaluyong City where they decided to put up Tochi's second branch. Unlike the first one, no Ikomai restaurant comes along with it. In popular culture terms, it's Tochi's solo.
Along with its opening last March was the launch of the dessert bar's new additions to the menu, which are the convenient cakes on popsicle sticks.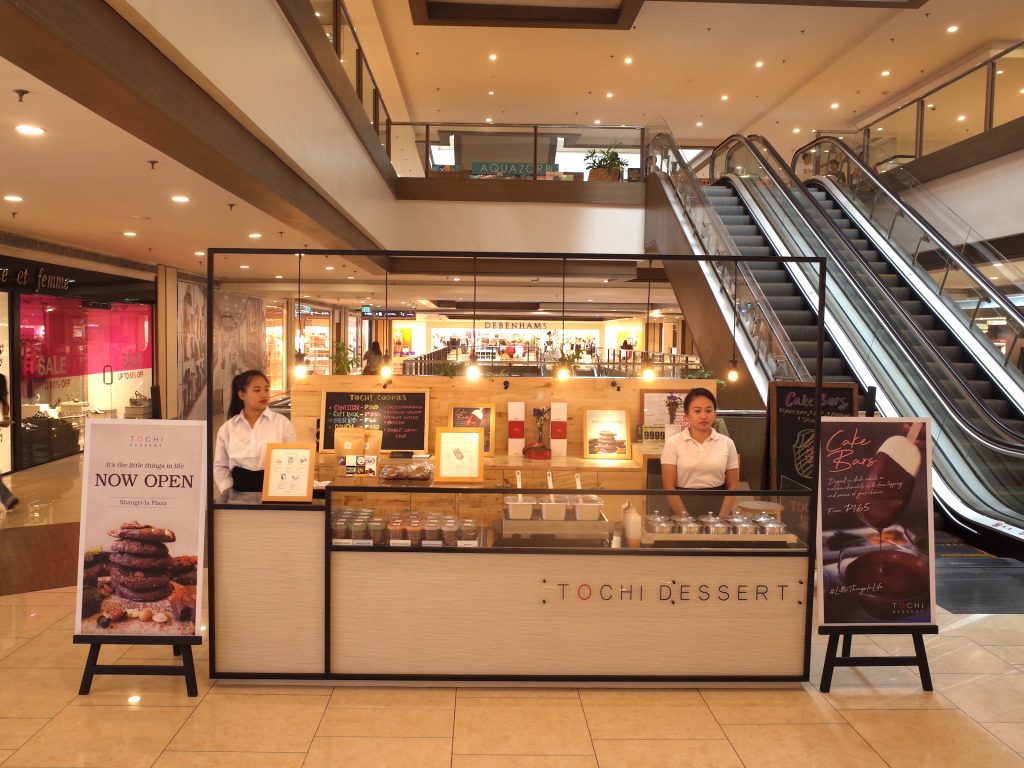 Exclusive to the new Ortigas stall, the cakes on popsicle sticks (called Cake Bars) are served to-go. It comes with a dip, some toppings, and sauce. "It's served frozen but it's not hard […] It's intended for customers who are on-the-go or prefer to eat desserts while walking around the area," Antolin said.
To buy one, you have to go through a short, fun, and creative process which we laid out below:
1. Choose a flavor
There are three Cake Bar flavors available in Tochi. There's the creamy chocolate symphony, the bit tangy and light cheesecake, and the sugar- and gluten-free milk chocolate dulce.
Despite being a lover of all things sweet, I highly recommend that, if you're planning to be adventurous with your toppings and dip, start with the cheesecake flavor as base. Its velvety texture with contrasting sweet and salty taste would complement whichever dip, topping, and sauce you choose.
2. Dip it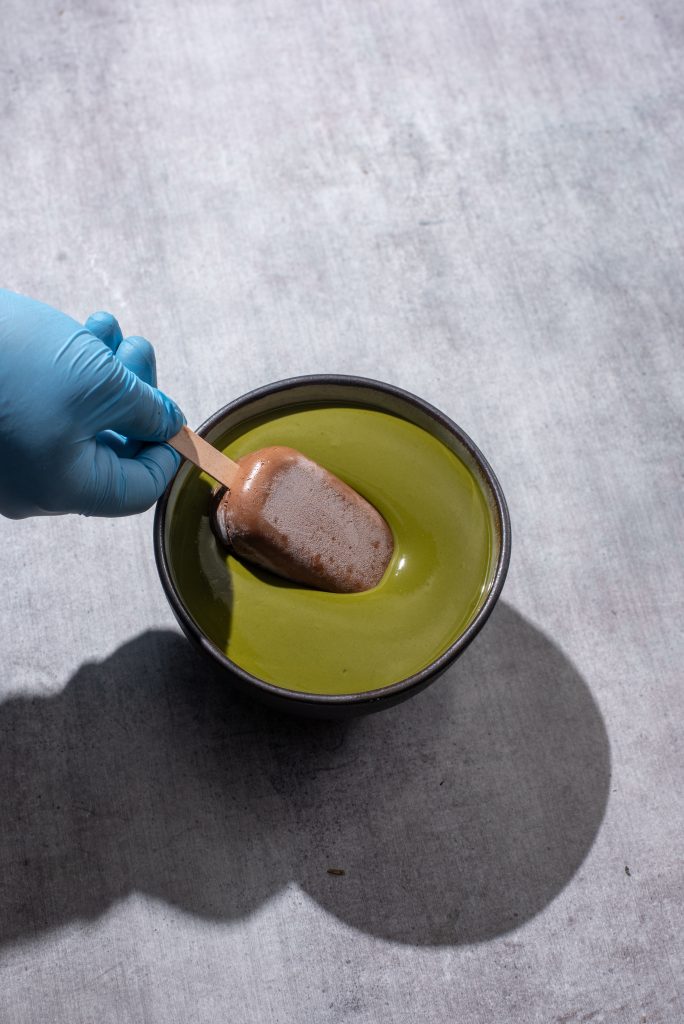 To assure that the cake won't crumble as you walk around eating it on a handle, it will be covered in a solidifying dip. You can pick among three types: an aptly bitter dark chocolate, a smooth white chocolate, and a bittersweet matcha chocolate dip. The white chocolate is an easy crowd favorite, but we're also encouraging you to take risks and try the other uncommon ones.
3. Drizzle one (or more) toppings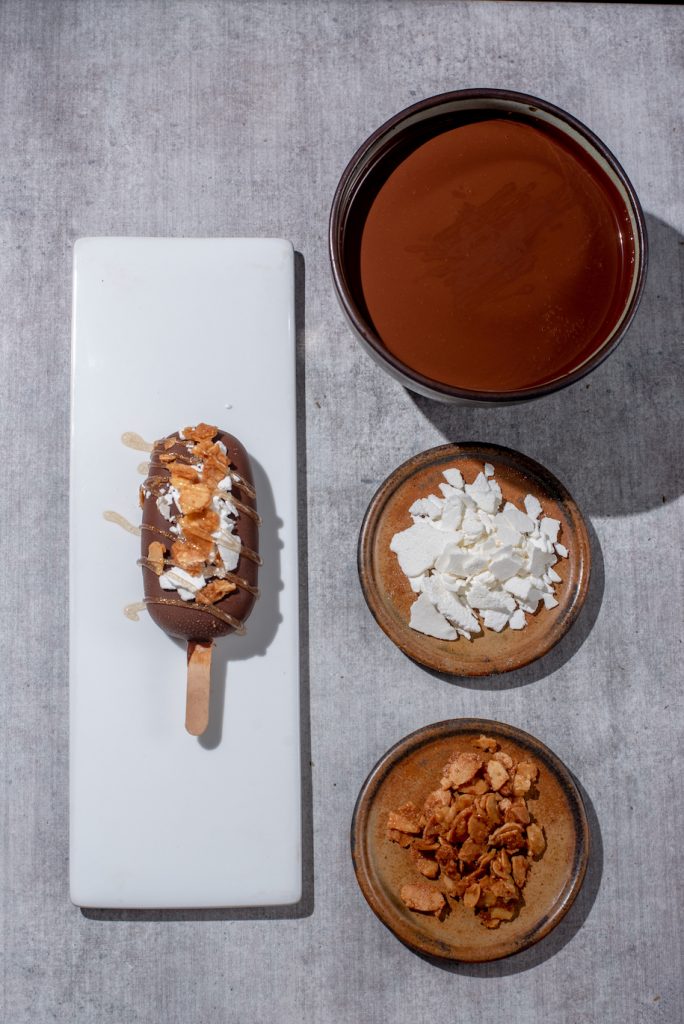 There's no shortage of toppings at Tochi, which is proven by their current line-up:
Coconut flakes
Reese's shards
Tochi cookie crumble
Black sesame popcorn
White pearls
Candied peel
Caramelized almond
Mint mallows
Spicy chocolate
Latik Tuile
Candied mushroom
Beet meringue
Only one topping goes with the P165 to P180 cake bars, but you can add more at a P25 price for each.
4. Finish with a sauce
To top it off, a salted caramel, chocolate coffee, vanilla sake, gold gel, or lychee guava sauce will be poured on the cake bar.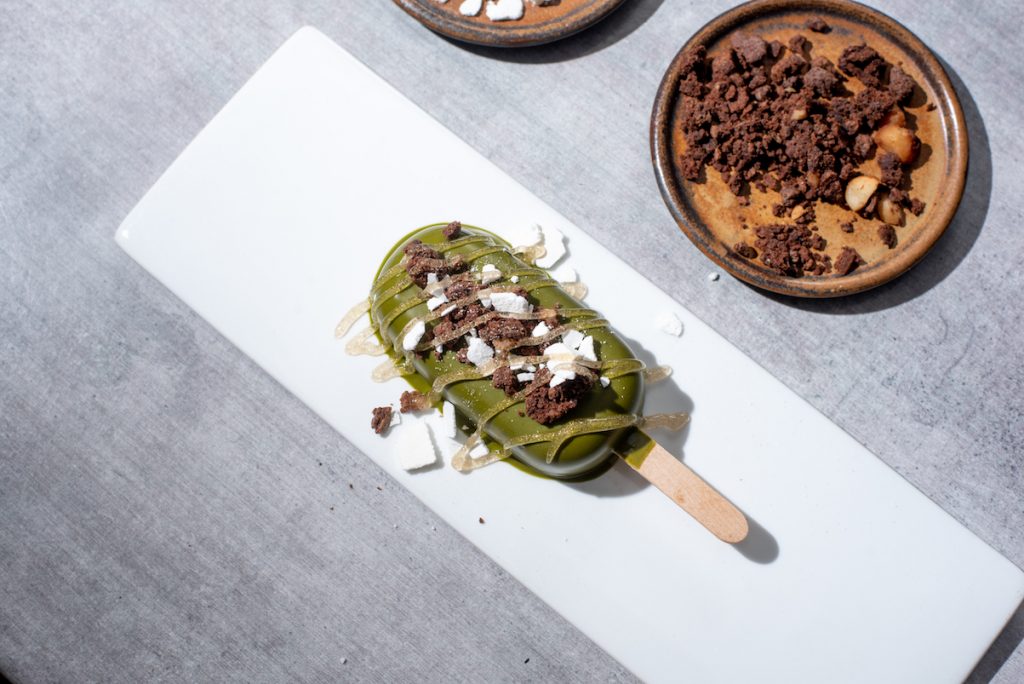 Get more stories like this by subscribing to our newsletter here.
Read more:
LIST: 7 local vegan dessert places you can't miss
This Filipino dessert café has maja blanca- and mango float-inspired halo-halo
Art Fair has a tea salon where you can try local tea, cocktails, and Thai desserts
Read more by Amierielle Anne Bulan:
What's the best food and cocktail pairing? Professional chefs and shakers find out
Where to eat and go in Rizal: A day-long tour
Here's where you can have an Italian pizza made the traditional way
TAGS: Bar cake cake bar cookies dessert ice cream Japanese Summer sweet
WHY GO?
You can snack on their gluten-free milk chocolate dulce—which you can pair with any of their 12 toppings—popsicle-style
MENU