The vegan lifestyle has a lot of stereotypes attached to it, and one of the most common misconceptions there is is that plant-based food is boring and unappetizing. But really, those who say that vegan food tastes bland obviously hasn't tried vegan food yet, or they might be looking at the wrong places.
Over the years, we've featured several vegan places around the metro, but it was only recently when we started to explore the beauty of vegan desserts. It came at the right time, too, because as they say, nothing says summer quite like a cold, creamy cone of ice cream. We understand that it can be a challenge for our vegan friends to look for one (and other sweet treats, for that matter).
But the good news is, the metro is becoming a friendlier place for vegans and would-be vegans alike. When the situation calls for it, look no further, because we've listed down some vegan dessert options around the metro that you can try.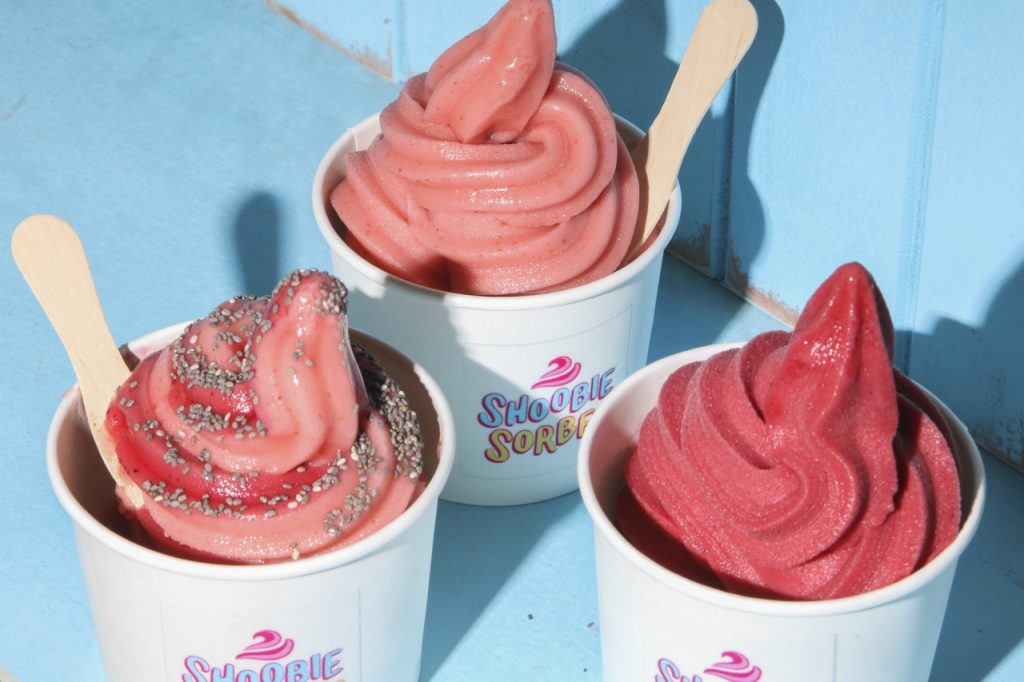 At UP Town Center, you can spot Manila's first vegan soft-serve sorbet shop by the name of Shoobie Sorbet. It's located at the second level of the mall, just a few steps away from Go! Salads, its mother brand. Currently, they only have four flavors, which are all berry-based.
They serve only two flavors at a time but they rotate the flavors every couple of days. Shoobie uses only real fruits in their sorbets—no artificial flavors and concentrates. You also have the option to get a mix of the two flavors available and top it with chia seeds.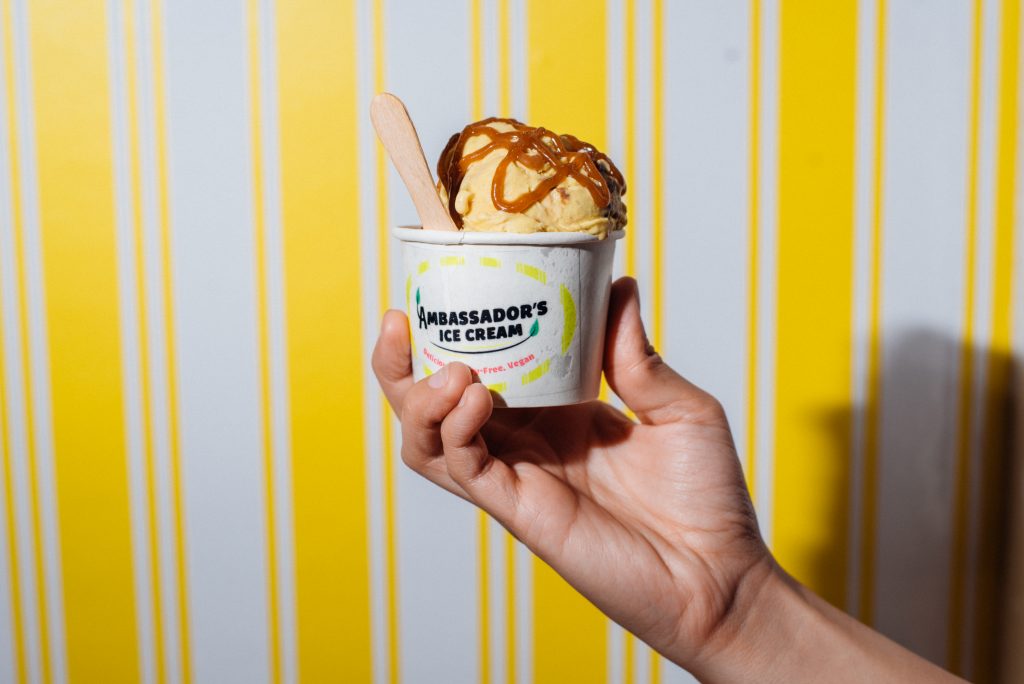 Shoobie's ice cream counterpart is Ambassador's Vegan Ice Cream—a humble stall located at SM Megamall and just recently, Glorietta. They pride themselves to have unique all-vegan ice cream flavors, ranging from pili whiskey to blueberry cheesecake.
Currently, they have a total of 11 flavors in their selection, all of which are made with lactose-free ingredients. Their ice cream is also sweetened with coco sugar—a natural sweetener that's friendlier to diabetics.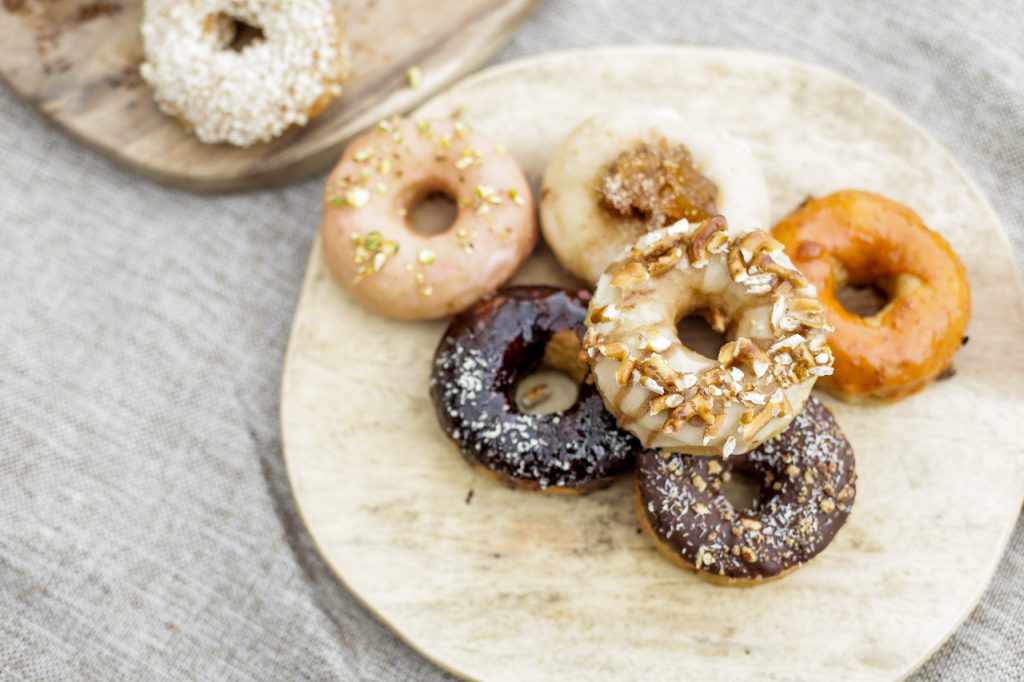 Green Bar is tucked within the West of Ayala building along Gil Puyat Avenue—a location that may only cater to a select few who dare to find it. But because of online food delivery services, Green Bar has earned itself a cult following for its all-vegan dishes.
One of their specialties is their vegan gourmet donuts, which come in unique flavors such as strawberry with pistachio and raspberry vanilla. In our previous feature, co-owner Sarada Santos reveals that the secret to their fluffy donuts is soy milk, which has to be added in perfect consistency and temperature.
Jertie's Kitchen
Jertie's Kitchen is a homegrown food business based in Quezon City that offers vegan and gluten-free treats. They're best known for their dark chocolate cake and banana walnut loaf, both of which are free from gluten, wheat, dairy, and other animal by-products. Recently, their dark chocolate cake won first runner up and best cake in Manila's best vegan dessert competition organized by People for the Ethical Treatment of Animals (PETA).
They participate in community fairs and bazaars from time to time but you can place an order online. You have the option to claim your order from their headquarters or you can have it delivered to you for a fee. Their products are also available at The Vegan Grocer, Hillside Cafe and Juice Bar, among others.
Super Scoops
Super Scoops is another local dairy-free ice cream brand. They use a coconut base for their ice cream flavors, some of which include strawberries and cream and best-seller coffee cashew crumble. And in case you haven't heard, Super Scoops won PETA's best vegan dessert contest this year.
They take part in bazaars, too, but unlike other vegan ice cream brands, they mostly sell their products by the pint. They're available online (for pick-ups and delivery) and at select retail outlets such as Rustan's and The Superfood Grocer.
Delicielo
Homegrown bakeshop Delicielo has a wide variety of vegan desserts to satisfy different cravings. Their creme brulee cashew cheesecake, which is a best-seller, promises to be free from dairy products. They also have homemade vegan ice cream, cookies, brownies, and cinnamon rolls.
They also customize treats and cakes, but they must be ordered at least a week in advance. While online orders are possible, you can also catch them at Good Food Sundays at Mandala Park in Mandaluyong.
Aging's Food Delight
Aging's Food Delight puts a unique spin to vegan desserts through their vegan kakanin. Wrapped in banana leaf, their version of vegan suman has a thin slice of sweet mango in it. They also offer local delicacies that are also vegan such as leche flan, kutsinta, to name a few. Apart from occasional fairs, their products are solely available at their restaurant at M. San Buenaventura along Pasig boulevard.
Header image courtesy of JP Talapian
Read more:
Don't know where the vegan places are? Try the HappyCow website
This vegan joint has meatless Filipino food to rival the real thing
New vegan spot in Makati doubles as a mini zero-waste grocery store
Read more by Jill Chua:
Would you try whiskey-flavored vegan ice cream?
Here's how and why you should claim your PWD card
Writer: JILL CHUA