Don't know where the vegan places are? Try the HappyCow website
Check out this resource for all the vegan and vegetarian restaurants around the world
Mar 25, 2019
What's one sentence you're guaranteed to hear when would-be vegans explain what's keeping them away from going the meat and dairy-free route? "It's so hard to find vegan places!"
It's almost a cliché by this point, but it's still true. While more vegan and vegan-friendly restaurants have started popping up in recent years, it's still hard to be both a vegan and a resto-hopper. It's not like you can walk into any restaurant and expect that joint to already have vegan options. (I mean, they should, but we don't live in an ideal world)
To make your resto-search easier, you can check out HappyCow. Started in 1999 as a print dining guide for vegans around the world, HappyCow is an online resource that lists down all the available vegan and vegetarian options in your area. It's kind of like Zomato, but strictly for greens. It currently runs on a website as well as apps on the Apple store and on Google Play.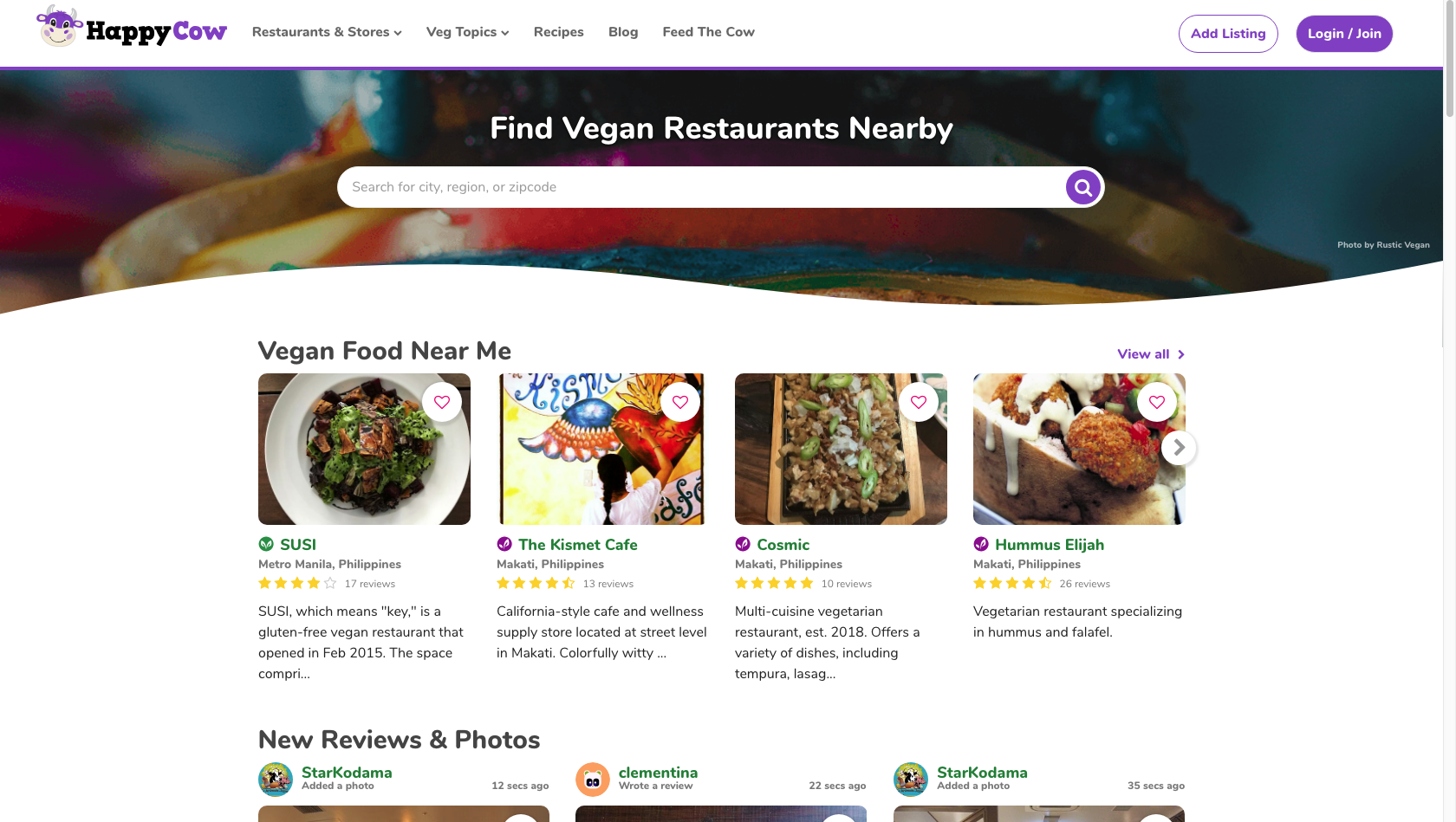 This is what the homepage looks like. The first things you can find here are the restaurant listings. You can see that each restaurant is marked with a badge right before its name. There are three different kinds of badges based on the resto's menu: The green badge with two leaves show that the place has a completely plant-based menu; the purple badge with a single leaf means that the place offers vegan food but still has dairy-based vegetarian dishes; and the orange badge with one leaf means that the restaurant is neither vegan nor vegetarian, but does offer options for both.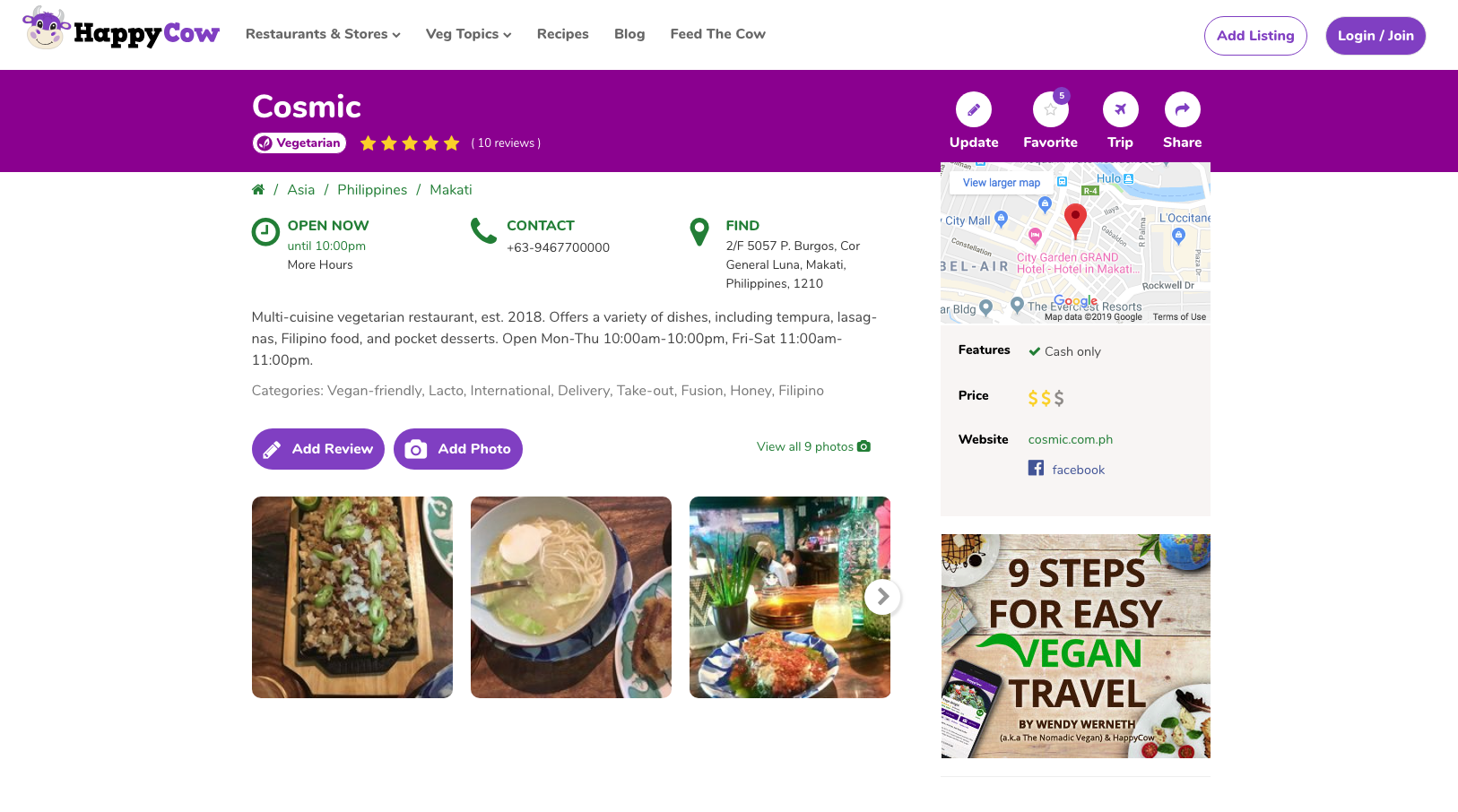 I decided to click on Cosmic, which we covered before for our Eats section. (Read: Cosmic's secret club makes a case for a veganized Poblacion) In each listing, you can find the resto's address, menu, contact information, and other pertinent information, as well as reviews from other users.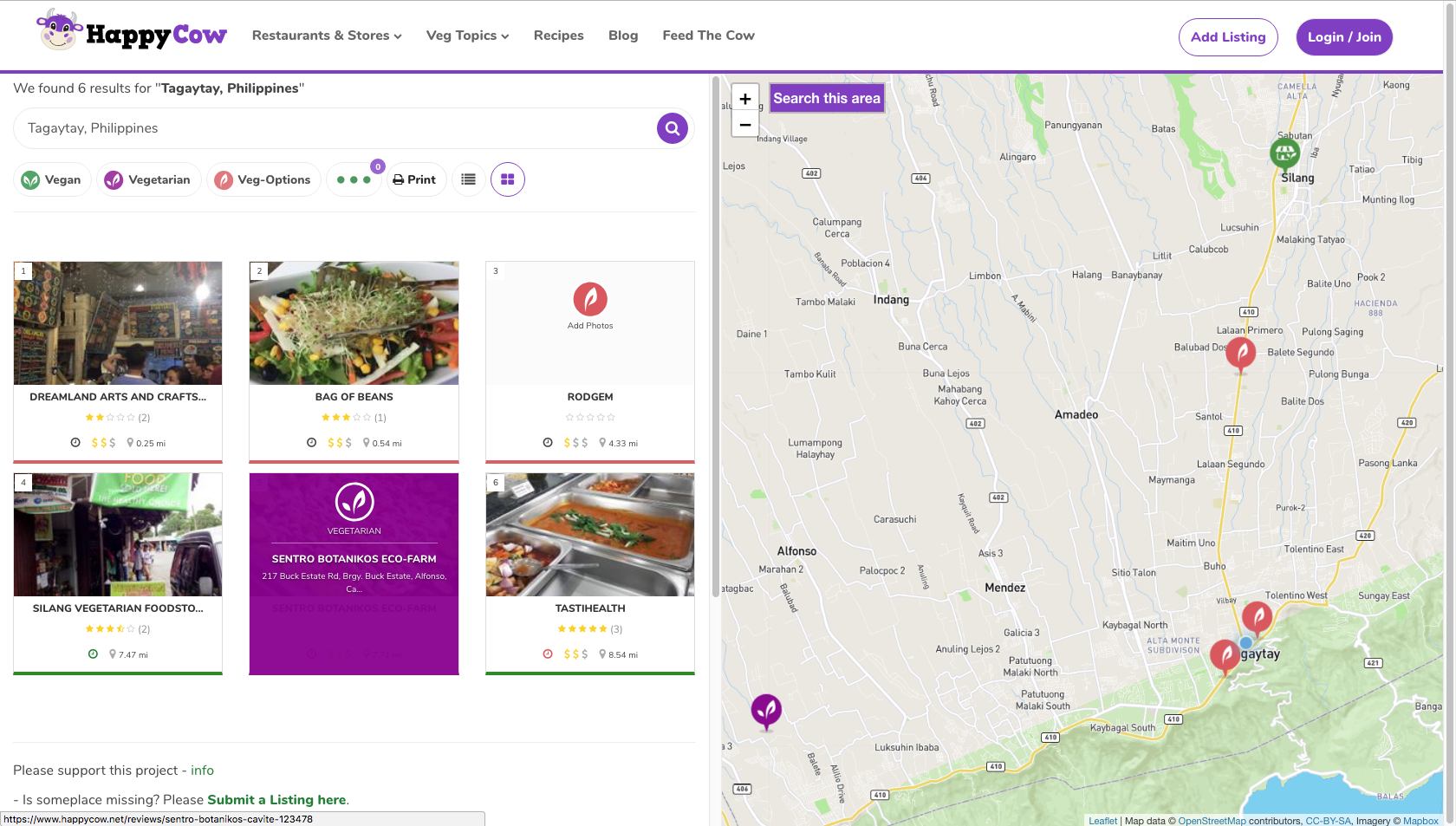 What if you want to look for places that aren't in your area? I did a sample search for restaurants in Tagaytay. That took me to a page with two screens. On the right screen was a helpful map of Tagaytay marking down the restaurant options, while the left screen was a list of the results. Hovering over the options shows you whether or not the place is vegan, vegetarian, or just has vegan-friendly options.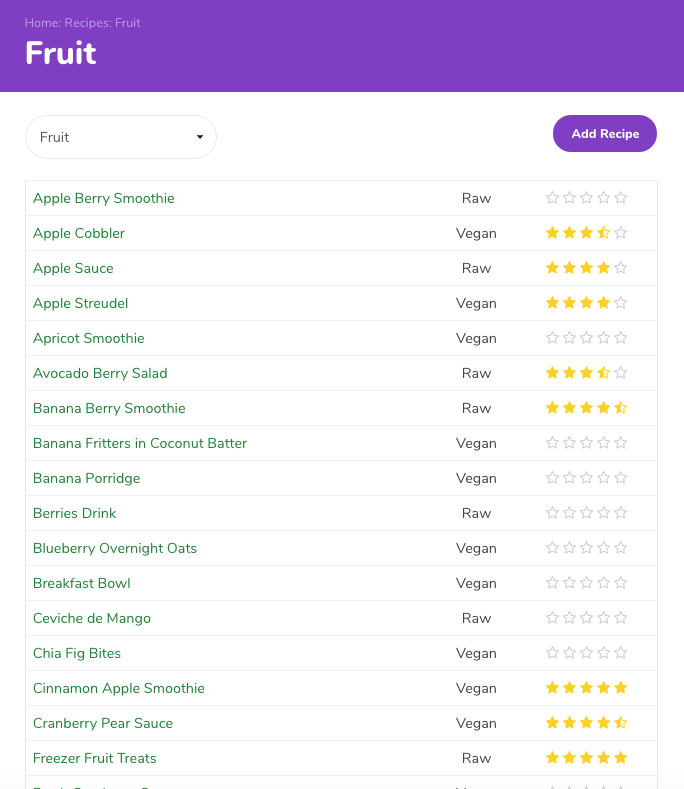 If you're in the mood to cook yourself up some food instead, HappyCow also has a section for vegan and vegetarian recipes. You can choose a category (there are a ton, ranging from kinds of ingredients to types of cuisine). I chose the fruit category, which took me to a list of recipes. Each recipe is further categorized as either raw or vegan, and also shows their rating.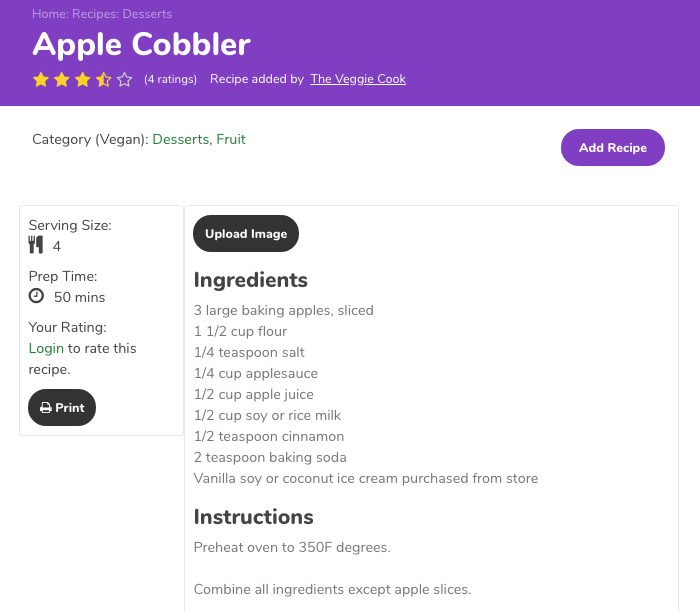 The recipes themselves are pretty straightforward.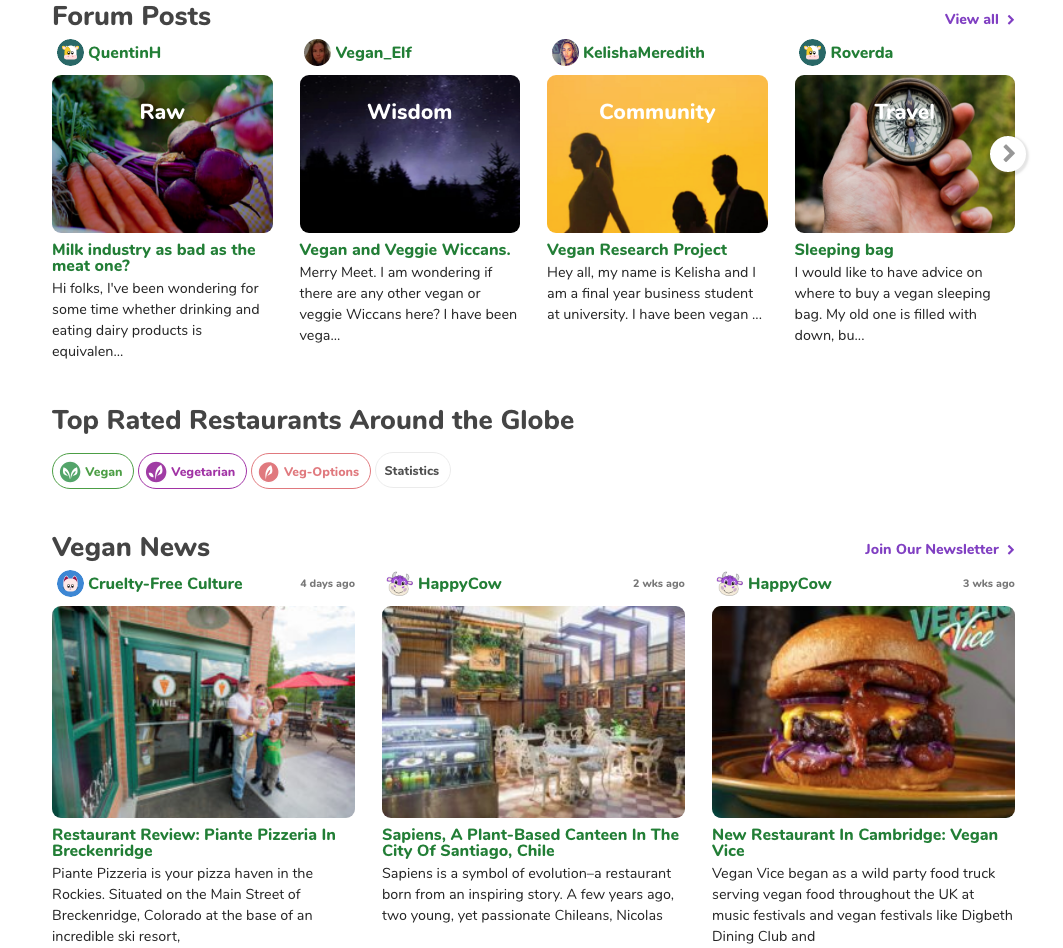 Aside from restaurant listings, HappyCow also has a vegan news section, a forum where you can talk about vegan topics, and lists of the best vegan places in a specific area according to their ratings. There's also a food blog, although the blog only covers restaurants in the West. 
All the screenshots were taken by me from the HappyCow website
Get more stories like this by subscribing to our newsletter here.
Read more:
This vegan joint has meatless Filipino food to rival the real thing
Would you try whiskey-flavored vegan ice cream?
New vegan spot in Makati doubles as a mini zero-waste grocery store
Read more by Zofiya Acosta:
Have an espresso and root beer mix at Nicto's
There's a sangria bar above the Uniqlo building in BGC
Ta Ke Ho Me Sushi shows that sushi can be cheap—and still be good
TAGS: HappyCow nolisoli.ph Vegan vegan-friendly vegetarian