New vegan spot in Makati doubles as a mini zero-waste grocery store
You can bring your own utensils, containers, and take out bags here!
info
Two Chickpeas

Vegan

9 a.m. to 10 p.m.

0995-5242829, 946-2026

₱

P200 to P300
Green Bar has established a darn good reputation when it comes to being a source for vegetarian or vegan food. They have a wide array of selections for all kinds of eaters (vegan or non-vegan)—for the junk food junkies, they have fried stuff and donuts, for the "green" minded, salad bowls, and everything in between. They also have a delivery service that accommodates even the busiest. And just last year, its owners opened a new concept in Legaspi Village, Makati called Two Chickpeas.
If you've been to the modest cafe of Green Bar at West of Ayala Bldg. on Gil Puyat, Two Chickpeas' space at Eton Parkview Greenbelt on Gamboa is smaller—it could only sit 30 people. It mostly caters to those who are on the go (enter their packed falafel pocket), but it doesn't exclude those who want to stay in the restaurant and take their time (say hi to falafel bowls).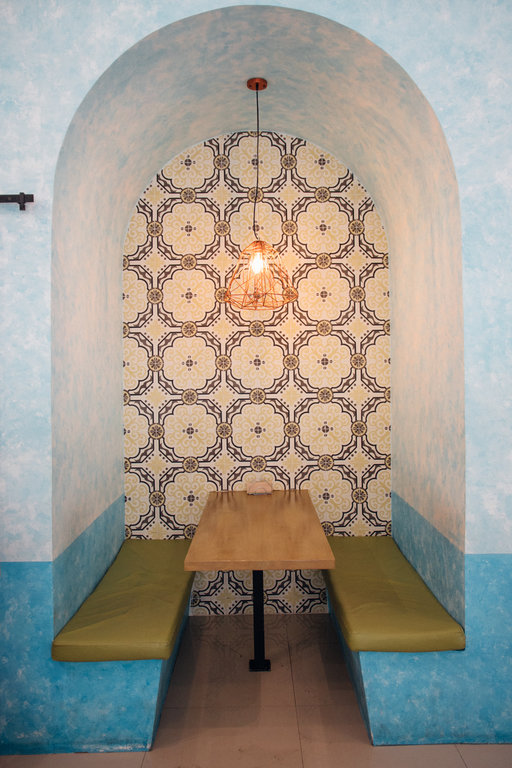 "Two Chickpeas opened in February last year, but the concept has been in the owners' minds since the '90s," says Luann Dionisio, marketing manager for Two Chickpeas. "Jade and Sarada Santos got the idea when they were in a restaurant in Amsterdam. They were amazed by the concept of choosing your own toppings for their falafel bowls." So they brought the concept here.
Establishing these restaurants is also the sisters' effort to help out fellow vegetarians or vegans in the area who find it hard to find food fit for these kinds of lifestyle, adds Dionisio.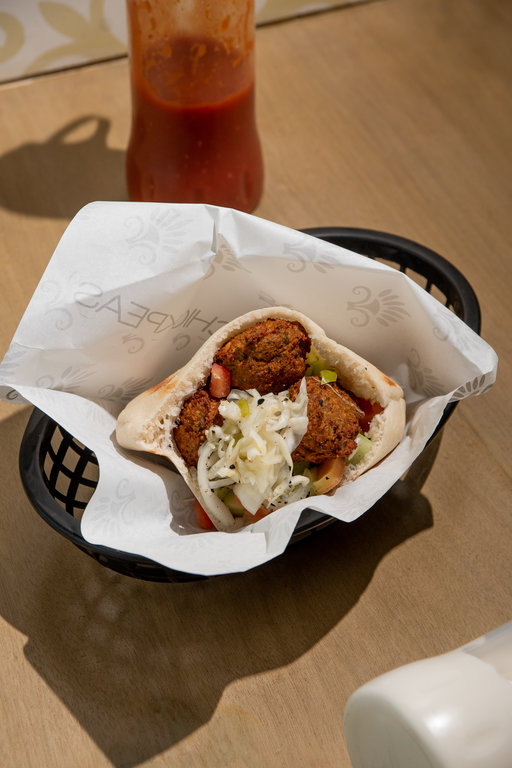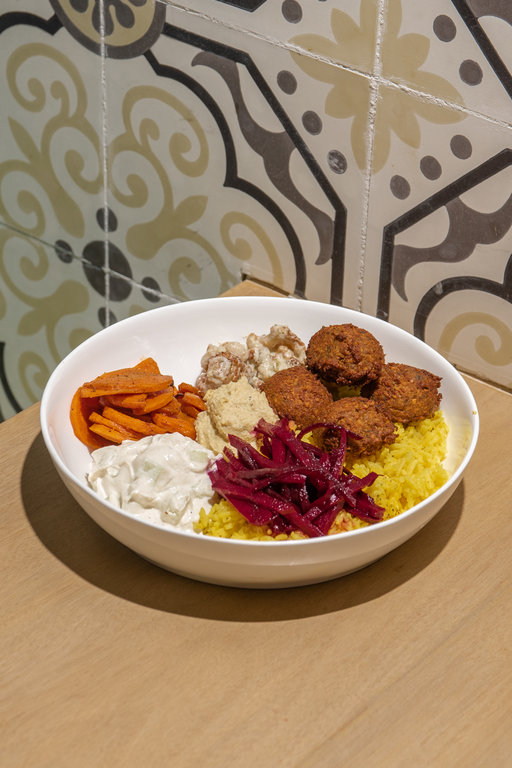 Just in case you haven't heard of falafels yet, they're deep-fried balls mainly composed of dried chickpeas blended with various spices and herbs like cumin and coriander. These balls of deep-fried plant originate from the Middle East.
And we must note that the falafels of Two Chickpeas aren't overwhelming for those who're trying them for the first time—they're moist but not soggy, airy and not dense, and my most favorite aspect, they're kind of sweet because they also blend in sweet potatoes.
Basically, at Two Chickpeas, you get to decide what goes into your falafel pita pocket or falafel bowl. The pocket comes with five falafel balls, a.k.a. the star of the restaurant, and five toppings. The bowl comes with five balls, too, with romaine lettuce or rice, and five toppings. You can choose from the following:
Cabbage salad
Romaine lettuce
Tomato cucumber salad
Quinoa salad
Pickled basil beets
Curried carrots
Creamy tahini cauliflower
Sweet potato fries
Turmeric rice
Tzatziki (A dip made from blended plant-based ingredients like tofu)
Hummus
Herbed croutons
You can add more toppings but you'd also have to add P40 for each.
But for those who aren't picky, they have something already assembled like the Basic Falafel Pocket, which has five falafel balls, cabbage salad, and tomato cucumber salad in a pita pocket. Gyro Seitan, on the other hand, is Two Chickpeas' take on shawarma. It's a flat bread that envelopes seared seitan, french fries, tzatziki, lettuce, and tomato topped with garlic sauce made from soy milk.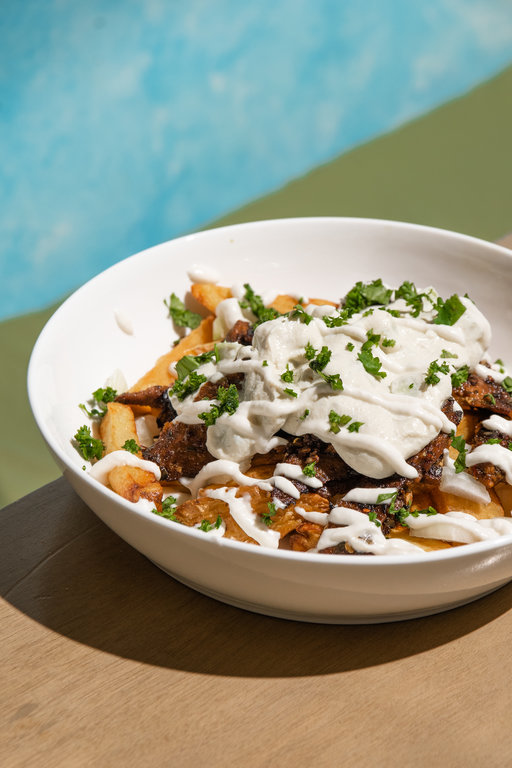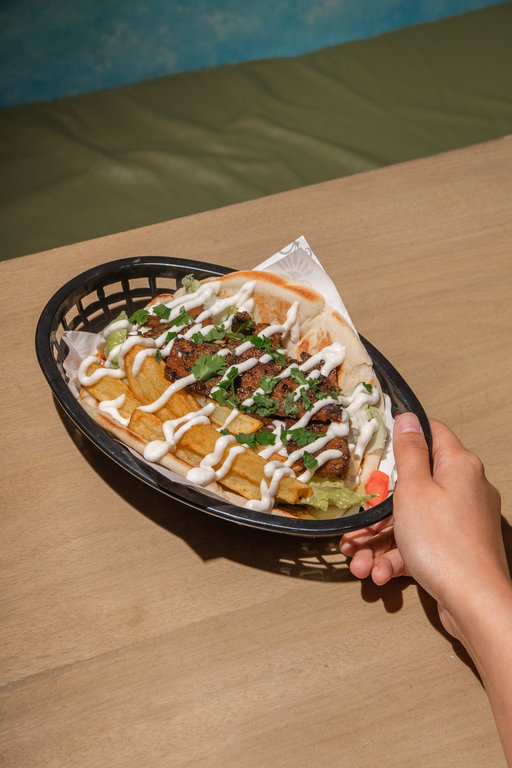 They also serve sides like hummus and pita, gyro fries (topped with meat protein seitan, tzatziki, and cilantro), falafel balls, and turmeric rice.
Vegan and vegetarian lifestyles are often associated with sustainability. Refraining from consuming animal-based products mean good to the environment—no processing of meat, thus saving water and other resources, and limiting greenhouse gas emission. In line with this ethical and altruistic foundation, Two Chickpeas has a mini zero-waste grocery called The Pantry, where buyers are encouraged to bring their own containers and bags. As of writing, they sell various plant-based ingredients like organic chia seeds, nutritional yeast flakes, chickpea flour, and more.
Two Chickpeas' biggest challenge is their meager space. "It's a challenge creating a menu that lets us offer more because we'll need a sizable kitchen for that," says Dionisio. But they're up for everything. "Who knows? The sisters are open to anything, really." We'll just have to wait then.
Read more:
Cosmic's secret club makes a case for a veganized Poblacion
This wellness resort houses a vegan-only resto
These vegan dips will let anyone snack guilt-free
Read more by Yazhmin Malajito:
Falafel Yo's your new Israeli street food source
New Latin American resto in Alabang transforms into a feisty bar at night
At this Poblacion pub, pescetarians can enjoy beer night, too
TAGS: falafel green bar Two Chickpeas vegan restaurants in makati vegetarian
WHY GO?
The flexibility of their falafel pockets or bowls and the variety of toppings is their answer to the "umay factor"
MENU