This is how you introduce a new cuisine to the neighborhood: simple and straightforward.
Although tucked near Greenbelt 3 cinemas, Falafel Yo is striking with bold texts reading "Fresh, simple, quick, healthy Falafel" on its wall and lively mandala tiles that creep up to the bar in its kiosk. One of its owners Yuval Mann told me that new food, especially non-local ones, can be intimidating for first-timers.
"We want Falafel Yo to be accessible and affordable so everyone can buy it—[whether you have] a meeting with family, you're going to a movie, or just [grabbing a quick] bite on the way," Mann said.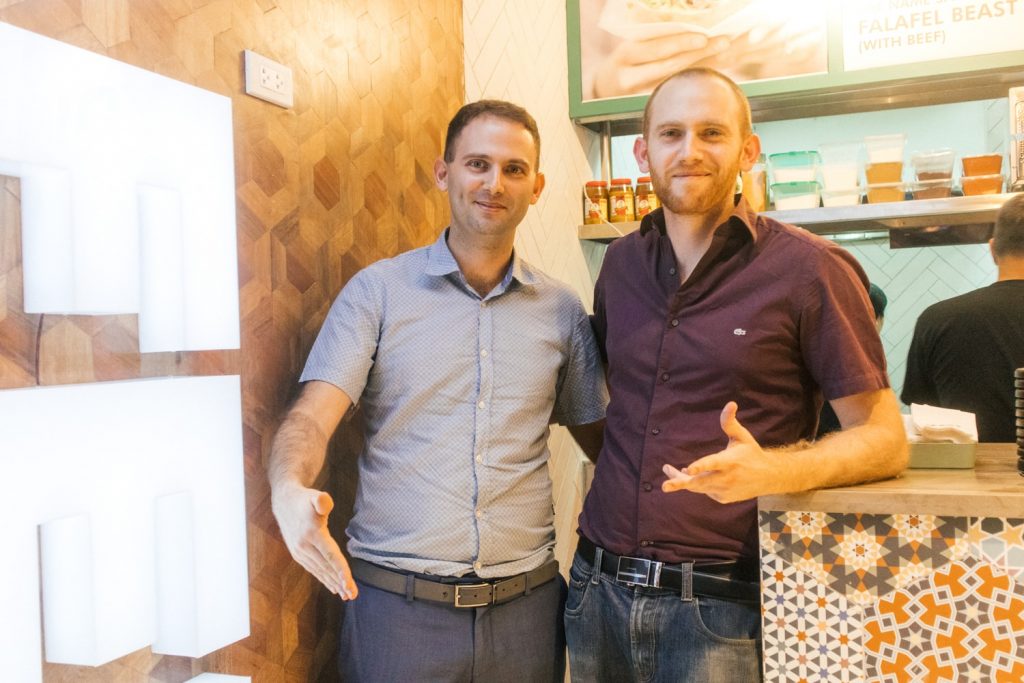 Yuval and Guy Mann, owners of Falafel Yo
This Israeli falafel and salad bar extends its simplicity to its small menu, but makes sure that it has the quality customers deserve. When asked if they are considering expanding and including more Israeli food, Mann gave me a solid "definitely no."
"Actually a lot of people are asking us why aren't we doing shawarma and fried chicken. No. We want to do just falafel. We want to keep it simple. We want to do it really good. We want to focus on one dish that will be the best."
This is Mann's second food venture, but Falafel Yo's his first kiosk-type. He owns the Israeli-Mediterranean restaurant Chaplin in Century City Mall. When Mann saw the place available for him in Greenbelt, he thought his Chaplin wouldn't fit there. But to-go falafels would.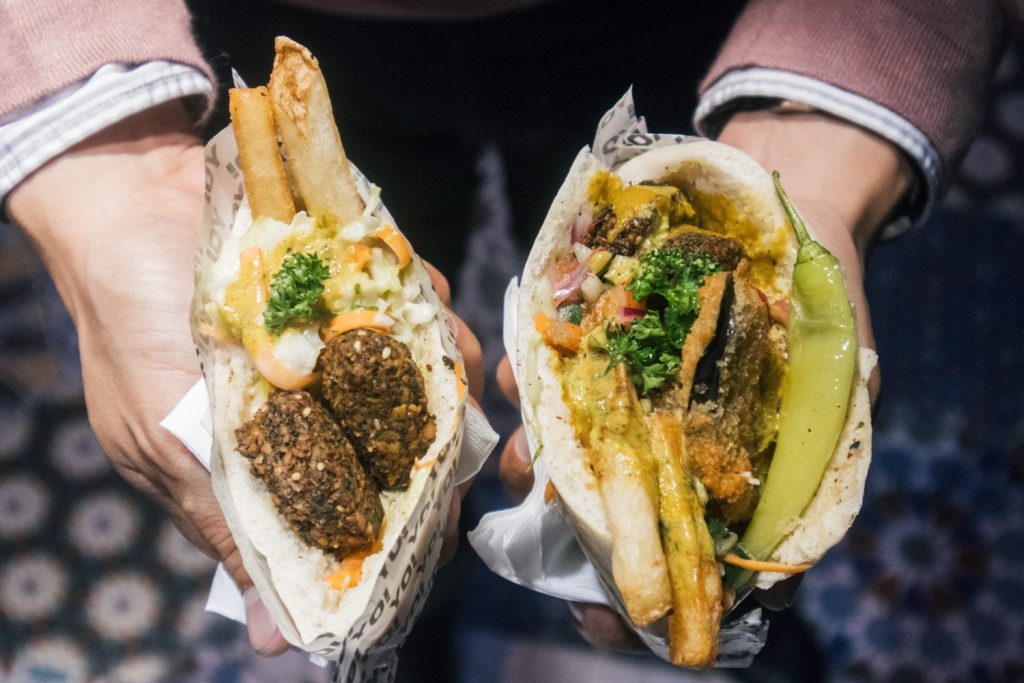 For P159, you'll get an inundation of colorful vegetables with six deep-fried, soft falafels made up of chickpeas, coriander, and some Mediterranean spices enveloped in pita bread—the Original Falafel Yo. Like it isn't already jammed with flavors, their homemade hummus, tahini, and amba sauce still kick the sandwich up a notch.
They also offer Falafel Beast where its falafels are added with beef. Mann said that they wanted to do something new. "We want to do something one of a kind, something that's never been done before, not that I know of: meat falafel. We call it Falafel Beast. Whoever needs the meat content can still have it in our falafels. A lot of people can't do without meat so we have that option."
For the kids, or if you just want to test the waters first, you can have a small version of the Original, the Falafelito.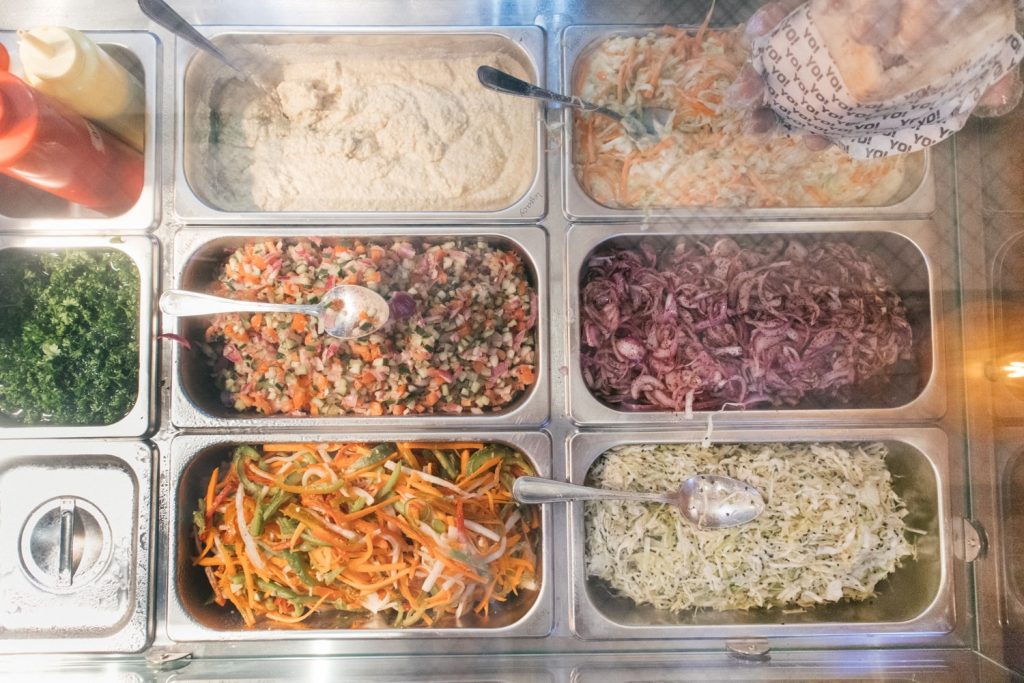 Here are some vegetables that can go with your salad that promise burst of flavors: their special pickled onions or sumac, sour cabbage, coleslaw, roasted green chilies, and their tomato and cucumber mix. For additional fillers on top, they have fried eggplant and french fries.
Although burger-like, eating it can be quite messy so be careful when taking it inside the movie theater.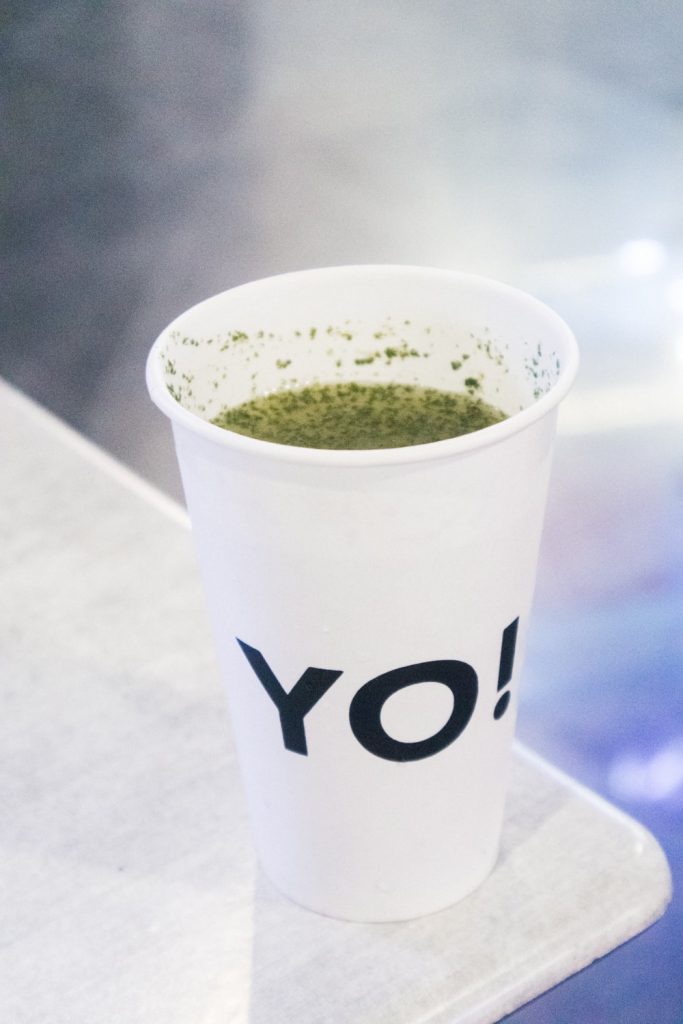 Lemongrass Juice
Neutralize the overwhelming flavor a single serving of their Original Falafel can induce with their refreshing lemongrass juice. You may want to get a large cup to match with the packed Original.
Mann mentioned that branches will soon open in Vertis North and SM City North EDSA in the next few months.
Writer: YAZHMIN MALAJITO
PHOTOGRAPHY PATRICK SEGOVIA