Looking for Cosmic is like looking for the vegan version of a speakeasy. When our driver dropped us off at an unassuming, yellowing old building, a Ministop on the first floor and hanging signs informing us that a Korean tutorial center and a dentist's office were on the others, we thought there had been a mix up. Only after going around the building did we find pieces of evidence of the bistro, which was only marked by a drawing of an eye and a sign pointing to the stairs.
Which is to say: the vegetarian and vegan-based bistro and cafe doesn't exactly make itself easy to find. "Our customers say that, too, but they think it's cool because it makes it look like a secret club," says Dhanvan Saulo, one of the founders behind the new resto.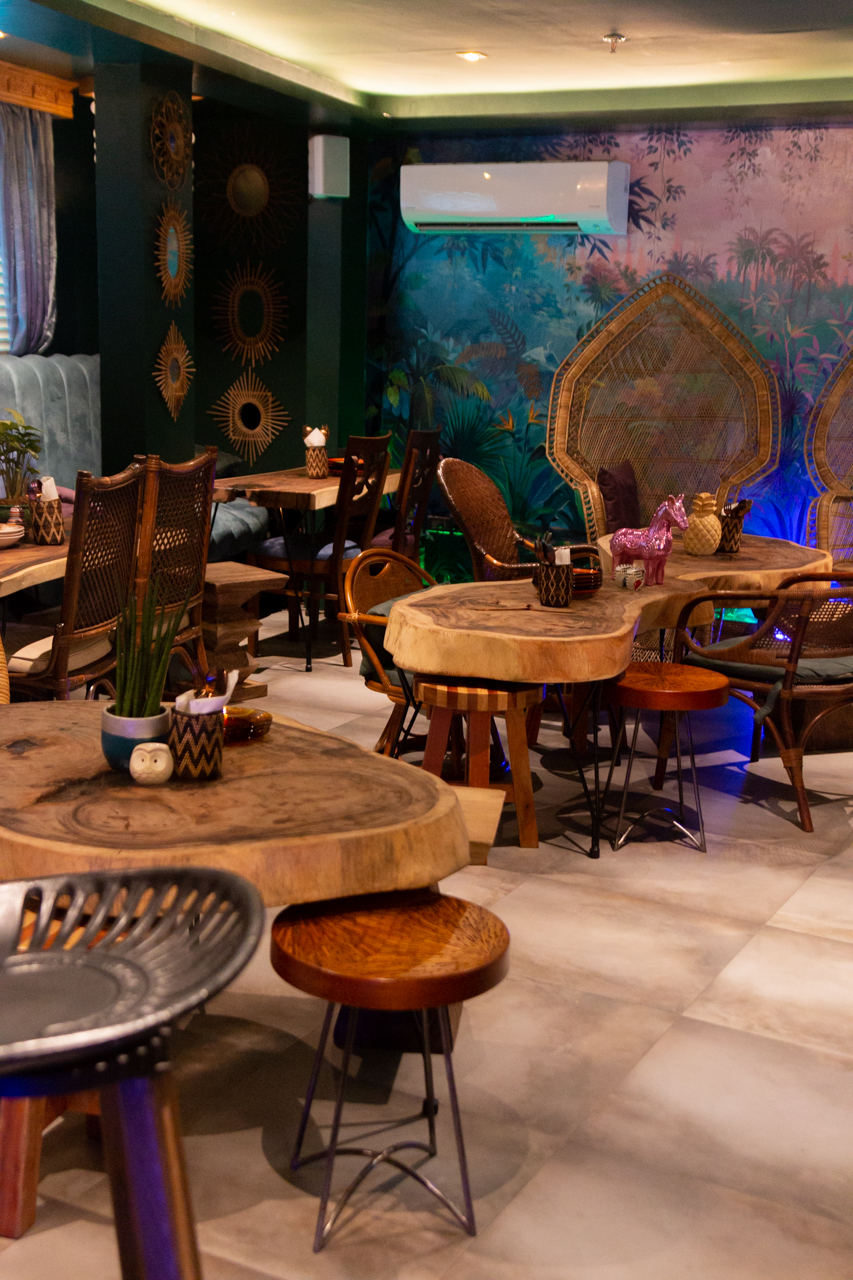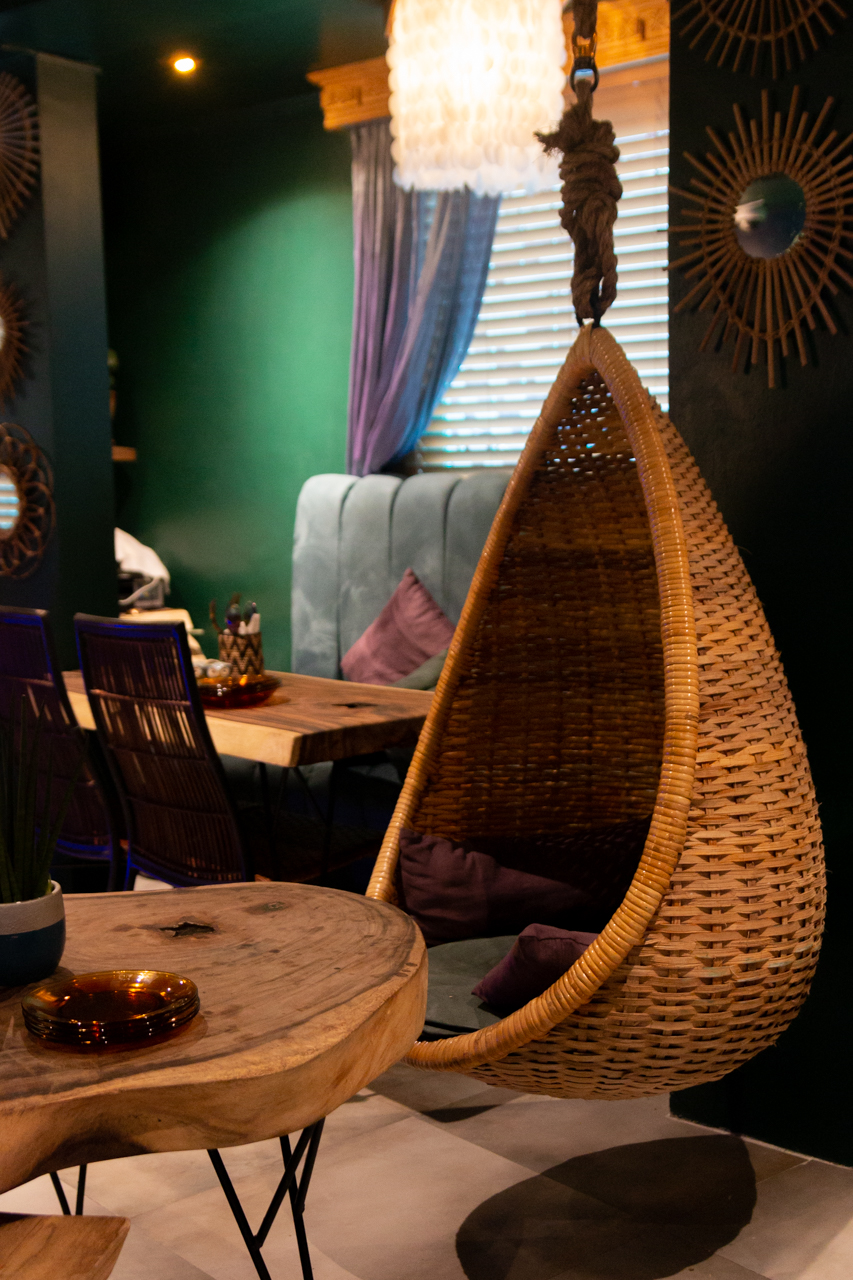 It doesn't stop feeling like one when you enter in, either. The interiors are a mix of earthen wares, funky furniture (there's a swing chair you can sit on), and otherwise kitsch decor, all set against a backdrop of green, save for the wall painting of a tropical forest. Fans of the absurdist British comedy The Mighty Boosh might think it reminiscent of the show's flat and secondhand shop. It's a cozy setup, made even cozier by the open kitchen directly facing the bar.
When coming up with the menu, the founders behind Cosmic looked to their neighborhood. "[Cosmic's food is] what you get outside, veganized." They didn't want to be "limited to wellness-sounding stuff," Dhanvan Saulo stresses. However, all but the chef were life-long vegetarians, never having tasted meat even once. "We rely on [the chef] to tell us if this or that tastes like meat or not. We just know it's good." Because of this, the bistro avoids a common pitfall that many vegetarian restos face when making meatless alternatives: focusing too much on tasting like the dish that they forget to make a dish that can stand on its own.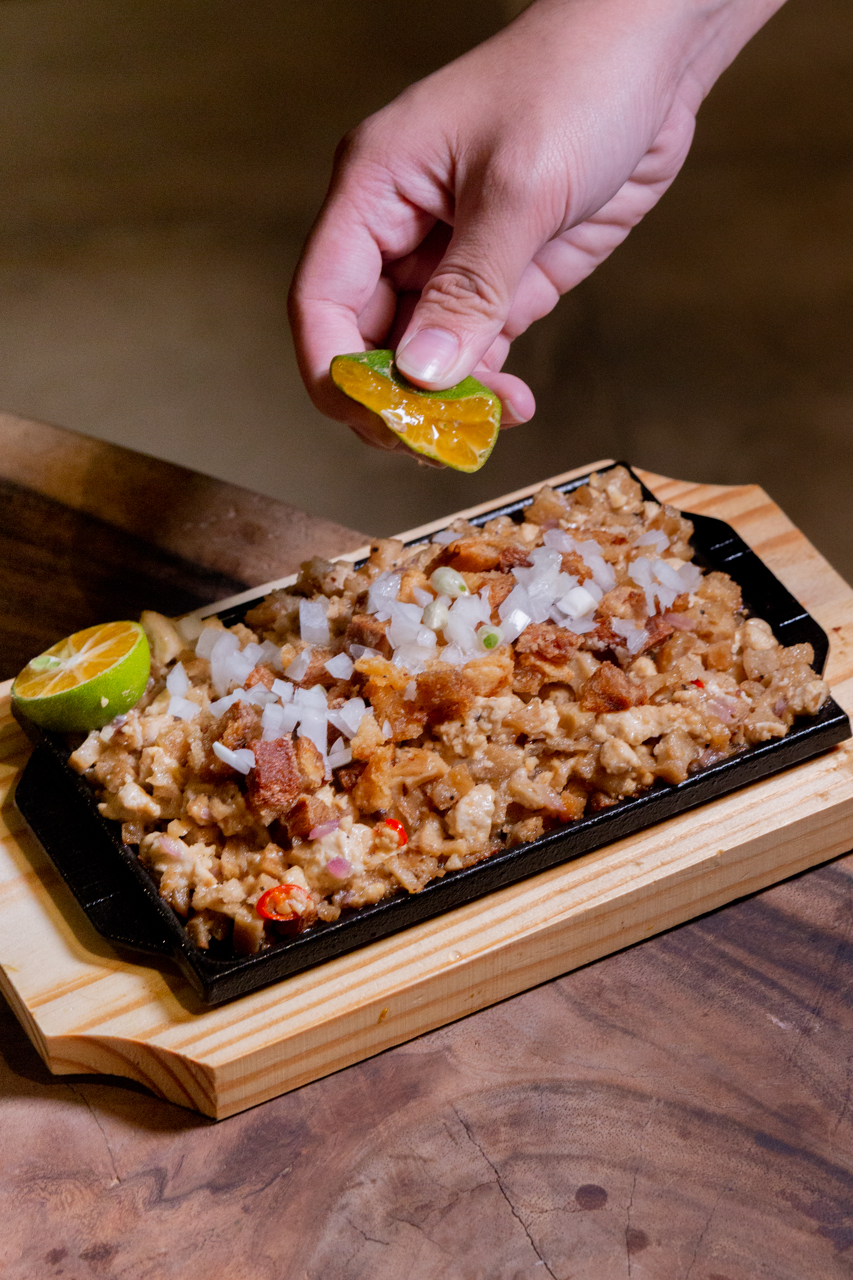 A good example of this is the sisig, a Poblacion staple. Their vegan version is primarily made of tofu, but it isn't "tofu sisig." The tofu, mixed with bits of fried seitan and chili, doesn't turn cheesy and soft like it usually does in a tofu sisig; instead, it behaves like actual meat, turning crispy and crunchy on the plate. It's not "tofu sisig" but actual sisig. And matched with the sisig dishes of their neighbors, it can hold its ground.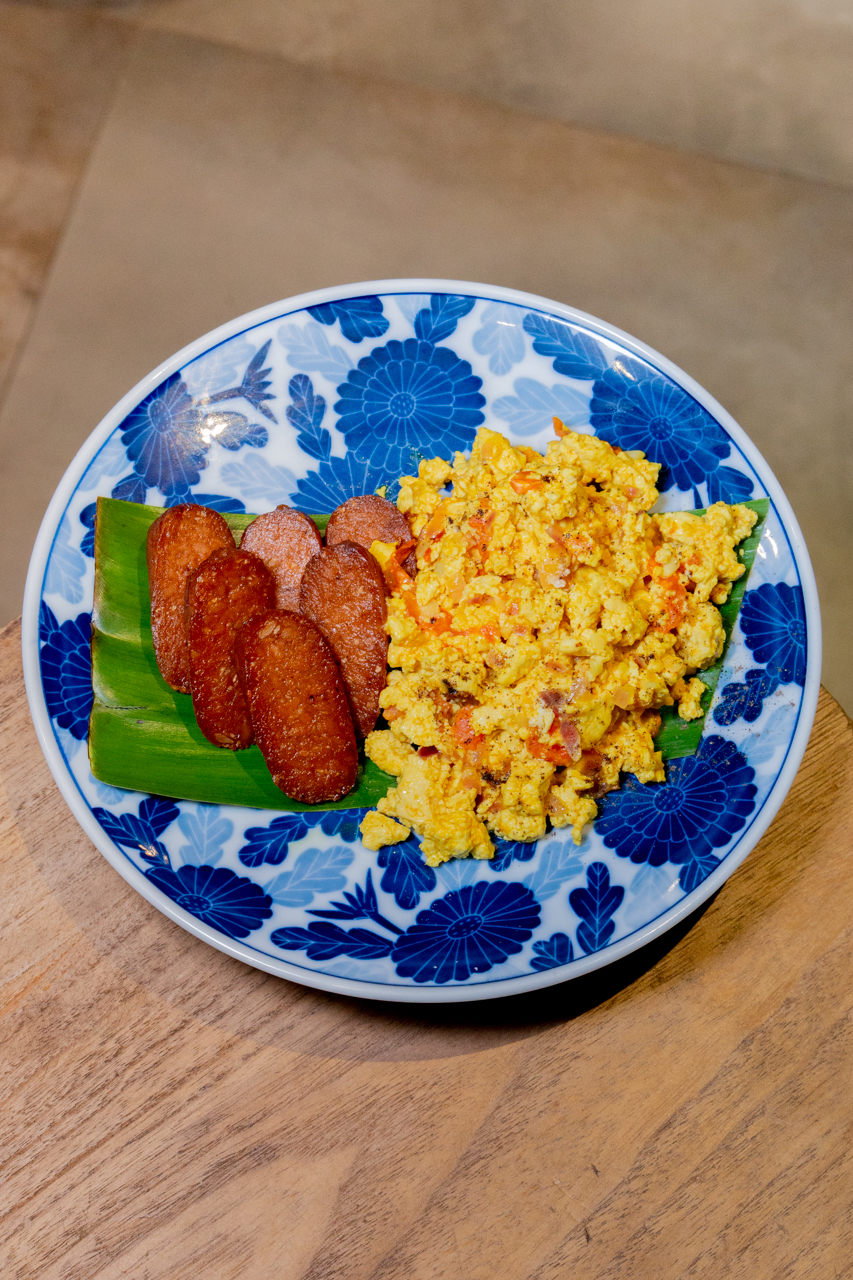 We also tried their scrambled tofu-egg platter with longganisa. It had piqued my interest because I knew that the resto strived to be both eggless and dairy-free (most of the items on their menu are vegan-friendly), and the idea of scrambled eggs without the eggs nor dairy seemed ridiculous. Yet, somehow, the chef was again able to get the tofu to taste like real scrambled eggs, only a bit better. I know scrambled eggs are usually not anything to sing praises about, but this vegan version had me shookt.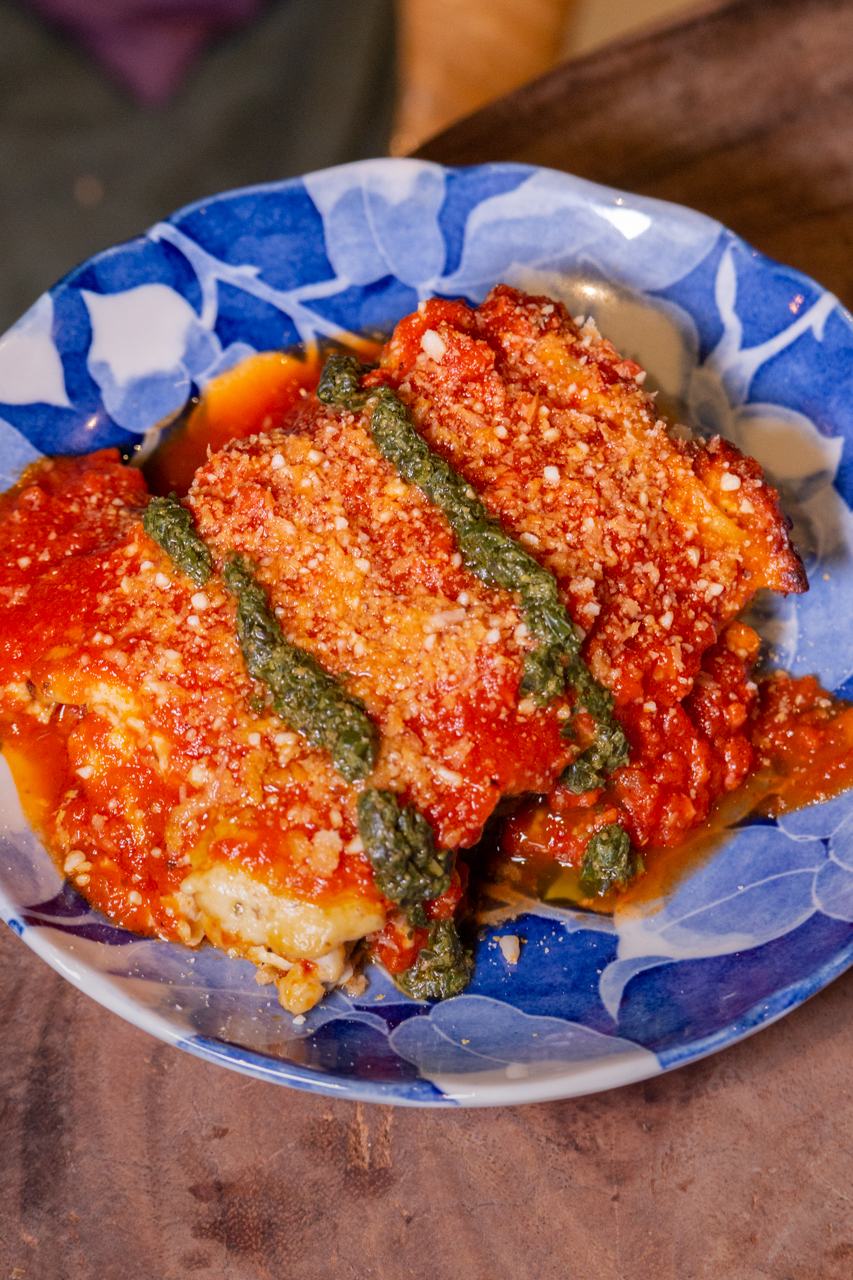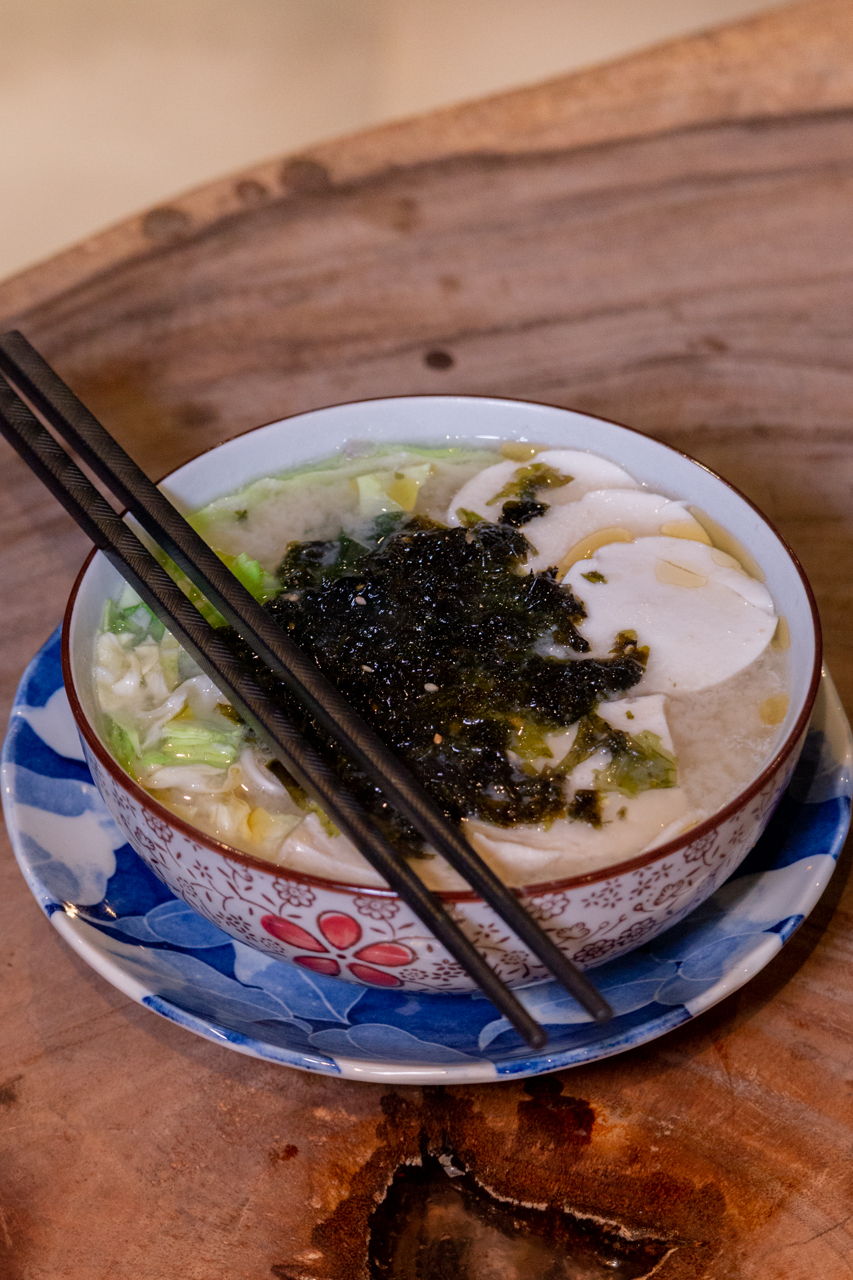 Other great stuff off the menu are their lasagna, miso ramen, bagnet, and leche flan. The lasagna was cheesy, the vegan cheese and bechamel sauce pairing well with the marinara. But it was the button mushrooms, spinach, and vegan bacon bits that acted as the pasta that sold it. On the other hand, it was the miso ramen's soup that made the dish, with the nori flakes dancing off the coconut cream.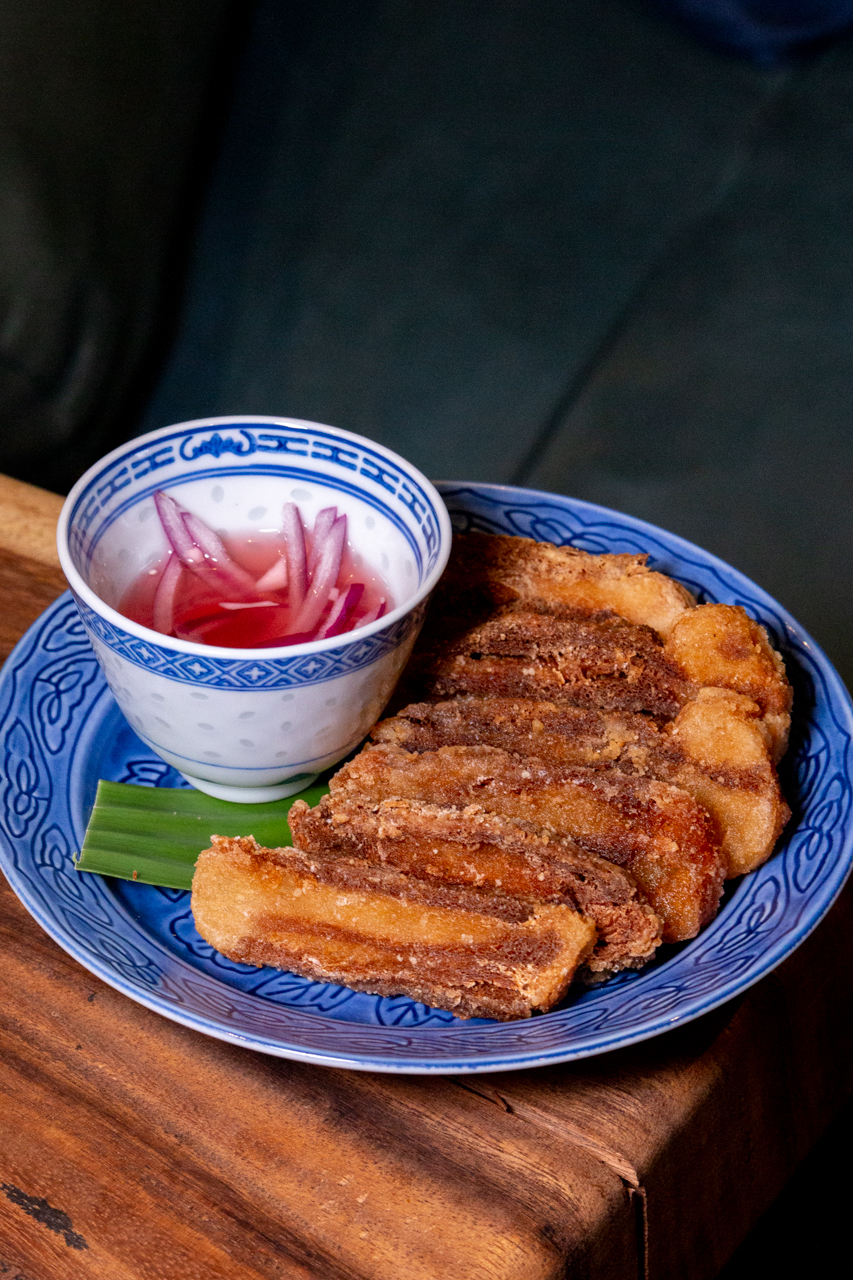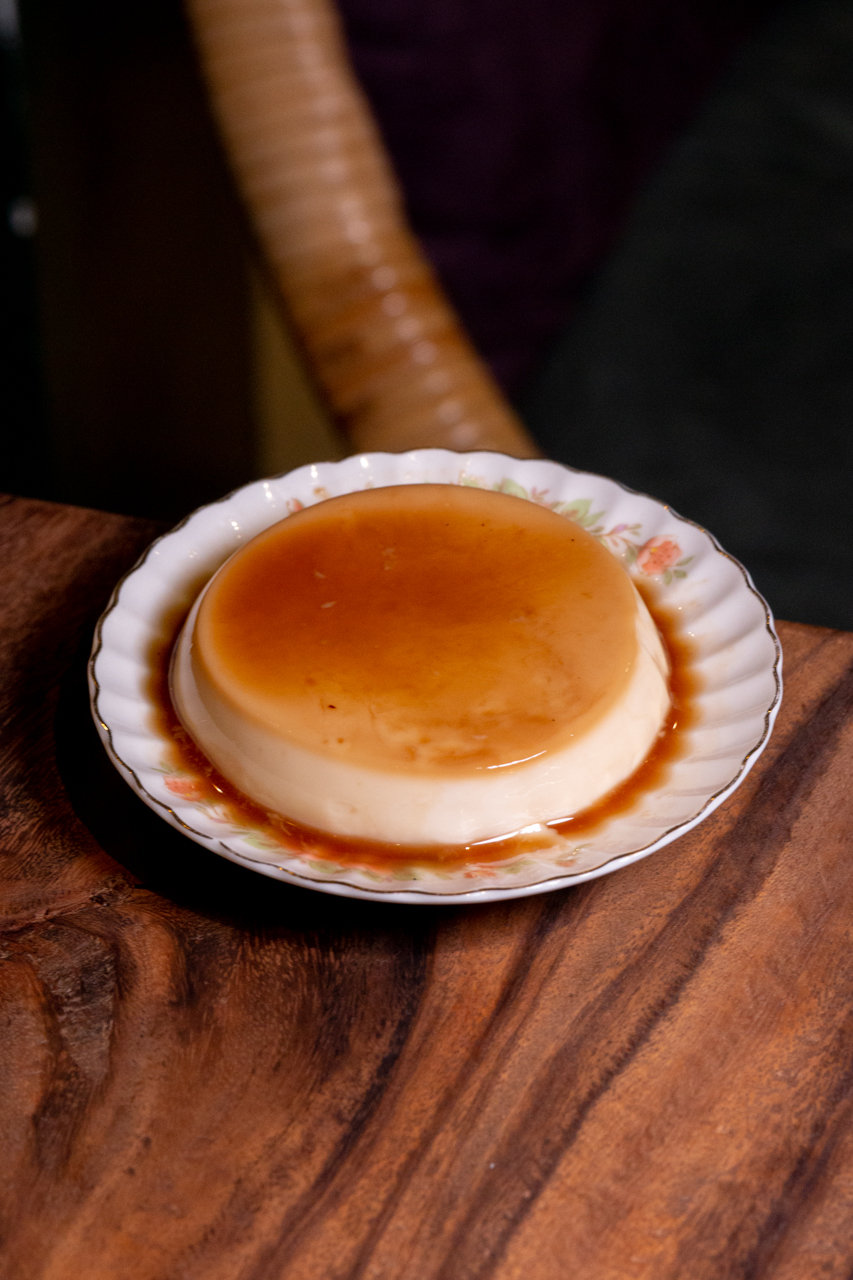 Their special bagnet, a crispy and battered tempura, is also a great starter. It doesn't taste much like normal bagnet, but on its own it's just a great crunchy snack to munch on. And from the other end, definitely cap off your meal with their egg-less leche flan. It's soft and silky and milky, and watching it bobble up the plate is a lot of fun.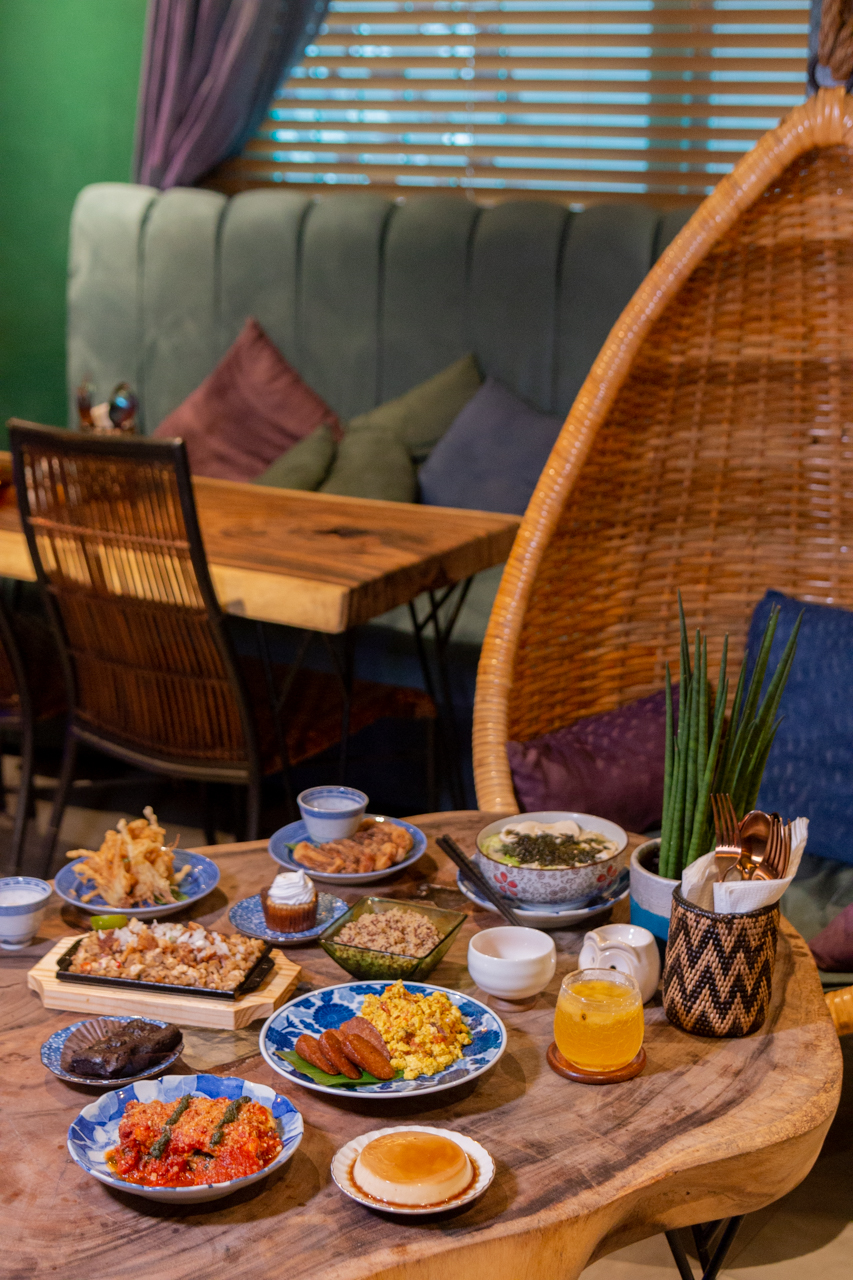 Before we left, I asked the people behind Cosmic what they thought of the current wave of vegans and vegetarians. I was expecting them to be skeptical and wary of the trend, being people who've earned their meat-less stripes, but I was mistaken. They talked about how hard it was for their parents to go the veggie-route, and how great it is that this generation is just generally more open to alternative lifestyles. There are many more vegetarian options now than there were when they were growing up, too. Still, they noted that there's this pervasive notion that going vegetarian or vegan has to mean spending a lot of money. This is why they started Cosmic, to prove that skipping meat can be inclusive and affordable.
Get more stories like this by subscribing to our newsletter here.
Read more:
This vegan carbonara is tasty—even without the dairy and bacon, I promise
Vegetarian restaurant Pipino will get vegans and non-vegans excited with their new menu
These vegan dips will let anyone snack guilt-free
Read more by Zofiya Acosta:
Growing up in the land of promise and why Mindanao is just a normal place
A year after #MeToo, and I'm still hurting
Writer: ZOFIYA ACOSTA
PHOTOGRAPHY SAMANTHA ONG