The province of Rizal has honed many creative minds. It's the home of virtuosos, many of whom are conferred as National Artists: Vicente Manansala, Carlos "Botong" Francisco, Francisco Coching, Lucio San Pedro, Francisco Feliciano, and Ramon Santos, among many others. With such esteem, it is common for the residents of Rizal, especially those living in the exact birthplaces of the artists, to be asked with the question: What's in Rizal that makes its people so talented? Is it something in the air? In the homecooked food? On the northern shores of Laguna de Bay? Beneath the slopes of the Sierra Madre Mountain Range?
You can find it out yourself with just a day-long visit to the province—the way we did last week during a tour with San Miguel Purefoods. In just 12 hours or less (with a maximum of four hours travel time in total), you will already have revisited historical places and know information that are enough to make you understand why Rizal is special.
We curated below a compact itinerary, along with an estimated travel time for each destination, to guide you in uncovering the cultural and culinary treasures of Rizal:
Cainta: Aling Kika's Food Product
101 A Bonifacio Ave., Cainta, Rizal
From Manila: 25 minutes
Did you know that Rizal is considered as the "Bibingka Capital of the Philippines?" This is because of diligent people like Aling Kika or Francisca Legazpi-Cruz who strived and made popular their own and unusual takes to the staple Filipino delicacy. Her bibingka, for one, is brown, sticky, and looks like this: 
Aling Kika was first known in the province as the woman who peddles on the streets a distinct bibingka made using malagkit rice baked in a pogon oven. Her bibingka is non-yellow with latik on top and rectangular in shape instead of circular.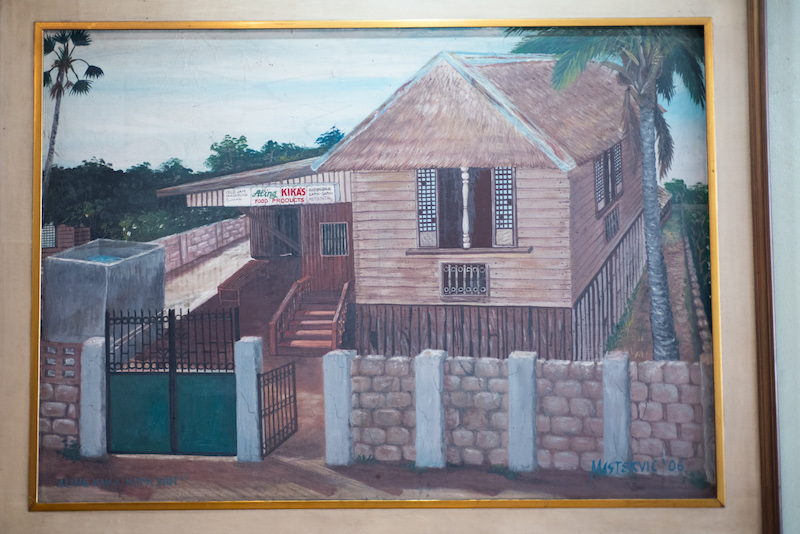 Often cramped with residents and tourists up to today, Aling Kika's Food Products is one you and your companions shouldn't miss. It's great not only as a pasalubong but also as a travel snack; you're still starting the day, after all.
Antipolo: Crescent Moon Cafe & Pottery Studio
Sapang Buho Rd. Brgy. Dalig, Antipolo, Rizal
From Cainta: 25 minutes
Make a stop at this restaurant and arts space for an early lunch and tour on how painstaking and relaxing it is to see artisans make pottery. 
For the past two decades, Crescent Moon Cafe & Pottery Studio remains as a tourist's favorite because of its limitless offerings. But before being popular for its comfort and seasonal food served in a cozy, barn-like edifice, this restaurant was first known as owner Lanelle Fernando's ceramic home studio and family farm.
A graduate of fine arts from the University of the Philippines, Fernando established her studio in 1981 as restaurants and resorts tap her to make handmade stoneware ceramics.
However, a few years in her growing business, her husband Bey had a kidney failure which prompted him to quit his day job as a lawyer and rest at home. This gave them the idea of pursuing a restaurant business instead. "After all, his next best interest after lawyering was cooking," Fernando said in an interview.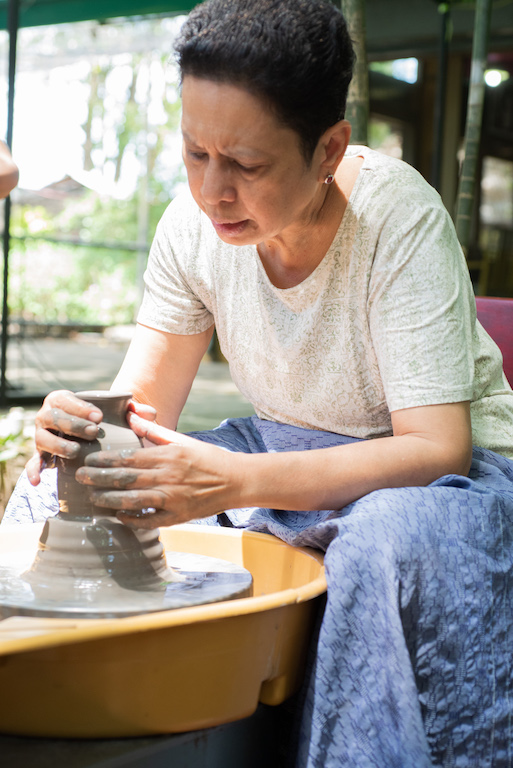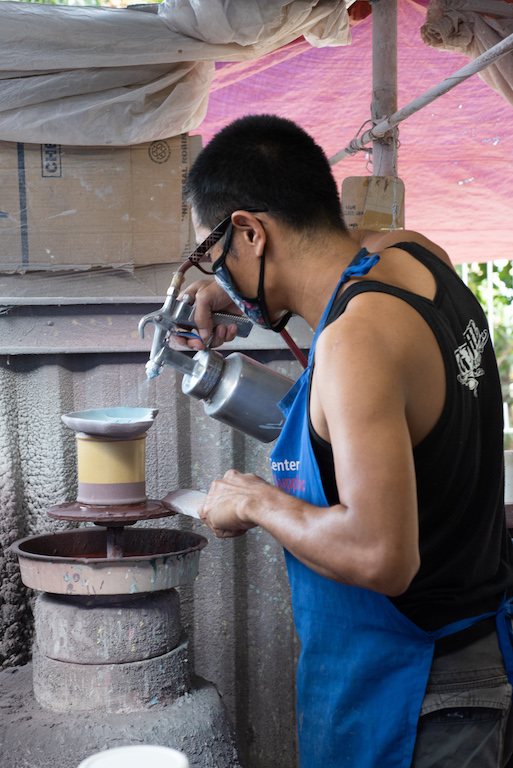 Two years after the restaurant's establishment in 1997, Bey passed away. Fernando continues to manage both the restaurant and the studio along with the help of her two daughters.
The restaurant now serves seasonal and locally sourced (grown just within their area) dishes that vary from rice meals to entrees. There's the savory fried chicken rubbed with curry leaves they grew just out of their own yard. They also have vegan and vegetarian options, like their alagao appetizers which is just like our usual "wraps" appetizers but with the use of the soft and almost fabric-like alagao leaves.

Binangonan: Angono-Binangonan Petroglyphs
Bilibiran, Binangonan, Rizal
From Antipolo: 16 minutes
You'll need to pass through a man-made cave to see this National Cultural Treasure—unless you prefer to trek. Either way, it's going to be worth it.
The petroglyphs found by a 52-year-old Carlos "Botong" Francisco during one Boy Scouts of the Philippines camping trip were discovered to be about 1,000 to 3,000 years old. "It's actually the oldest form of art in the Philippines," a National Museum-accredited tour guide told us during our visit.
When Francisco stumbled upon it in March 1965, the whole rock shelter was covered in thick vegetation. It wasn't until the experts cleared the surface did they see that the drawings were possibly made during the late Neolithic period—a time when the carving tools the "artists" used were emerging.
The petroglyphs span 63 meters long with 127 found figures that are mostly human-like. "Out of the 127 figures, may 51 distinct figures. Because of this number, the experts suggested that this is made by different individuals. Hindi lang iisang tao at iisang period."
Angono: Carlos "Botong" Francisco's Ancestral House
Doña Aurora St., Angono, Rizal
From Binangonan: 17 minutes
And speaking of Francisco, your trip to seeking the roots of Rizal's talented natives wouldn't be complete if you won't pay a visit to his ancestral home in Angono.
Francisco's home is located at Doña Aurora St. in Brgy. Poblacion Itaas, sandwiched by a number of local galleries and street murals based on Francisco's paintings, which were intricately carved by Rizal artist Charlie Anorico. It's a street you'll spot right away, given that golden busts of Francisco and San Pedro are displayed right upfront—as if they're welcoming all street passers by.
The ancestral house is open to anyone at any time of the day, Carlos "Totong" Francisco II told us upon our entrance to the museum. The studio can immediately be spotted, being situated right across the wooden furniture-filled living room.
A bi-level space filled with a drafting table, worn out easels of different sizes, palettes, memorabilias, and awards (including the 1973 National Artist Award) is scattered among the place. There are even photographs of Francisco at work.
"But he doesn't make his large-scale murals here, of course," Totong said. His lolo usually goes to the garden or his outdoor studio by Laguna de Bay for his paintings that cannot obviously be enclosed in the comforts of his home.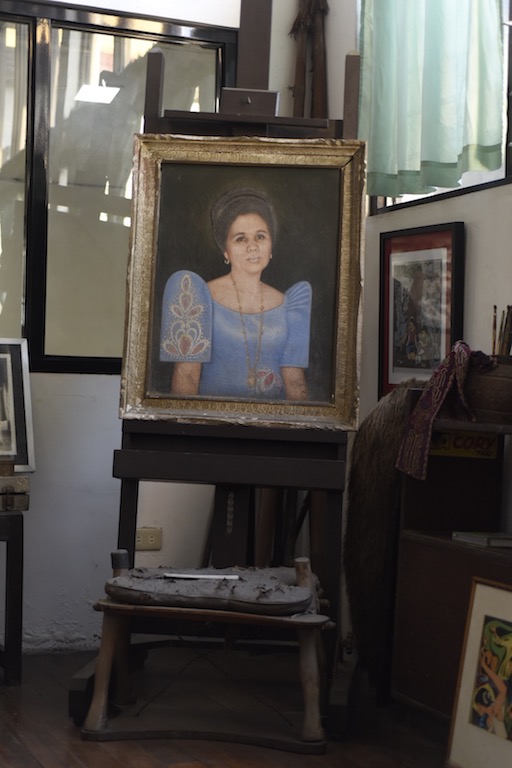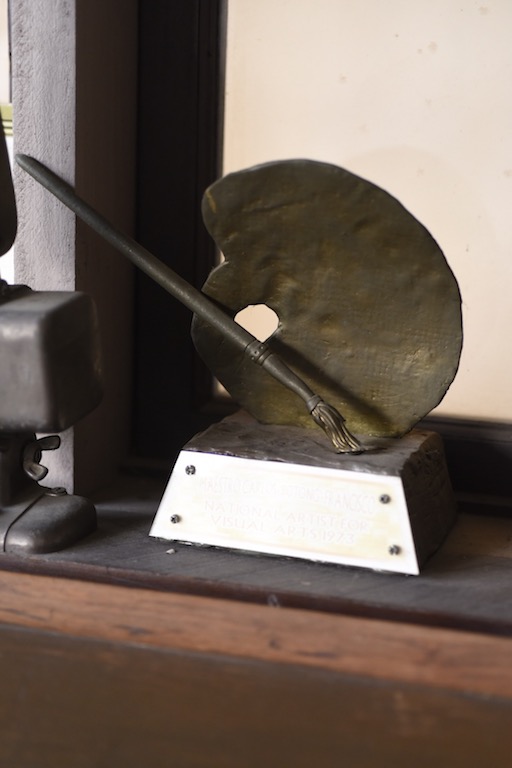 Angono: Balaw Balaw Restaurant & Art Gallery
16 Doña Justa Subd. Ph 1, Manila East Highway, Angono, Rizal
From Doña Aurora Street: 5 minutes
By this time, it's either you have already finished your supposed to be pasalubong of Aling Kika's bibingka (and probably wishing you bought more) or all the walking and traveling has made you extremely hyped for dinner.
As the last leg of your Rizal day tour, it is only fitting that you finish it in the most exotic way: with food outside your comfort zone. In the restaurant-cum-arts space Balaw Balaw, nothing is ordinary. The most familiar dish you may find there could just be their rice, which is made burong or in a fermented manner. They also have their own version of a boodle fight but served in a huge bilao with 10 or more side dishes ranging from crabs and squid to fried pusit and adobong manok.
Balaw Balaw began serving their exotic takes on staple Filipino food in 1983 after founder Perdigon Vocalan saw his painting studio (which can still be seen at the first floor of the bi-level nipa hut-style restaurant) growing. It was named after one of their specialties: a rice composed of fermented shrimp dish made with bagoong or shrimp paste and red yeast rice angkak.
After a surely filling dinner at Balaw Balaw, head to your cars and sit back. It's going to be one long ride to the ever busy (and congested) Manila but at least Rizal's magic has somehow freshened a part of you, whether it's through the food or the artworks you witnessed today.
Get more stories like this by subscribing to our newsletter here.
Read more:
Should tourism still be Baguio's main priority?
Masungi Georeserve may bag another int'l tourism award this year
Take a DIY tour of Intramuros with the help of these free colorful maps
Read more by Amierielle Anne Bulan:
5 tourist destinations in Manila you can walk to in flip-flops
These free city tours let you play detective for a weekend
Writer: AMIERIELLE ANNE BULAN
PHOTOGRAPHY ARGYL LEONES