Our former publisher Bea Ledesma has always championed home cooks. While most food publications were busy chasing chefs, in the pandemic, she had us reach out to people whose culinary cache includes (but is not limited to) preparing meals in their own kitchens for parties of one or more. Yes, that's our elevator pitch for Comfort Kitchen, our IGTV series—now with 50+ episodes(!).
After leaving her post, she did what she loved most: cooking. In the beginning, for herself and her lucky friends who get to sample whatever she prepared, things like pasta using leftover and near-perished-but-salvageable ingredients. Then eventually through an Instagram account kookily named @ahomekewk, she offered her lacto-ovo-vegetarian sandwiches to a wider audience, first through a pop-up and now via online order.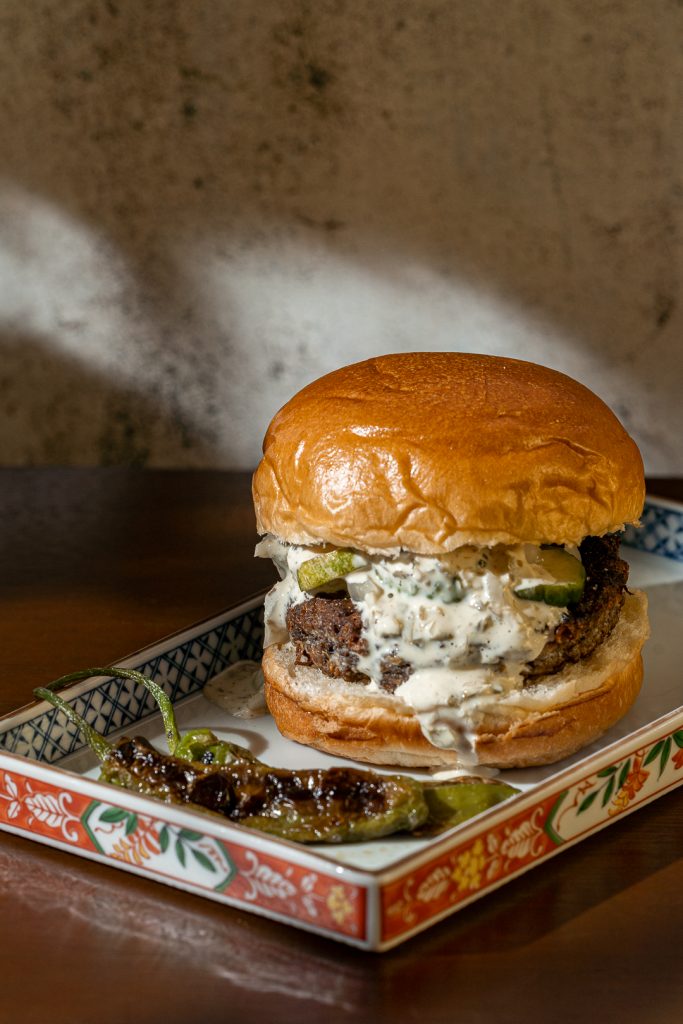 Said sandwiches, a tamago sando and a veggie burger with a patty made with banana heart, cashews, and spices, were immediately a hit. Most rave reviews, including those from chef friends, say, the banana heart patty is proudly meatless and not trying to imitate the beef stuff. Since the pop-up, A Home Kewk has been offering these sandwiches on a weekly pre-order basis.
But Bea's brainchild is so much more than these sandwiches. For her next collaboration with long-time friend and partner of Metronome and Lazy Oeuf Miko Calo, there will be rice.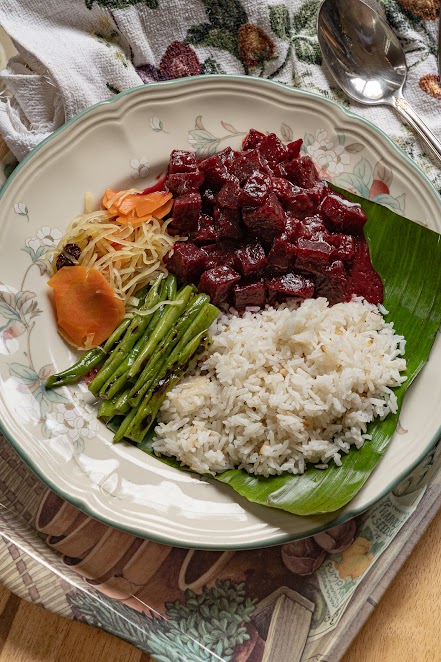 The menu, which will drop this week, consists of a boxed rice meal of adobo with homemade papaya and carrot atsara, and blistered Baguio beans served over coconut-lemongrass rice (P400). Just like the sandwiches, the adobo will be without meat, vegan even. How?
[READ:
Who wants to standardize adobo?
]
It's made with beets slow-cooked in adobo sauce with pureed roasted onions and garlic. You've heard of every imaginable iteration of adobo with just about every available meat. I mean, it's pretty much a Filipino staple, to say the least.
So why beets? "I'm a huge fan of beets," says Bea. "A little earthy, a little sweet and, when you're prepping them, they actually bleed so you feel like you're not missing out on the meat, you know?"
As for Ferrandi- and Robuchon-trained chef Miko, this collaboration is self-referential. "I made adobo for a pop-up dinner in Paris and I garnished it with roasted beets and it went well together," she says.
A Home Kewk's adobo beets will be open for pre-order starting Monday and orders will be accepted until Thursday. Pickup will be on Saturday in Makati, between 11 a.m. and 2 p.m. via preferred courier.