Hairstylist Jing Monis is now open—for adobo and kamote cheesecake orders
In between virtual haircuts, the hairstylist has finally found the time to cook and he's letting everyone get a taste through Jing Monis Kitchen
May 19, 2020
Other than teaching people how to cut their own hair over video during quarantine, hairstylist Jing Monis has been busy mingling with people in a Facebook group—but he's not there to share haircare and hairstyling tips.
The group called What's Cooking, Makati is one of those shared interest pages that took off because people suddenly have time to pursue hobbies. Jing Monis' happens to be cooking. Cooking adobo among other things, to be specific. And now he's selling these along with other dishes through his new business @jingmonis_kitchen.
How did he get here?
"At first, out of boredom, I cook whatever maisip ko. Then I started cooking for frontliners. Eventually, friends started asking me to send them food and since my adobo is the most requested, I thought, 'Why not sell it so I can have more funds to feed the frontliners?'" Monis said.
His first customers came from the said Facebook group when he tried to do the usual "interest check." He also posted pictures of his adobo on his IG, where, to his surprise many responded. "So sabi ko, 'Career na ito!'"
Monis is quite the cook, contrary to his celebrity-filled Instagram page. He tells Nolisoli.ph that he's been experimenting in the kitchen ever since, influenced by his family. "My dad makes a good dry adobo and his mom, my Lola Pilar, makes the best dinuguan and menudo. I adopted and improved it according to my own taste."
Now, through IG, Monis accepts orders for pickup and delivery. These include family favorites—available on rotation, twice a week—like ginataang puso ng saging, binagoongan, beef caldereta, sopas espesyal, his first-ever dish tuna pesto pasta with sundried tomatoes and of course, his famous adobo.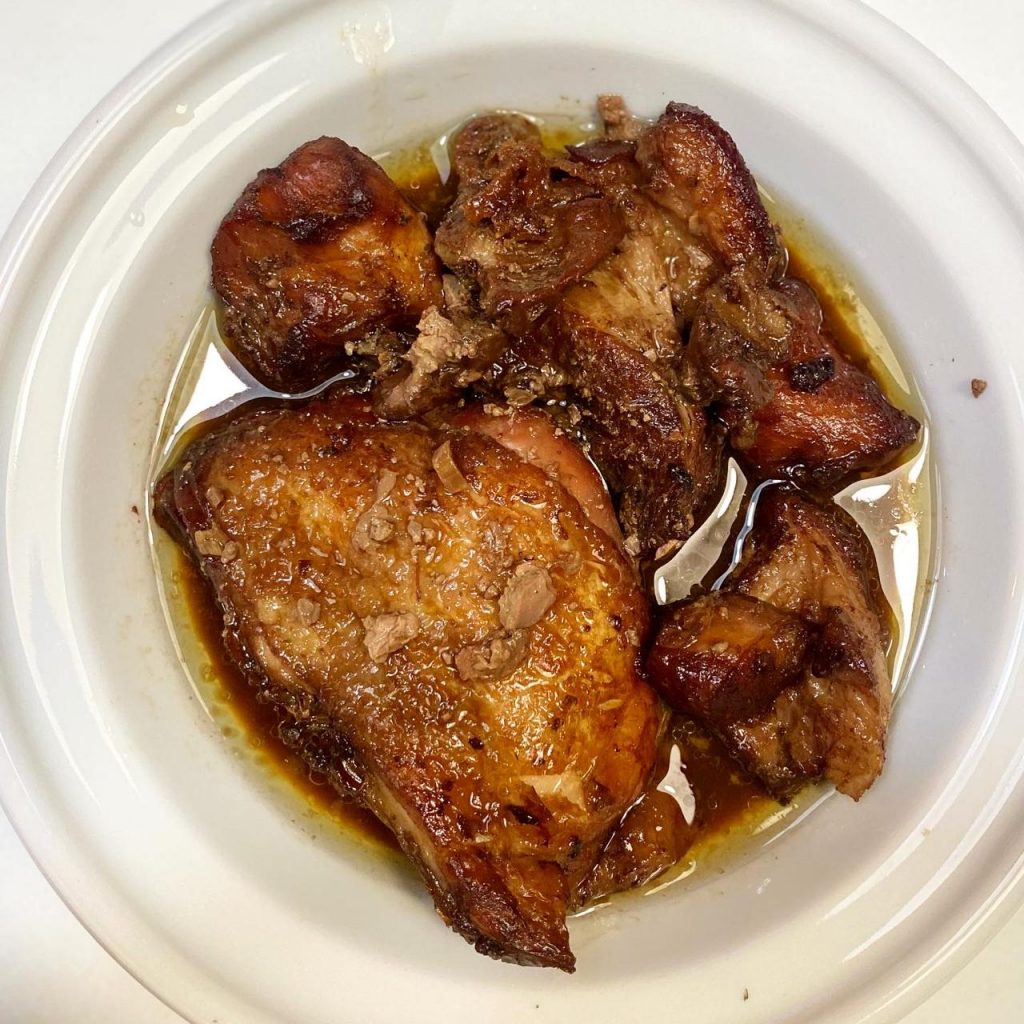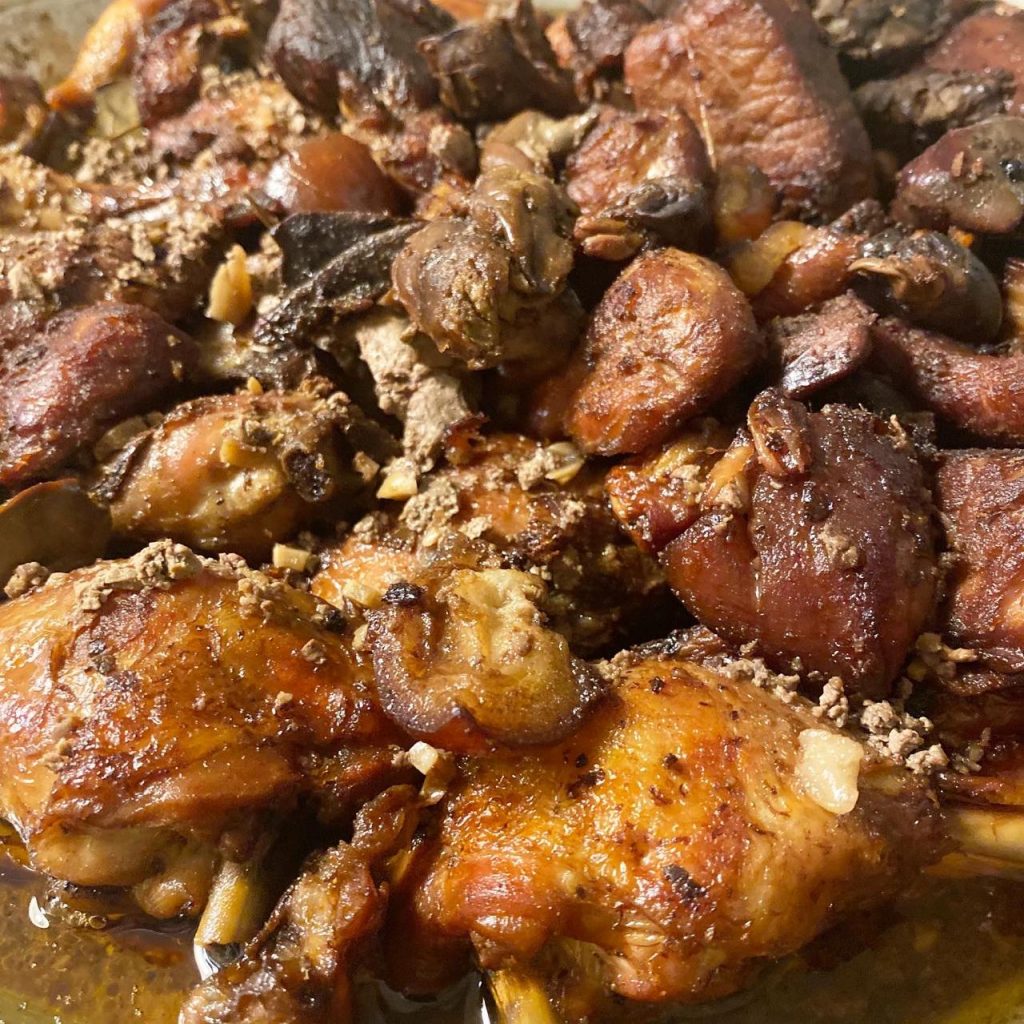 Before we can make any comparisons to his adobo, Monis said that he is not in the business of comparing versions. Rightfully so. In the country with just as many adobo recipes as there are islands, his is but a speck. So what makes #adoboniJing special? "I use real pork and chicken liver—not liver spread." 
Then there's the kamote cheesecake. Unlike its cousin cassava, the root crop used in this pastry is denser, starchier and less fibrous, which makes for a luscious cake. Monis had the idea to experiment with kamote other than steaming it as a snack.
"I only started baking this during the quarantine. I love cheesecake so I played around with that idea and tried to make cheesecake with kamote, then 'yun nabuo ko and it was so good!"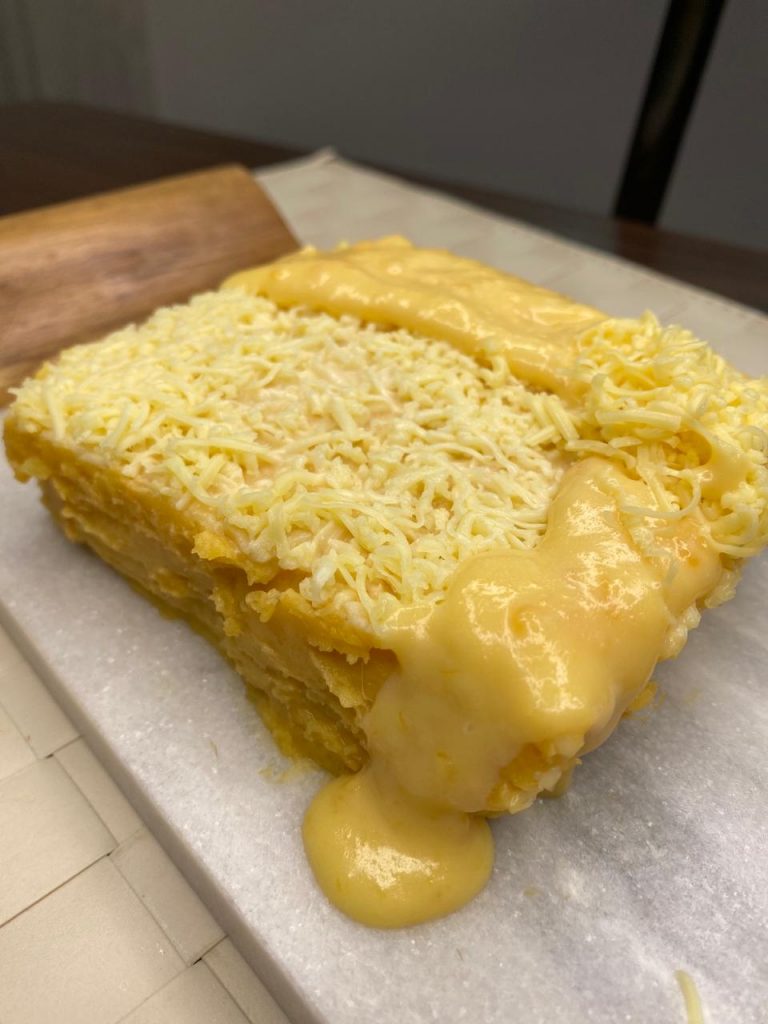 Just like his adobo, all it took was one Instagram post for people to find out about it and place orders. He recalled that in less than 24 hours, they've already sold 20 300 g cakes.
At the moment, Monis' culinary goods are only available for pickup and you have to call in advance because the adobo and the cheesecake run out quickly. "I cook a day before pickups or delivery para fresh. Pero since adobo is better days after, we are now cooking more. Hindi rin tumatagal kasi sold out parati once I post it. Kaya, yes, first come, first served basis."
For orders, call Belen Ebol at 0917-5630875. Jing Monis Kitchen has two menu sets available on Wednesday (beef caldereta, sopas espesyal, tuna pesto) and Friday (ginataang puso ng saging, binagoongan, adobo, kamote cheesecake).
Photo courtesy of Jing Monis
Get more stories like this by subscribing to our weekly newsletter here.
Read more:
LU's favorite fried chicken shack Sabong will be in Manila next week
Saladstop is now open for pickup and delivery
Margarita Forés' seasonal avocado pie is back
TAGS: adobo home cooking jing monis jing monis kitchen kamote cheesecake order