Cake has long been the symbol of celebration, and with all the crazy creativity that goes into the dessert nowadays, it has also been associated with a sort of luxury. Think mirror-glaze or gold leaf.
Now imagine if cake was made with an even more luxurious ingredient—say, caviar?
The result is a delicate, savory treat that could boost a dinner spread into festivity. It also makes the cake more of an appetizer than dessert.
Cake and pie recipes that use caviar as the main ingredient have long existed since the 2000s (and possibly even earlier). The most common involve eggs, onions, and cream cheese or sour cream. Despite the recipe's already long history, it's once again gaining traction as a decadent appetizer.
Meant to be eaten with crackers or crostini, the caviar cake also makes for a good pairing with wine. It can also be a substitute—or an addition—to the cheese and cold cuts you'd normally have with wine or as starters.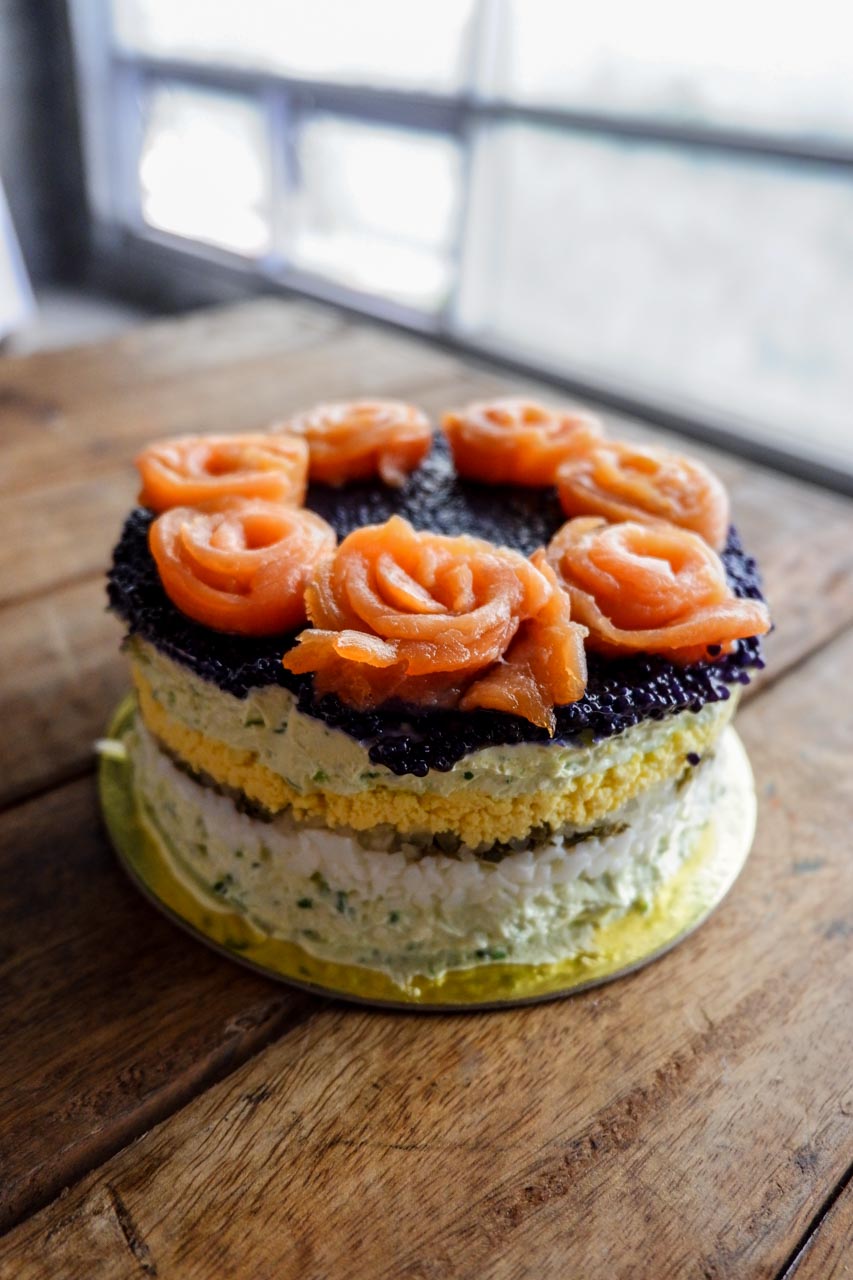 We recently tried caviar cake by Saumon Caviar Cake—an online brand that sells these savory cakes topped with salmon rosettes. As expected, each bite was rich and savory, featuring a mix of cream cheese, eggs, onions, capers, caviar, and smoked salmon.
Although the cake looks small at first, it's actually good for a party of five to seven (or even more). Saumon's caviar cakes are made fresh the day before the designated pick up day, and can be kept for as long as four days (as long as it's refrigerated). For the best flavor though, consuming it within one to two days is recommended.
And while it's definitely a meant to be a luxurious appetizer, we actually think it would also make for an indulgent desk-side snack. Who wouldn't be inspired to finish tasks if the reward is a bite of caviar cake, right?
Saumon Caviar Cake. @saumoncaviarcake. saumoncaviarcake@gmail.com. 0917-8882193.
4.5" x 3" cakes for P1,300 (good for 5-7); 7" cakes for P3,200 (good for 15).
Read more: 
What to order now: Sugar-free jams, truffle chicken spread, and fancy four cheese
Where to find cakes for those without a sweet tooth
Rebecca Disini's mirror cakes reflect her storied career
No need to buy salad dressings with these easy recipes