There is no greater wakeup call or pick-me-up than coffee, and in a city like Makati where the bar is constantly being raised a notch or two on any given day—thanks to third-wave coffee pioneers like The Curator and Yardstick rising to prominence with their blends, innovation and award-winning talents, not to mention the slew of established coffee chains virtually on every street corner—it certainly makes it more difficult to smash the glass ceiling.
Yet surprisingly, it didn't stop entrepreneurs from indulging in their own passion projects. And they shouldn't. After all, coffee is universal. It's a beverage that's ubiquitous with as much as 170,000 metric tons consumed in the country every year according to Philippine Coffee Board Inc.'s Bill Luz. So The Black Bean located on the second floor of Eton WestEnd Mall on Chino Roces Avenue is another welcome addition to the local coffee scene.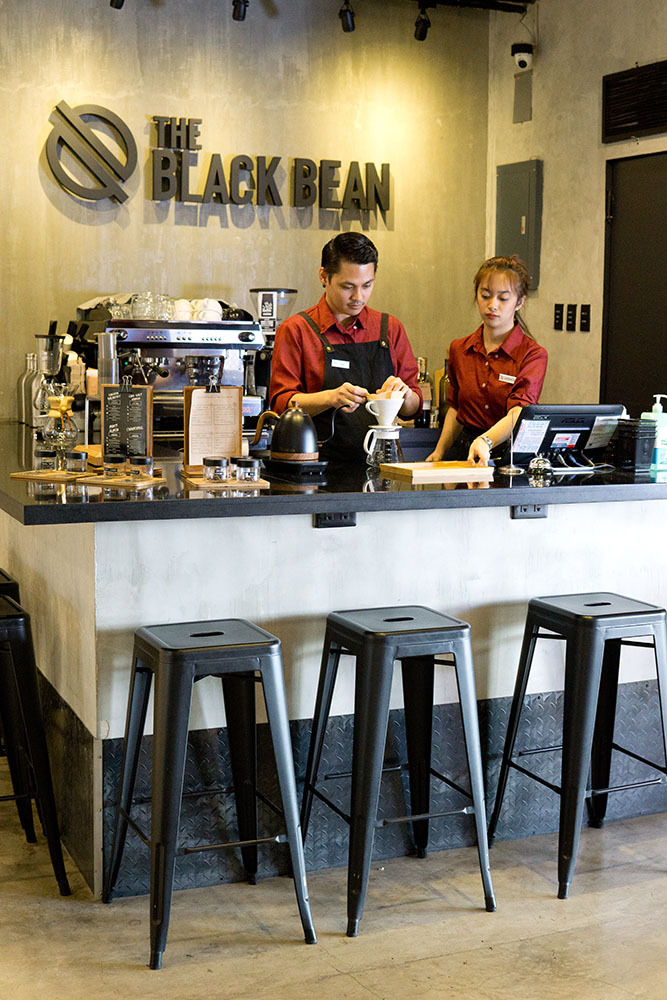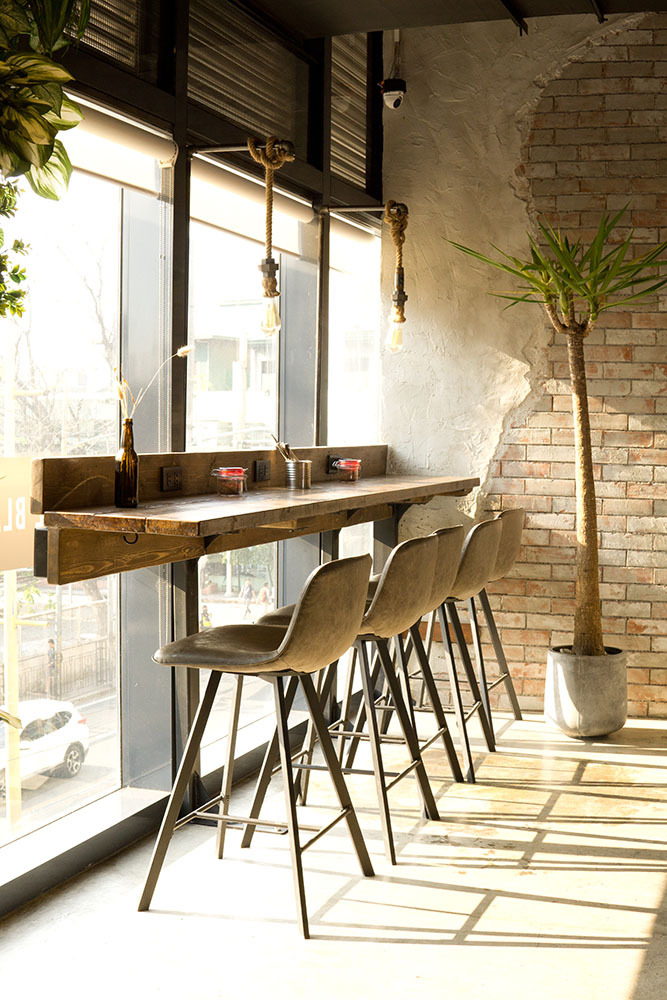 Despite the industrial interiors' initially cold impression, the café is warm and gentle, marveling over the discordant view of vehicular action and construction happening down below while beams of afternoon sun stream into floor-to-ceiling windows. It very much picks up where former colleagues at an e-commerce company and now co-founders Christian Casino and Omu Toledo left their hearts.
"Apparently when I talked to Omu about [my dream of opening a café], I didn't know she also wanted to put up her own," says Casino. As it happens, The Black Bean took a year in the making, which involved immersing in the café culture of Melbourne, Australia where Casino spent two weeks deliberately hopping from one specialty coffee shop to another, soaking in the palettes and profiles of one of the greatest coffee cities in the world and where he ended up drawing inspiration from and writing their business plan.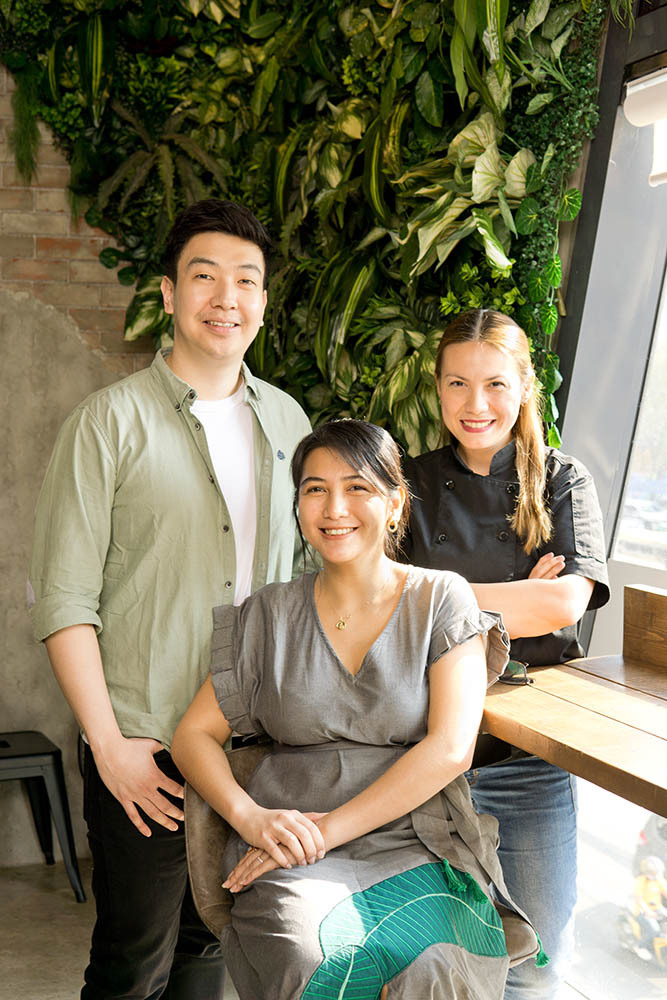 "Melbourne has a lot of homegrown cafés," Casino says but if there's one that nails down his influences "it's probably Market Lane Coffee," a boutique coffee roastery and retailer that sources its beans from the likes of La Maravilla in Guatemala and Kiama Coffee Farmers' Cooperative Society in Kenya. It is a model enterprise, in essence, that drives Casino and Toledo to share their "love for service" and coffee in a space they've always wanted to make.
Launched in November 2019, The Black Bean is an exercise at displaying their interpretation of coffee lifestyle and making it more accessible to consumers. Beans from Benguet? Check. Blends handcrafted by Henry & Sons? Check. Instagrammable spots? Check. Adopt-a-plant partnership with Scatterseed? Check. Yet it's anything but back to millennial or Gen Z basics: The drinking and tasting experience doesn't disappoint.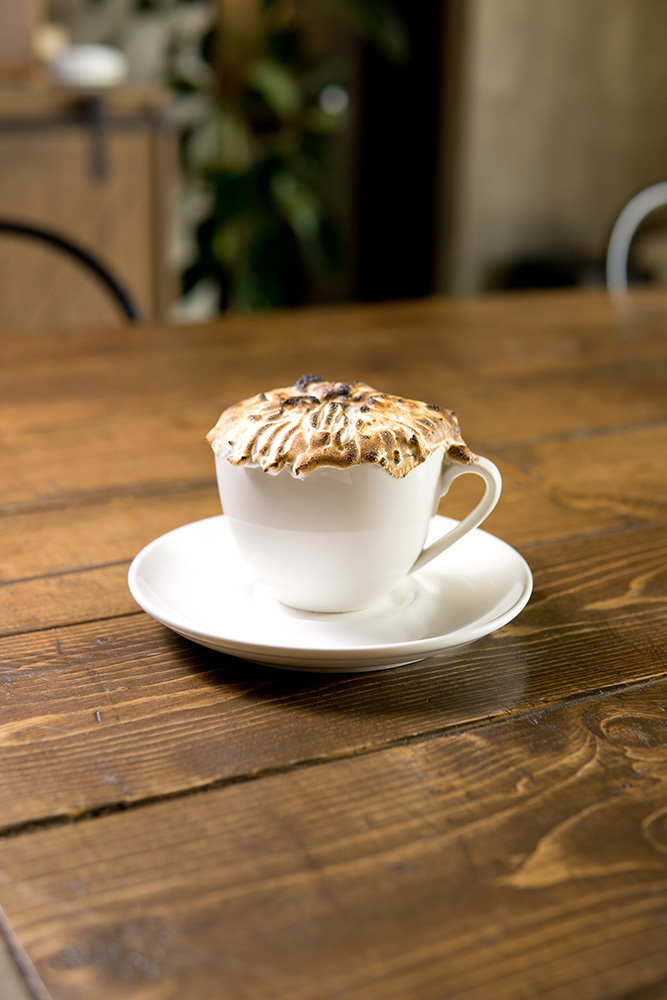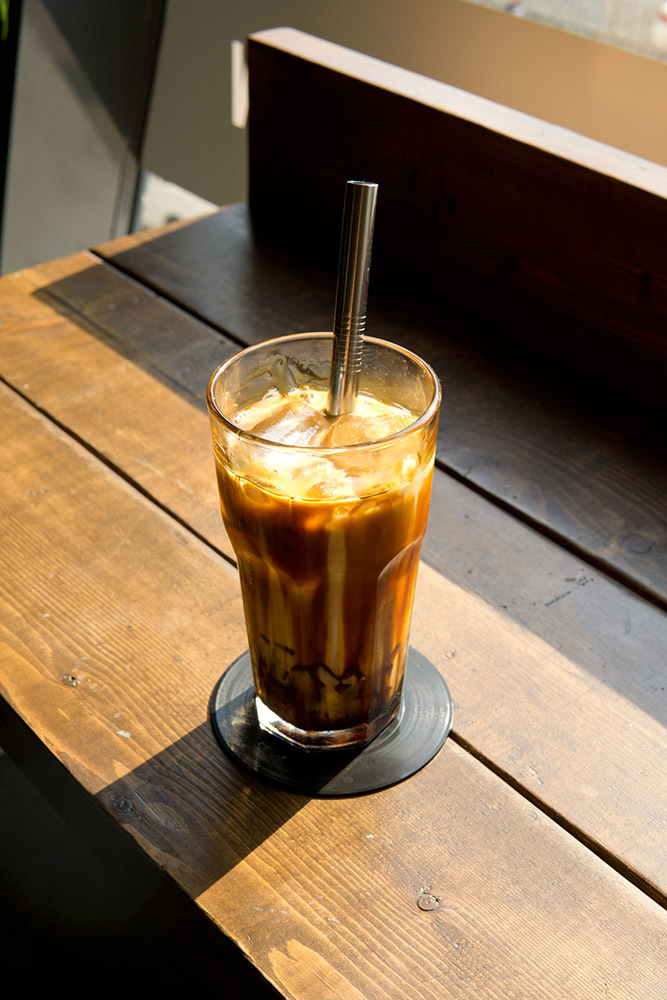 A glimpse of the menu shows the familiarity that head chef Jessica Andrea Meyer touches upon. On first glance, it looks fairly extensive but it's a solid unfussy affair with modern comfort plates that allow customers to eat and chill throughout the day such as the raspberry salad—which uses blast frozen berries and feta cheese—and the baked quarter chicken, marinated overnight in salt, pepper and lemon then baked for 45 minutes. The dish is classic with the mashed potatoes, homemade gravy and parmesan topping but may lack some spark for those looking for more fireworks.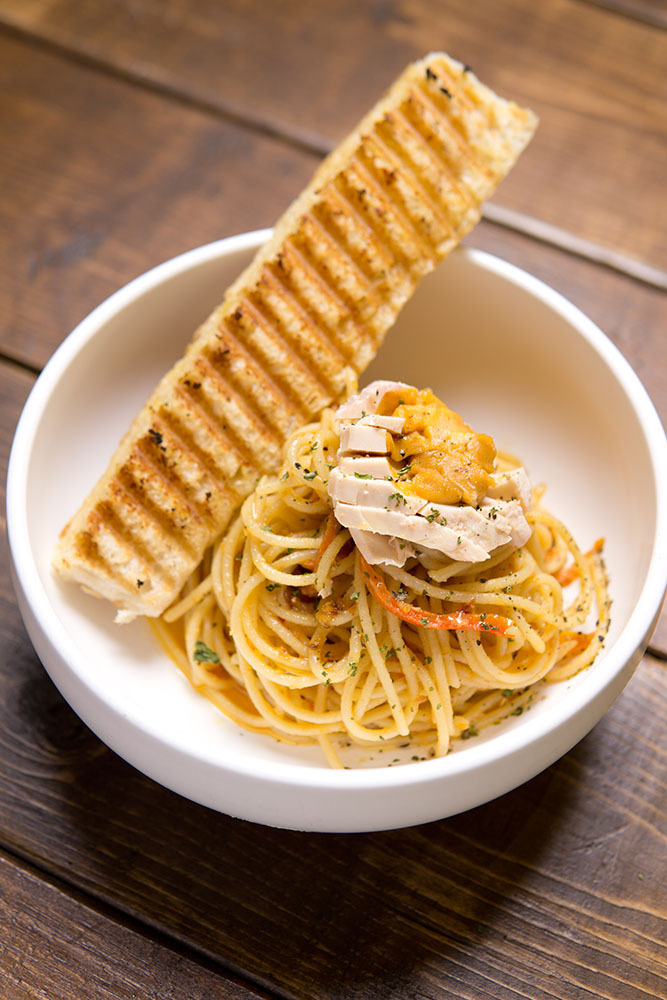 In contrast, there's a red egg chili pasta wrought with flavor, freneticism and a spicy finish that it isn't a wonder it's become a bestseller. Using spaghetti and mixing homemade chili garlic and olive oil, it's an updated taste firmly rooted in hypnotic twists of salty and savory. "It's filling but you don't feel bloated afterwards," says Toledo.
There's also a reworked five-layer lasagna that uses cheddar, mozzarella and parmesan instead of béchamel, stacked one after the other in between an equally rich bolognese sauce, which, according to chef Jessica, contains real crushed tomatoes and ground pork and beef stewed for three hours before being baked on a cast-iron skillet for 40 minutes.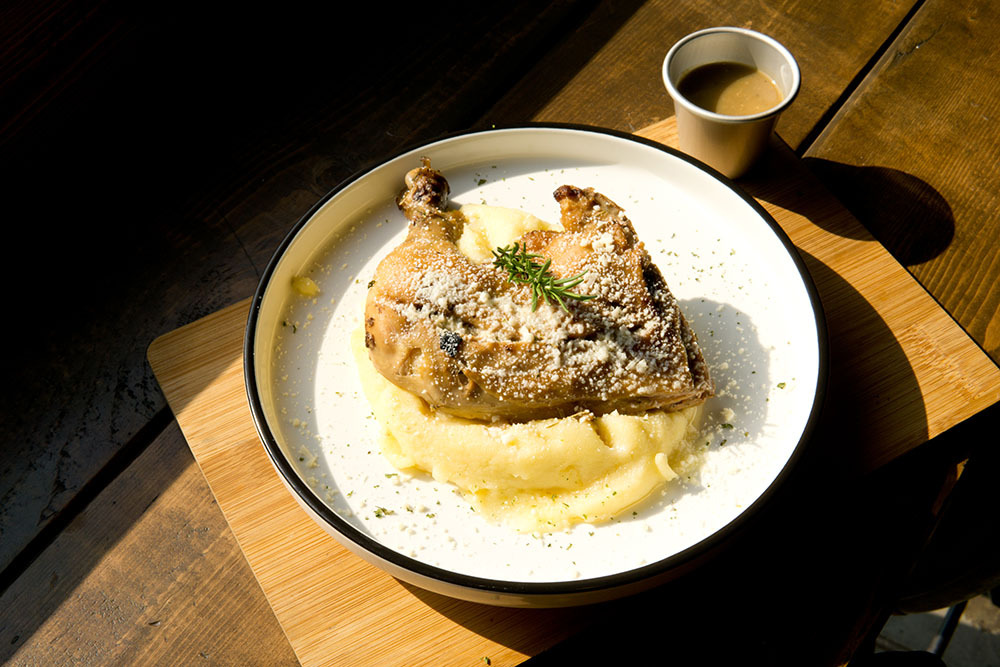 When you hit upon the crackling new Death by Cheese dish, chef Jessica allows herself some breathing room with a simple flat bread recipe topped with gruyere, cheddar, mozzarella, blue cheese and kesong puti for a local touch. But for those can't heavily step away from rice, there's an excellent selection of breakfast rice bowls, including beef pares and tapa as well as sausages from Cavite and Ilocos.
Coffee isn't limited to the usual flat whites and strong lattes. The beverage menu is divided into six categories that look more like a complementary collection. There's an espresso bar and a cold brew series where you can sip black, white and mocha; a tea bar (try the dirty chai); and a non-coffee selection (the deep dark chocolate is inflected with Auro Chocolate as do most of its products). All its coffee lineup comes with the option of nut milk substitutes—soy, almond or macadamia.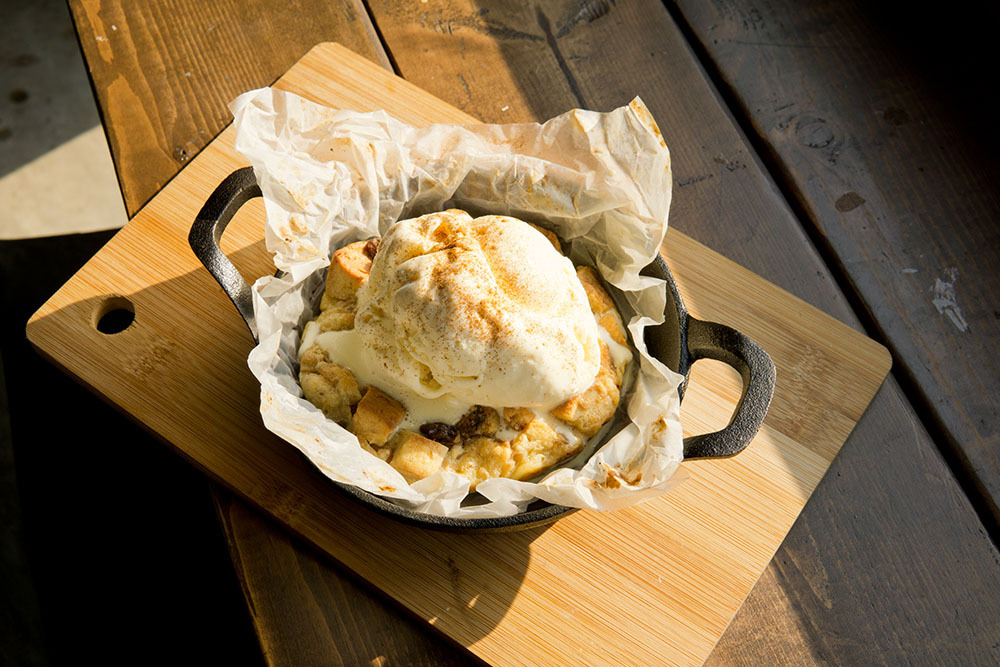 But it's the other two categories however that are far more whimsical: Concocted at its lovely "slow bar" are coffees that use single-origin beans from Benguet and manual brewing methods like aeropress, V60 pour over, chemex and syphon. "Our beans are a blend of Brazil, Colombia and Papua New Guinea," Casino says. "But we also promote local beans [supplied by Kalsada Coffee] through our slow bar."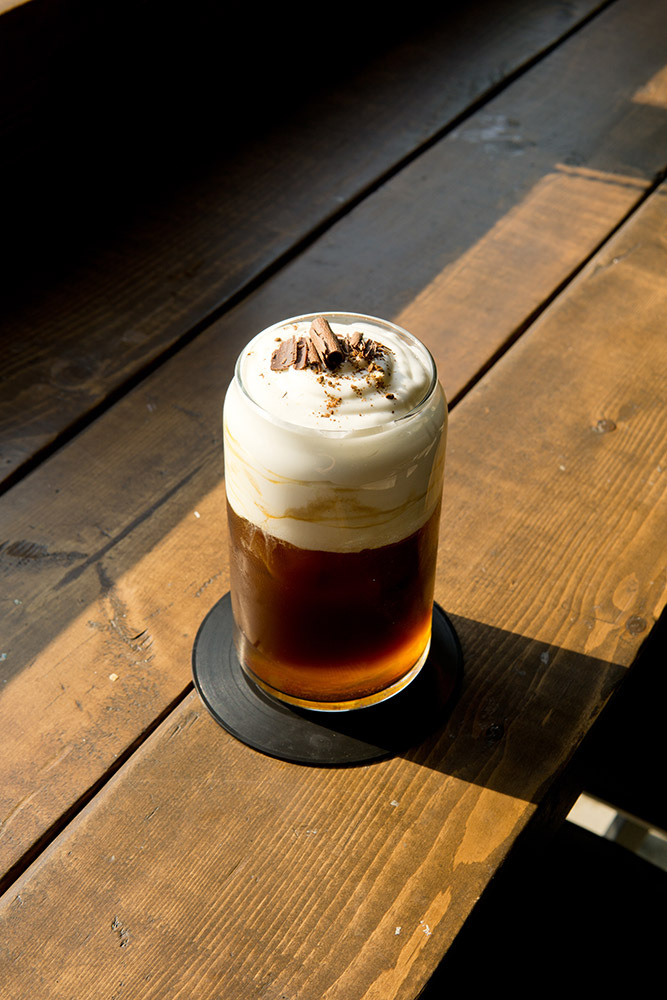 The Coffee Temptations meanwhile introduces non-coffee drinkers to signature espresso-based dessert drinks, which are "personal recipes of Christian that he has perfected and worked hard on for months and months and months of trial and error," confesses Toledo.
With names like Hey Love!, a refreshing iced black with cream cheese foam sprinkled with coffee grounds, and a Tiger Sugar-inspired iced latte called Lazy Barista with coffee jelly, milk, a shot of espresso and sparkling muscovado syrup cascading down the sides, it's easy to see why Casino and Toledo have positioned these as "a way to keep up with the frappe culture in the country."
Likewise, the meringue cappuccino sees Casino play with dimensions to transform the Italian meringue into a punchy, crown-like structure that gives an extra sweetness to the cappuccino as well as a new viewpoint for what cafés can be in Manila. While the location is nondescript and the space is intimate, the little details, personal touches and wonderful tribute to coffee make it a strong contender for Makati's newest fuss-free neighborhood favorite.
"There's always something lacking [in some cafés in Manila]," says Casino, hinting that there's no wi-fi at some places in spite of the good coffee. So, The Black Bean is literally his solution: a 'complete' café for himself and for anyone who wants to share it.
Get more stories like this by subscribing to our weekly newsletter here.
Read more:
At Japanese diner Gram Cafe, pancakes are served with chili con carne
Tokyo Milk Cheese Factory now offers sweet and savory dishes at its first cafés
We have to support our local coffee farmers and here's how
Writer: ERIC NICOLE SALTA
PHOTOGRAPHY RONAN CAPILI