Being a Filipino, I've always felt an air of familiarity around Vietnamese cuisine. For a while, I've been trying to pinpoint what exactly it is about Vietnamese food that invigorates the same feeling of being presented with a platter of my favorite Filipino dish. To compare, Vietnamese food is definitely healthier than the classics of Philippine cuisine. While we can't deny that we are suckers for that greasy lechon, crunchy chicharon, crispy pata, and salty adobo, Vietnamese food is reliant on fresh ingredients, especially herbs and vegetables. There's an evident lack of dairy and very minimal usage of pork, with their classics making use of seafood. So being raised as a full-blown Filipino, feasting on meaty delights and all, I wondered why Vietnamese cuisine always made me feel as giddy.
Enter Cai Be. I'm sure it wasn't in their intentions to give a measly customer like me an epiphany, but simply seeing their setup in a food court gave me the answer I needed. Included in a plethora of food stalls in the food court of GT Towers at Ayala Avenue, Cai Be is a Vietnamese stop that's got the exterior makings of the classic Filipino turo-turo karinderya. The dishes are presented inside glass shelves wherein regular dishes and weekly specials are presented. There's a screen that projects the complete menu, but if you're unfamiliar with Vietnamese cuisine, don't be shy to ask their servers who are equipped with the information and a good sense of humor.
Behind this humble venture are actually veterans of Vietnamese cuisine, Annie Nguyen de Lemos and her daughter, Myrna Guevara. In the '90s, the two spearheaded one of the most sought-after Vietnamese restaurants in Manila called Vietnam Food House. Cooked by de Lemos who was born and raised in Vietnam, traditional cooking became the key attraction of the restaurant. And around two decades later, Cai Be also follows the same timeless and age-old charm. Yes, all the dishes are still cooked by the now 73 year old de Lemos. Of course, nobody can deny grandma's cooking.
"We followed the traditional cooking of my mother. Whatever she cooks has this signature style that everyone loves," Guevara says. "When you taste the food, you will know it's not commercially prepared. Hindi siya tinipid. That's the authenticity of it since it comes from mom's very own recipes."
As we dug into their dishes, it was evident that these dishes were made by a seasoned homecook, someone who's perfected the flavor and technique of Vietnamese cooking. First off, the Hu Tieu, a seafood noodle soup with a sweet and sour broth, minty herbs, shrimps and fish balls more popular in South Vietnam, was already enough to satisfy me for a whole meal, but there was still much left to dig into.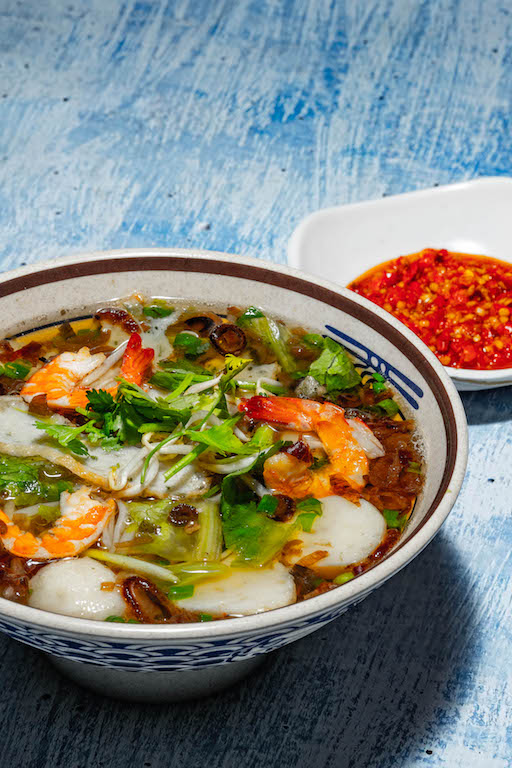 Of course, Vietnamese cuisine wouldn't be complete without the pho. Cai Be's pho ga (Vietnamese chicken noodle soup) and pho bo (Vietnamese beef noodle soup) offered a clear and aromatic broth that was comforting to the palate, tender cuts of meat, and generous amounts of spring onions and rice noodles made even tastier with the Hoisin and hot chili sauce. They also serve fresh cold noodles, like the Bun Cha Gio, a pork noodle salad served in a bowl with fresh vegetables and fish sauce for dipping.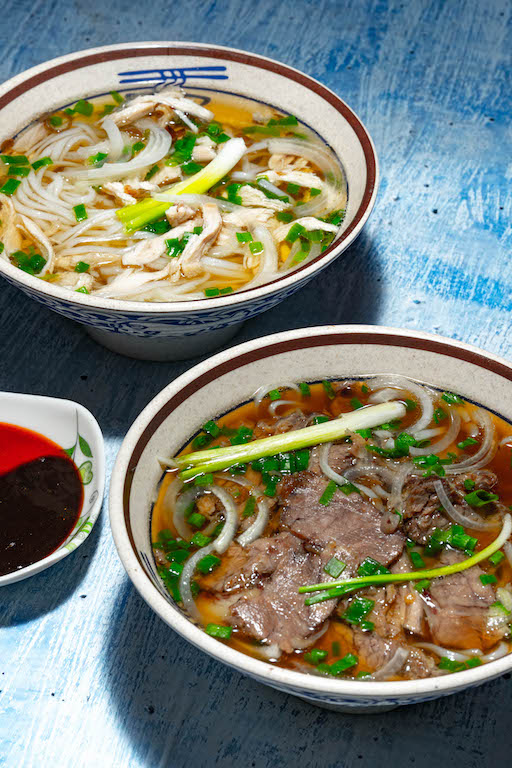 For a quick snack, Cai Be offers a wide selection of starters including some dishes we're familiar with like the Cha Gio (fried spring roll) and the Goi Cuon (fresh spring rolls) which have lettuce, shrimp, bean sprouts, and vermicelli noodles inside. Dip it in vinegar or peanut sauce to complement the crunch or soft bite. Don't skip out on the salads too; the Goi Buoi, made with lettuce, spring onions, pomelo, and sprinkled with nuts is so fruity and sweet that it could pass as a dessert.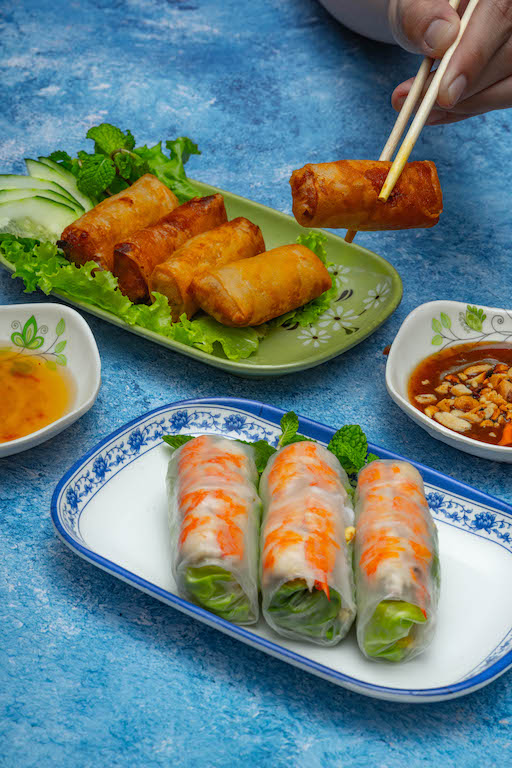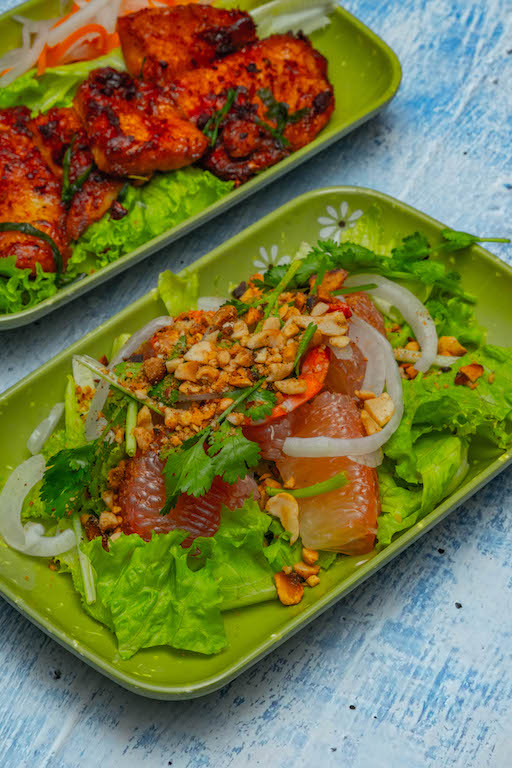 What also struck a familiar chord in my stomach is how Vietnamese cuisine is just as playful with its ingredients as also seen in Filipino cuisine. There's a pattern of mixing and matching vegetables, meats, and spices that at first, don't seem like the best combinations, but once it's done, it's a blast of flavors that's meant to be.
Take their Canh Chua Ca, a hot and sour soup that carries the same tamarind flavor of our local sinigang. However, this one can be considered a pescatarian dish as its main ingredients include shrimp, silken tofu, pineapple chunks, and tomatoes. The Thit Ko is also very similar to our adobo but sweeter, made with braised pork belly, soy sauce and hard boiled eggs. However, be on the lookout for these dishes as they're part of the specials that change every week.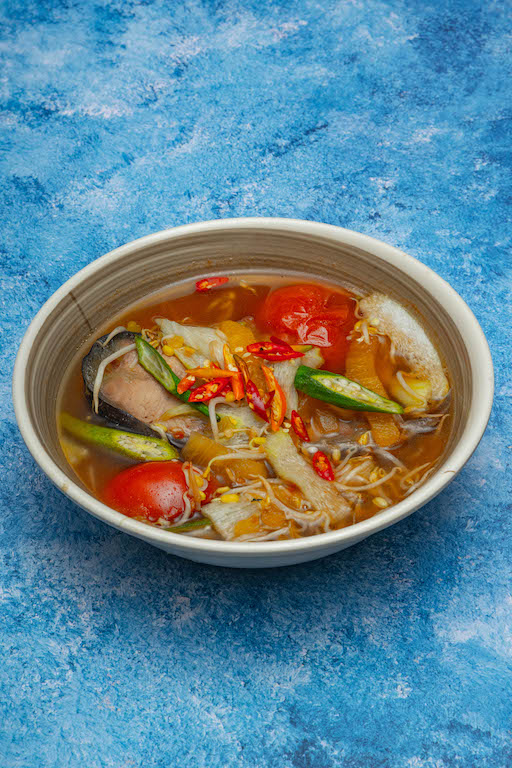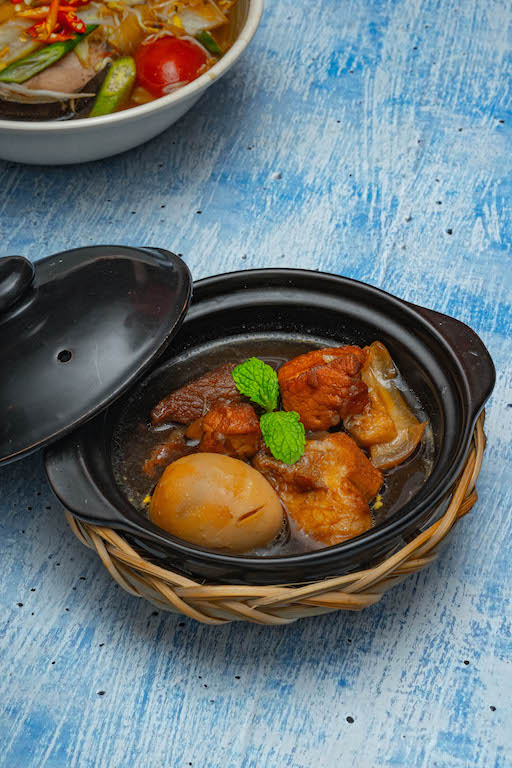 Digging into their food and listening to the recountings of Myrna, I realized what made me so attracted to Vietnamese cuisine: It was the comforting sense of family that came with the process of cooking. From the fact that it was founded by their grandmother and passed on like a treasured heirloom to their daily restaurant routines—how they shop at the market for fresh ingredients at 4 a.m. every morning and have grandma cook the dishes in time for the opening—it all struck a familiar chorse to the hard work and passion behind the art of cooking.
The Guevaras aimed to bring traditional homestyle cooking to the Philippines, while also capturing the healthy and subtle flavors of the cuisine. The familiarity then easily resonates with the Filipino customers, not just because of their healthy and delicious dishes, but also because at Cai Be, everything is familial in nature.
"What I love about the food in Cai Be is that it reminds me of home." Guevara shares. "Just like Filipino families, we eat this food when we're most comfortable—we put our feet up, slurp on soup and rice straight from the bowl, all as if we are in the comfort of our own house."
Get more stories like this by subscribing to our weekly newsletter here
Read more:
Broken rice takes the spotlight at this Vietnamese restaurant
Writer: THEA TORRES
PHOTOGRAPHY JONAS TIMBAREZA