Takeout can be cute without the excess plastic packaging at this Vietnamese concept
Bonne Cha may be a food delivery concept but that doesn't mean it's all single-use plastic
info
Bonne Cha

Takeout Vietnamese

+63917-8955239

₱

P200 to P300 + delivery fee
The convenience of food delivery service apps is something out of a utopian dream. Although the concept of food delivery itself is not something new—fast-food chains have had delivery hotlines since the '90s—the idea that you can order any type of food you want through your mobile device (and without having to awkwardly speak to someone!) is.
And it is also democratizing for small businesses. Where the big players in the food industry once monopolized delivery, now small medium enterprises can do, too, making for more diverse food choices for consumers.
Bonne Cha, a Vietnamese-inspired noodle bowl concept is the newest player in this game. But unlike franchises and mom-and-pop establishments who have found a new way to reach their market through Grab and Food Panda, they are maximizing social media. They accept orders through their Facebook and Instagram accounts a day before their set delivery day, Wednesday. This is to ensure that they only make enough bun cha for the confirmed orders.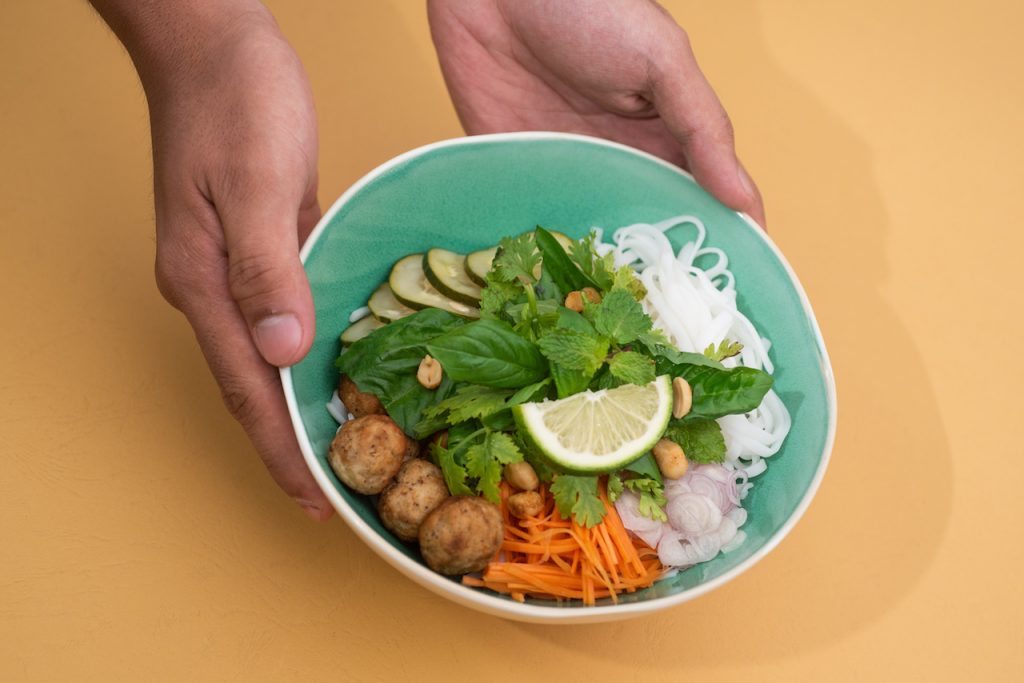 Wait, what? A bun cha?
Yes, a bun cha. The Vietnamese streetfood mix of rice noodles and pork. But instead of sticking with the usual ingredients, Lady Badoy, one of the partners made it more inclusive to health-conscious customers by adding a grain base option, adlai.
For P220, you can select one topping to go with rice noodles. The options so far are grilled pork, sticky tofu, and chicken balls. If you can't decide which one, for an additional P70, you can have all three.
If instead of rice noodles you want adlai to go with your bowl of fresh herbs and nước chấm or Vietnamese condiments like a slightly sweet vinegar or thick soy sauce and lime, just add P25.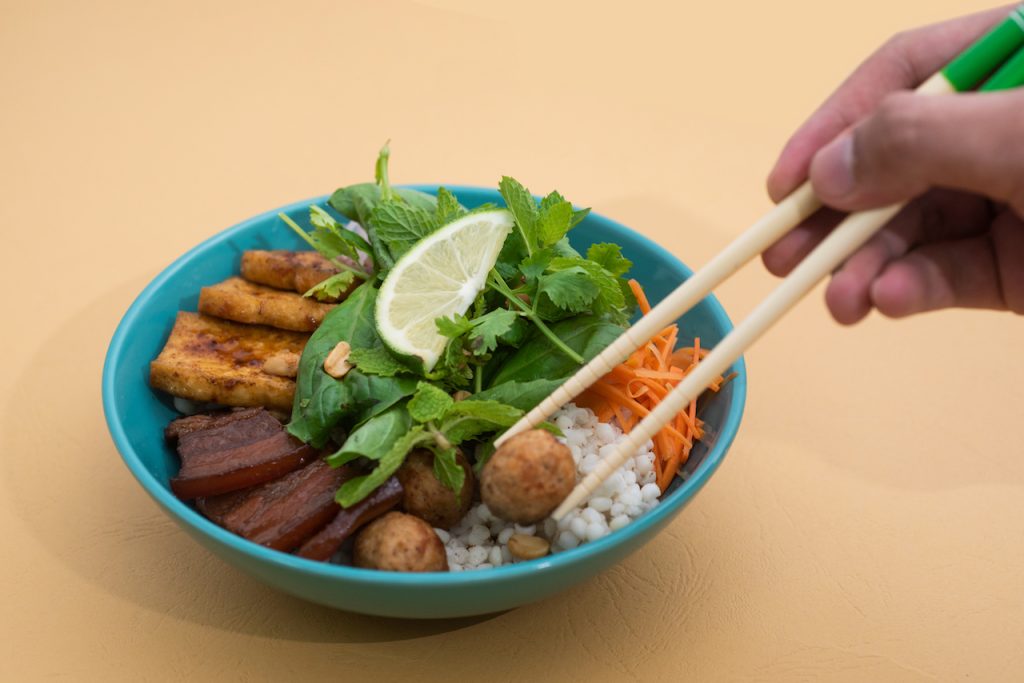 Badoy and her team make everything from scratch daily barring the rice noodles. The pork belly slices are marinated and cooked in a special sauce to give it a savory and slightly tangy taste. The tofu bars are fried and coated with the same sauce, while the chicken balls are made with ground white meat and resemble a meatball.
Weirdly enough, despite the mode of delivery—some take hours to reach the destination from Bonne Cha's San Juan quarters—people still order their ice-blended drink called the coco frost, a concoction of Vietnamese coffee and coconut cream. Or the cocolime fizz, a refreshing drink of coconut water and lime juice.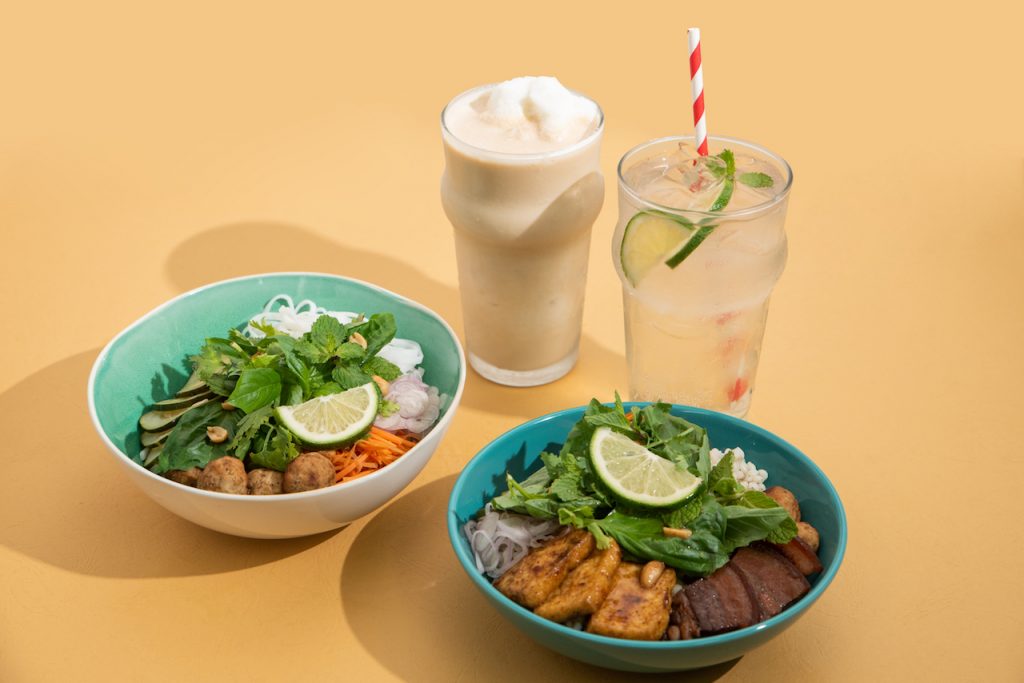 Considering they are exclusively servicing clients through delivery, they only found it apt to also have their own rider on the ready to complement their Lalamove provider. These riders deliver packed meals wrapped in colorful polka dotted fabric. But the downside of this delivery service is that since its takeout, they have to use takeaway containers like laminated paper bowls with plastic lids (for their drinks, they use paper straws, and utensils are bamboo chopsticks). To lessen their dependence on it, they sometimes accept customers' reusable wares to put their meals in.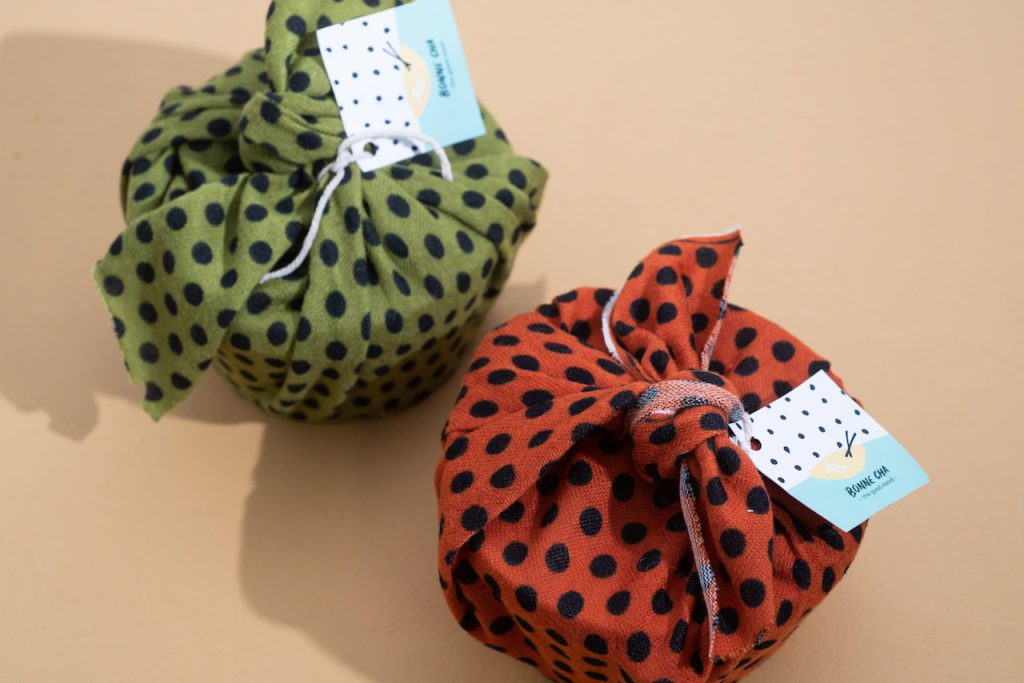 Apart from delivery, Bonne Cha also participates in fairs and bazaars in the metro where you can sample their dishes as well as their ice-blended drink without melting.
Read more:
How local brands help customers protect the environment
Food for thought: This is what happens to food waste
Are these edible and biodegradable pods the future of zero-waste packaging?
TAGS: adlai bonne cha bun cha delivery food delivery hanoi rice noodles Vietnamese vietnamese coffee
WHY GO?
To lessen their dependence on plastic packaging, Bonne Cha uses colorful printed fabric wraps. They also accept reusable wares from customers.
MENU