In the Filipino psyche, there are only a few occasions that warrant flowers: weddings, Mother's Day, Valentines Day, all souls day, and some holidays that are either made up or obscure but somehow involves floral arrangements (remember bestfriend day in high school?).
Before the coming of contemporary floral designers, save for roses, nothing is as ubiquitous as chrysanthemums. With its bright colors and many slender petals—not to mention a relatively cheaper price—it's become a welcome addition to bouquets, wreaths, and what have you.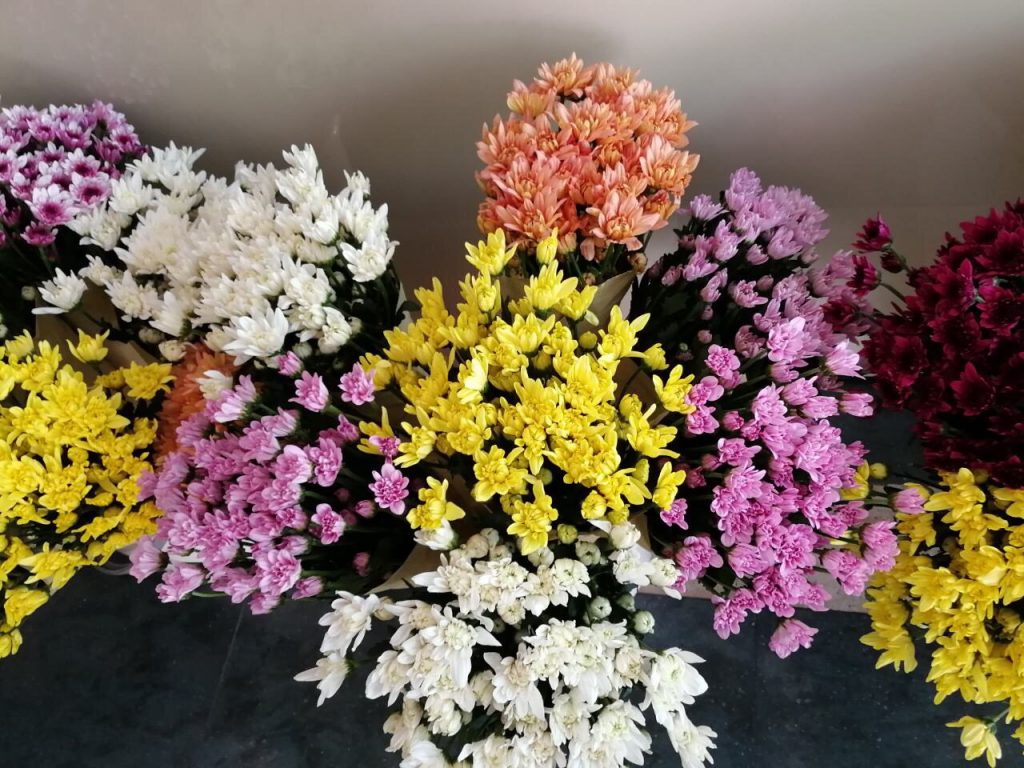 But not before long, it was either imported or bred in Philippine soil with less attractive results compared to their foreign counterparts.
Today, a flower farm in Bukidnon called Kaibigan Floricultural Corp., which supplies the "mums" for online store The Floral Lady, is changing that by planting export grade flowers that are more affordable compared to most local prices.
We spoke to Bev Dalton of The Flower Lady about their business that's about cultivating globally competitive mums as well as a social enterprise for local communities in Bukidnon.
What's the story behind The Flower Lady? How did it come about?
We see a lot of floral varieties in Manila, from imported types like Ecuadorian roses and Holland mums and even those with exotic origins like Bird of Paradise and Calla lilies but those, more often than not, come with a hefty price tag.
Our vision is simple: to share one of nature's beautiful creations to people and to give smiles through flowers, guided by our motto from Claude Monet: "(One) must have flowers, always, always, and always…"
At The Flower Lady, we believe that flowers need not be a luxury. We opened our services in early 2019 to supply flowers (chrysanthemums for now) from our farm Kaibigan Floricultural Corp. for retail and business customers, alongside personal clients at an affordable price. We want to provide high-quality chrysanthemums to florists, restaurants, event stylists, and to homeowners among others.
Tell us about the farm, Kaibigan Floricultural Corp where you grow the flowers.
The farm in Manolo Fortich, Bukidnon, occupies approximately 13.5 hectares grown to flowers, located in Barangays Mampayag, Bagalangit, and Kalugmanan. State-of-the-art greenhouses, designed in and bought from Malaysia, have been erected, each featuring LED lighting, long span aluminum frames, UV-plastic, black lights, controlling nets, and irrigation systems.

What sets The Flower Lady's mums apart from the usual breed of mums out there?
Currently cultivating chrysanthemums, our farm can grow up to 21 varieties depending on the local or export market demand. With our mother plants imported from both the Netherlands and Japan, we have decorative blooms that have flat discs and short petals. Others feature beautiful gradient flower heads. Our customer and retail favorites are our deco-colored mums (vibrant hued flowers which come in gradient shades like deco pink and deco yellow) and the signature spray olive pom poms. All in all, The Flower Lady offers an array of chrysanthemums in varied colors, shapes, and sizes.
Chrysanthemums are graded based on stem length, flower appearance, number of flowers, stem straightness and rigidity, color, and freshness. Strictly following Japanese standards, our export-grade flowers are bigger than the other local mums, and are of consistently better quality, too—our quality control sees to that. Those that don't make the grade are recycled.
How are flowers recycled?
Flowers that do not pass our quality control or what we call "reject" flowers are placed in VRM Bukid's (a sister company) own organic compost pile to be converted to soil enhancement and topsoil replenishment. The end product is what we call Humigrow, which we also supply to other farms in Mindanao.  

We've read that you use a particular technology in cultivating these varieties. What's microbial agricultural technology?
We ensure that our flowers are well-fed—we use organic compost and probiotic microbial supplements manufactured by our sister company VRM Bukid, Inc. By improving the soil chemistry and populating it with beneficial microbes, we make sure that plant nutrient uptake is more bio-available while lessening reliance on chemical fertilizers, making our plants healthier. They grow faster, too, and are less prone to disease, which is why our mums can last longer.
Can you explain the social enterprise side of The Flower Lady?
Our farm pays fair wages with full benefits to our employees who are mostly locals and some Lumads living in nearby communities. We also give free meals to office staff and feed our people with fortified bread when they work overtime. Additionally, we participate in local barangay events and donate to indigenous peoples causes.
Are there other flowers that The Flower Lady plants and sells?
For now, The Flower Lady is focusing on chrysanthemums. We are already in the process of expanding to roses and perfecting its cultivation, and we'll keep you posted once we have these ready. We are excited to introduce these to the market since we will have different colors and varieties as well.

How can people order from The Flower Lady and what are the rates?
People can order through The Flower Lady via 0917-5374967 or 0917-6898351. They can also email us at [email protected]. We can be reached through Instagram at @flowerladyph or through facebook.com/flowerladyph. Our flowers are delivered to Manila on a weekly basis so we appreciate that our clients give us a week in advance for their bulk orders so we can meet their requirements. We also accept walk-in customers from Wednesday to Friday at our office located at  2263 Chino Roces Avenue, Makati City from 9 a.m. to 5 p.m.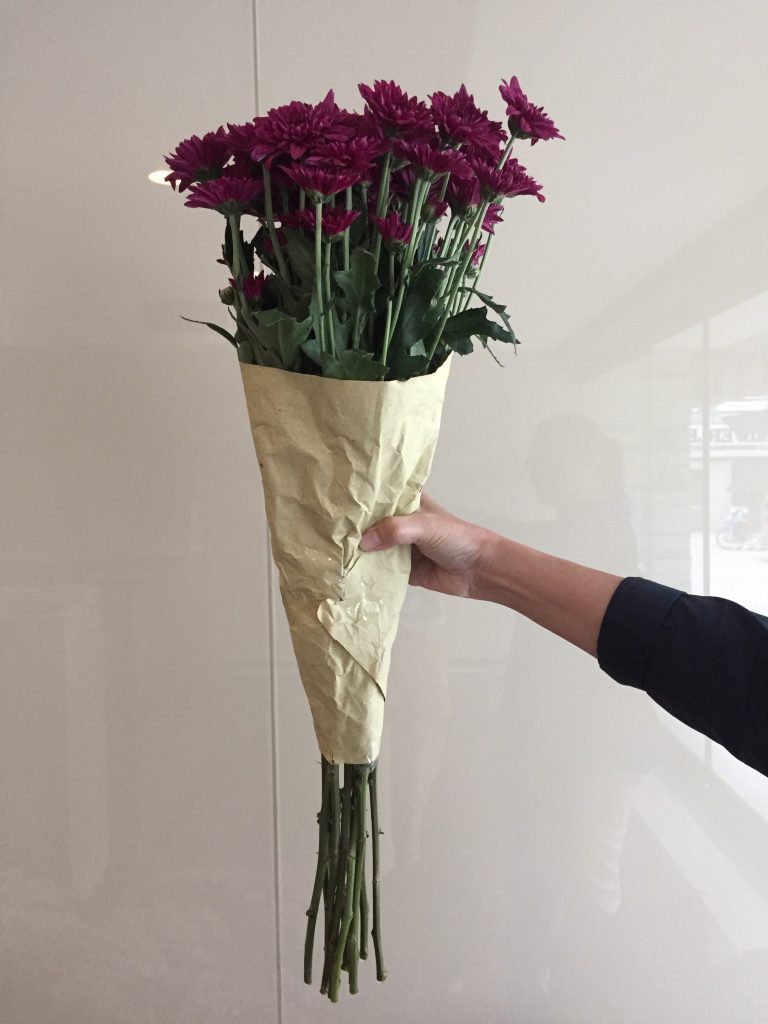 Prices are as follows:
PhP 230/bunch (12 stems) – Non-deco colors
PhP 250/bunch (12 stems) – Deco colors
PhP 3,650/bunch (16 bunches) – Non-deco colors
Photos courtesy of The Flower Lady
Read more:
Your modern flower meaning guide
How much would you spend on a bouquet of flowers?
Have a bouquet delivered to your SO with these 4 flower shops
LOOK: Sunflowers are starting to bloom at UP Diliman for graduation season