10 websites and applications to help you stay on top of this pandemic
From real-time statistics and symptom checkers to directories of donation drives, here are some handy sites for (almost) everything you need to know about COVID-19
Apr 7, 2020
The new coronavirus or COVID-19 is undeniably tricky. A few months ago people were saying it can only be transmitted through respiratory droplets like mucosae (mouth and nose) or conjunctiva (eyes), but now we have studies going into the nuances of its airborne transmission which reveal how these droplets also become aerosols under certain circumstances. What's more, and probably the trickiest part of it all, is the fact of asymptomatic carriers—making mass testing all the more crucial. 
Nonetheless, substantial knowledge about the nature of the virus and keeping ourselves updated on all of the recent developments surrounding it is key in fighting this pandemic. While there is still so much to be discovered about this virus, here are some well-developed platforms that'll help keep you in the know.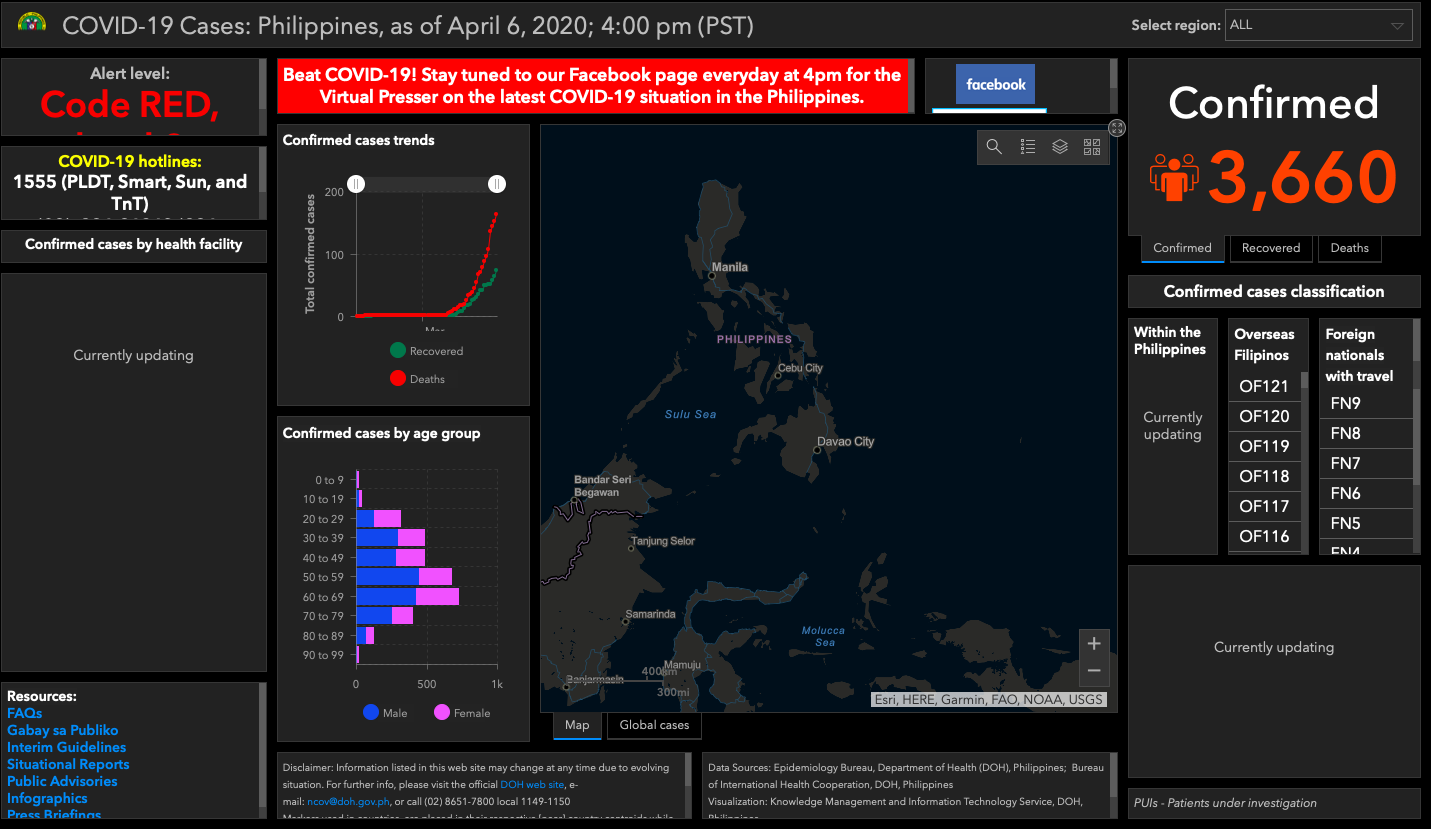 First and foremost on this list is DOH's very own Ncovtracker. Launched last February after the third case in the Philippines was confirmed, the website showcases all the essential data of the country's confirmed cases, a map of its locations, graphs of the deaths in comparison with patients who have recovered. You can also access resources and reading materials about the virus and all the public advisories issued thereof along with the different COVID-19 hotlines.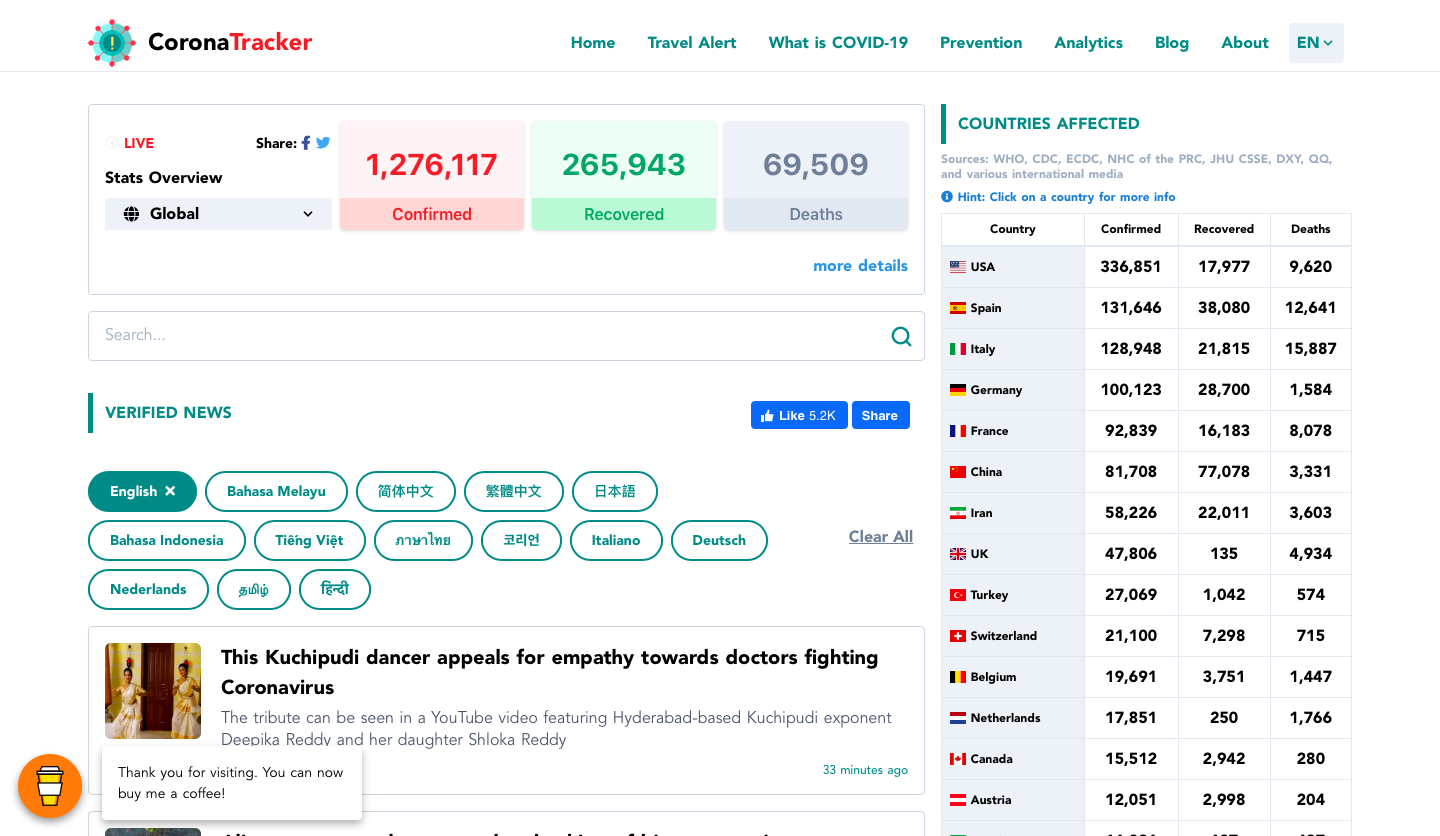 One of the earliest launched sites (back in Jan. 27) about COVID-19 is coronatracker.com, a community-based project founded by Malaysian data scientist Dr. Cher Han Lau and now powered by over 460 volunteers from across the globe, ranging from data scientists, medical professionals, UI/UX designers and fullstack developers for the general public. 
The website offers a handful of language options, serving as a public portal for keeping track of the latest news development about COVID-19 and confirmed cases of each country alongside data for further analysis.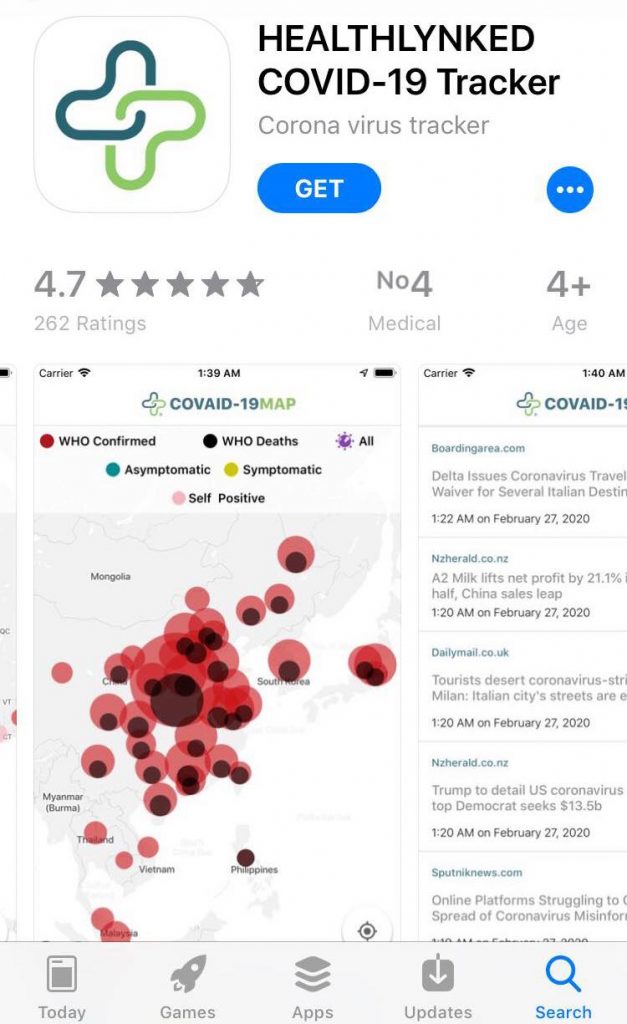 Being one of Apple's top rated applications on the market, Healthlynked COVID-19 tracker is a comprehensive yet handy mobile application during this pandemic. The application was developed by public U.S. company Healthlylinked Corporation which operates a cloud-based online personal medical information and record archiving system that enables patients and doctors to keep track of medical information via the Internet. 
This "virus tracker" allows COVID-19 positive patients to self-report symptoms of the virus to help them alert contacts and seek medical care to prevent the virus' spread. Aside from this, the application also provides the latest Twitter posts and a real-time chat (moderated by healthcare professionals) for users to engage with people from around the world to share information.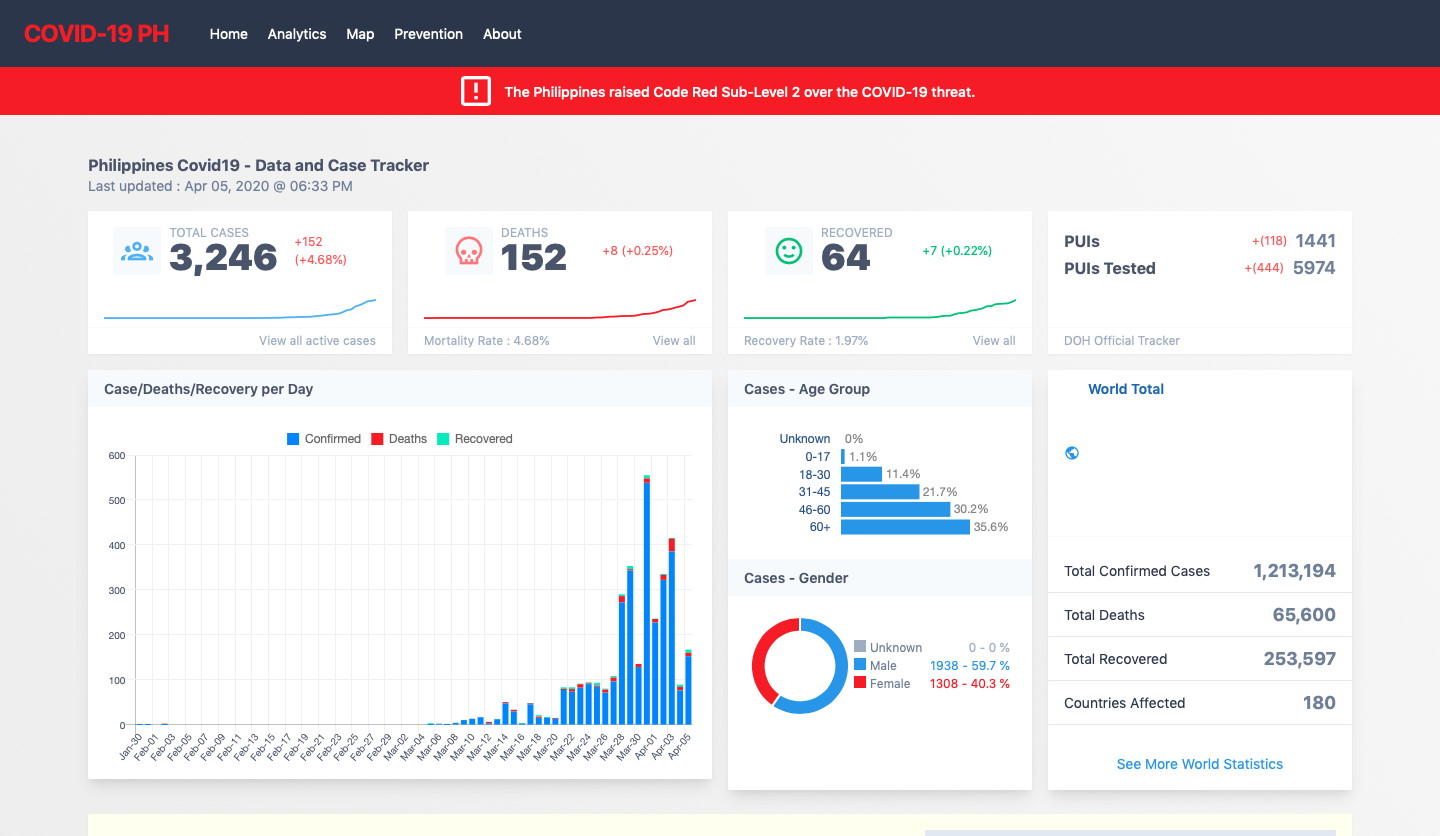 For a mobile-friendly website with easily digestible graphics, covid19ph.com also provides real time updates on our country's confirmed cases, death toll, PUIs and patients who have recovered from COVID-19.
Pooling information from World Health Organization (WHO),  DOH, CoronaTracker.com along with local and international news, the website launched by three UP graduate researchers along with a software engineer based in Singapore, also provides useful information on each patient's demographics including nationality, gender, age group as well as whether or not they're admitted to a hospital. 
It also features an interactive map showing the cases in each region and distinguishes the number of PUIs that have been tested.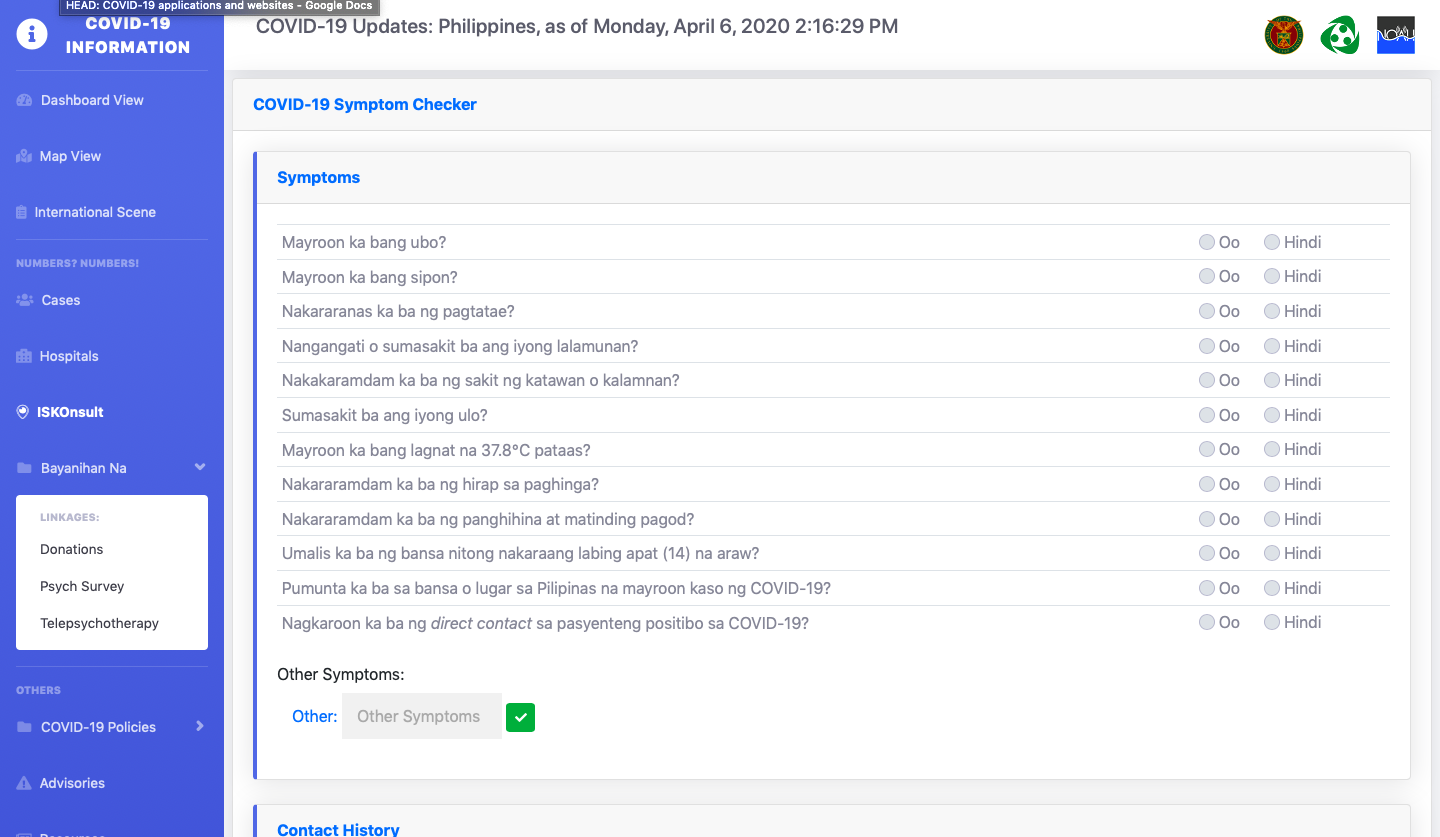 The University of the Philippines COVID-19 Pandemic Response Team steps it up once again by launching Endcov.ph. Its features include a detailed map where users can view not only street or satellite views of locations with COVID-19 cases but also quarantine checkpoints and hospitals. The comprehensive web portal also has ISKOnsult, a symptoms checker based on the Department of Health's (DOH) triage algorithm for COVID-19. 
Aside from this, it also provides helpful resources which discuss COVID-19 related policies and a dropdown list of profiles of patients who have been admitted to and treated in hospitals. Lastly, there's also a special section where you can sign up for their Telepsychotherapy services.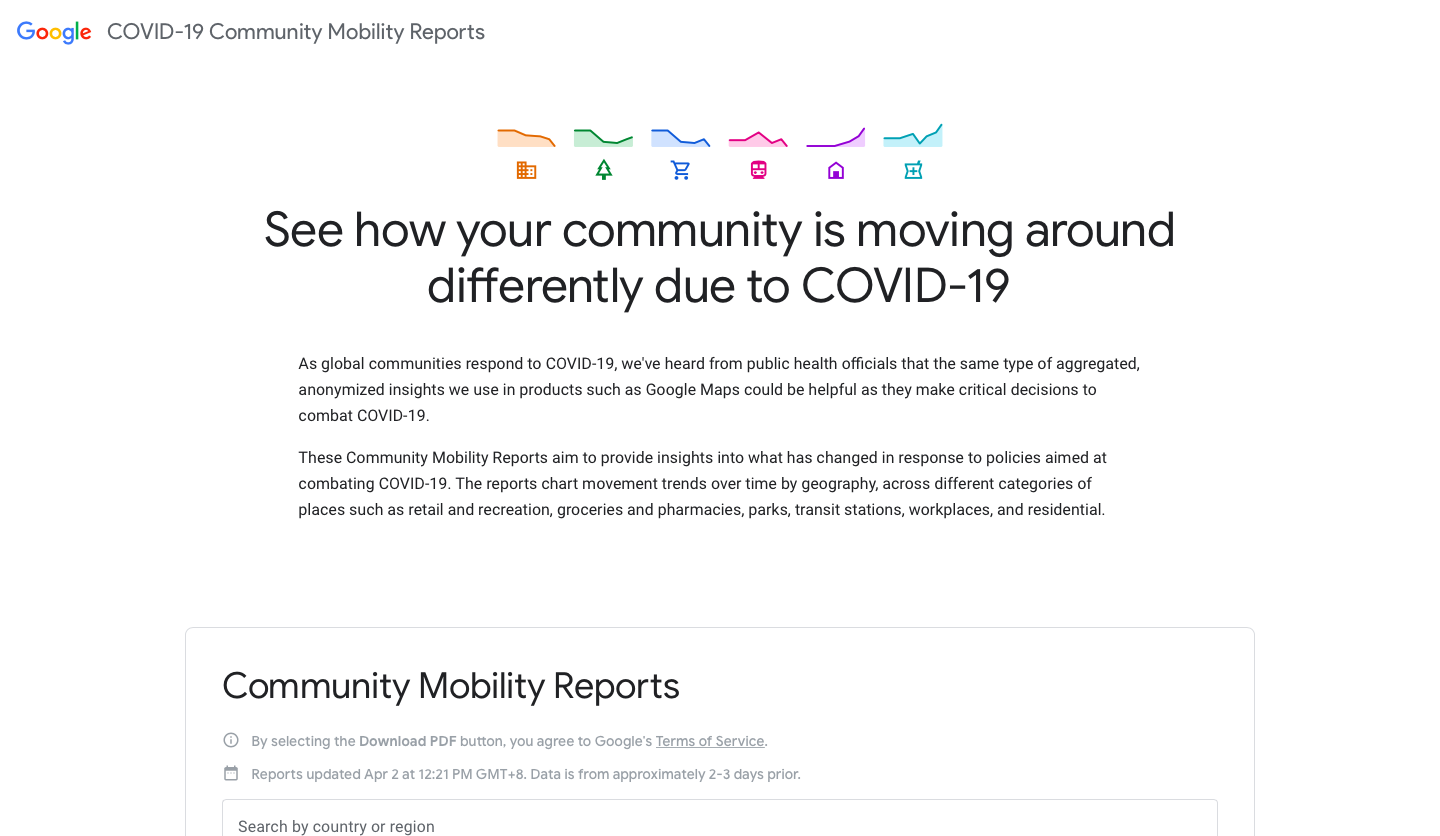 While a bit creepy as it utilizes its users' location data, Google's COVID-19 Community Mobility Reports is helpful in monitoring COVID-19 patients and social distancing status.
As part of their COVID-19 information website (which contains consolidated data on the nature of virus, statistics and prevention tips), the community mobility reports show almost every country's change in visits in different types of location categories, such as transit stations, grocery stores and pharmacies, parks, and residential areas.
These reports can be downloaded in PDF format. As of Mar. 29, the Philippines showed a significant decrease in almost every category except mobility in residences which actually increased evidently because of the enhanced community quarantine.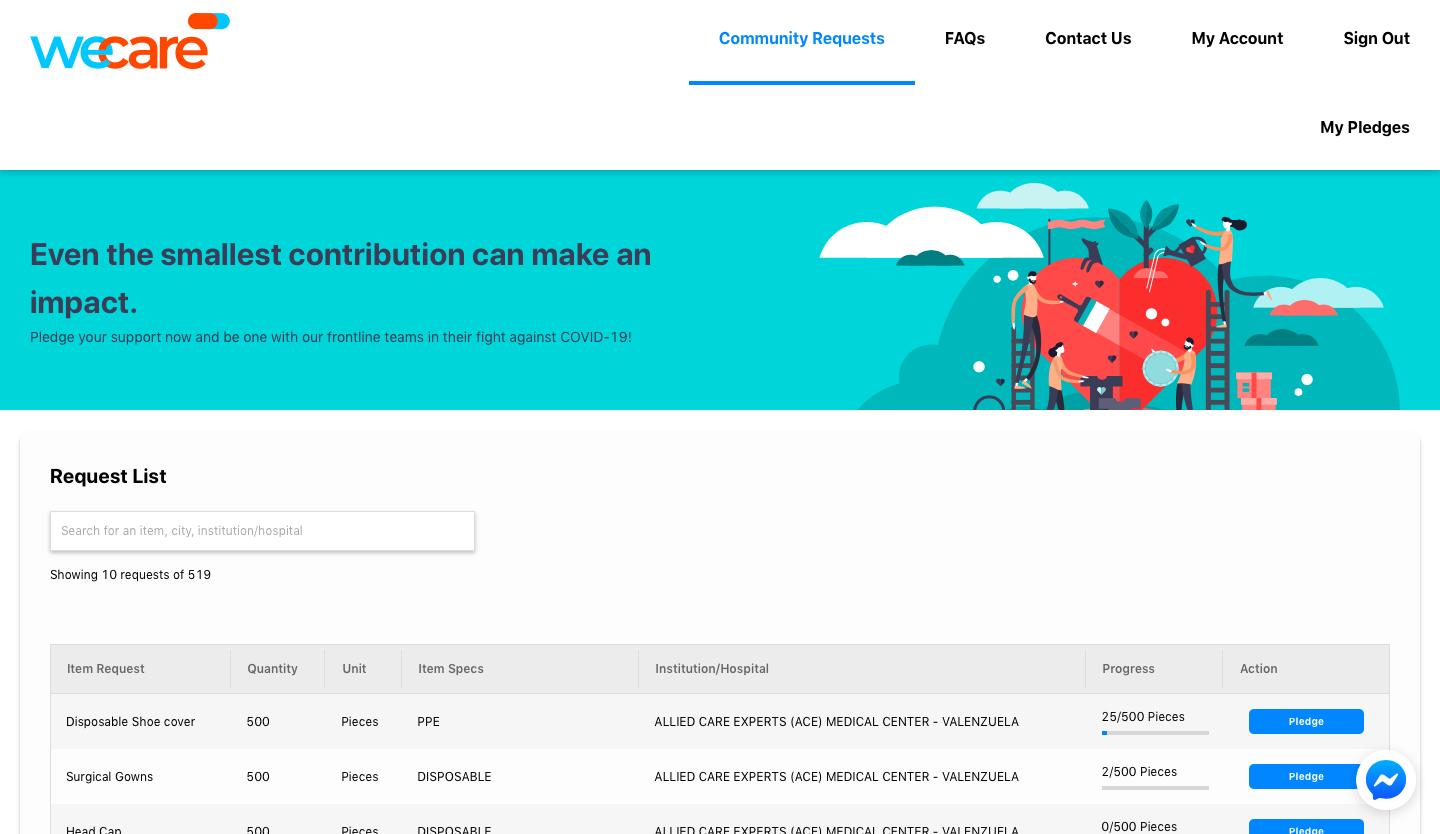 WeCARE (We Connect, Act and Respond to Emergencies) is a non-profit emergency response platform that connects individuals or groups willing to donate resources to hospitals and disaster management organizations that urgently require assistance in these times of crisis. 
[READ: This website links donors, volunteers to underserved communities in need of help]
Through this 100 percent free and open platform, verified organizations and hospitals can request urgent needs while donors can reply to these needs through their pledges on the website as well—all it takes is an account which you can register to using your Facebook account.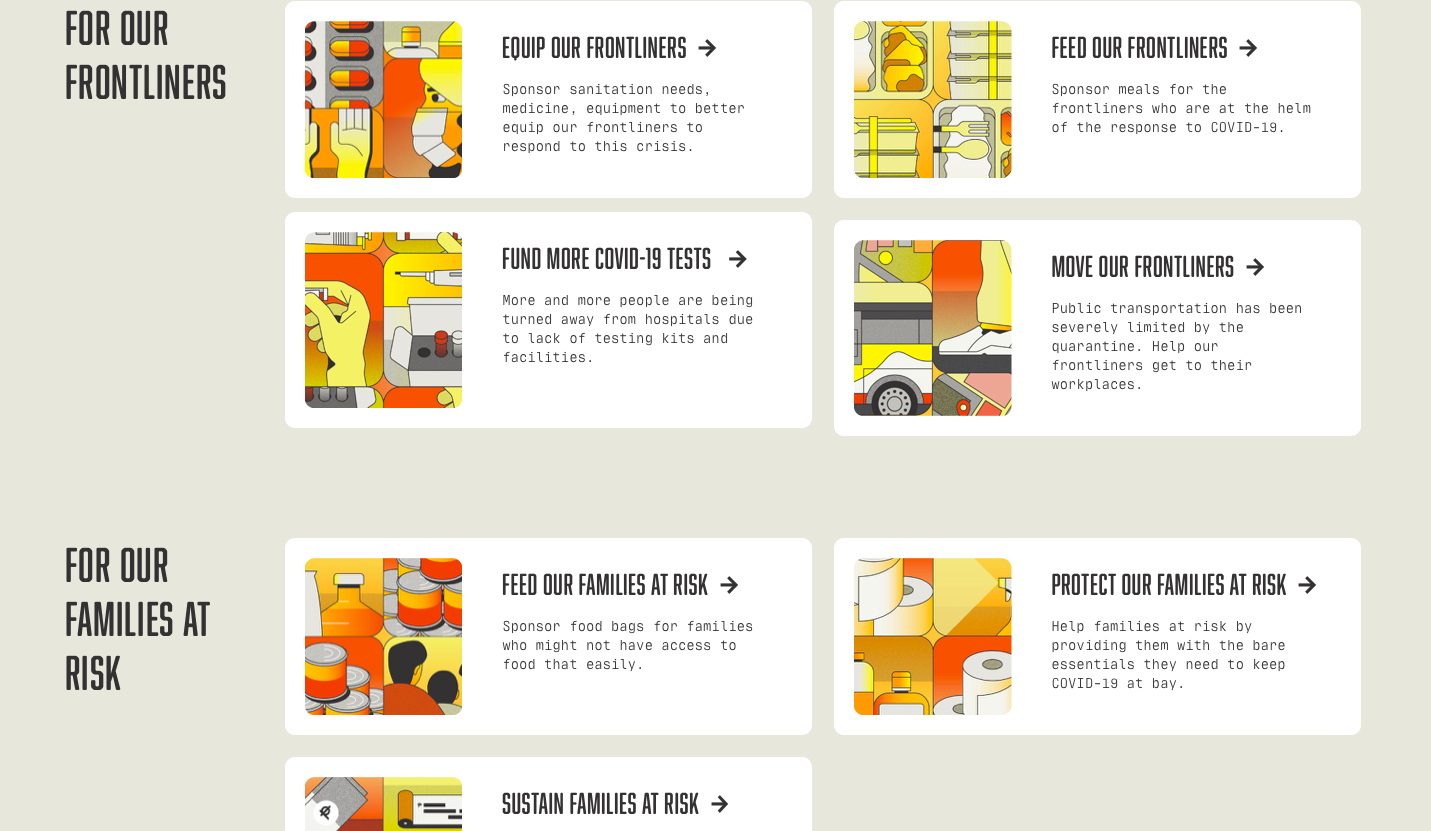 One way to stay proactive despite the circumstances is by (figuratively) lending a hand to those in need. These days we have been seeing the spirit of bayanihan with the emerging number donation drives for our frontliners and underserved communities. Though the deluge of causes and information popping up here and there can be quite confusing, this is where information hub Help From Home comes in. The website is a much-needed progressive directory of initiatives (now at 100) and regular updates on which cities, hospitals and communities are most in need of help.
[READ:Support frontliners and underserved communities from home through this website]
It should be noted, however, that Help from Home does not accept direct donations but connects you to the institutions that need your help by providing the necessary information such as causes and their beneficiaries, contact details and payment methods.
Helping to ease frontliners and first responders' struggles as they fight this pandemic, the Department of Science and Technology, along with DevCon Philippines has made RapidPass—a non-profit, virtual identification system which makes use of QR code technology to provide faster and easier passage through checkpoints. 
This will also help decongest the traffic that accumulates around the checkpoint and lessen the contact between personnel and frontliners. Frontliners can register through the application, print and stick the given QR code on their vehicle, and checkpoint personnel will scan and allow immediate passage.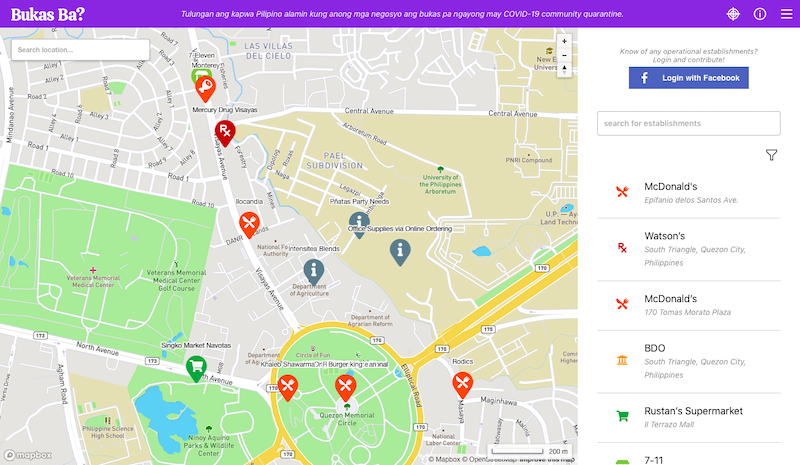 With their website tagline "Tulungan ang kapwa Pilipino alamin kung anong mga negosyo ang bukas pa ngayong may COVID-19 community quarantine," Bukas ba? is the innovative platform that echoes our lockdown woes. The website—which maps out establishments like restaurants, banks and pharmacies that remain open amid the quarantine—encourages users to jot down and suggest more establishments the developers might've missed. 
Header photo courtesy of  Carlos Muza on Unsplash
Get more stories like this by subscribing to our weekly newsletter here.
Read more:
A guide to everything you need to know about COVID-19
PH now has 10 laboratories that can conduct COVID-19 testing
Here are the organizations you can donate to as we battle the COVID-19 pandemic
TAGS: bukasba.ph coronavirustracker.com covid-19 covid-19 donations Department of Health donations endocov.ph healthlylinked virus tracker helpfromhome.ph ncovtrackerph philippines rapidpass.ph thailand UP Diliman