There's a kind of cloud that an aircraft's onboard weather radar system can't see ahead, hence despite the pilot's knowledge and maneuvering, turbulence still happens during flights. (Though, mind you, flying is generally the safest form of long-distance transport owning to its low accident rate. In 2018, the International Air Transport Association recorded a 1.35 all accident rate (measured in accidents per 1 million flights), equivalent to one accident for every 740,000 flights.)
Why then despite this, horrendous airport queues, immigration hullabaloos, and flying's detrimental carbon footprint do we long for faraway shores, when, as one fellow tourist says, "It's the same as our beaches. I won't take pictures anymore"?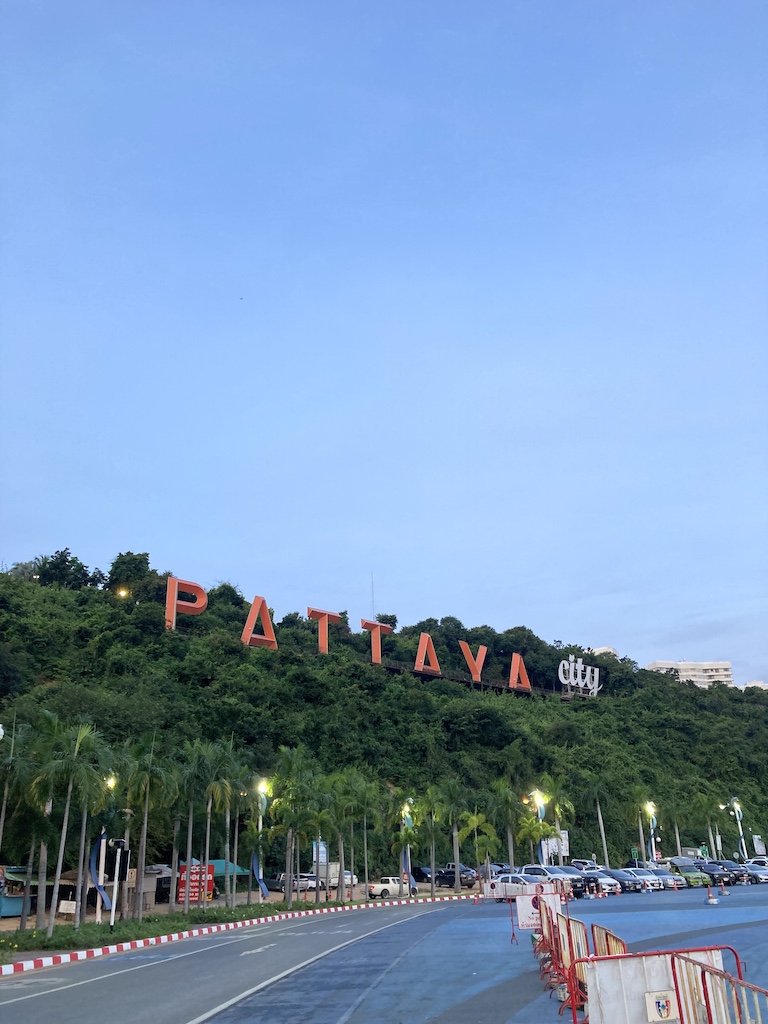 Because even if we've seen something similar, the feeling is different. What we really long for is not so much a new place—by now, as a civilization, we've seen all there is to see, in-person or online—but a sense of discovery. Even the guest who claims the beachfront a few kilometers away from the Pattaya Marina in Thailand's Chon Buri province is no different from our own beaches, in the end, after a brief swim, admits, there is a subtle difference in the salinity of seawater.
Pattaya is not at all a sin city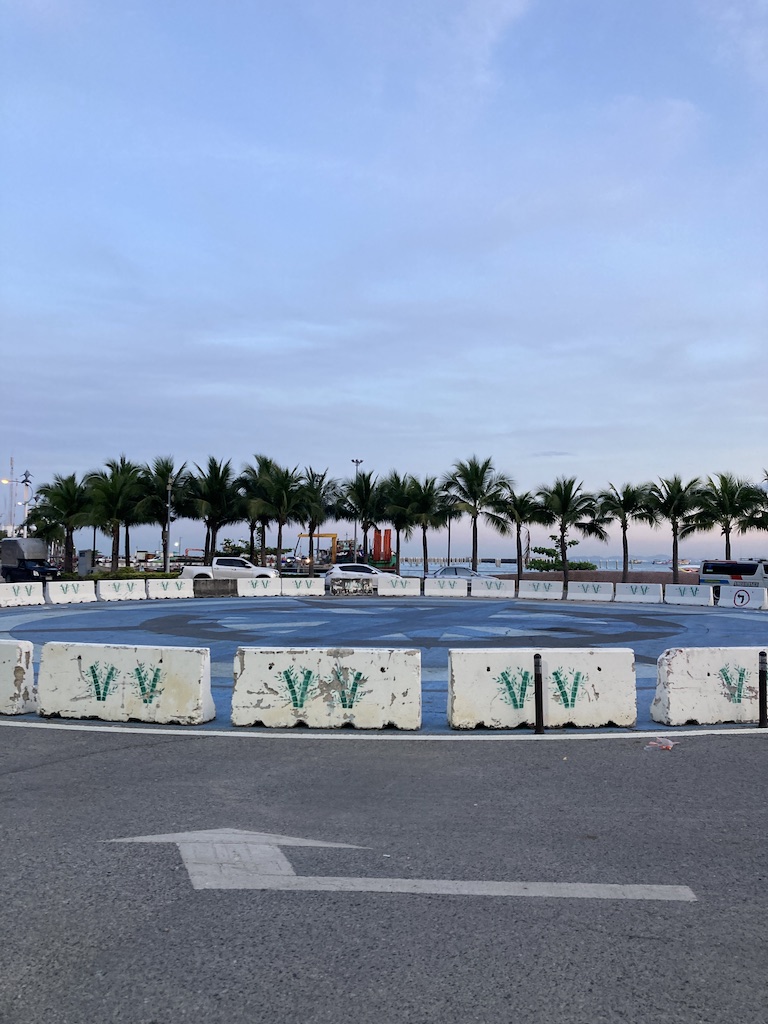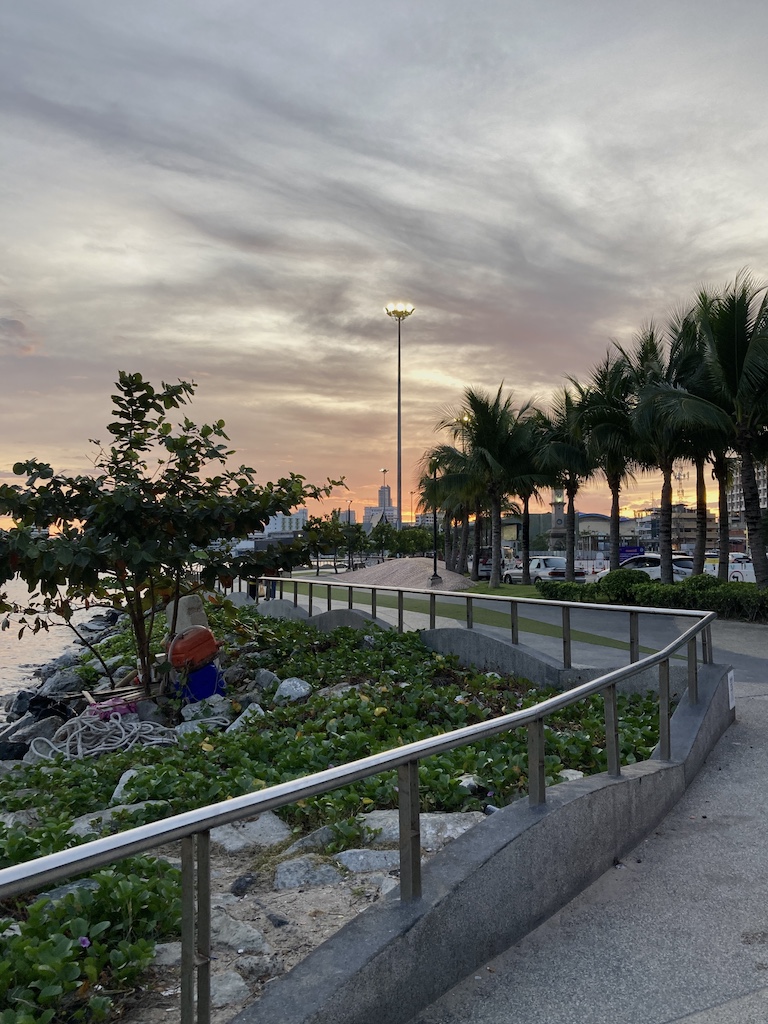 Pattaya is a famed beach town on Thailand's eastern gulf coast, a two-hour drive from Bangkok. We arrive on a bus on the city's northern edge at 7 p.m. hopeful that, unlike the capital, shops here are open beyond 6 p.m. They are. It's just that, judging by the dim street lights and general sleepiness of the town, Pattaya locals sleep early. (The sad truth is that North Pattaya is only a portion of the province that has fully reawakened from its pandemic slumber. Some are still asleep). This is despite the town being full of hotels, bars, malls, restaurants, amusement parks, and, not to mention, cannabis dispensaries. Or maybe it is the kind of quiet defeat when someone has taken over, the same feeling our tour guide struggles to describe after I told her the circumstances of the dispute in the West Philippine Sea. She said something like, sometimes when the guys are powerful, you do nothing because, in the end, you get into trouble.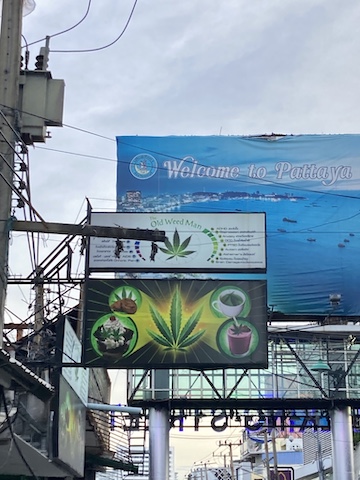 To be fair, we landed kilometers away from the Walking Street, a pulsating neon-inflicted entertainment and red-light district that sent my roommate, a fresh graduate of a known Dominican university, into a moral spiral coming home.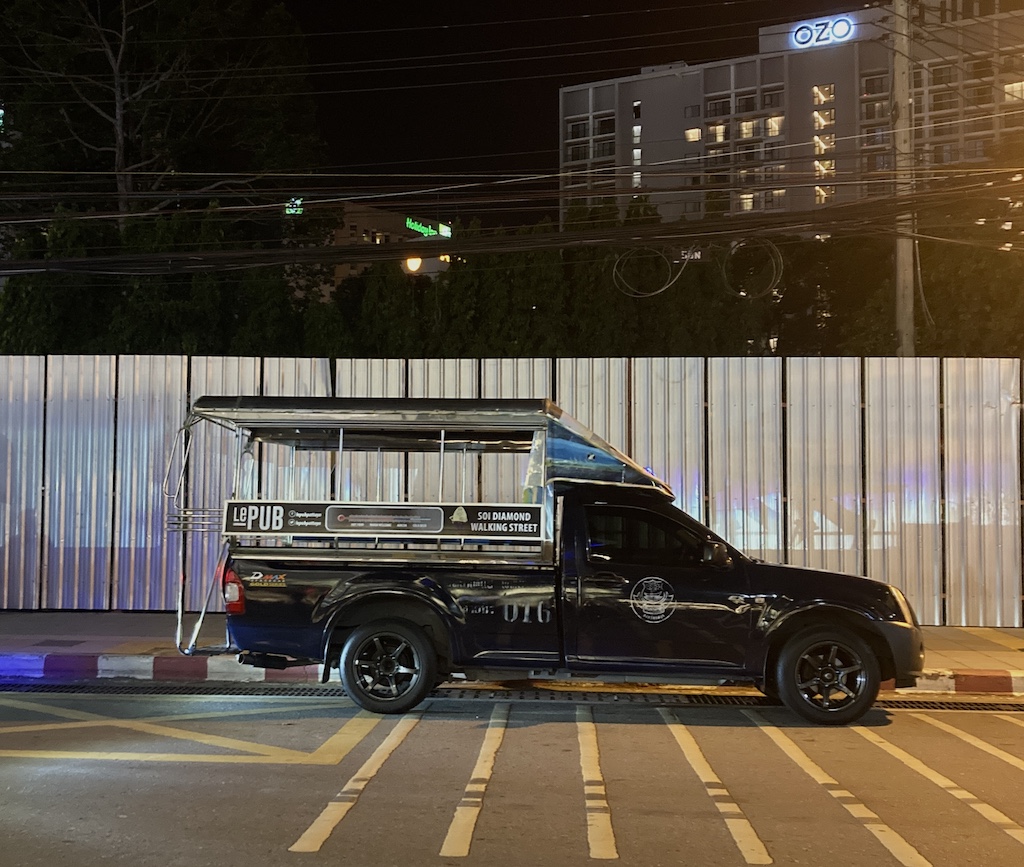 But let's be clear, Pattaya is not at all a sin city. The Walking Street is only 700 meters long, after all. Eight kilometers northeast is a temple made of wood facing the Bay of Thailand called the Sanctuary of Truth.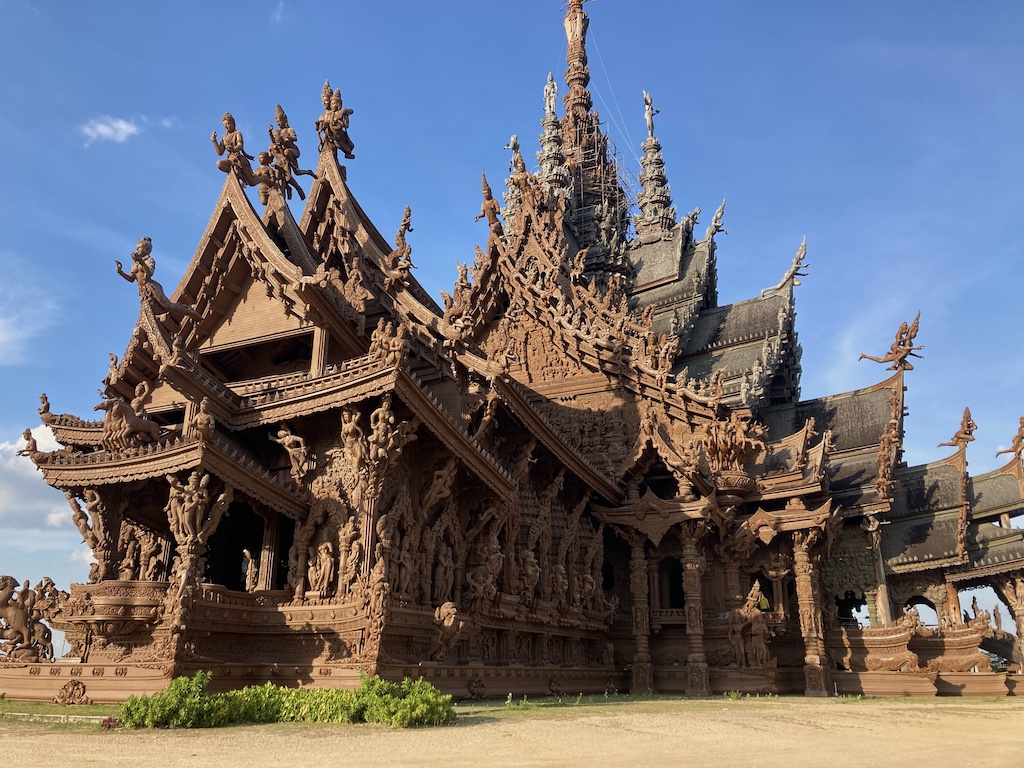 For 500 baht (roughly P800) you can go around the intricately carved teak wood palace and maybe eventually come to an answer as to why its Thai millionaire founder thought it was a good idea to build it out of wood. (There's a plaque inside inscribed with the words "This work indicates that humans are only dust in the universe and will ultimately become one with it." So there's that.) The enterprising millionaire slash patron of culture has since passed in 2000 but workers and artisans to this day build and rebuild the 2,115-square meter wide and 100-meter tall temple in what may seem like a Sisyphian attempt to keep it standing.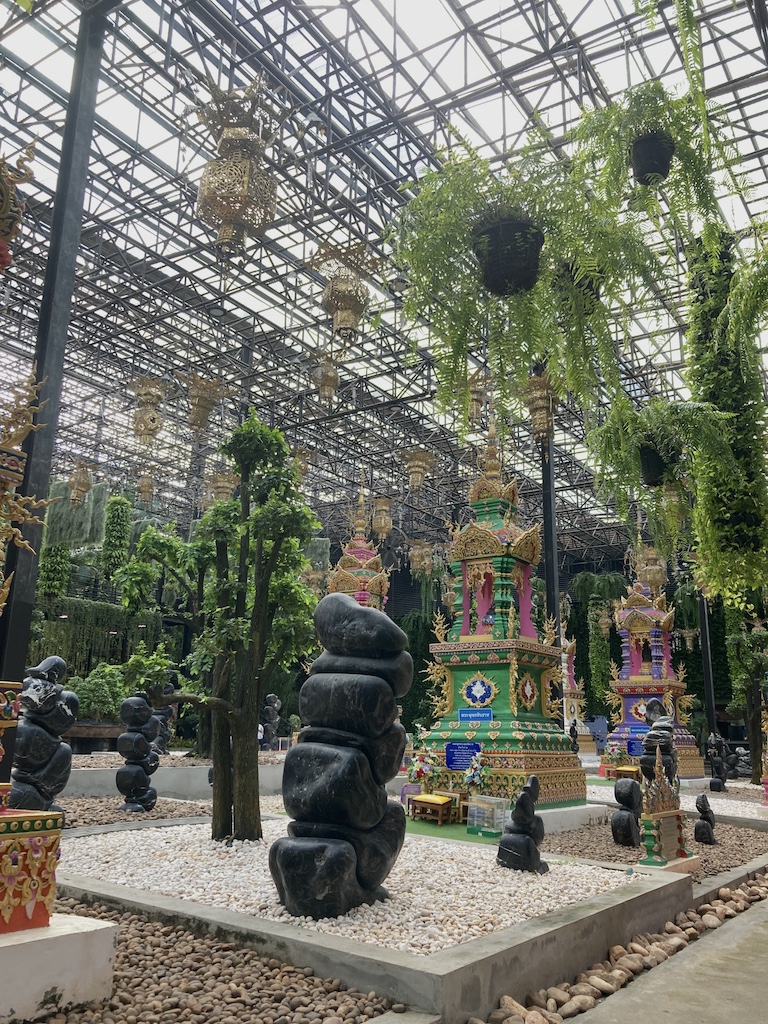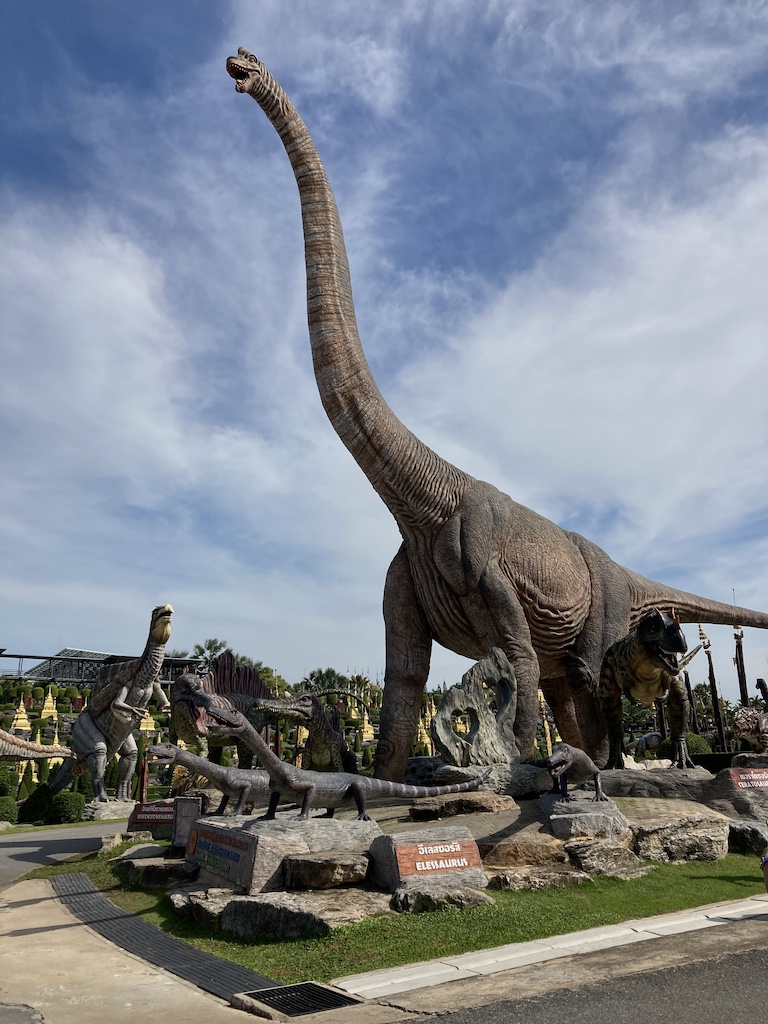 Another wholesome, family-friendly, albeit wildly startling attraction established by a local is the Nong Nooch Tropical Garden, a 500-acre garden-hotel-amusement park-"zoo" (if you count concrete animal—and dinosaurs!—sculptures as, well, animals) hailed as one of the best gardens in the world. It is home to ​​12,000 plant species including ones that are so rare and out-of-place that it will make you wonder how it is able to grow on foreign soil. (The answer: Employ a professional team of botanists and horticulturists. Thousands of them!)
Why then despite horrendous airport queues, immigration hullabaloos, and flying's detrimental carbon footprint do we long for faraway shores?
Banking on the beach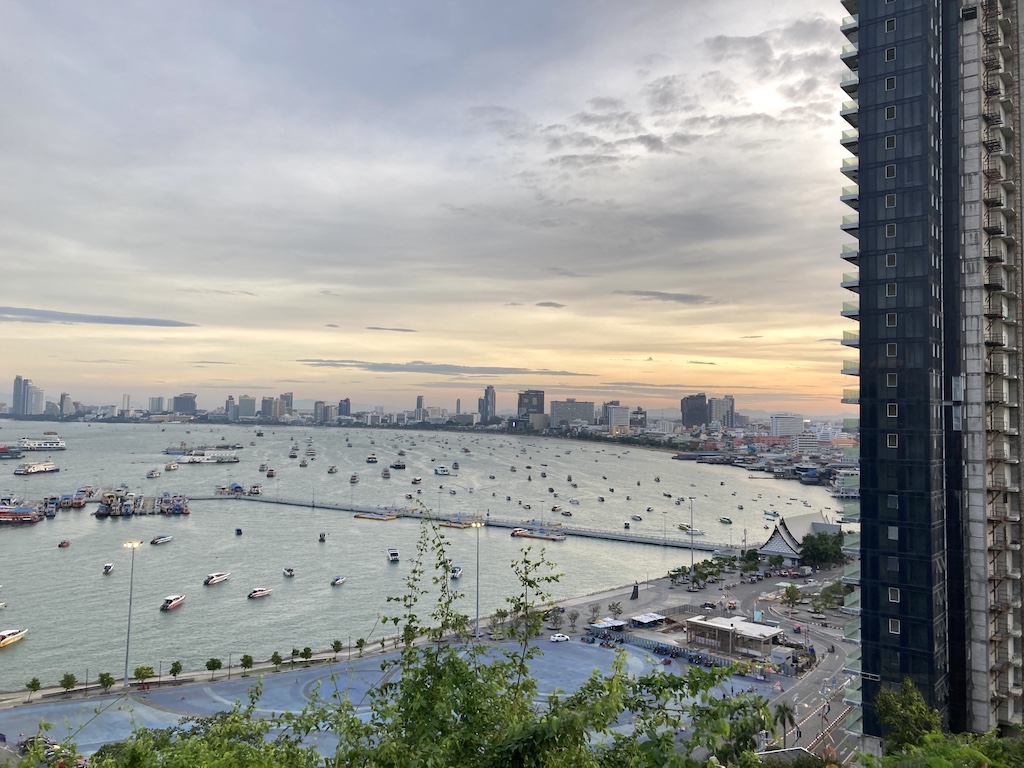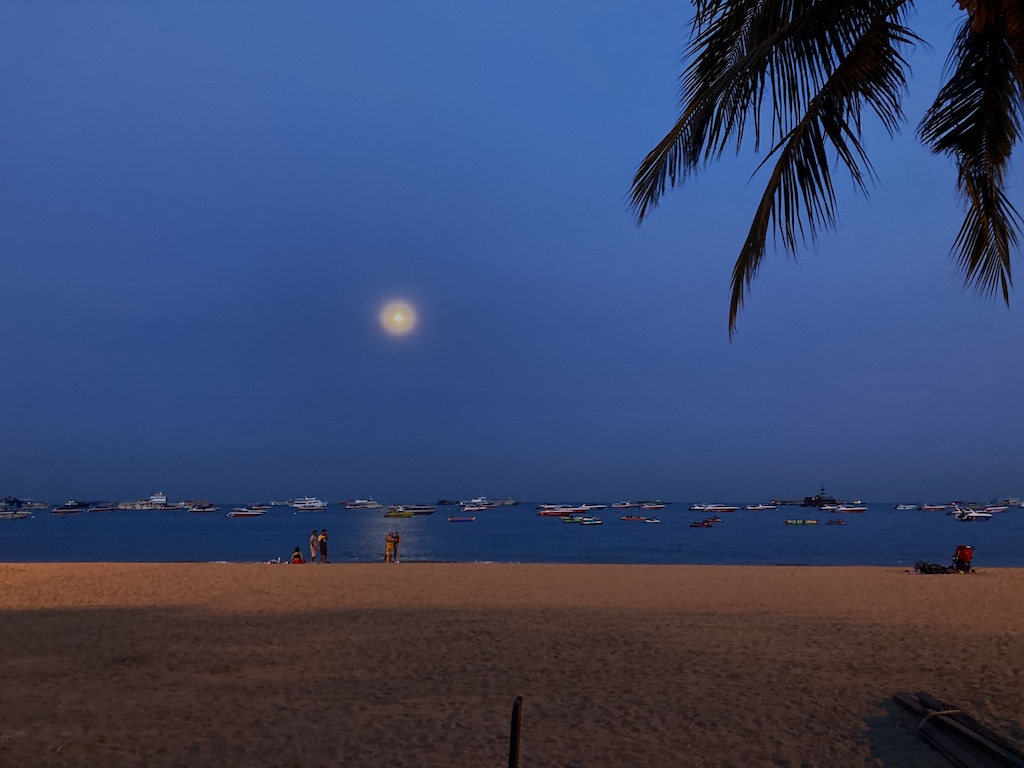 A tour of Pattaya is never complete without a trip to its famed beachfront, a facade so manicured, so integral to its tourism gains that the city allocates millions of baht to refill its sands in a bid—not unlike our very own Dolomite Beach—to restore its shrinking shore to its old glory. For reference, tourism has only begun in earnest in Pattaya in the last 30 years during the Vietnam War when U.S. troops, sailors, and airmen rushed to its shores to relax. Today, it accounts for more than 90 percent of the city's revenue, providing livelihood to locals and a renewed sense of discovery to white tourists on their dreamy Jennifer Coolidge on "The White Lotus"-esque vacation.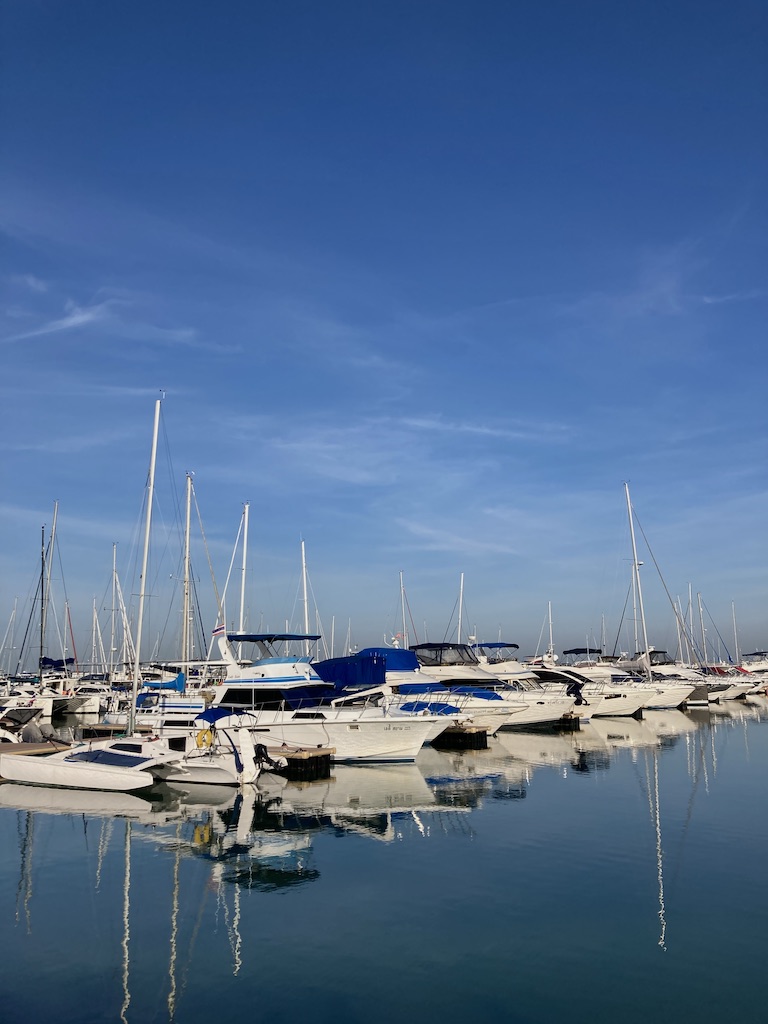 If you don't like to mingle with (light) skin-bearing tourists on the scorching white sand beach, for a fee you can always go to the Ocean Marina Yacht Club, one of the largest in Asia, to go island hopping on the robin egg blue waters of the Bay of Thailand and swim in uncrowded beaches on the islands of Ko Lan, Ko Phai, and Ko Luam. You can take the ferry or rent your own yacht. Or if your budget allows, buy one of the ones on sale at the marina, or maybe even a Hamptons-style beachfront home if you have $1 million to spare, as the Thai government recently allowed foreign professionals, high-net-worth individuals, and retirees the right to buy land for housing, but only in Bangkok and Pattaya, and only if they invest at least 40 million baht ($1.04 million) for a minimum of three years.
Then again, if you don't want a long-term commitment, there are plenty of accommodation options all around town. By the end of our three-day Pattaya getaway, we "inspected" (a term our tour guides insist we use as if we were safety officers) a total of three hotels—excluding the one we were checked in at. While two of them boasted unobstructed ocean views, deluxe rooms (for couples and families. Sadly none for singles), this one new hotel called the Grande Centre Point Space thought it was not enough that guests be transported to paradise; they must be on an other-worldly trip.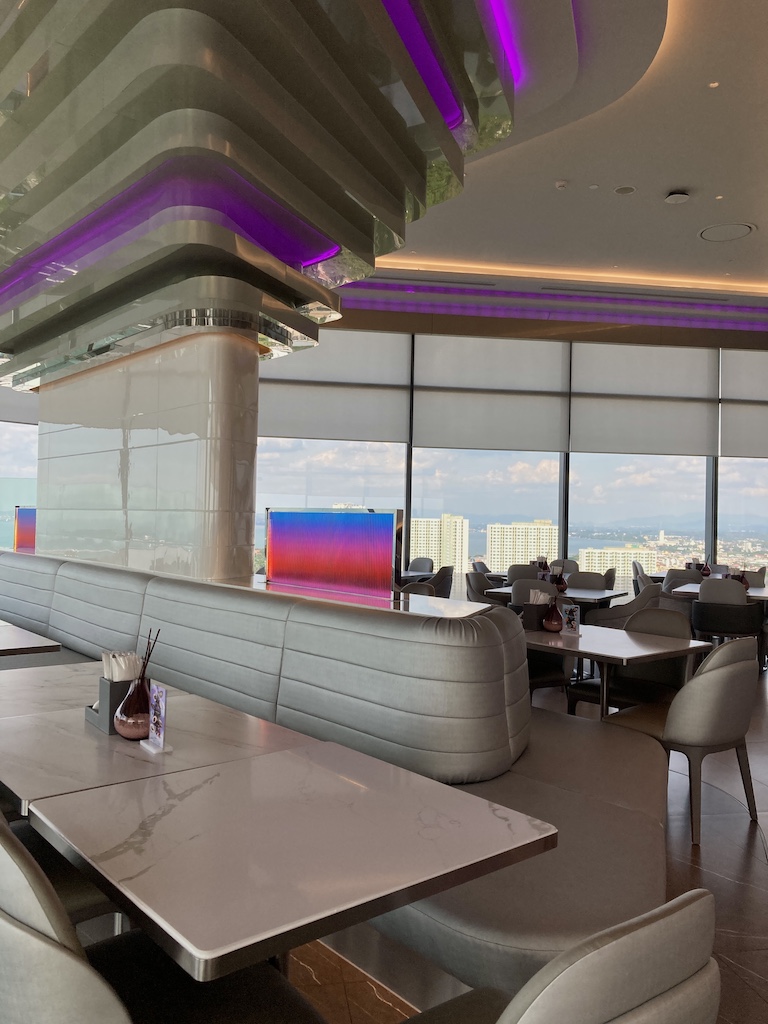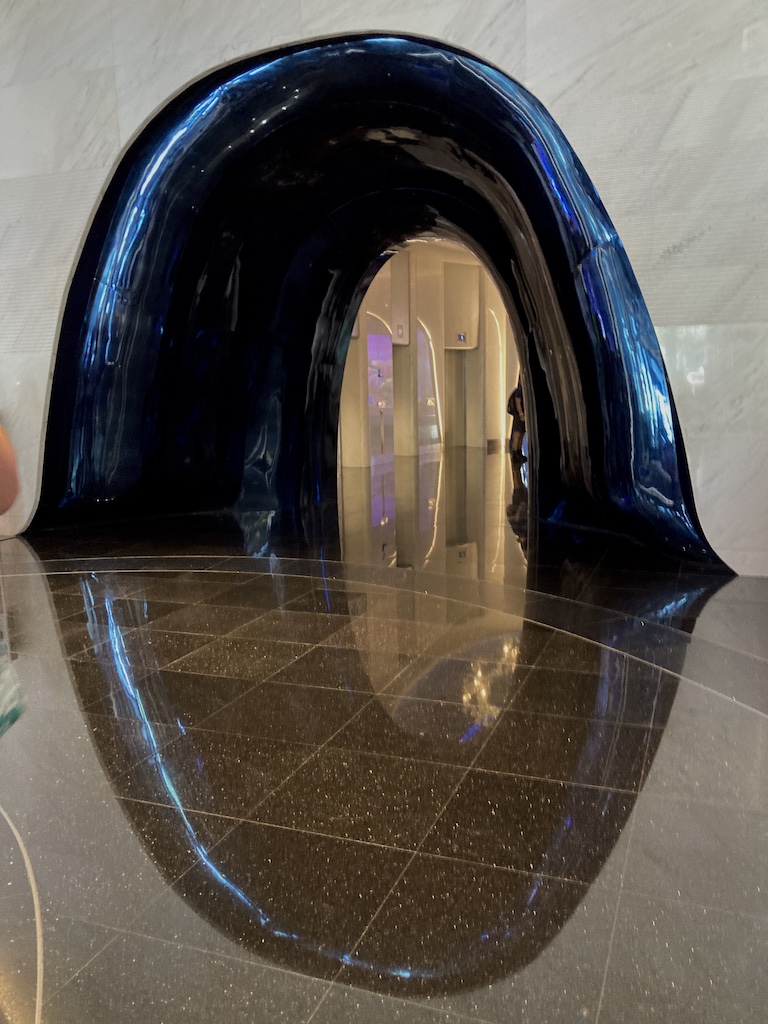 The hotel was space-themed. Think "Star Trek" with sleek interiors, UFO lighting, spacious floors reminiscent of spaceships, the only thing missing is staff dressed in retro-futuristic uniforms (which they should have done anyway). And somehow, like most Pattaya establishments, it is part amusement park? On the ground floor is a pool area with a portal-like entrance to the kiddie pool that emits smoke. It's tough out there in the beach town hospitality arena.
***
On our first day, I ran 10 kilometers at 5 a.m., past the beachfront with early risers setting up mats on the sand (or maybe packing up from a late night?), past the Walking Street as patrons made their way out of bars, past the clock tower near the pier where the first vendors assemble and head for the beach, past the lighthouse where a man casts his fishing rod while blasting music, and up Pattaya City's own Hollywood sign.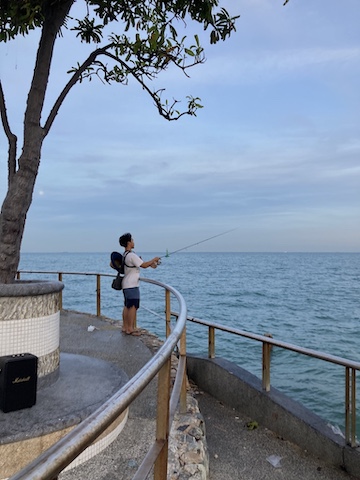 From up high, it seems the city is swallowing up the bay. We know it's not. It's the other way around. And yet, with all the high-rise developments, you can't help but think there is some truth to that.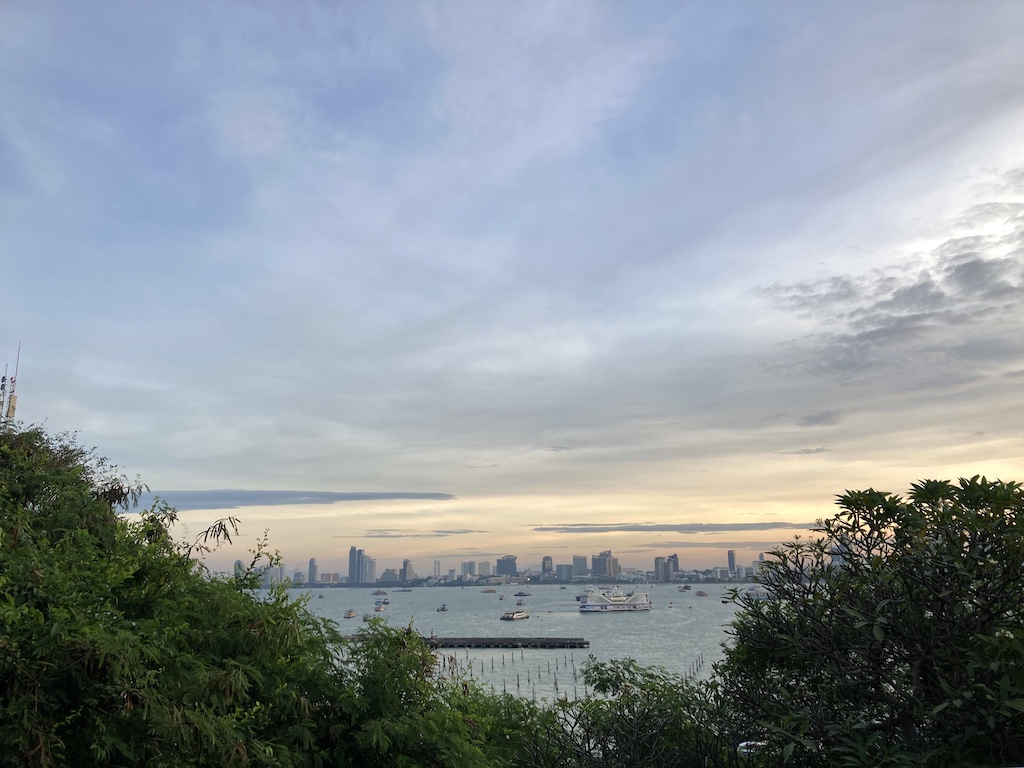 I made my way back to the hotel, avoiding the Walking Street crowds as they rush in, stopping by a FamilyMart that did not dispense DIY soft serve to catch my breath. Outside was a vendo weighing machine that operates for one baht. I did not have spare change so I bought a banana for 8 baht. The digital scale read 63.3 kg then sang a cheerful tune before it retracted .1 from the final weight. Nothing has changed since the time I stepped on the scale in our hotel room then left an hour earlier. I'm still 63 kg, give or take. It's just a new feeling.
---
AirAsia Philippines is currently flying 11 times weekly to Bangkok via the Don Mueang International Airport. For more information, visit tinyurl.com/AAinThailand.