PH begins mass testing as COVID-19 cases near 5,000 mark
More hospitals have been accredited by the Research Institute for Tropical Medicine and Department of Health to conduct a target of 8,000 tests per day
Apr 14, 2020
To combat the COVID-19 pandemic, the country has finally begun mass testing operations amid the enhanced community quarantine in various cities across Luzon.
Department of Health (DOH) spokesperson Ma. Rosario Vergeire said in a virtual press meeting that the country's testing capacity is targeted to increase to approximately 8,000 tests per day by 15 subnational laboratories. The national government hopes that 4,400 to 9,800 tests can be done daily by Apr. 20 and 13,000 to 20,000 tests per day by Apr. 27.
According to Presidential Peace Adviser and COVID-19 Response Chief Implementor Carlito Galvez Jr., there are already a total of 2,673 operational quarantine facilities with 165,756 beds nationwide. Added to the 10 laboratories that were accredited by the Research Institute for Tropical Medicine (RITM) and DOH last Apr. 7, the newest additions include St. Luke's in Quezon City and Bonifacio Global City, the V. Luna Hospital in Quezon City, The Medical City in Pasig City, the Makati Medical Center and the Molecular Diagnostics Laboratory.
[READ: PH now has 10 laboratories that can conduct COVID-19 testing]
The first wave of mass testing will prioritize high-risk patients first such as the elderly, pregnant women and those with existing illnesses, and will then include healthcare workers who are not showing symptoms but are exposed to the virus at most times. Because of this, it must also be expected that the number of positive cases will go up.
Vergeire also stated that the DOH designated 75 COVID-19 referral hospitals that can house a total of 3,194 patients each. Eight hundred fifty-seven healthcare workers will also be hired contractually to offer their services to Philippine General Hospital (PGH), Lung Center of the Philippines (LCP), Dr. Jose N. Rodriguez Memorial Hospital, said President Duterte in his report to Congress yesterday, Apr. 13.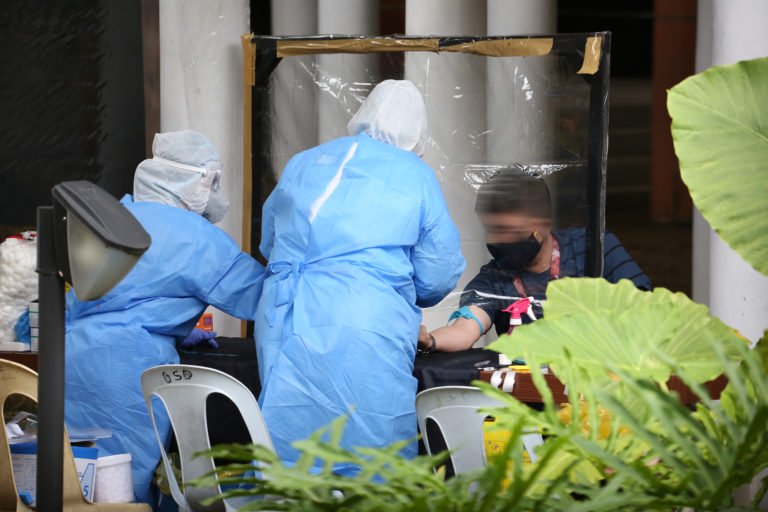 Valenzuela started mass testing on Apr. 11 with targeted tests for their 242 PUIs and 295 PUMs. Quezon City piloted their mass testing operations yesterday as well, testing 150 residents at QCX, a former museum inside the Quezon Memorial Circle grounds. 
In Manila, Mayor Isko Moreno said that the city can conduct 1,624 tests weekly inside their testing centers, specifically Ospital ng Maynila, Sta. Ana Hospital, Gat Andres Bonifacio Memorial Medical Center, Ospital ng Tondo, Ospital ng Sampaloc, and Justice Jose Abad Santos General Hospital, and the Delpan quarantine facility can conduct 232 tests a day. Yesterday, Apr. 13, 934 swab tests were performed.
In total, the country has conducted 35,804 tests since January this year until Apr. 13. There are currently 4,932 positive COVID-19 cases in the country with a death toll of 315 and 242 recoveries.
Importance of mass testing
Mass testing must be conducted in order to achieve what is expected from the enhanced community quarantine. The testing will determine where the virus is and who to treat and isolate. Progressive mass testing, which will conduct tests not only on those who are exhibiting symptoms but also people who have been exposed to suspected, probable and confirmed persons, will provide a clearer picture of how the virus spreads, which in turn will help us figure out more effective ways to respond. It will also identify and treat asymptomatic carriers who need to be isolated. 
Social distancing and home quarantine can only slow down the transmission of the virus, but there are still chances of contracting the virus from  outdoor errands, materials delivered to households and asymptomatic carriers. Therefore, mass testing can single out all t positive cases and immediately isolate them in order for contamination to be stopped.
[READ: Here's what will happen when you get tested for COVID-19]
Other than this, mass testing can give healthcare workers and scientists more information and evidence about the virus' progression which can help in developing a vaccine. It will also help in determining the necessary measures government units should take to address the possible cases in their areas.
"Ang localized mass testing ay magko-complement o tutulong sa mga stratehiya na ipinatutupad po ng ating national government regarding expanded or mass testing," said Vergeire during last night's media briefing.The Philippines will also be joining the World Health Organization's "Solidarity Trial," an international clinical trial that aims to quickly identify the treatment regimen for COVID-19.
Header photo by Niño Jesus Orbeta from Inquirer.net
Get more stories like this by subscribing to our weekly newsletter here.
Read more:
A guide to everything you need to know about COVID-19
PH government aims to start mass testing for PUIs and PUMs on Apr. 14
Think you're a close contact of a COVID-19 patient? Here's what to do next
TAGS: covid-19 Department of Health manila mass testing quezon city Valenzuela