Try the ever-changing menu of the Test Kitchen
You'll be in for a surprise treat in Josh Boutwood's new restaurant
info
Test Kitchen

7 p.m. to 10 p.m. daily (By reservation only)

0917-3041570 or 403-5952

₱

P800 to P2,200 per person
Intimate dim lights, two communal tables, and an open kitchen—that's a brief imagery of chef Josh Boutwood's new undertaking. The 22-seater Test Kitchen, a private, reservations-only venue inside the Bistro Academy, is as enigmatic as its interiors seem to be.  "Internally, we've always called this building the Test Kitchen because this is where we'd conceptualize food in our company," Boutwood says. "It was the perfect name to use for the restaurant because we're so used to calling it [that way] and we are testing all the time."
Guests don't have an idea what will be served to them as the menu is ever-changing and will be developed based on their diet restrictions. Boutwood and his chefs are ingredient-forward with a purist approach in focusing on two to three ingredients per dish. The degustation menu comes in either a six or eight-course choice and the head chef himself serves it to the guests, all while explaining the components and its intricate cooking techniques.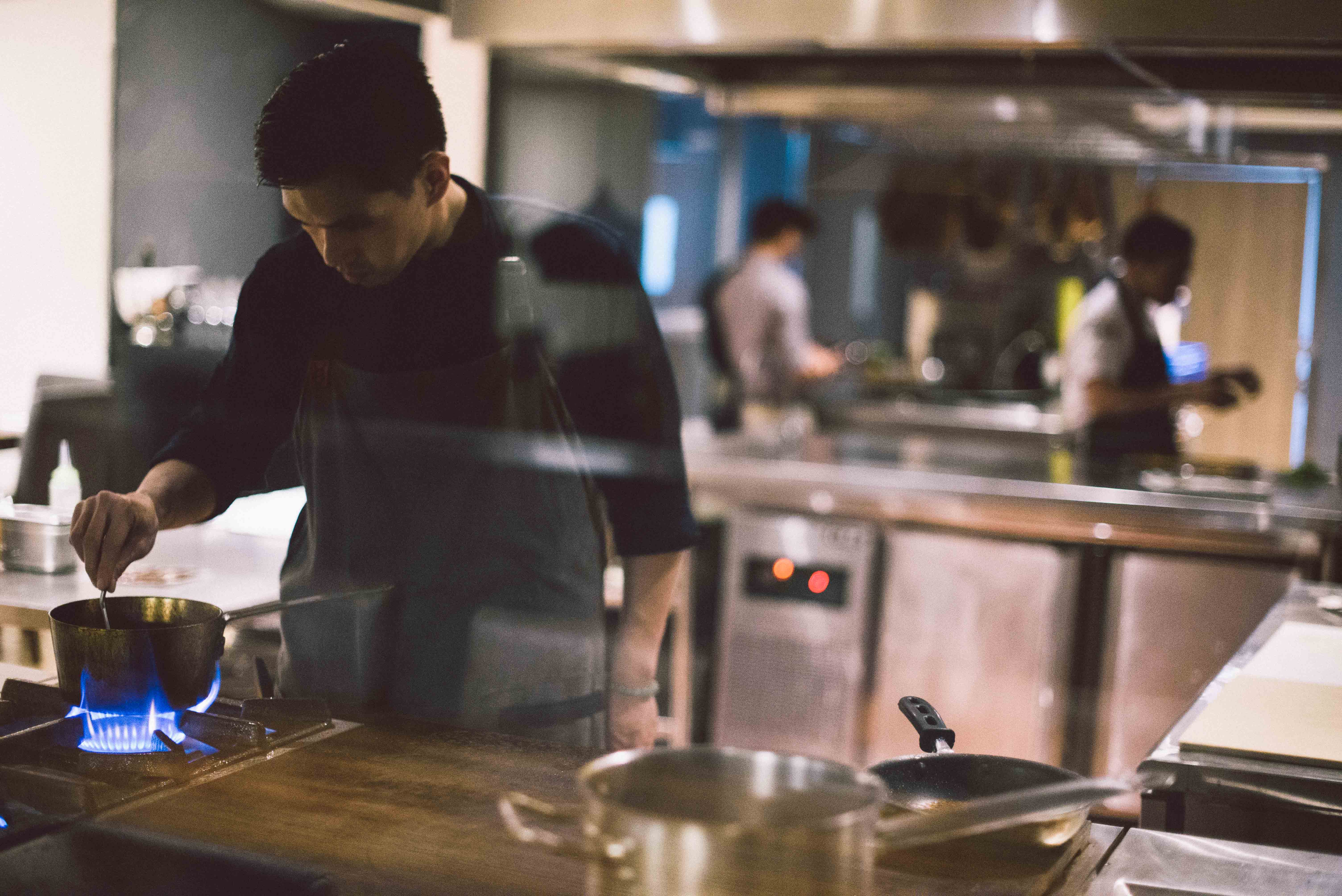 "I thoroughly enjoy combining ingredients and finding a balance among them. There is a trial for everything and I love that search." Josh Boutwood
For the appetizer, we had blood sausages with pickled beets done in tarragon vinegar, singkamas in apple cider vinegar, and pear cooked for about six hours, all paired with beetroot juice. The fusion of flavors gives off a salty and sour finish.
The first main dish is cured duck processed for four weeks and braced with confit potatoes. It is glazed with chive oil, beetroot juice, and flecked with tapioca. The saltiness of the duck dictates the dish and made even more enticing by the medium well potatoes.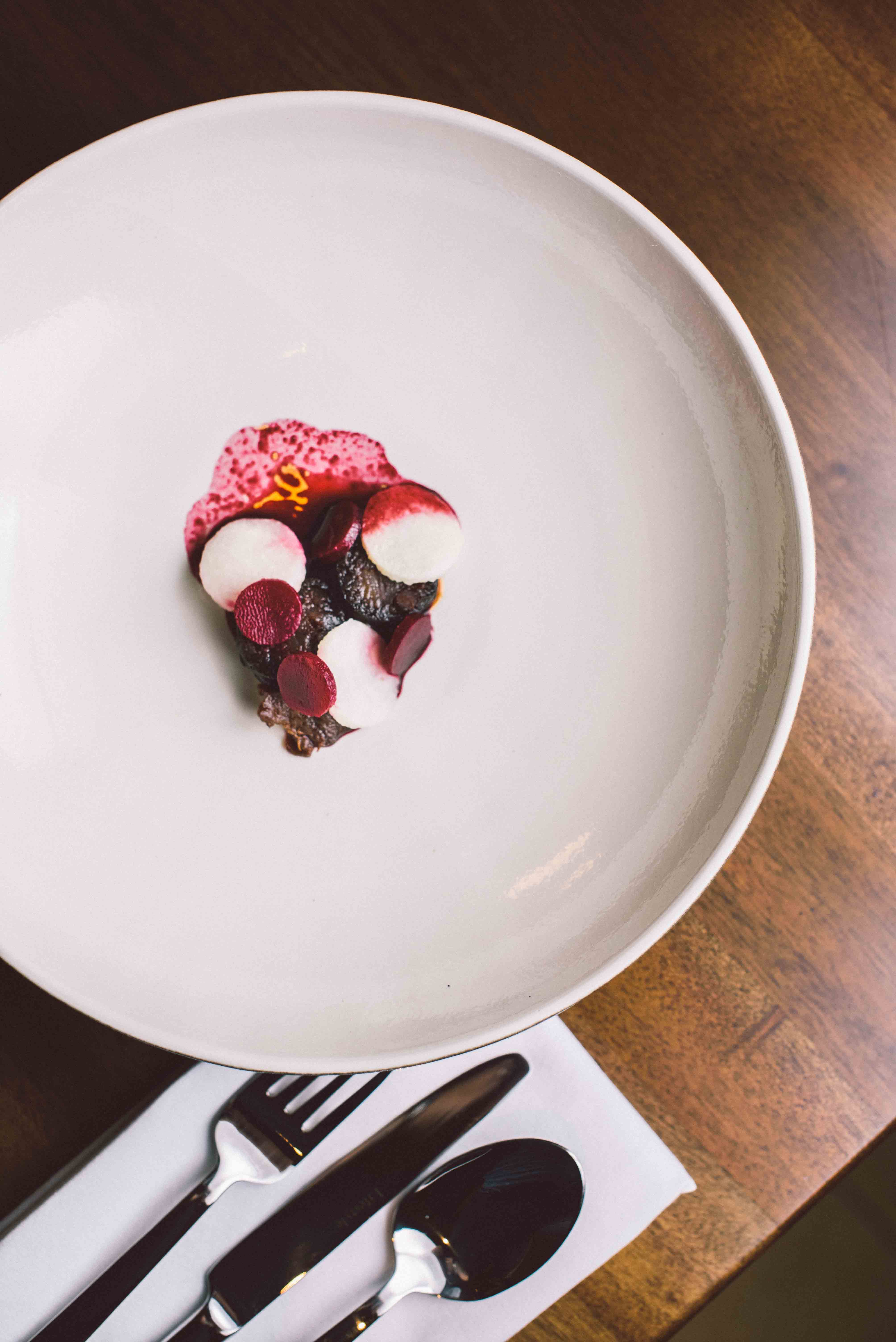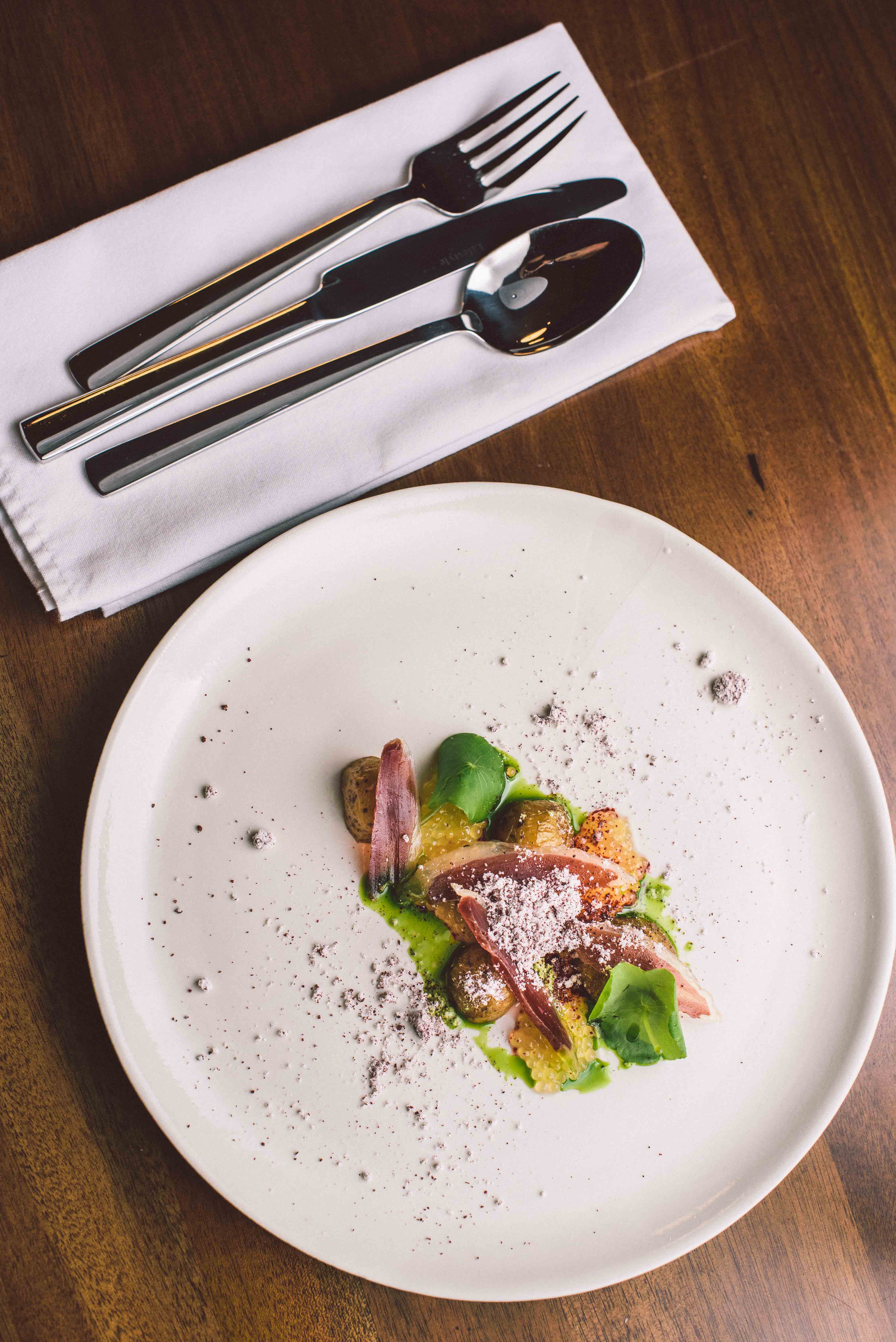 Meanwhile, Boutwood's personal favorite would be the second course, which he have repeated to serve on purpose. The lightly cured salmon sits atop a fennel purée with two sauces plated akin to a yin-yang—fennel and dill, and topped off with some roe. The salmon has a rubbery yet chewy consistency with the puree and sauces complementing well when mixed.
In between, Boutwood throws a bread dish, which is a small gratuity since they hardly serve carbohydrates. The soft, warm bread for the day was made from potato and served with hickory-smoked butter.
The next dish was pork belly cooked for about 24 hours and compressed for another 12. It is garnished with organic cabbage and arugula, an apple done for six hours, a little bit of spirulina, and laced with an apple cider sauce. The pork was tender and had some crispy edges and the dish itself has a perfect symmetry of salty and sour.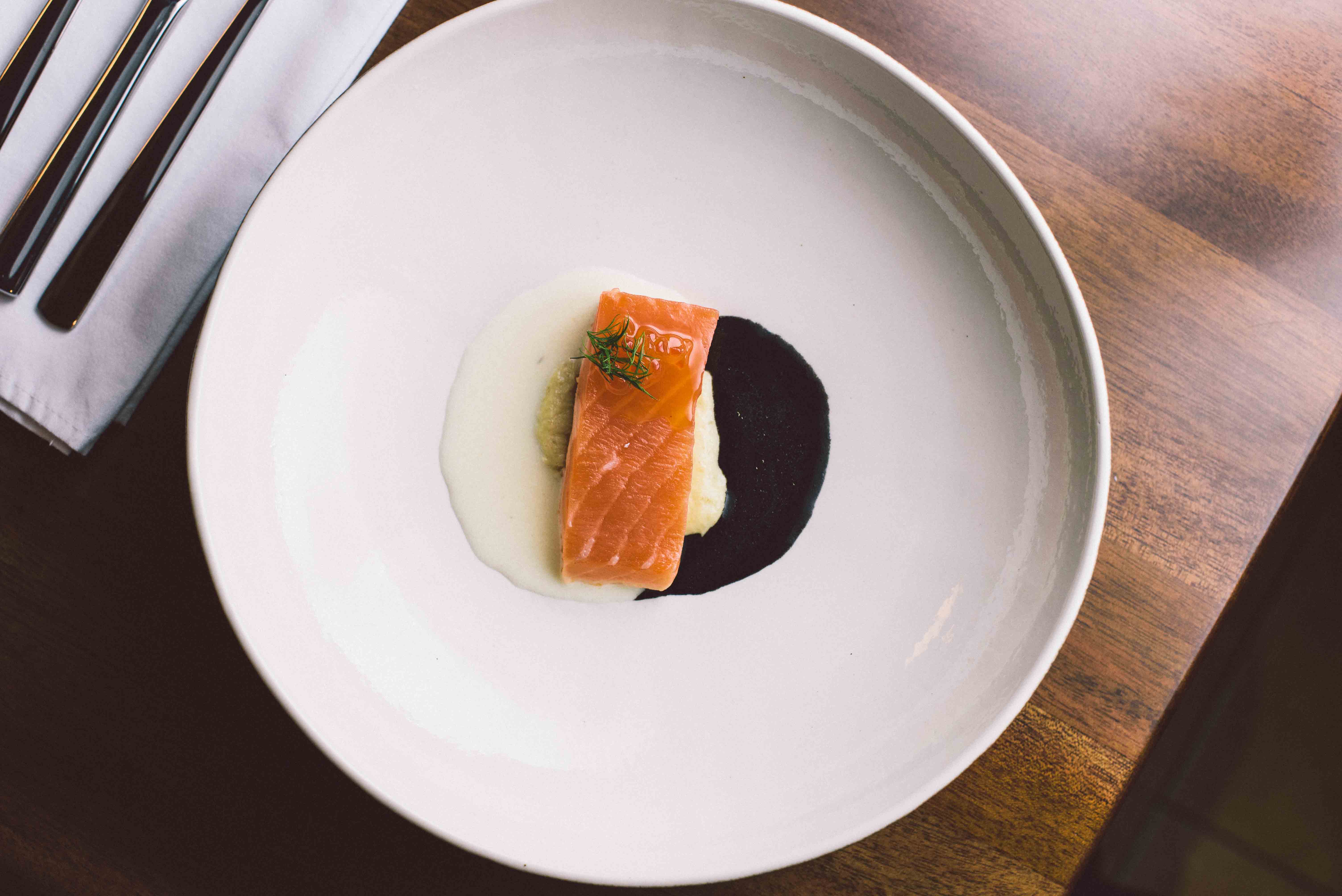 Boutwood also prepared a surprise dish, something he offers to wield their roster of ingredients. For the night, he served risotto rice that has some deep-fried cabbage leaves on top, a three-month processed guanciale, and drizzled with cold-pressed olive oil which surprisingly, renders creaminess per spoonful.
The last entrée is a 40-day dry-aged ribeye paired with celery root, sweet potatoes, fresh horseradish, yeast extract sauce, and some onion. Overall, the contrast of ingredients sets an interesting texture.
The dessert is calamansi curd with meringue shards on a bed of bland cream. The pungent lime flavor is paired with the Bukidnon cold-pressed coffee treated like wine. They serve it with all dessert items.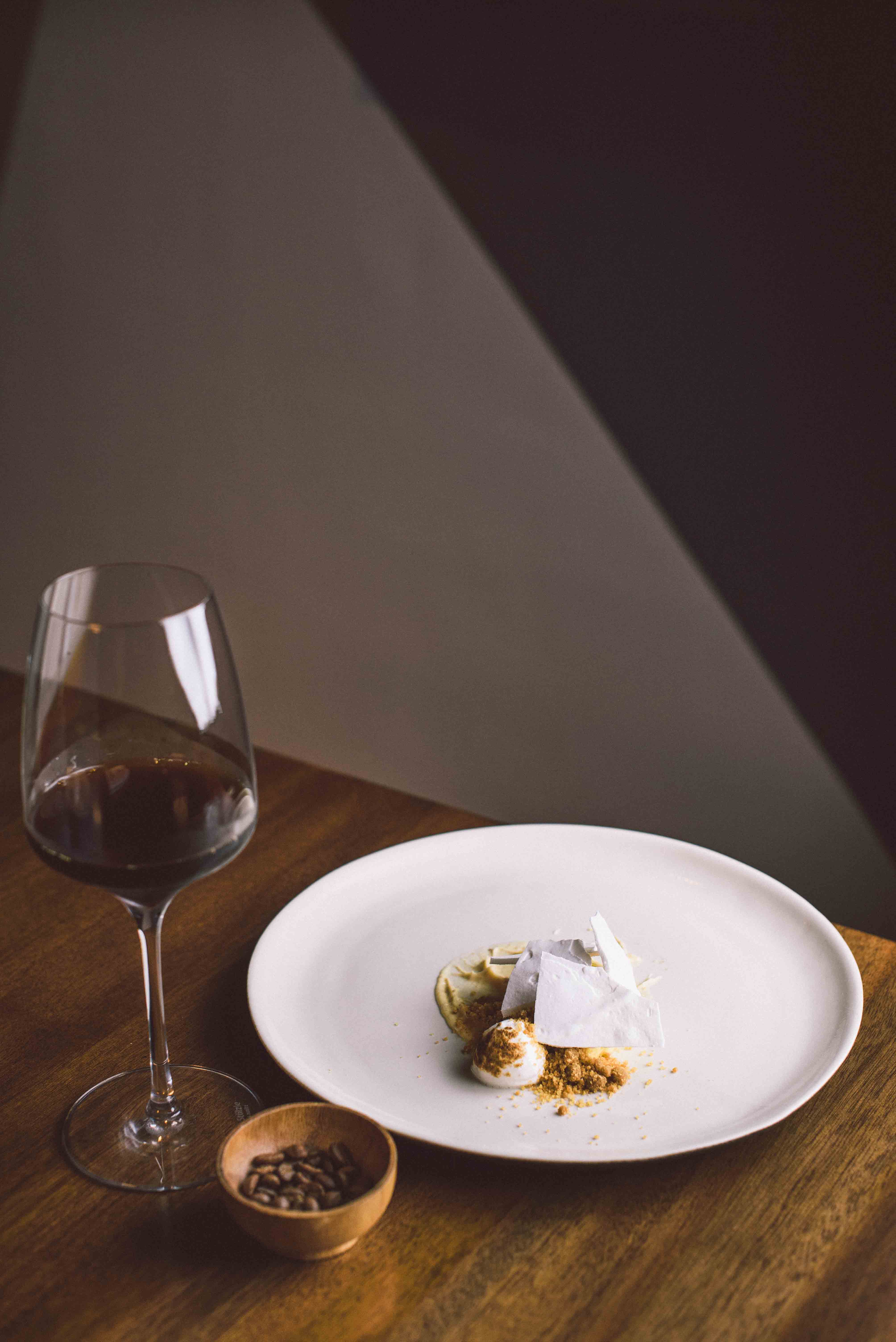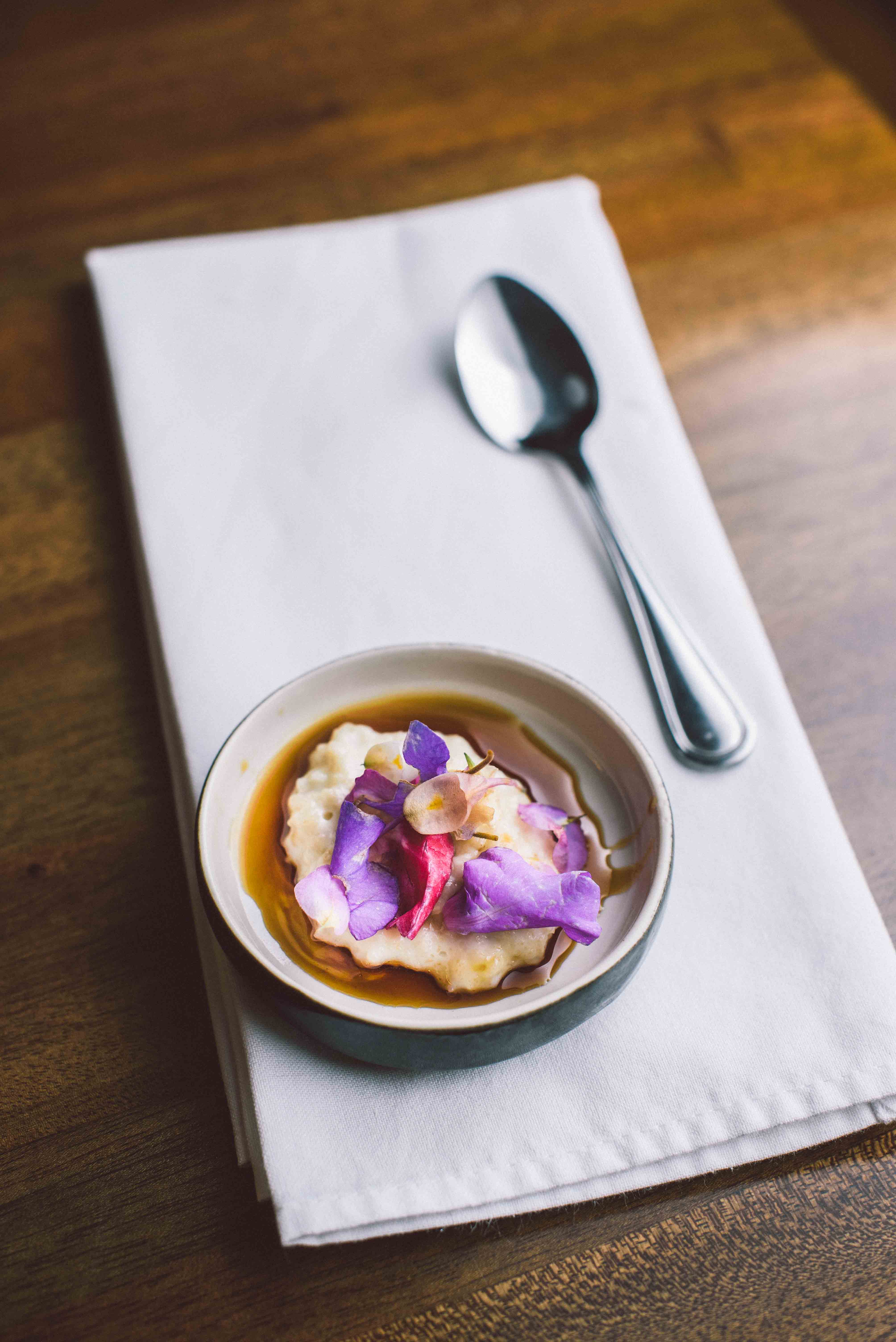 Boutwood likes "to end things with breakfast," hence the simply-cooked oats drenched with a base syrup and wild honey, a slight dripping of calamansi, and some edible flowers. The syrup gives the impression as if it is spiked but the clean taste of oats still prevails.
The "sophisticated casual" set-up of The Test Kitchen bears no-frills. In fact, Boutwood likes it to be a laidback outlet for sparking conversations and for them as chefs, a break from their fast-paced day jobs.
Likewise, there is a challenge posed to Boutwood in testing dishes all the time but the condoning chef enjoys the process. "I thoroughly enjoy combining ingredients and finding a balance among them. There is a trial for everything and I love that search," he says.
TAGS: bistro academy josh boutwood nolisoliph test kitchen
WHY GO?
Go here when you want to eat a meal created according to your preference and dietary needs.
MENU