In an era in which comebacks and closures are either celebrated—as in the case of childhood chocolate brand Serg's—or shunned with a heavy hand, The Test Kitchen's second coming is further evidence that Josh Boutwood's devotion to his art and craft can't be tamed, even if the circumstances surrounding his restaurant's closure—an almost satirical road construction—were out of his hand.
[READ:
Childhood chocolate brand Serg's is making a comeback
]
"It made it a little bit easier in a sense because we're not closing because of lack of guests," says Boutwood. That said, it's not as if The Test Kitchen was the only creative outlet for arguably one of the biggest talents to have emerged in recent years.
In 2018, Savage opened to much fervor, turning heads as he utilized the power of fire through a three-meter grill that created robust flavors jackhammered into heavy meats and delicate vegetables and flaky barramundis and tender tuna jaws.
[READ: 
Everything is cooked over open fire at Savage
]
At Helm, it's here where Boutwood preferred to shine a light on his radically fun side as he set off on a personal exploration with high-quality ingredients and creative techniques. Yet despite the parallels drawn between his culinary playgrounds, The Test Kitchen will always be one of the more memorable outposts—for Boutwood and for the food-loving community.
[READ:
Chef Josh Boutwood's newest resto is an intimate 10-seater spot
]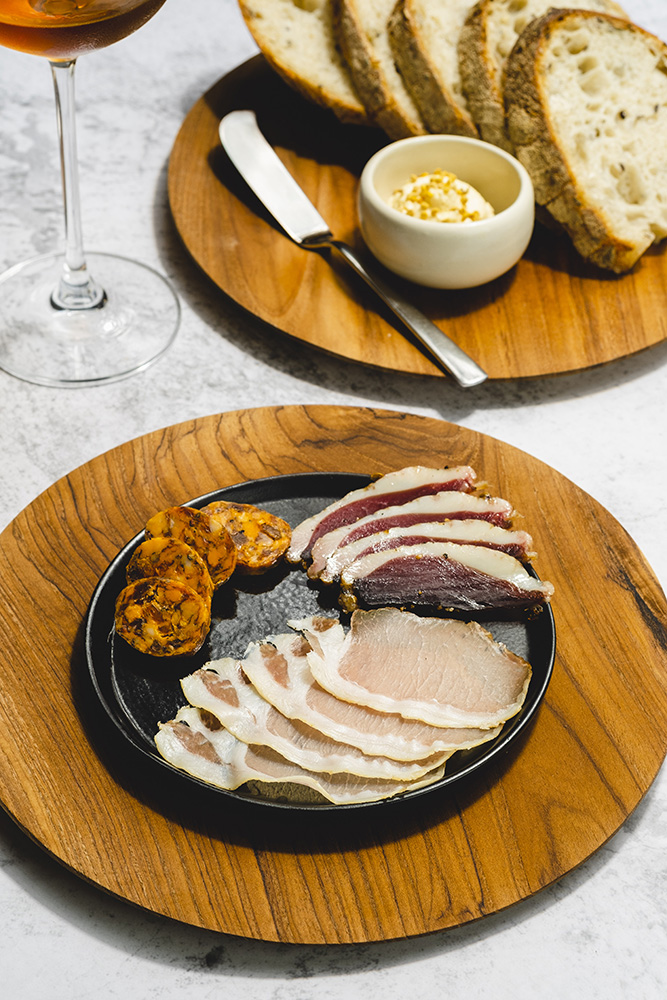 But the story of The Test Kitchen's reincarnation began as an accident and, surprisingly, went against his personal belief to never reopen The Test Kitchen or any establishment for that matter. "Because replicating the restaurant in two different locations is a challenge when there's so much heart and soul in one place," he says. "Making sure that it transfers to another location to keep that intact was what was worrying me."
It was, however, a short-lived moment. As soon as Boutwood settled into the new space and saw what he could do and make of it, his anxieties eased off. "With Kamagong, it had this romance in terms of its location. People enjoyed the trek to get there in the middle of a nondescript area," he says. "Now that we're in Rockwell, I've had to make changes to ensure that we fit in the area versus having an area that's already suited for a restaurant. Now, I feel like this is almost like the original."
Former glory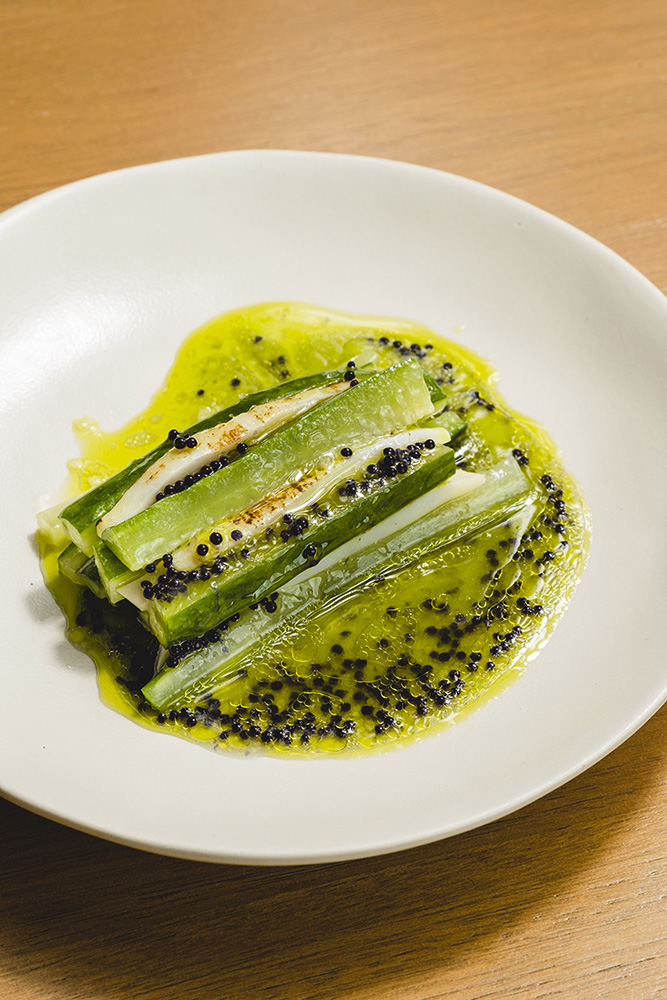 It may have taken some time to reconcile the restaurant's disappearing act but a year since it closed, The Test Kitchen 2.0 is hardly a tribute to the original. There might be plenty of allusions to the old place—the woods and fires and darkness—in this location but The Test Kitchen is fundamentally a different animal. And at his new stomping grounds of One Rockwell, Boutwood isn't short of ideas.
In fact, he doesn't just teem with ideas, he brims with an artistic voice about unconventional culinary structures, sophisticated experimentation in the kitchen, and a balance between what he wants to do and what his customers need.
"Having a restaurant in such a prime location that only did tasting menus may be a little bit of a struggle. One can only have a tasting menu on certain occasions, they can't have it every night of the week," explains Boutwood. "We had to change our mentality."
Even if The Test Kitchen has finally reemerged in a new neighborhood with a new mantle, it's the little nods to the past and the present that speak of the fact that this is more than just a reproduction. And yet at the same time, Boutwood isn't beholden too much to the past. Yes, he gleans that customer understanding and culinary intelligence he learned from the restaurant's previous incarnation but today it looks beyond what it left on Kamagong, plucking elements that have made it so successful and then innovating them within his own artistic parameters.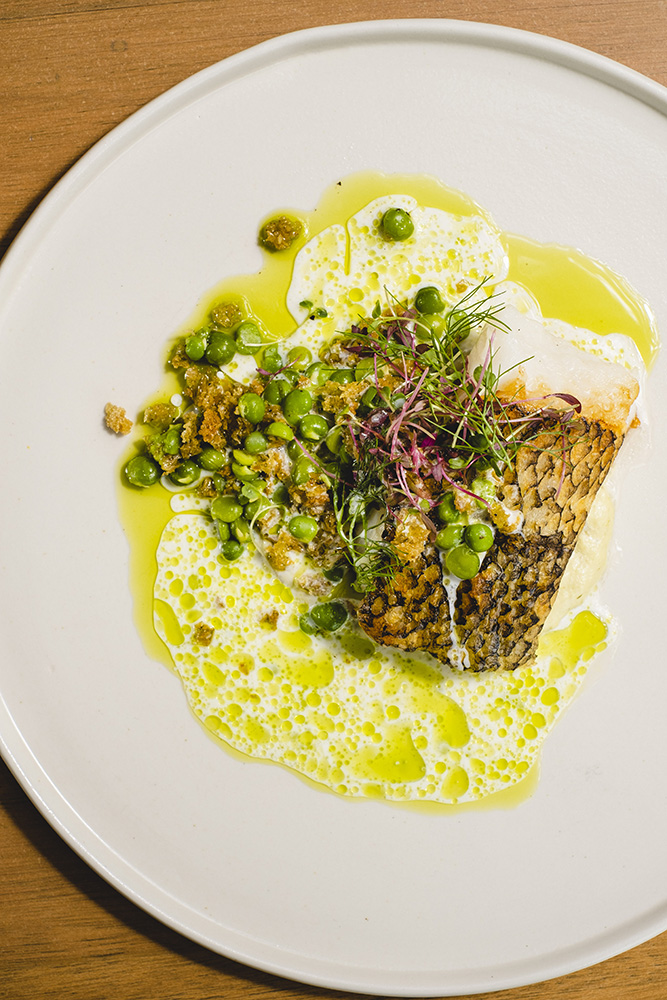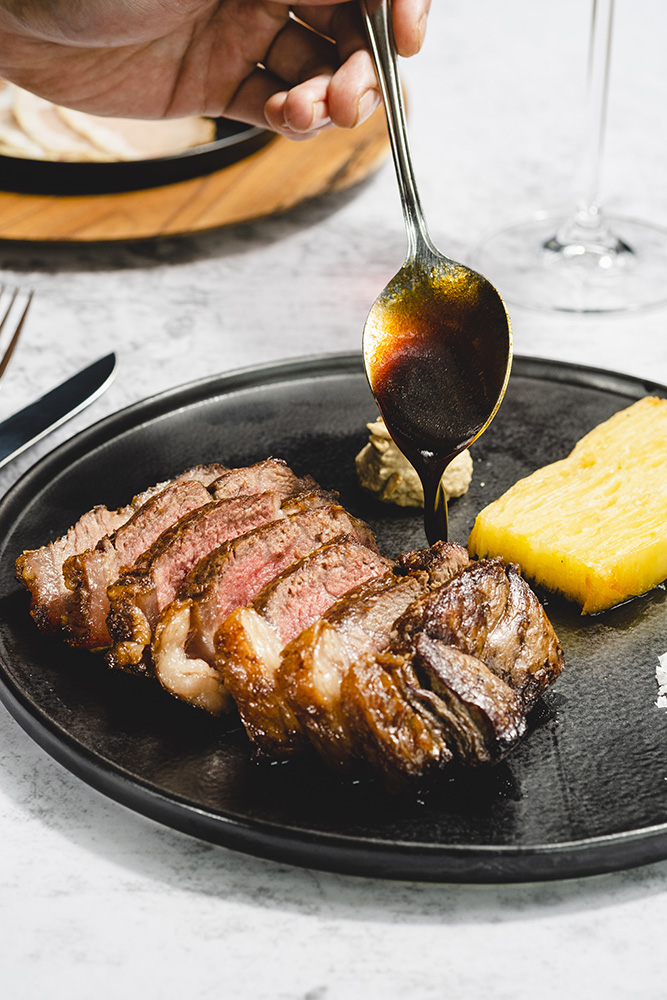 Upstairs on the second floor, the more private dining area sits adjacent to a fermentation shelf and an open charcuterie and curing room—kept at a certain temperature—that is a perfect example of the deliberate references to its past. Toying with Ibérico pork at the moment owing to the African swine fever epidemic, homemade salamis and chorizos, and ambient bacteria colonies residing within the walls to assist with the curing process, the room instantly draws diners in and, over time, will unfurl a true Filipino charcuterie identity.
"I sacrificed a lot of seating capacity for that room but it was central [to what we do]," says Boutwood. "And we designed it in a way that would mimic the same atmosphere as the original Test Kitchen in terms of temperature and humidity. So we made sure that we hit the 18- to 20-degree Celsius mark, 24 hours a day. And we have a maintaining humidity of 60 percent, which for us is the perfect balance of humidity and temperature to create cured meat—not the fastest way, but it's the most delicate way where we don't interrupt the process of curing, aging, and drying."
"That place for me is the heart of this place because everything that is on the menu somehow or another incorporates some item that is from that room."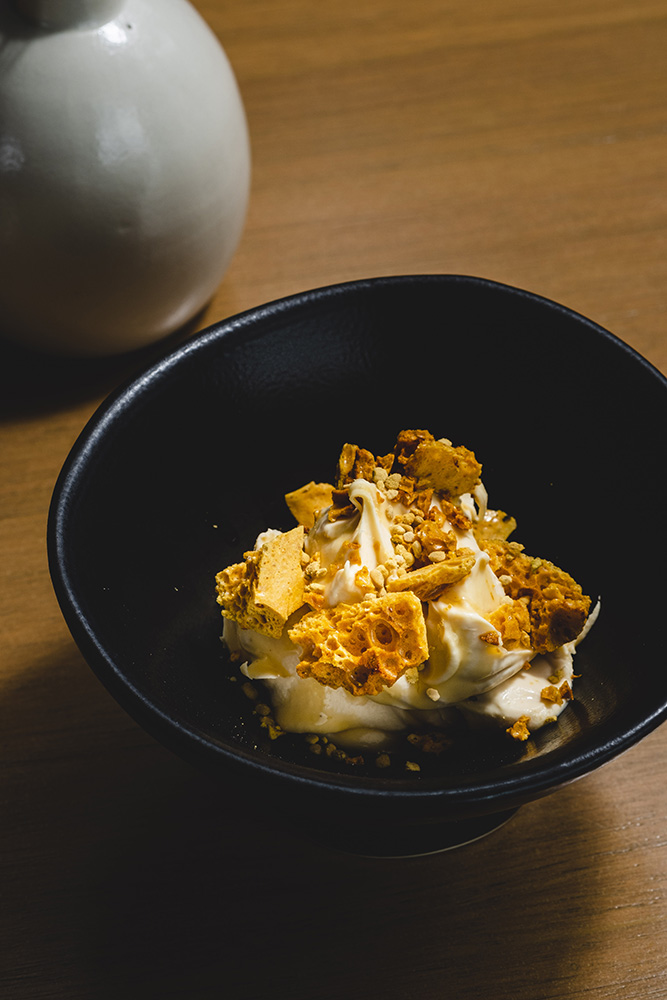 What's the big idea?
Boutwood admits he's a little rusty these days when it comes to running a restaurant of this caliber with an à la carte menu. "It's like living on the edge again," he confesses. On the one hand, it could be a result of his corporate responsibilities with The Bistro Group, tending to a whole portfolio of commercially-oriented brands. On the other hand, it could also be the inherent fatigue setting in after launching My South Hall, a well-rounded food hall in S Maison, weeks apart of The Test Kitchen, which he himself designed with partner Nilla Ström. But Boutwood, of course, is being modest.
The menu, which is printed every evening to reflect the ingredients available on hand, opens in a casual fashion with a tiny note suggesting how to navigate the experience. A crackling snack warm-up jolts diners out of their curiosity; the bread and charcuterie plates, which change on a daily basis, are effective starts to get into the process of discovering what else the chef has up his sleeve or what he's chosen to reinterpret on his black book that had all his recipes written down every night at the original Test Kitchen.
Then the "First" part of the menu expands into a full flow of pioneering flavors such as in the Cucumber, Squid, Dill where the Japanese vegetables are compressed in distilled vinegar and paired with poached squid strips complete with a searing serving sauce of cucumber juice, dill oil, and lumpfish roe. It's a subdued dish that resonates with a subtle coolness with each bite. This effect continues in the same vein across the first part where Boutwood oscillates between gentle and thunderous (sweet potato gnocchi with preserved ox heart) and soft and slow (olive oil-dressed tomatoes, fermented tomato jam, fried bread nuggets) with intimate vignettes of his desire to purposefully step it up to see how far he can push the palates of his customers.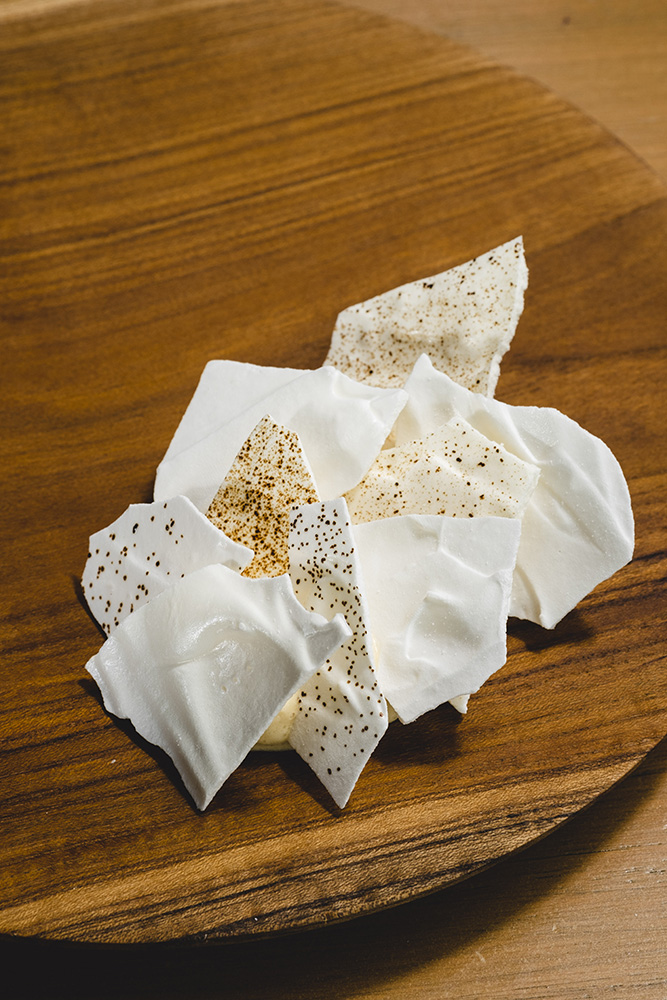 But it is in the "Second" half that gives the most explicit indication of where Boutwood is heading with The Test Kitchen's revival. Asked whether the product or process defines a menu, he undoubtedly responds, "You can't have a good dish without a good ingredient and you can't mask a bad ingredient with technique. So they go hand in hand."
Perhaps modeled after this formula are two of the standouts on the menu. First, the in-house dry aged Australian wagyu cooked to medium-rare perfection it literally melts in the mouth, paired with a horseradish and sunflower emulsion and a softly structured mille-feuille potato to create a joyous tribute to his and long-time The Test Kitchen fixture Paolo Bayani's fire-wielding skills.
Boutwood then zooms into the ocean with a Sea Bass, Fennel, Green Pea offering that is just as audacious and inviting as his fast-moving, free-range roasted native chicken sourced from Costales Nature Farms.
"When I opened the original, I wanted to become the first zero-waste restaurant in the Philippines. Four years later, I've come to the conclusion that it is impossible to do it without the support of all of the other parties involved that make a restaurant: suppliers, farmers, producers."
"It's a very good Chilean sea bass that's simply cooked in a pan paired with a fennel puree and green pea salad dressed with fennel oil and some bread crumbs for a bit of crunch and a smoked dashi. That's probably what defines The Test Kitchen… the simplicity of the dishes."
Finally, the "Third" or the dessert menu, while small, packs a rich punch to give old traditional flavors a contemporary update. The cooked cream with wild honey and bee pollen and honeycomb caramel is a woven hive of flavors that dig into lovely notes of how sweet should be. The Burnt White Chocolate, Coffee, Egg mousse, meanwhile, is noticeably light and airy that seems to taste differently when eaten with the crisp egg white meringues.
Sustainable Affairs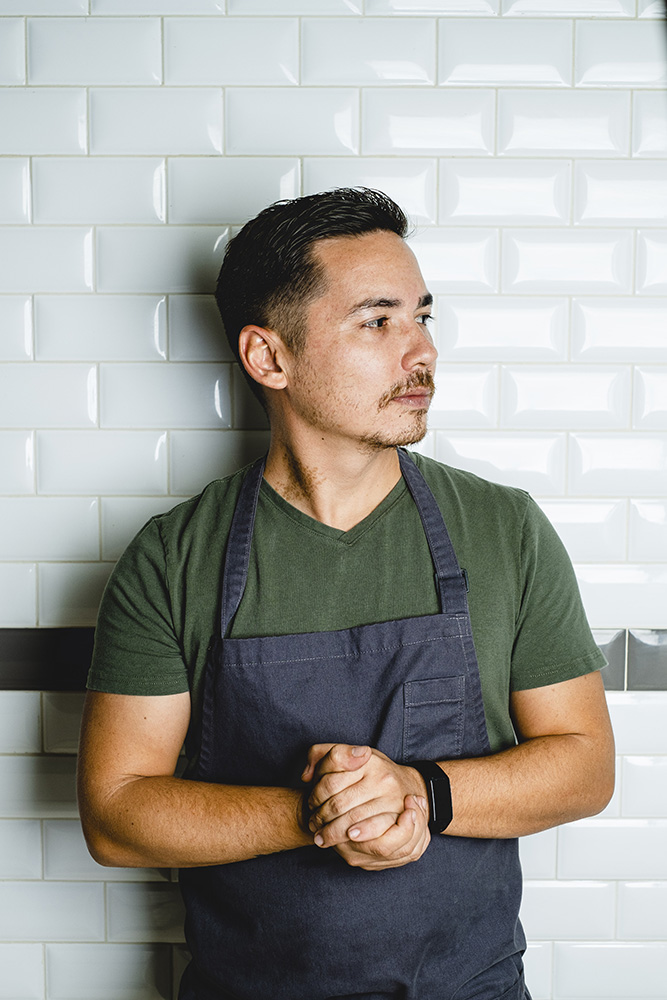 There is another socio-political statement that Boutwood is hoping to communicate with The Test Kitchen. "When I opened the original, I wanted to become the first zero-waste restaurant in the Philippines. Four years later, I've come to the conclusion that it is impossible to do it without the support of all of the other parties involved that make a restaurant: suppliers, farmers, producers."
Despite the protocols in place, "There is so much environmental impact that's going on prior to reaching the restaurant that whatever we do when it gets here, it has minor impact on the overall environmental sustainability," argues Boutwood.
"We need to look at the bigger picture. We need to look at the origin to the end and see where we can help our middlemen or the start of the process become more sustainable. And then the trail gets smaller and smaller towards the restaurant." That said, Boutwood isn't stopping anytime soon at every chance he gets to do his part for the environment. "I'll still maintain my sustainability efforts and make sure that my plastic is reduced to a minimum and any plastic that we do use is reusable, but I can't say that I'm impacting the environment by doing what I'm doing."
"It's not working like that, unfortunately, because I am passionate about it. We as an industry should be more conscious about the roles we should be playing in the industry."
Whatever the outcome, Boutwood's brand of doing as much as he can to instill a greater sense of responsibility in his staff or customers through the way he utilizes and respects each ingredient on The Test Kitchen or the little efforts he's making to do his part in the ongoing conversation of sustainability already has a galvanizing effect.
The Test Kitchen is a rebranding—we can call it that—of such dramatic power that it's hard to think of a better way to describe it other than it's a comeback that makes sense.
Get more stories like this by subscribing to our weekly newsletter here.
Read more:
WATCH: How chef Josh Boutwood cooks simple dishes
Chef Josh Boutwood's survival guide to Manila's culinary scene
This restaurant's menu has no text, only colors
Writer: ERIC NICOLE SALTA
PHOTOGRAPHY JUSTIN DE JESUS