Chicken and bacon-scented face masks exist, and we kind of want one
Has human innovation gone too far? Maybe. Do we want to try it? Absolutely
Oct 22, 2020
Aside from your phone, wallet and keys, other going out essentials now include face masks, face shields and a travel-sized bottle of alcohol. In a bid to make things less clinical, people have started to create "fashion" versions of these essentials. There are reflectorized "chic" face shields and masks that are made with a variety of weaves, fabrics and designs.
If a pretty face mask isn't enough, how about a scented one? 
Specifically, a food-scented one. 
Jack In The Box, an American fast food chain, is coming out with a special chicken-scented face mask as a marketing strategy to promote their new plant-based sandwich. 
Yes, you read that right. Chicken–scented face mask. Personally, I have a chicken allergy, so I haven't had any chicken in years. I'm morbidly curious as to how this mask actually smells (and you know, if it actually protects you against COVID-19). 
If chicken isn't your speed, then how about bacon?
Another American brand has also thrown their food-scented face masks into the ring. Hormel Meats (the makers of Spam) has also come out with a bacon-scented face mask. Dubbed "Breathable Bacon," these face masks channel the scent of their Black Label bacon into a two-ply mask so you never have to inhale any other smell ever again.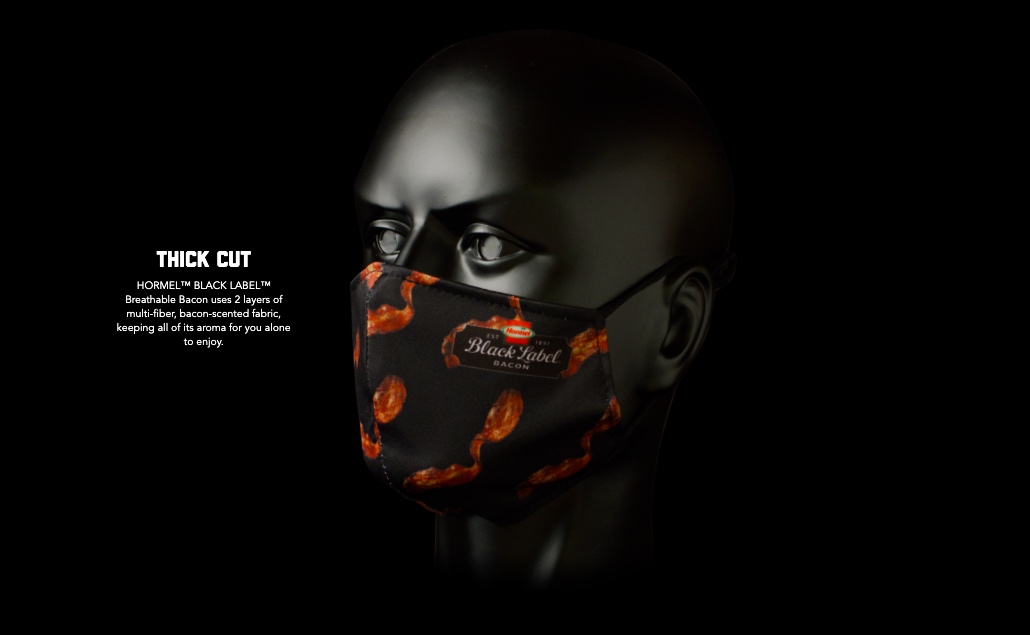 Sadly, these masks are only available in America (for now), so if you're reading this from the good ol' US of A, you can cop these masks through Jack In The Box's or Hormel's websites. 
I have to ask though, has human innovation gone too far? Or is it finally going as far as it should? Bear with me here. The concept is admittedly wild when you first think about it, but what about a sinigang-scented face mask? 
The possibilities are terrifyingly endless. 
Header image courtesy of the Breathable Bacon Mask website
Get more stories like this by subscribing to our weekly newsletter here.
Read more:
No need for greetings when you're wearing this "good morning" towel face mask
Is it a mask or candy wrapper? These face masks look like White Rabbit and Tootsie Roll wrappers
LOOK: Face masks feature Lumban, Laguna's hand embroidery tradition—and it's less than P500
TAGS: bacon scented face mask chicken scented face mask food scented face masks Hormel Jack In The Box nolisoliph