Cooking can be a wonderful and exciting journey, but sometimes, we all just need a break from the kitchen. Like most things, overdoing a certain activity can lead to fatigue (yes, cooking burnouts happen too). It can be especially daunting when the skies turn gray and it starts to pour. If you're looking for a satisfying meal without having to wash a pile of dishes, here's where you can get comfort food delivered to tide you through the rainy days: 
Mac and cheese from Wildflour
If comfort food had to be summed up into one dish, it's got to be mac and cheese. Wildflour's take on the classic is nowhere near the atomic cheddar microwaved ones found in supermarkets and convenience stores. The café's version (P420) is made with gruyere and emmental cheese, and baked until a golden, cheesy crust is formed. If you have any leftovers (which may just be next to impossible), you can keep it in the fridge and reheat for whenever the cravings come back.
You can place your orders the Grab app
Goto from Goto Monster
https://www.instagram.com/p/CCDlOCLnAqs/
Aside from being the perfect hangover cure, goto will always be a dish associated with comfort and warmth. There's just something so nostalgic about hovering over a steaming bowl of goto. Goto Monster serves just that, and literally more when you order their supersized goto kit (P999). It's good for eight people and comes with 10 fixings, including egg, tokwa, fried garlic, different meats and calamansi. You know what they say, food always tastes better when shared. 
You can place your orders through their online order form
Sizzling Sinigang from Locavore
Sinigang and stormy weather are a match made in heaven. The savory-sour soup dish just tastes so much better if accompanied by overcast skies and the sound of rain falling on rooftops. Although not technically a soup, Locavore's interpretation (P580) of the beloved dish takes all the elements we love and turns it into something new, but equally as delicious. Instead of a soup base, the lip smacking, sour flavor comes by way of their sampaloc gravy that's served with the short rib dish. 
You can place your orders through the Lalafood app
Champorado from Flossom Kitchen + Cafe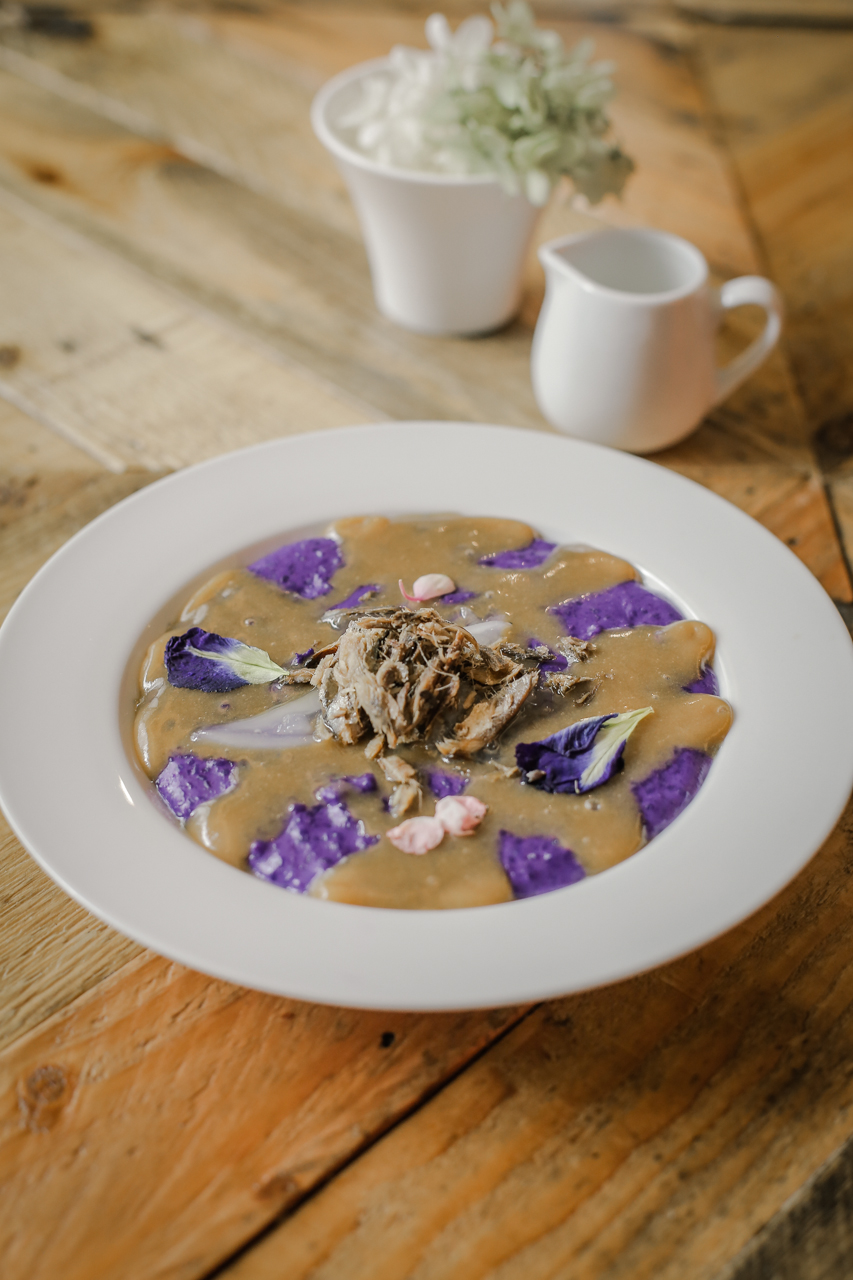 Another Filipino dish closely associated with rain and cooler weather is champorado. To non-Filipino ears, the combination of cacao and rice may seem unlikely, but it's something you have to taste to believe (and love). Flossom Kitchen's champorado (P290) doesn't come with the usual tableya flavor, though. Instead of the deep chocolatey flavor champorado is known for, theirs is made with ube instead. 
You can place your orders through their website
Tteokbokki from School Tteokbokki
https://www.instagram.com/p/CGHSCjmn6kZ/
Binge watching shows has become one of the leading pastimes this quarantine, and the weather is making sure that it stays that way. If you're a K-drama fan, tteokbokki should be on your list to eat while watching the latest episode of your favorite drama. If your drama's leads are chowing down on these sweet and spicy rice cakes on screen, you can always order a tub from School Tteokbokki (P150) so you don't feel left out. 
You can place your orders through their Instagram
Shabu shabu from Ganso Shabuway
Though this isn't ready to eat, shabu shabu is still worth the (minimal) effort it takes to prepare it. It's also kind of fun to just throw things into a pot of broth and have it come out tasting absolutely delicious. Ganso Shabuway offers neat little take out boxes for you to enjoy at home. These boxes come packed with meat, vegetables, broth, sauces and other shabu shabu accoutrements that make for a filling rainy-day meal. Their takeout boxes start at P995. 
You can place your orders by messaging their Viber at 0917-8221400
Header image courtesy of Wildflour Restaurant Facebook
Get more stories like this by subscribing to our weekly newsletter here.
Read more:
Floral pasta, butter rolls and other edible flower delights for delivery
We give these hotels five stars for making their exquisite meals up for delivery
P444 duck confit, P44 pastries and other delivery steals for Manila Pen's 44th anniversary