It's not uncommon to find flowers on top of tables as a decorative touch during dinner parties, but what happens when you have flowers baked into your bread and laminated in your pasta? Here are some places that create a true feast for the senses for a beautiful bite: 
Nash & Noah's
https://www.instagram.com/p/CE9FMSnpsuE/
Bread is a staple all around the world, but its importance was magnified during quarantine. Nash & Noah's have put their own delicate spin on the beloved dinner rolls by adding edible flowers on top of each bun. The homebased food business's floral soft butter rolls are completely handmade and baked fresh every Tuesday, Thursday and Saturday. 
You can place your orders through their Instagram
Hello Stranger Supper Club
https://www.instagram.com/p/CEOhTuMHdF-/
When you think of pasta, the immediate association is usually herbs or spices, but Hello Stranger Supper Club has made a strong case for flowers in your pappardelle. Inspired by chef Ellie Estrada's late grandmother (aptly named Fluer de Liz), this fresh pasta is made by laminating edible flowers between sheets of pasta dough. You're going to have to wait to order though. Hello Stranger is currently on hiatus to revamp their business, but they'll be back soon enough to satisfy your aesthetic pasta needs and other cravings. 
Get your updates through their Instagram
Flossom Kitchen + Cafe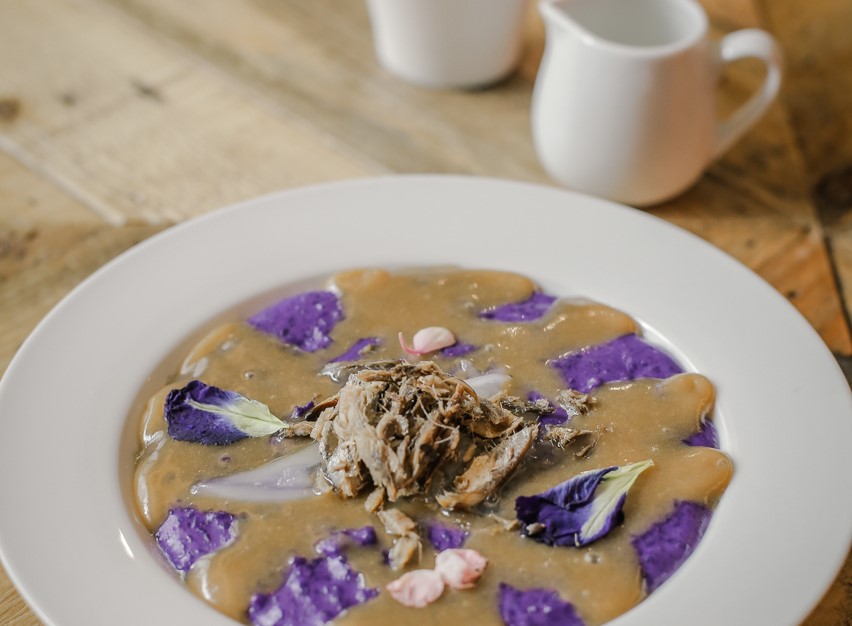 Flossom Kitchen + Cafe has a wide selection of dishes and desserts that incorporate edible flowers. 
[READ: Flossom Kitchen + Cafe in San Juan serves ube champorado]
From sisig and pasta to pancakes and ube champorado, they sprinkle a few petals of blue pea and other types of edible blooms atop most of their dishes to give it a fresh pop of color and a hint of the flower's unique flavor. 
You can place your orders through their website
Sakura Hanami
https://www.instagram.com/p/CCKmuTeH8hA/
Using flowers in tea may not be new, but Sakura Hanami has devoted their café's entire aesthetic to pay tribute to beautiful blooms. Their menu consists of a wide variety of milk teas (which also come in DIY kits) and a carefully curated selection of hot teas made from edible flowers. The café also has an edible flower-infused strawberry bubble mousse if you want to cap things off with a sweet and pretty treat. 
You can place your orders through their Instagram
Bonus: Jamie's Artisan Blooms
https://www.instagram.com/p/CFdi1I5n7oK/
Although these snow globe cheesecakes are not made from edible flowers per se, they're still an absolutely stunning work of edible art. Each jello cheesecake is painstakingly crafted by hand, so no two are alike. 
You can place your orders through their Instagram
Header photo courtesy of Hello Stranger Instagram
Get more stories like this by subscribing to our weekly newsletter here.
Read more:
At Hapag, pots of plants like this are actually edible
This vegan joint has meatless Filipino food to rival the real thing