Non-traditional art forms abound in this year's Art Fair
We all love the paintings, but Ben Cab's behind the curtain artwork and Lara De Los Reyes' hair embroidery caught our attention, too
Feb 17, 2017
Just when you thought last year's Art Fair was filled with eye-catching paintings, sculptures, and installations, this year's fair brings even more interesting pieces that go beyond the usual paint on canvas. Three floors full of artwork, videos, and sound converge as various artists work hand in hand to put together Art Fair 2017, at the Link Carpark.
In case you're overwhelmed and unsure where best to start, we've picked some pieces you definitely shouldn't miss once you visit.
The Bench Artefacts from 1987 onwards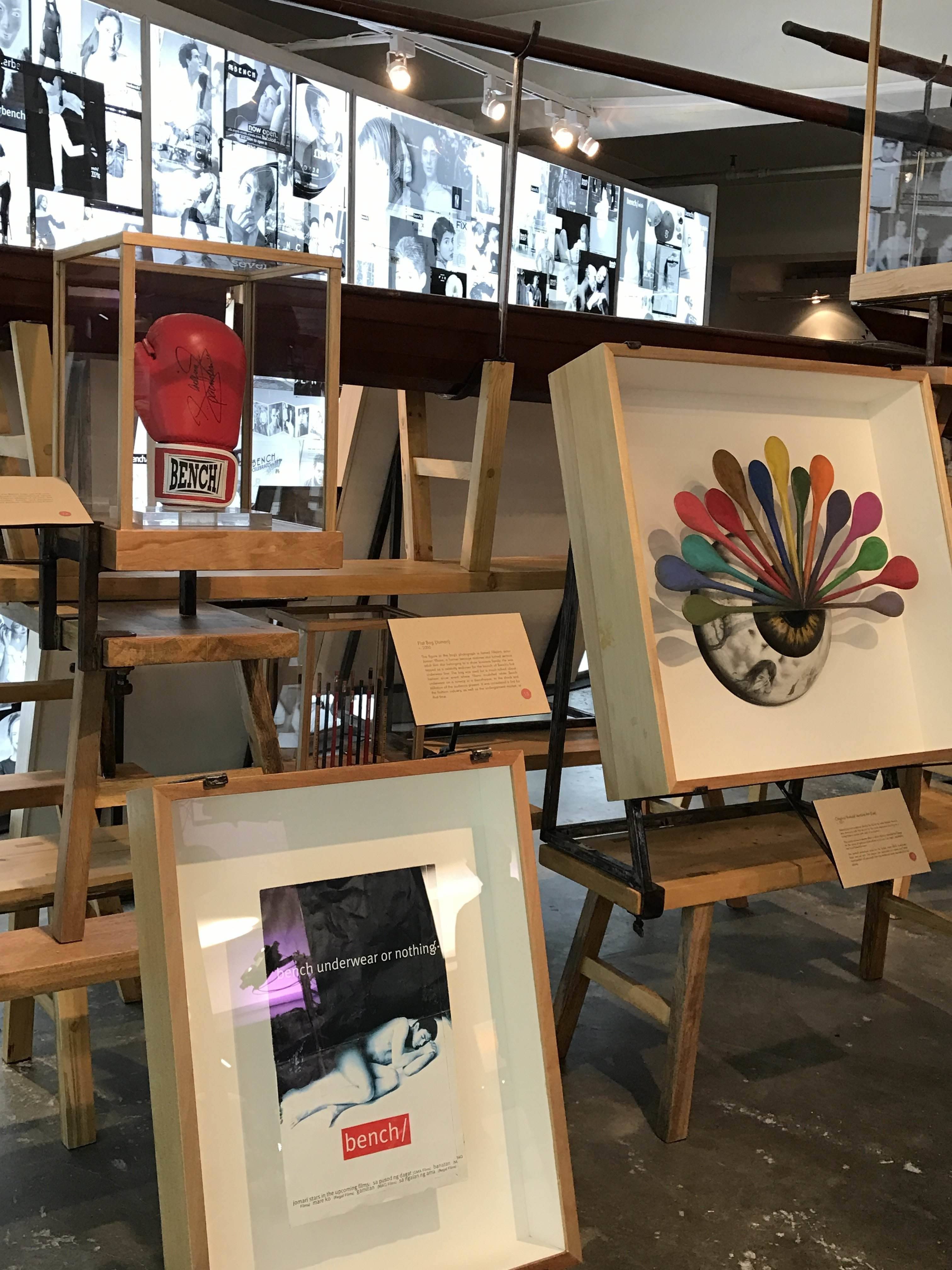 The Bench Artefacts showcases items used and produced by known designers and personalities. Some pieces of interest are the black lace headdress by designer Denise Celestial and a limited edition Bench boxing glove signed by senator Manny Pacquiao. Aside from these, expect to see different pins, stickers, collages, scrapbooks made by fans.
Waves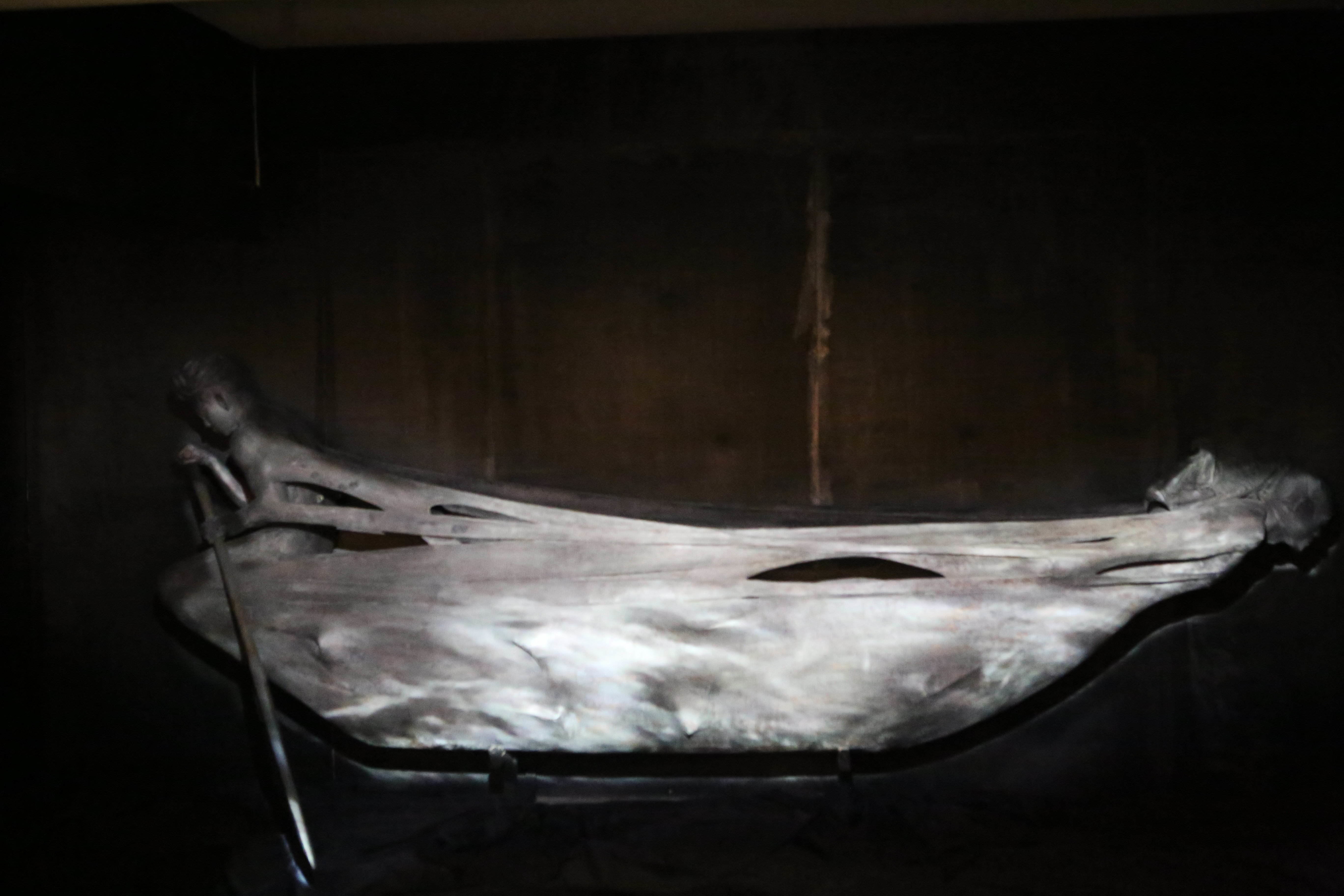 From what looks like a corner to be ignored lies a hidden gem of art. Outside the fifth floor of the carpark you could already hear the splashing of the waves but just when the sound of the water can deceive us, a wood-like boat structure inside a hollowed space created a dimension of placements. A video projects how the water hurdles as each passing wave continues to push and pull, creating an image on the navigation of a vast body of water. The constant struggling of the water symbolizes humankind's own turbulent ways in life.
New Folks Heroes by Mark Valenzuela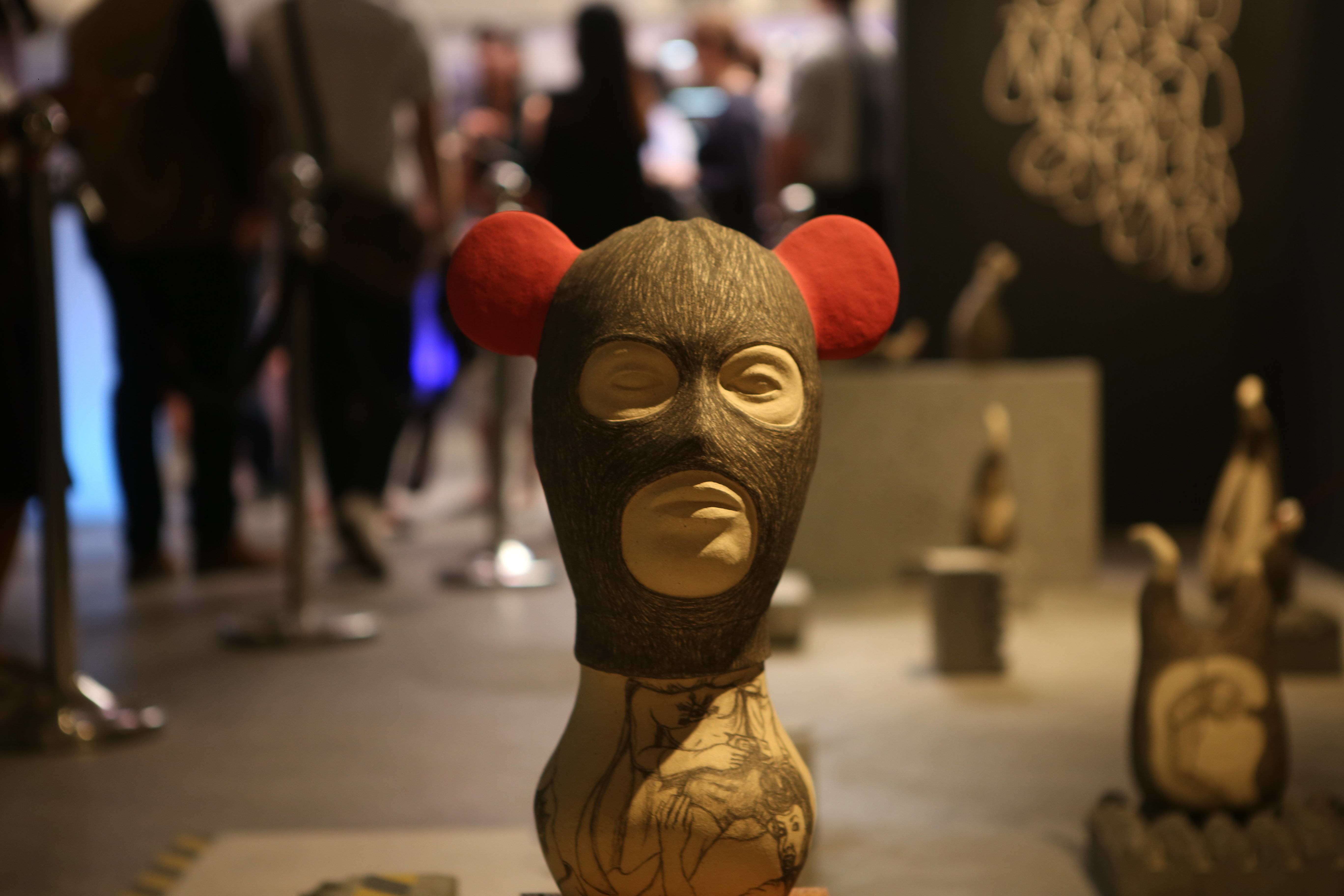 Minimalist yet inviting, Mark Valenzuela's take on how narrative culture can be while using concrete, ceramic, timber, and found objects opens the entrance to the sixth floor of the carpark. A mirror to the hierarchy within the country, the pieces reflect the unspoken condemnation and threats within our society. He reaches out into the idea of establishing identities and turns both men and women to highlight the unfair treatment of genders.
Wall of Sound by WSK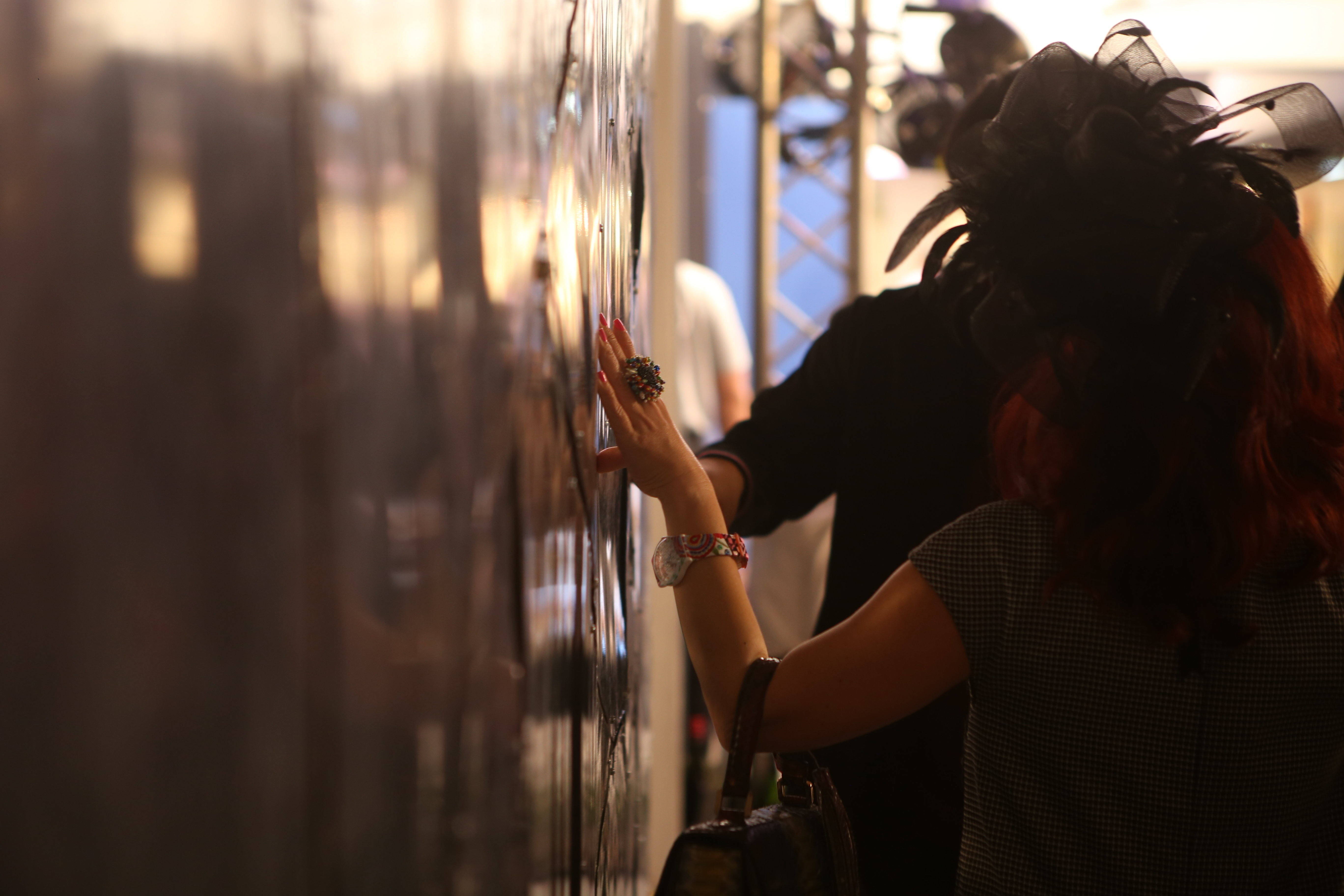 Each touch creates a sound, and adding a mixture of contact with another individual affixes more sound. An iron sheet covers two walls around the middle of fifth floor. WZK's interactive installation catches all eyes and ears of guests as each one can participate in creating a playful ensemble by touching the metal sheets.  Take time to experiment with different areas of the wall, as you can make music with radio oscillation through your hands. This installation is more than just a fun, interactive piece—it reflects the connection humans have with each other.
Langue Lounge by Jose Tence Ruiz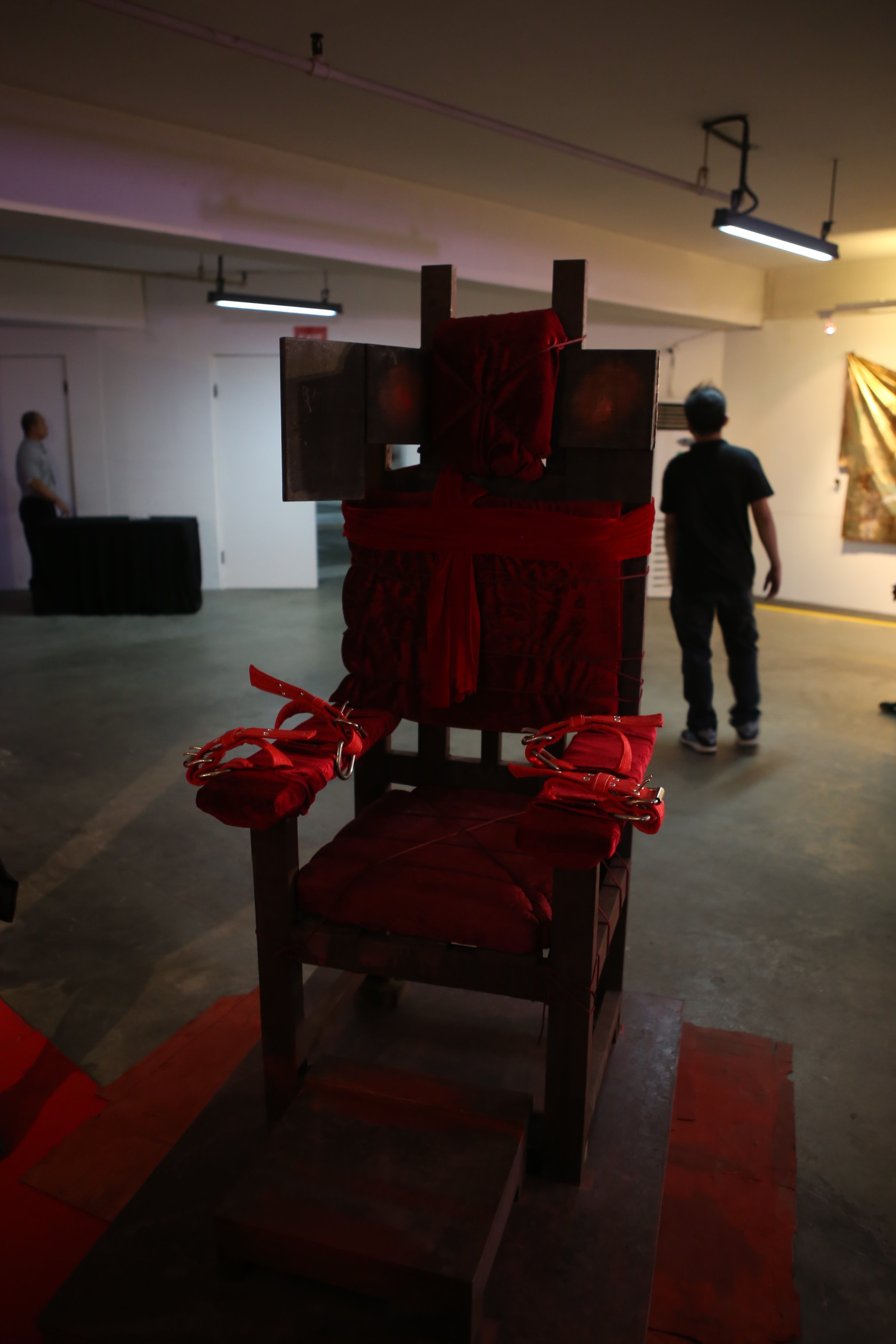 At the center of the floor are chairs that seem like its purpose is to punish and torture someone. Belts cover each chair, bringing to mind the thought of violence, while what looks like a big popsicle spilled in the middle. Jose Tence Ruiz explains through his art the meaning of what being a victim looks like, on how one's mental and physical scars to linger. This reflects the current climate of our nation, where the art of rhetoric rules the society. Ruiz calls it, determined despair—a realistic yet hopeful acknowledgement paired with a deep sense of action.
Self-Effacing Mirrors Nos. 1-6 by Juan Alcazaren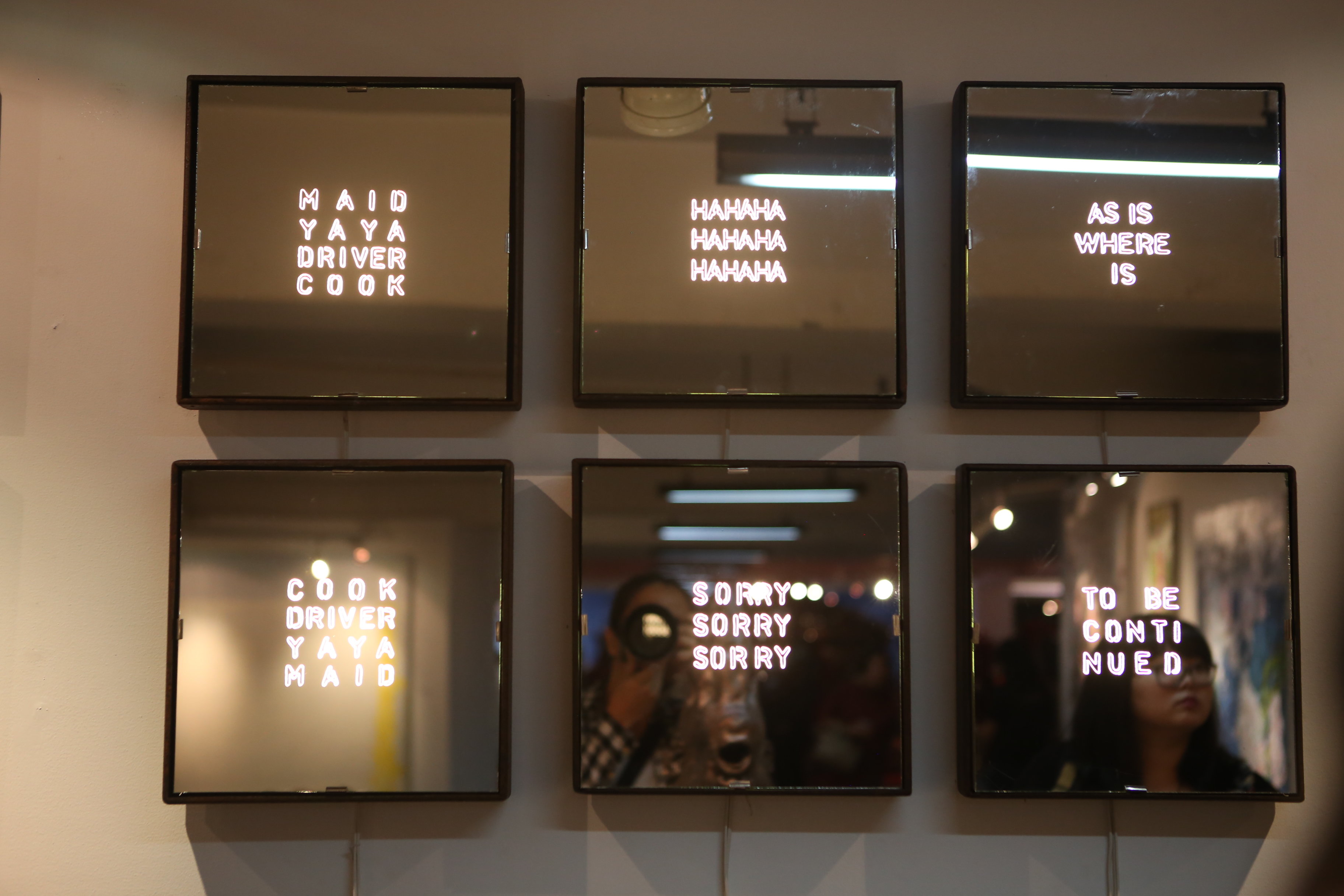 Illumination and reflection meet in Juan Alcazaren's piece. Six mirrors side by side reveal a much deeper thought as different words are written, "Maid, Yaya, Driver, Cook" to its end "To be continued".  The etched mirrors made of steel and LED lights can be derived to be what you see in your own reflection or how you see things in your own perspective.
Ben Cab's art pieces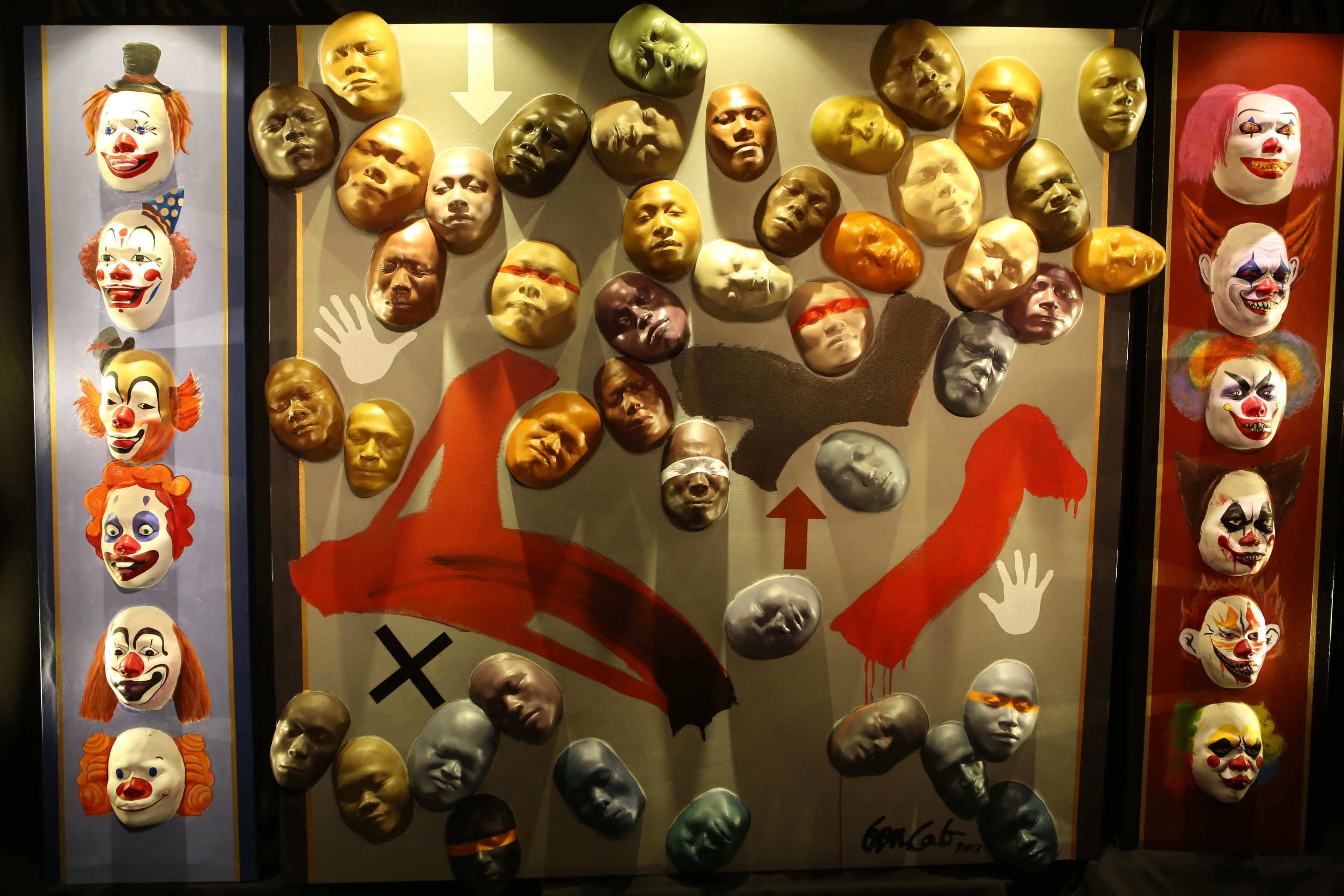 Behind a black curtain lies Ben Cab's take on fiber glass and reinforced resin triptych, as multiple screens light up the dark room. Moving, turning vibrant statues were eye catching, but what snaps out attention is the Ambot sa Imo, Ben Cab's take on the hierarchy of the modern world. Where he uses different faces to ignite the spark between the rich and poor, creating divisions of masks and expressions. The clown is his representation of the low class and high class, relating it to the politics in our country as well.
Embroidered Hair on Jusi by Lara De Los Reyes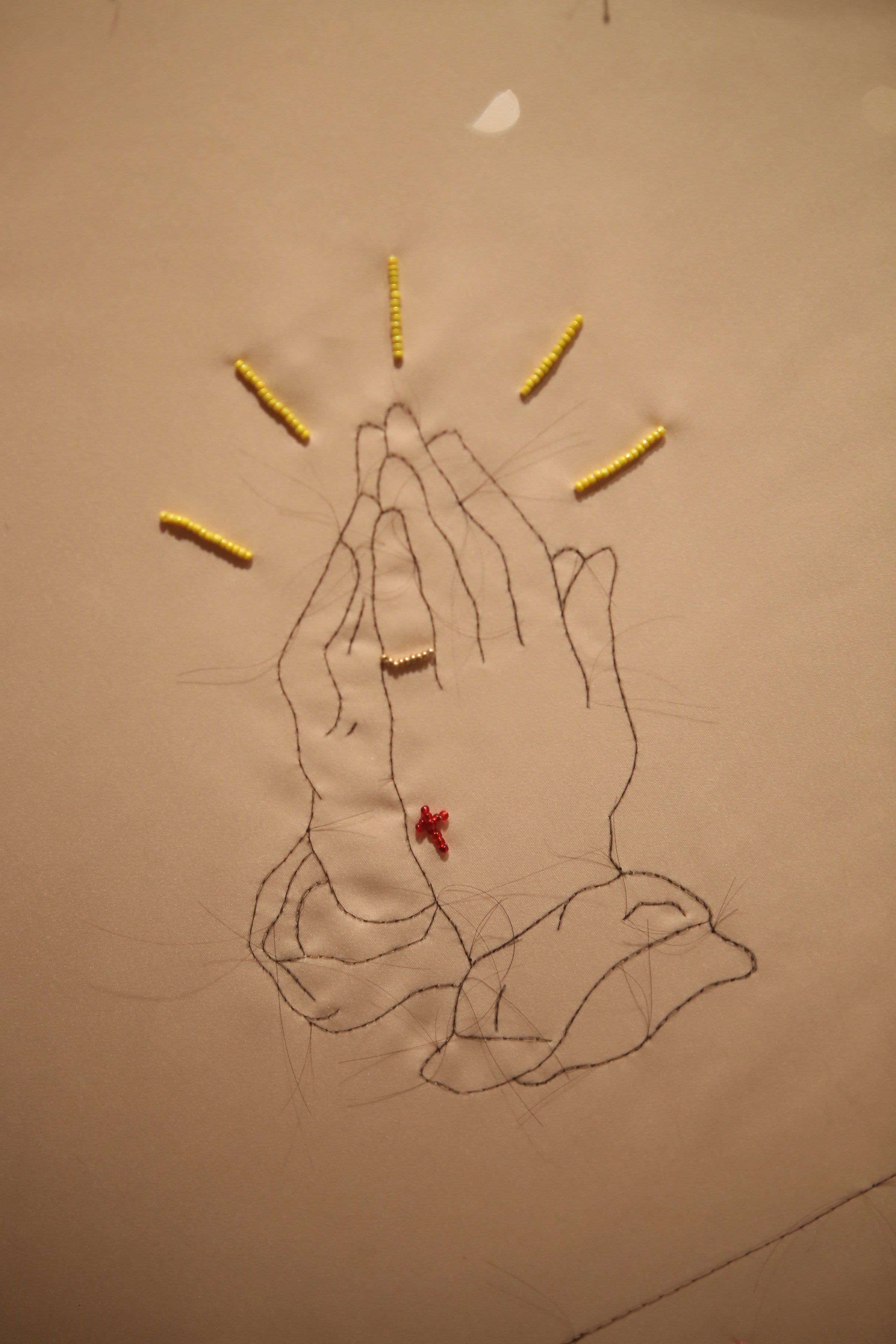 There is something haunting about Lara De Los Reyes' art. On the first glance, nothing seems to makes sense with the linen being sewed and framed up but if you look closely you'll soon appreciate the hand embroidery. There are also images woven with the artist's hair on old jusi placemats, napkins, and coasters. It is said that she has been collecting naturally shed hair from her own body over the years.  The dark strands stand out against the off-white color of the material and tell of stories of joy, peace, loneliness and tragedy through words and images.
Forced Farts, Cartoon Pain and Daddy Issues Or Accident by Voodoo While I Masturbate in the Ghetto Underwater with My Adult Baby Diaper Rash until Hell Freezes Over is a Freak Show by Maria Jeona Zoleta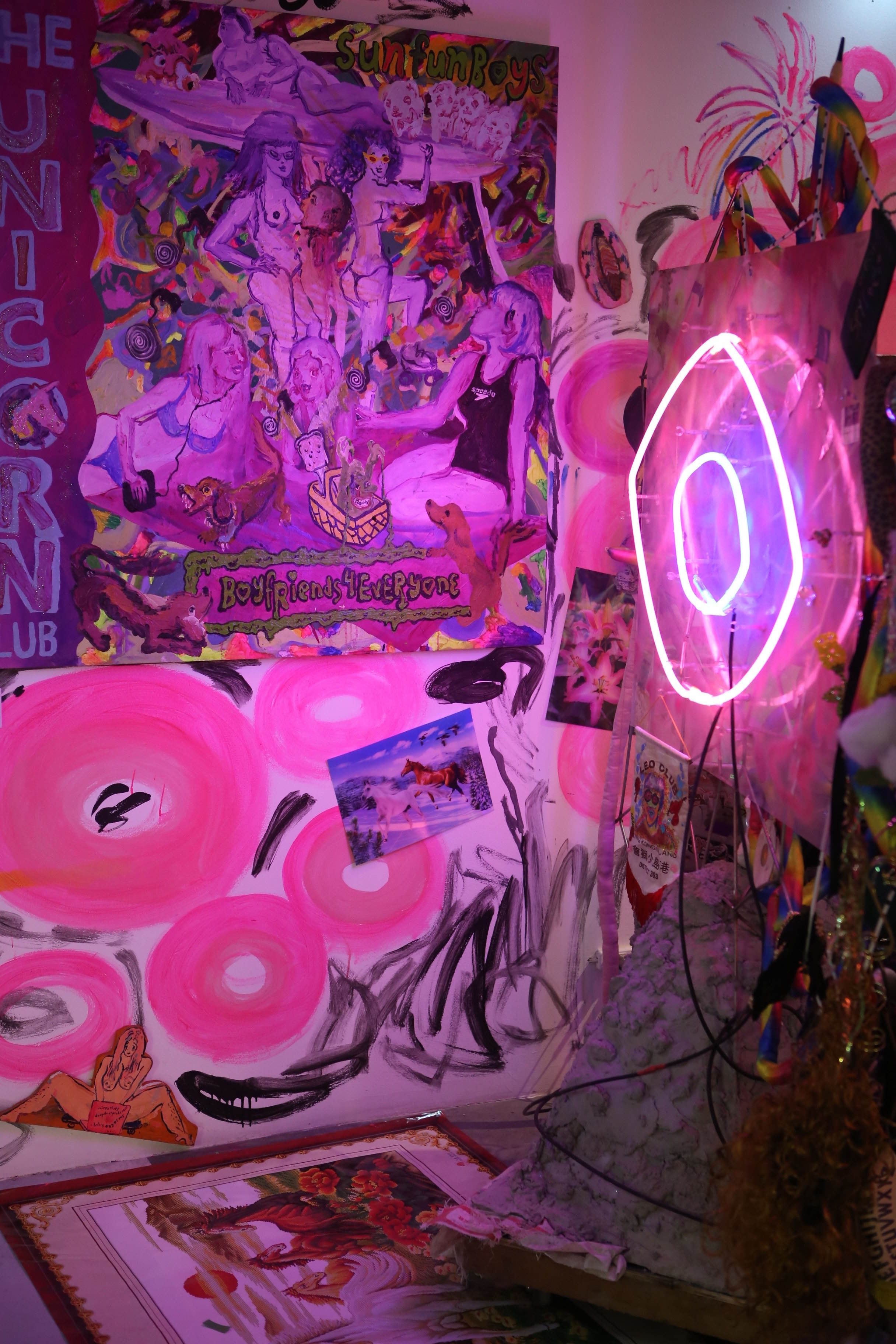 Maria Jeona Zoleta, one of the young emerging talents known for her provocative, post-feminist paintings and installations, takes on different heights again. Showing her rawness and physical realities, her painting stands for both born and decay in the obscurity of her fears and dreams. Alongside her paintings and sculptures is a projection of her experimental coming-of-age film that uses layers of green screen. Take a trip to her unscripted art of sex and innocence.
In Capital, We Trust by Raoul "Iggy" Rodriguez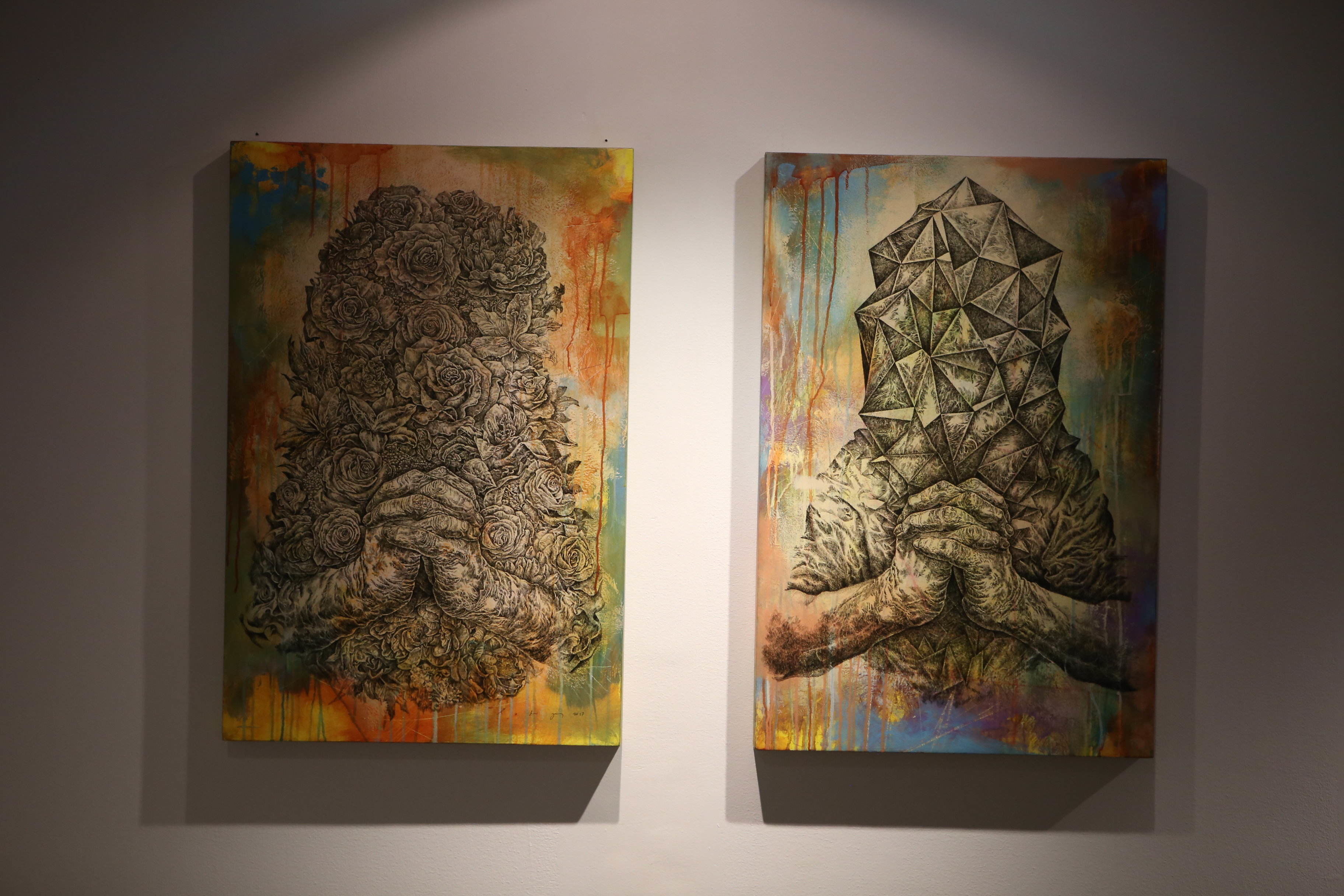 Using pen and ink, Iggy Rodriguez' new work displays what the naked eyes see and what it does not. He transcends to illustrate hideous and repulsive creatures yet assuring his audience that there is beauty to it as well. He tickles our curiosity, coaxing us to extract the contradiction of his works and formulate a gentle nature behind it.
These are only some of the art pieces present during the Art Fair but expect a lot more when you visit personally as you can now view everything at The Link Carpark. Art Fair Philippines 2017 runs from Feb. 16 to 19. Entrance fee is priced at P250, students with valid IDs are P50 each, and the entrance is free for all Makati students.
TAGS: art fair art fair philippines art fair philippines 2017 nolisoli.ph