Yes, you read it right. You can use jackfruit instead of pork to enjoy the classic Japanese tonkatsu. Jackfruit, commonly known as "langka" is one of the most widely grown crops in the country. It can easily work as a pork or chicken substitute because it's simple to shred, cut, or chunk like your average meat.
The tropical fruit is high in fiber which makes it good for the digestive system. It's also packed with antioxidants which prevent cell damage, cancer and heart disease.
Sama-samang Artista para sa Kilusang Agraryo (SAKA), an anti-feudal alliance of artists and cultural workers advocating genuine agrarian reform developed this "Langkatsu" recipe, which they served in their relief efforts to marginalized communities affected by the pandemic.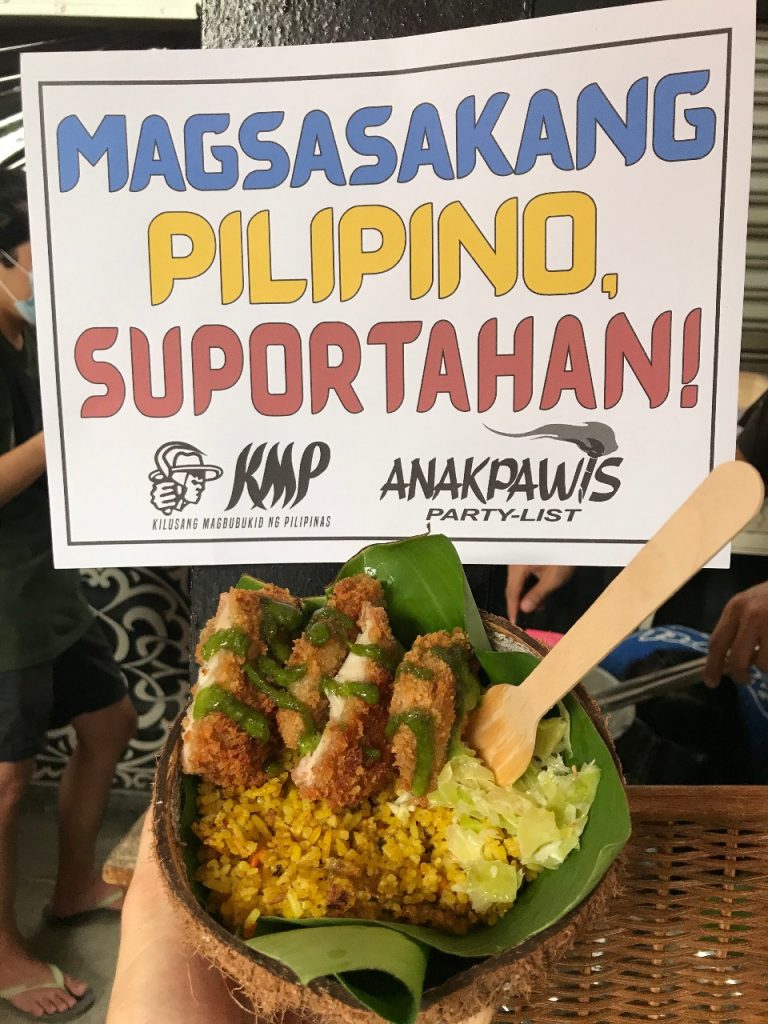 Ingredients:
For boiling:
1 kg raw jackfruit (halved)
3 tbsp cumin
1 tbsp cayenne (optional)
2 tbsp garlic powder
2 tbsp onion powder
3 tbsp salt 3 tbsp pepper
For batter:
1 cup flour
1/4 cup cornstarch
2 tbsp cumin
2 tbsp garlic powder
2 tbsp onion powder
1 tbsp salt
1 tbsp pepper
1 cup cold water
3 cups panko
For garlic pesto aioli sauce:
2 heads chopped garlic
250g basil
200g malunggay
2 cups mayonnaise (or vegan mayo, if you wish to make it vegan)
200ml olive oil
Salt and pepper to taste
Procedure:
1. Boil jackfruit in a big pot along with cumin, cayenne, salt and pepper for 30 mins until fork-tender.
*While waiting for the jackfruit to boil, in a separate bowl you may blitz garlic, mayo, oil, then add basil and malunggay gradually for the sauce. Season with salt and pepper.
2. Drain and let cool, then slice about half an inch thick each.
3. Mix flour, cornstarch, cumin, onion powder, garlic powder, salt and pepper in a bowl and whisk until fully combined. Then add cold water gradually until viscous in consistency.
4. Fully coat jackfruit in the batter mix then dredge in panko. Remove excess panko then press gently.
5. Heat oil in a pan in medium high heat and wait until it goes around to 180°C or (350°F).
6. Deep fry breaded jackfruit for about 1 minute on each side or until golden brown in color.
7. Drain excess oil on a wire rack or paper towels.
8. Enjoy with garlic pesto aioli sauce or your sauce of choice.
In terms of cost, this recipe is more affordable since a kilo of jackfruit retails for P80, compared to chicken and pork which sells for P160-P200 and P340 a kilo, respectively. Additionally, a kilo of jackfruit can serve eight to 10 people.
According to SAKA, the recipe ensures that impoverished communities receive nutritious and delicious food amid the limited relief that neighborhoods received from the government during the lockdown.
The artists' alliance said that the threat of the coronavirus has worsened the food insecurity experienced by many Filipinos. As cultural workers working with farmers, they used jackfruit as their primary ingredient not only as a way to support farmers who patiently till our lands, but also to highlight that food security can be achieved if we support and stand with our food producers in their call for free land distribution.
If you're curious about this dish, langkatsu tastes just like regular tonkatsu. SAKA said that one of the kids in their community visit even asked for more "chicken."
Read more:
This Indonesian staple can now be bought in this online outlet
Heads up, vegetarians! Ready-to-cook meat-free giniling is available at your local supermarket
A remarkable vegetarian meal and an urban garden at the newly-transformed Gallery by Chele