[Editor's note: The story has been updated to reflect General Santos City's comments on the activities for Men's Month.]
Amid the start of Pride Month—celebrated in June to commemorate the historic Stonewall Riots in New York that propelled the gay liberation movement—General Santos City will celebrate June as Men's Month and every first Monday of June as Men's Day. Yes, you read that right.
According to an announcement posted on GenSan's official website yesterday, June 2, the celebration is "in recognition of the importance of having men as partners in promoting gender equality and equity and in the implementation of gender sensitive programs, projects, and activities." It also came with the hashtag #HeForShe. The declaration was made through Ordinance No. 53 Series of 2019, also known as the city's Gender and Development Code.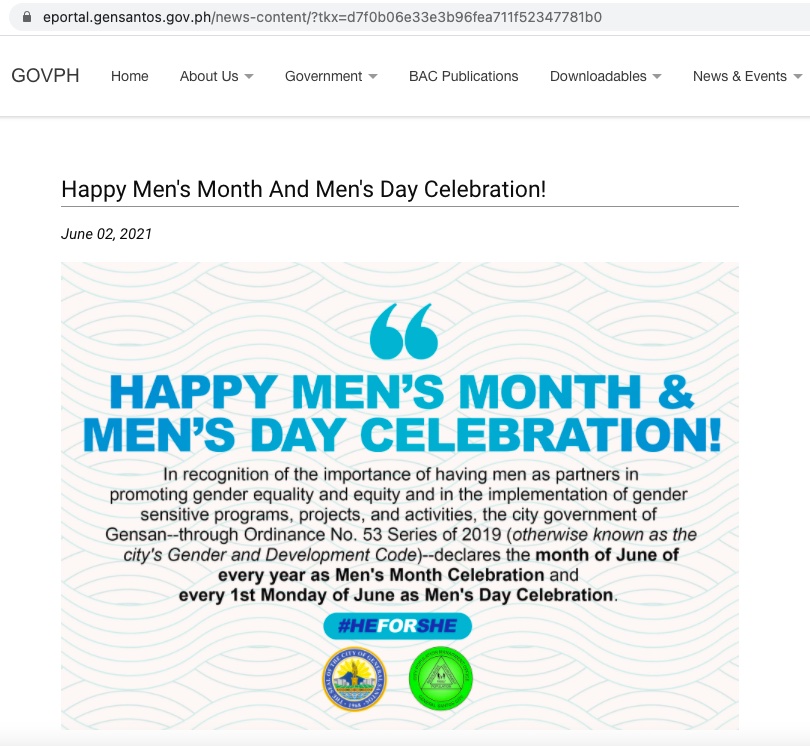 The City Population Management Office (CPMO), which originally made the announcement in a now-deleted Facebook, said in an email today, June 4, that Men's Day and Men's Month have been annually celebrated in General Santos City since 2010. 
TikTok and singing competitions
For this year, the festivities will be held on June 7, Monday. Several online activities will be conducted, as follows:
Virtual opening presentation to be led by GenSan Mayor Ronnel C. Rivera
Online duet and folk singing contest for the Barangay Men's Organization members
Online TikTok contest for male local government unit (LGU) employees
Online registration contest entitled "Gamay'ng Pahalipay Para sa mga Kalakin-an sa LGU," (roughly translates to "small joys for the men of the LGU") where the first 100 male LGU employees to register will be given cash prizes
Posting of IEC advocacy materials related to men's involvement in Gender and Development (GAD) Mainstreaming on the GAD information board of every department/offices of the LGU and barangays
Additionally, there were supposed to be mangrove and bamboo planting activities, which were canceled due to the city's COVID-19 restrictions. These activities will be conducted on a later date upon easing of said restrictions, said the CPMO.
It is unclear why an entire month is dedicated to celebrating men as allies in gender equality instead of focusing on groups that need their rights to be championed.
It should be noted that there is an International Men's Day, as brought up by a reader on Nolisoli.ph's Instagram post on this news story. It is celebrated every November 19 "to improve gender relations and promote gender equality" and to "[highlight] positive male role models." It was first observed in 1999 in Trinidad and Tobago with its proponent, historian Dr. Jerome Teelucksingh.
GenSan's LGBT-focused efforts
The local government made no mention of any Pride events lined up. The city notably held its first LGBT-centric event in December 2016 in time for World AIDS Day.
Meanwhile, it was only in November 2020 when the city passed an ordinance declaring the last Saturday of the month of June as Pride Day in the city. It was co-authored by city councilor Lorelie Pacquiao, sister-in-law of General Santos City's most notable resident boxer and legislator Senator Manny Pacquiao. She is also the committee chairperson on Gender Equality, Women, Family, Children's Welfare and Population Management.
The senator in 2016 famously said that same-sex relationships were worse than animals. This cost him his contract with Nike.
On the other hand, the councilor shared on her Facebook page plans to create a "General Santos City Protection Center for Men and Lesbians, Gays, Bisexuals, Transgenders, Queers, Intersex and Intersex+ (LGBTQI+)" who are victims of violence and abuse.
Yes, you read right—that also includes men.