One of the greatest joys of life pre-pan de coco (again, I refuse to type out the "p" word) had to offer was the office merienda. When 3 o'clock rolled around, the scent of instant coffee would fill the air and my officemates would be a little chattier than usual. Invitations like "O, kape muna tayo (Let's get coffee)" or "Bili tayo ng fishball (Let's buy fishballs)" would arise and for about 15 to 30 minutes, work could wait.
The usual merienda suspects are tusok-tusok, turon, banana cue, and lumpiang toge, but my ultimate afternoon office snack was karioka. We'd have snack vendors come up to our floor in the place I used to work.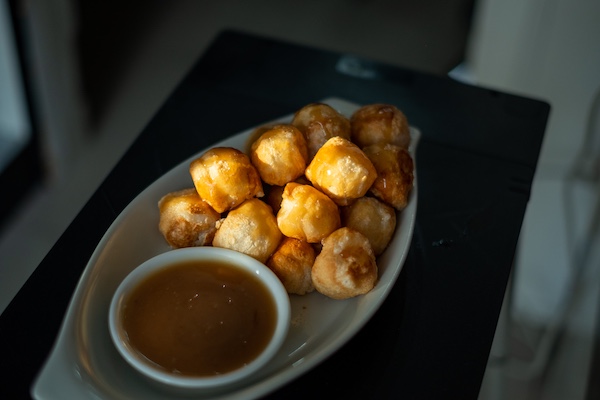 They'd come fully prepared with an insulated styrofoam container filled with the snack du jour—to the point where I'd memorize the schedule. Turon was for Mondays and Fridays, lumpiang togue was for Tuesdays and Wednesdays, and karioka was for Thusdays.
And my god I loved Thursdays.
If you're not familiar with what karioka is, it's a fried glutinous rice ball coated in a thin caramel sauce, sometimes made with sweetened desiccated coconut in the dough. It's sweet, crispy on the outside, with a sticky center.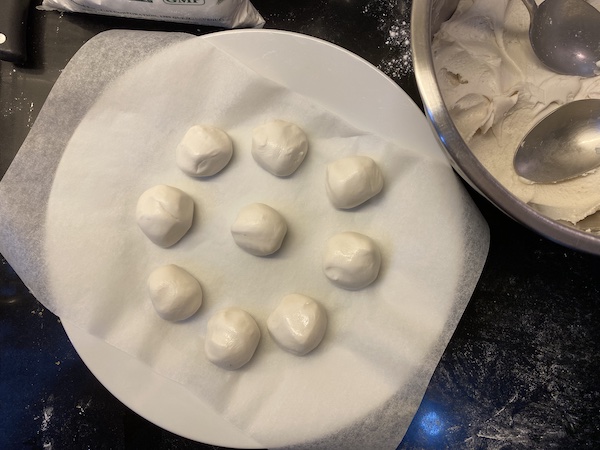 After months of searching where to buy the snack online (to no avail which makes no sense because everything is online), I've finally decided to take matters into my own hands and make the damn thing myself.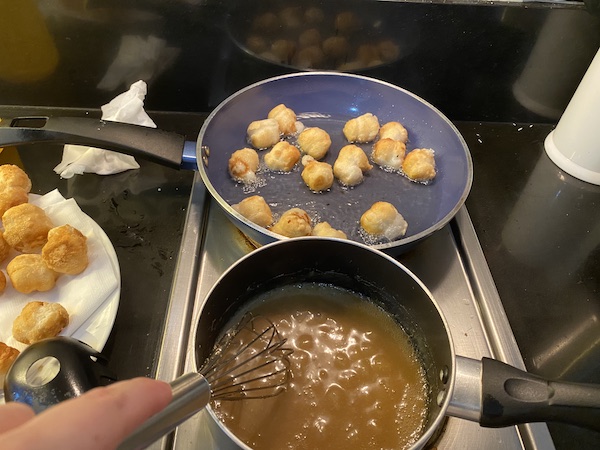 You can find several recipes online, but I've learned that tweaking it to suit your personal preferences and what you have in the kitchen works best. Without further ado, here's the karioka recipe I've painstakingly come up with. 
Karioka (sweetened glutinous rice balls) with coconut caramel sauce
Ingredients
For the karioka: 
3 cups glutinous rice flour
⅓ cup brown sugar
1 ½ cup coconut cream, unsweetened (can be substituted with coconut milk or plain water)
500 mL neutral cooking oil (like vegetable or canola oil)
For the coconut caramel sauce: 
1 cup coconut cream (can be substituted with coconut milk)
⅓ cup brown sugar
Salt, to taste
Procedure
For the karioka: 
Pour the oil into a preheated frying pan on medium-high heat
Mix the glutinous rice flour, brown sugar, and coconut cream into a soft, pliable dough. The dough shouldn't be too wet or too sticky.
Use a tablespoon to scoop the dough and shape it into balls.
Deep fry the balls until golden brown on the outside, while making sure to poke holes into each ball to stop it from expanding.
Transfer the karioka onto a plate covered with a paper towel to soak the excess oil.
For the coconut caramel sauce: 
Combine the brown sugar, coconut cream, and salt in a small saucepan on medium-low heat.
Stir continuously until there are no more visible brown sugar crystals.
Keep stirring for 5 minutes.
Remove from the heat and transfer to a heat proof container.
Assembly: 
Coat the karioka with the coconut caramel sauce and serve while hot.
For a more authentic experience, you can serve it on barbecue skewers.