There are tons of interesting and delicious seaweed snacks out there, but I'd have to say my favorite seaweed snack is the one my tita introduced to me. It's actually pretty simple. Take an apple wedge, a slice of cheese, and roll it up into a neat bite-sized—well—bite.
My tita spent a good chunk of time in Japan. According to her, it's a common afternoon snack moms make for their kids when they come home from school. While I haven't had any evidence to prove or deny the snack's provenance (which doesn't really matter, honestly), it's still delicious.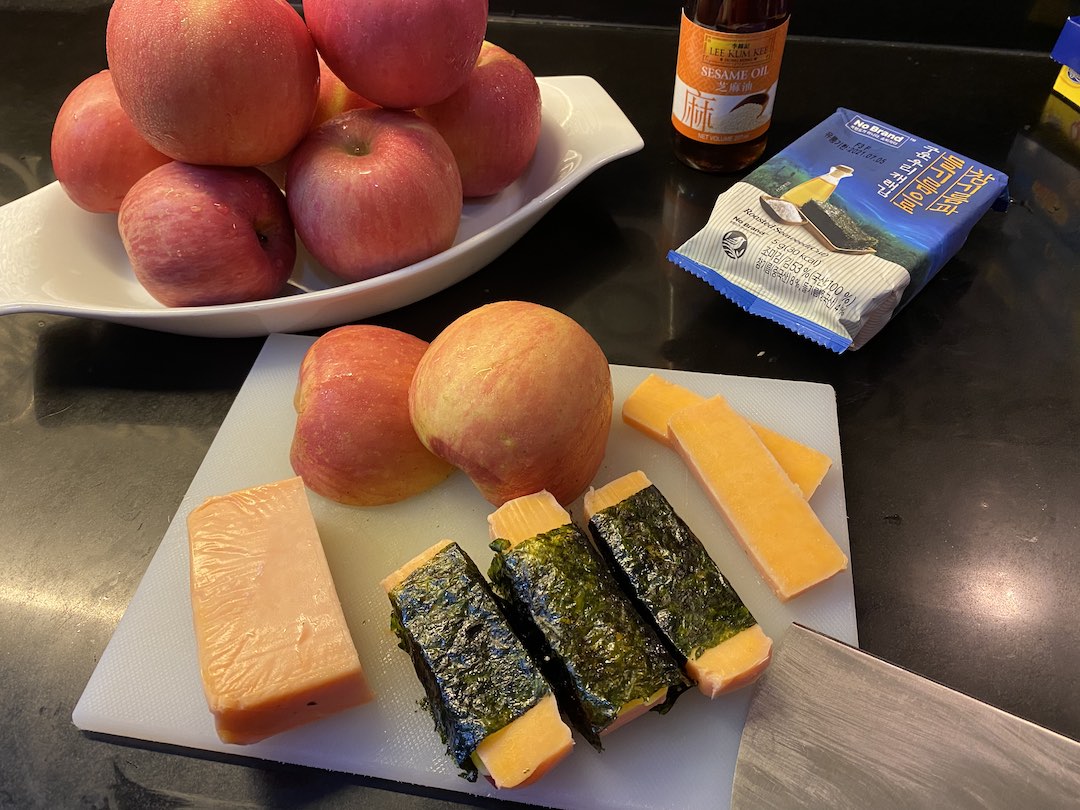 The concurrence of these ingredients may seem strange to most. I mean, apple and seaweed together doesn't immediately sound like the best idea. And adding a slice of cheese to the mix? Also not the most appealing thing to think about.
Together, though?
Magic.
It's sweet, salty, rich, and fresh at the same time. The apples must be crunchy. They must be pink as can be (and no red delicious apples, please, they're mushy and honestly taste terrible) and preferably right in between sweet and sour.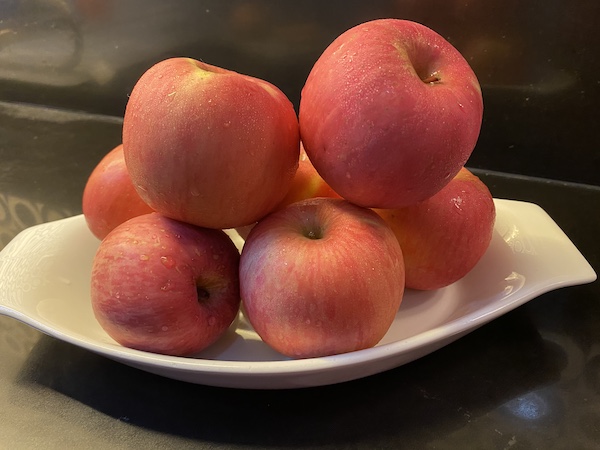 Any type of seaweed will do for this snack. If you prefer sheets, that's fine. If you like the ones that come in snack packs, great. Personally, I prefer the ones that come in sesame oil with flakes of salt on the surface. It's pre-oiled, pre-salted, and pre-cut which shortens the time between preparation and consumption.
And now, the cheese. The beauty of this recipe—if you can call assembling this snack a recipe—is that you can use literally any cheese you have at home. I've tried it with feta (a little messy, but still good), le roule, Gouda, sharp cheddar, string cheese, and the cheese that comes out of a box you use for spaghetti.
They all work—and well, if I may add. My personal preference, is a hard, aged cheese. Cave aged Gruyere is my personal favorite because of its bold flavor and the extra dimension of texture it gives the snack thanks to its crystals.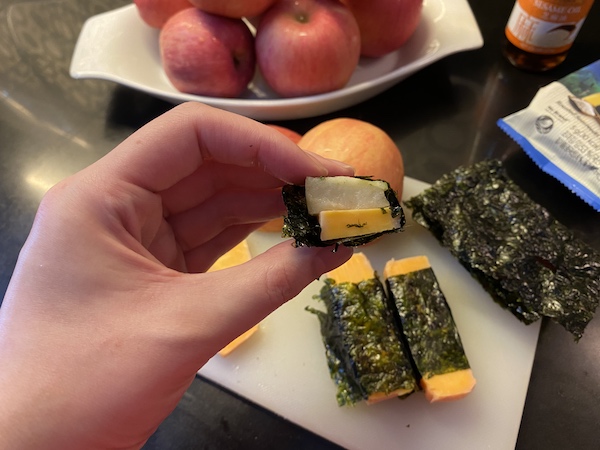 All these flavors combined produce a snack you'll want to eat again and again. The sweet, sour freshness from the apple paired with the richness of the cheese, all wrapped up in a layer of seaweed is a humble joy. It's a jumble of familiar flavors that come together and make up something new. 
Apple, cheese, and seaweed wraps
Ingredients
1 apple (preferably gala)
1 block of cheese
1 pack of pre-cut packaged laver sheets or 1 whole seaweed sheet
1 tsp of sesame oil (for brushing on seaweed sheet)
Salt, to taste
Procedure
FOR WHOLE LAVER SHEET: Cut the sheet into equal-sized rectangles. Brush with sesame oil and sprinkle with salt to taste
FOR PRE-CUT LAVER SHEETS: Lay the laver sheet on a plate and set aside
Slice the cheese into rectangles of your desired thickness
Cut the apples into 1 cm. thick wedges
Layer the apples and cheese on top of the seaweed and wrap, flap facing down
Serve immediately and enjoy