While unsolicited hot takes on food is something we don't take lightly, we're all allowed to have our favorites. The humble biscuit is something that has seen us through the best of times and the worst of times. As a go-to childhood snack (and a petsa de peligro savior), we all probably have very strong opinions about which biscuit ranks supreme.
But unlike ranking butter, though, biscuits aren't a monolith.
There are so many different types of biscuits for different occasions. There's the biscuit you enjoy on its own, the biscuit that comes with a cream filling, and the perfect biscuit to enjoy with coffee or tea.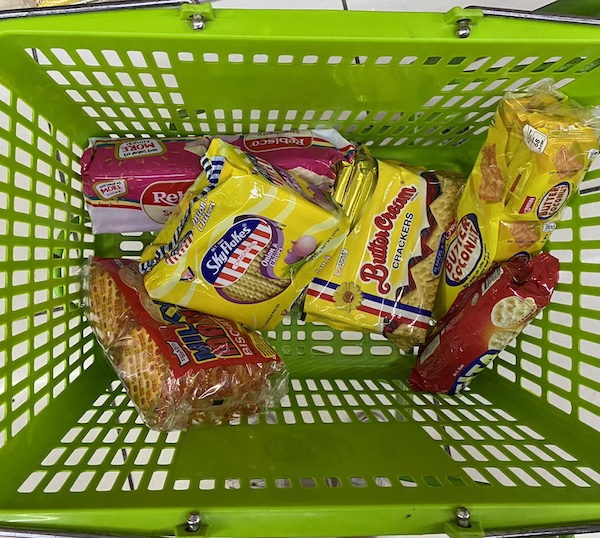 Grocery store biscuits in local supermarkets are also a different breed from their thick and flaky European counterparts. The biscuits we grew up with are the flat hard ones that usually come in single packs—perfect for packing in your bag.
But before we formally begin, some ground rules. There are so many biscuit brands in the world (and even more in specialty stores), so we're only considering those that are easily accessible to everyone.
These grocery store staples have been in our hearts (and pantries) since we were kids, so it's about time they get the spotlight they deserve.
So without further ado, here are some of the best grocery store biscuits you can buy right now.
Best overall biscuit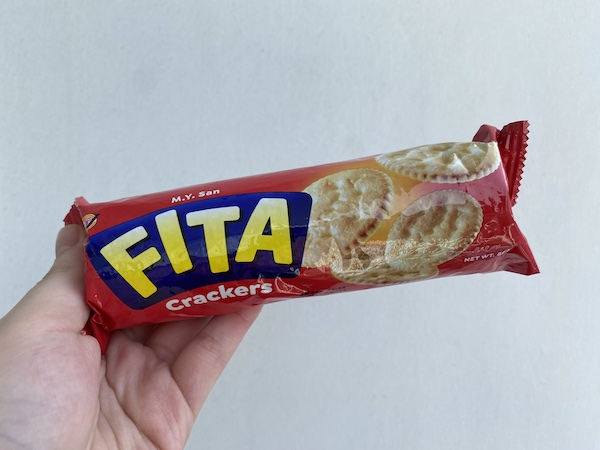 This specific biscuit found a cult following in the Nolisoli team. After a unanimous vote, Fita reigned supreme.
It's perfectly round, buttery, and flavorful enough to eat by itself, but can also be used for charcuterie boards and other culinary applications.
"Fita has the perfect serving size. It can stand on its own, but it's also great with any spread. It's definitely substantial enough. And not to mention, it has great and ICONIC commercials," said Nolisoli associate editor Christian San Jose.
"Fita is good enough to eat on its own. It's also a great vessel for anything—my budget charcuterie board just has Fita and I just put the cold cuts on it," according to Nolisoli managing editor Pauline Miranda.
Personally, I think Fita also does amazing in dessert applications. Making an icebox cake with Fita as your biscuit of choice or as a topping for extra crunch gives the dessert a buttery, semi-salty contrast.
Truly the best in biscuit, overall. 
Best for savory dipping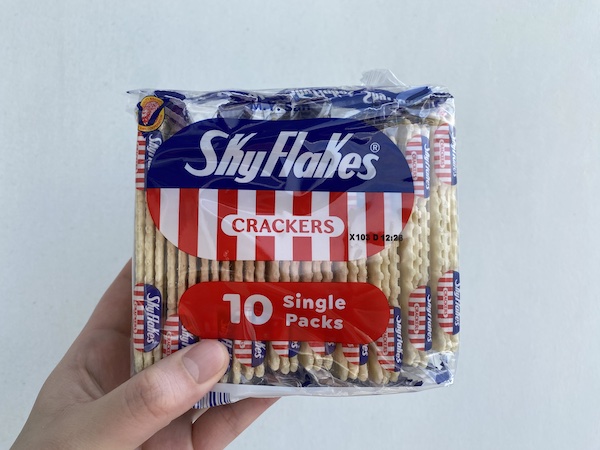 The distinction of best biscuit for savory dipping goes to the one and only SkyFlakes.
To many of us, it's the first thing that comes to mind when someone mentions biscuits. The iconic red, white, and blue wrapper has seen us through the long waits and hellish commutes. It's also most likely kept us from starving.
San Jose described it as "the OG" biscuit and "a very nice blank slate."
"[It's] light enough to much on and not overpower the dip. Idk. I think there's some physics to the holes that make it suitable since the dip permeates through."
Very well said.
There's also something about the biscuit's structural integrity that demands to be said. SkyFlakes is tough enough to survive a dip through soft cheeses, but can easily absorb the flavor when left in a pot of instant noodles (especially the beef kind). 
Best dessert biscuit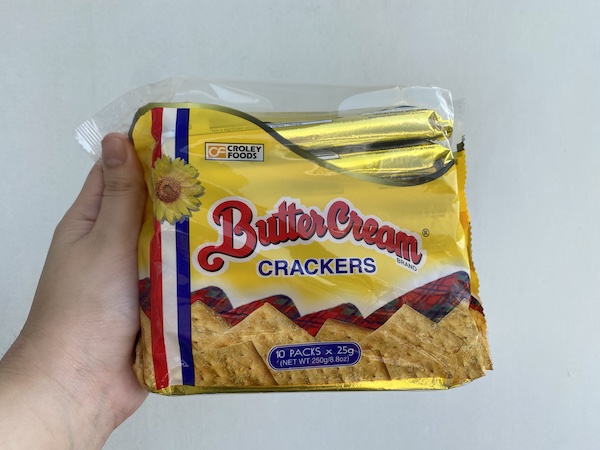 When sweet cravings hit, biscuits aren't usually the first thing we reach for. Unless you're the original sugar coated Buttercream Biscuit. 
The biscuit itself (which also comes in its own original variety) is thin and crisp. The sugar granules also provide texture that makes an interesting bite.
The single packs also have more than enough crackers for one person, so it's great for sharing if your friends are also starving (or craving some sugar) with you.
She's an underrated icon that deserves a place in everyone's emergency snack bag.
"I mean! Sugar coated! Very crisp! Yellow! There's also a variant with strawberry filling, so I guess she qualifies in another category. EGOT," said San Jose. 
Best with coffee or tea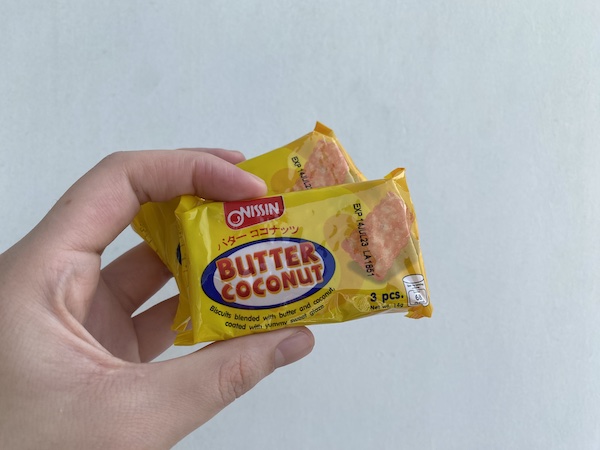 Crackers that match with coffee or tea need to be sweet. Those are just the rules. That means Butter Coconut biscuits are their best match. It has the structural integrity to stand up to hot liquids thanks to its lightly coconut flavored sugar exterior, and it just tastes damn good.
To San Jose, size and shape are also important factors to consider in this best of biscuit category.
"Thicc, sweet, and the shape is perfect for finger handling."
And thicc and sweet are indeed the right terms to describe Miss Butter Coconut (and myself, if I'm allowed to say that). 
Best cream-filled biscuit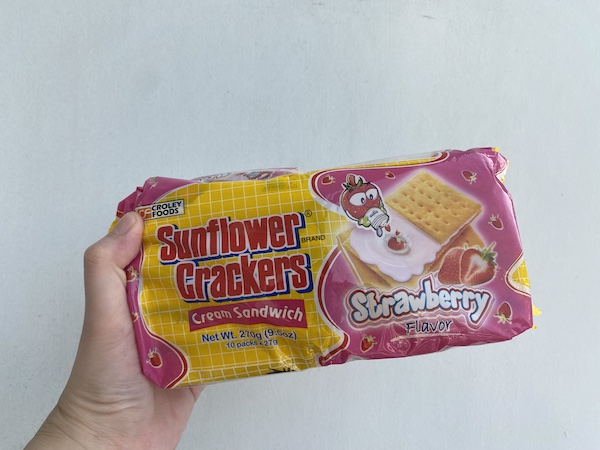 Deciding on the best cream-filled biscuit was a difficult process. There are so many different fillings and brands to consider, but the winner already had one foot in the door before everyone else.
The Sunflower Cracker with strawberry cream filling is our pick for this category. It's cousin, the Butter Cream biscuits, already won in the best dessert biscuit category, which means it already had an advantage over the others (sorry Hansel). 
The clincher was—as it should be—the cream.
While some of you may hate artificial strawberry filling, you have to admit there's a nostalgia factor to it. It's sweet and tastes very much like candy. Taking a bite feels like taking a train (or a tricycle) back to your early childhood days when you'd trade snacks with school friends.
Sunflower Crackers are always delicious, and the filling is just the cherry on top of the proverbial sundae. 
Best budget biscuit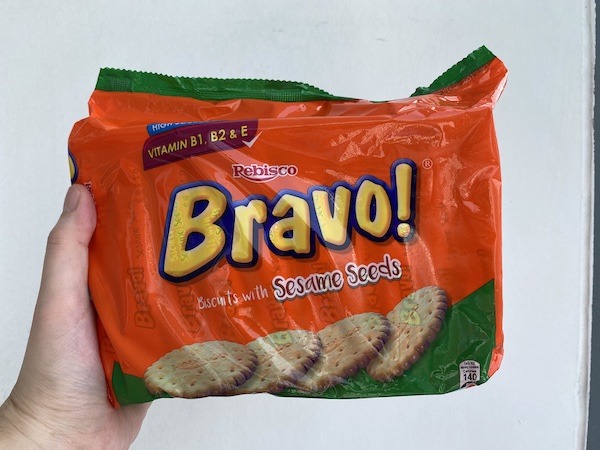 For the best budget biscuit, the title can only be awarded to Bravo. It's a sweet and savory biscuit that has found its way into our lunch boxes at least once in our lives. For it's price, it's also quite hearty and can fill your tank just enough to keep going.
The deciding factor for San Jose, though, happens to be the sesame seeds.
"I'd like to think that I get more bang for my buck because it has sesame seeds," he noted. The suggested retail price (SRP) for a single pack of these biscuits range from P6 to P10, which makes it a very clear budget winner. 
Take your walk, Miss Bravo. We are cheering you on! 
Best for savory snacking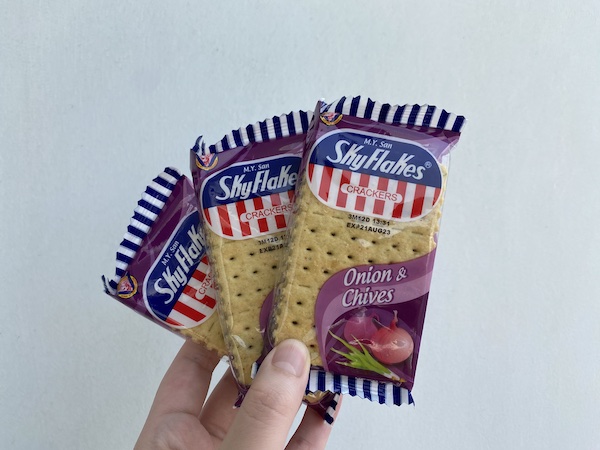 Few biscuits toe the line between chip and biscuit, and SkyFlakes' onion and chive flavored crackers cracked the code. It's an entire category that Miranda suggested, and the rest of the team wholeheartedly agreed.
The first thing that greets you when you open the pack is a subtle onion aroma. There are also visible specks of dry onion and chive bits scattered throughout. The savory umami of the onion and the herbaceous aroma of chive permeate through the entire biscuit.
The flavors come out quite strong, which is a good thing if you're craving for something savory and you don't quite know what you're craving for. It's also a really good cracker to use as a substitute for a savory meal when you're in a rush or during petsa de peligro season.
Just make sure to brush your teeth afterwards.  
Honorable mentions
Not every cracker can be number one, but some still deserve a shout out. A few of our runners up include Rebisco cream filled sandwiches, specifically the strawberry flavor. She got a ten out of ten in nostalgia and taste, but fell a little short in comparison to the Sunflower Cracker version.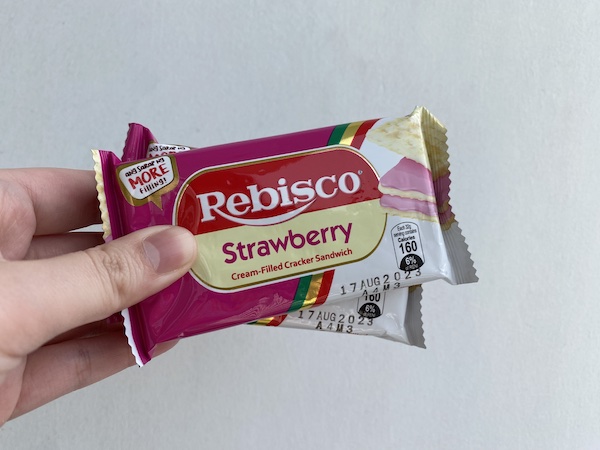 Another favorite that couldn't quite make it onto the list was the No Brand Café Biscuit. For those unfamiliar, No Brand is a South Korean brand that sells all sorts of grocery and home items. Their Café Biscuit was in the running for best with coffee or tea, but it's only available in select grocery stores, therefore, not widely accessible.
If your ride or die biscuit didn't make it into the list, we'll gladly listen to your defense.
Just be prepared for the biscuit debate of your life.