"When you guys shared [our dark chocolate flower tartlets], our social media went haywire," says Half Saints co-founder and chef Christine Roque.
The flower tarts were a reinvention of the already popular 64% dark chocolate tart from their original menu, and had just been made pandemic-proof. That is, crafted to minimize wastage and for better mobility of the product.
I chuckle a bit as she says this, partly happy that we at Nolisoli were able to help in some way, but mostly because it was just proof of something I already believed in at the back of my mind: There may be dozens upon dozens of good restaurants in Manila, but the truly best ones are few. Half Saints is one of those.
With a pandemic that has challenged even the most enterprising minds and has birthed and honed many home cooks, only a few have risen above the situation. Again, Half Saints is just that. And they even have a new bake studio and a reinvented menu to show for it as proof.
Maybe I sound like I'm singing praises to this local Quezon City spot now, but really, I'm just a (silent, background) believer.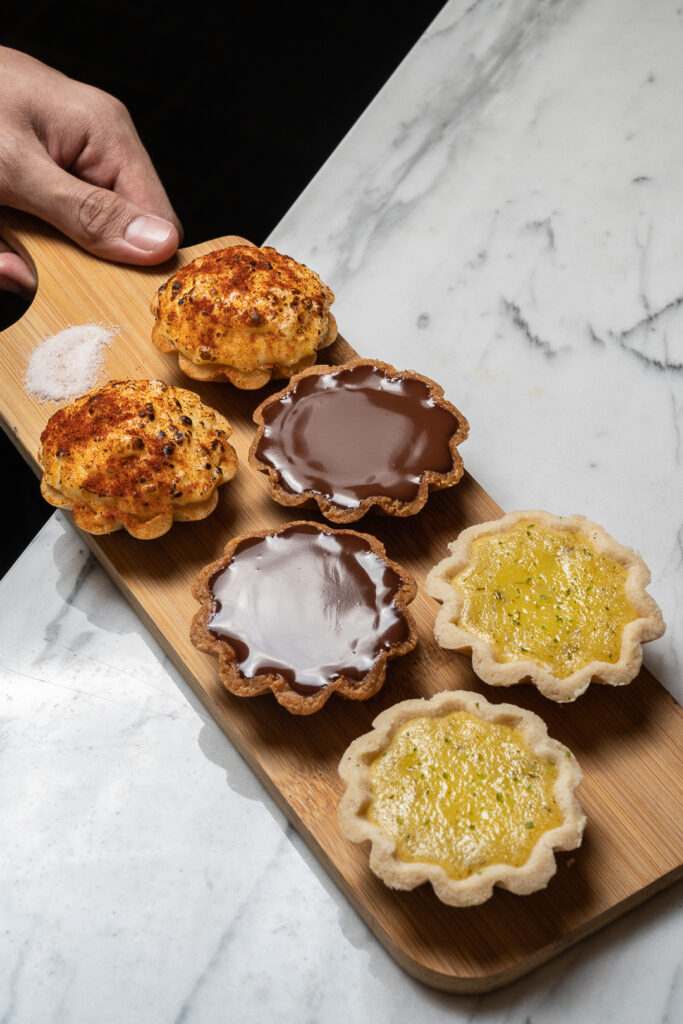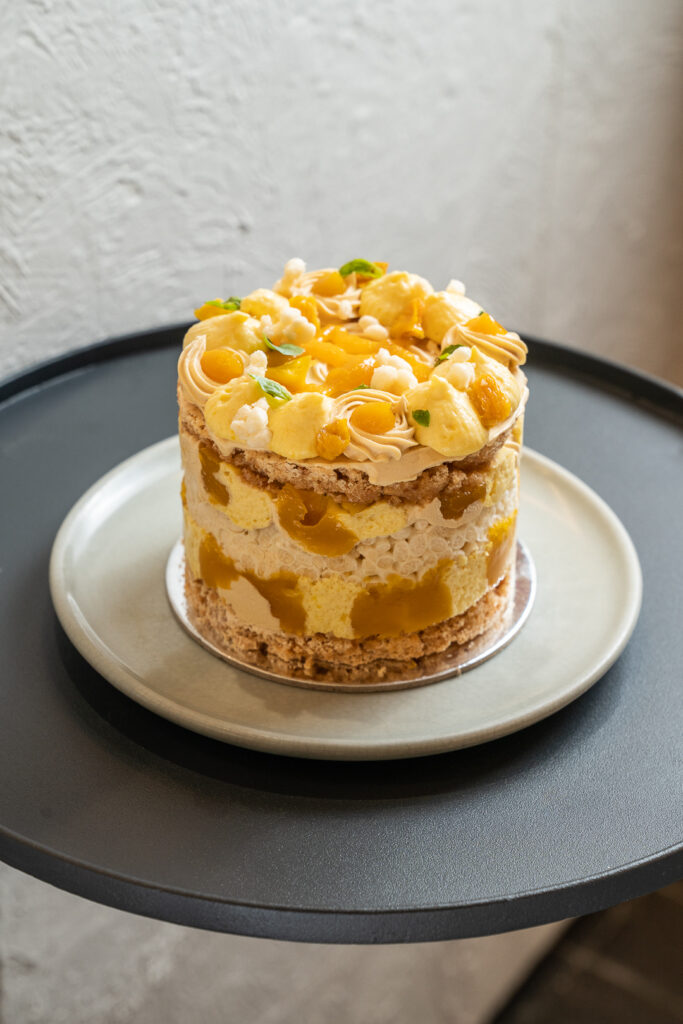 It wasn't an easy road, of course, shares Roque. After all, with intercity movement being restricted unpredictably, how exactly do you sustain the sold-out, fully booked success of their then-2-year-old restaurant? It was back to square one.
With dine-in out of the question, the biggest challenge was how to keep their regulars and to attract new customers. The answer they found was to focus on what they had and what they could control: their products.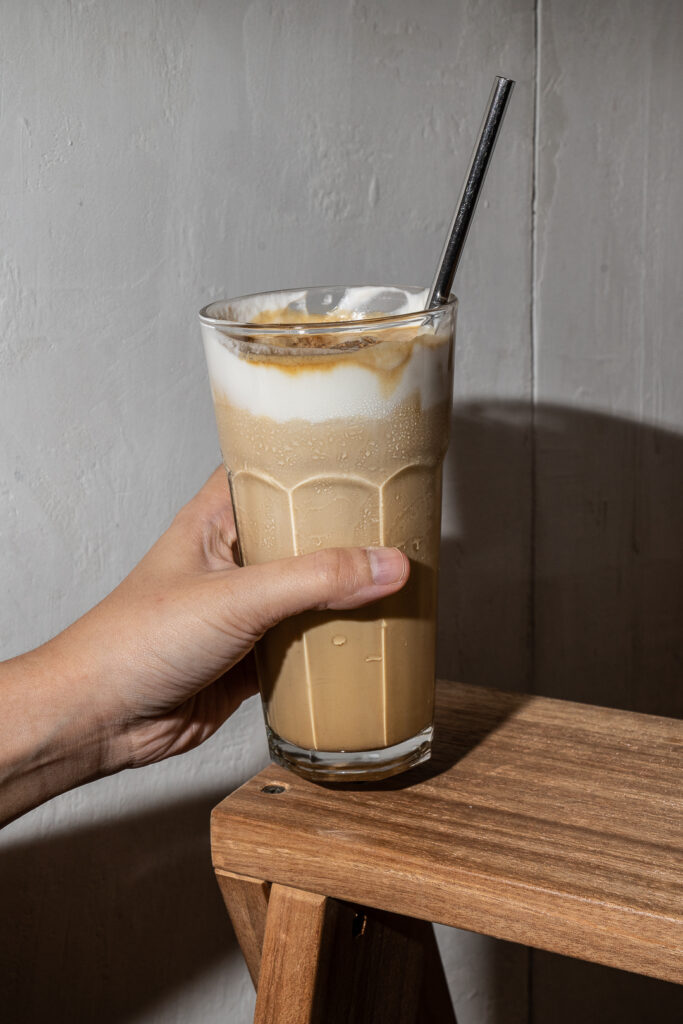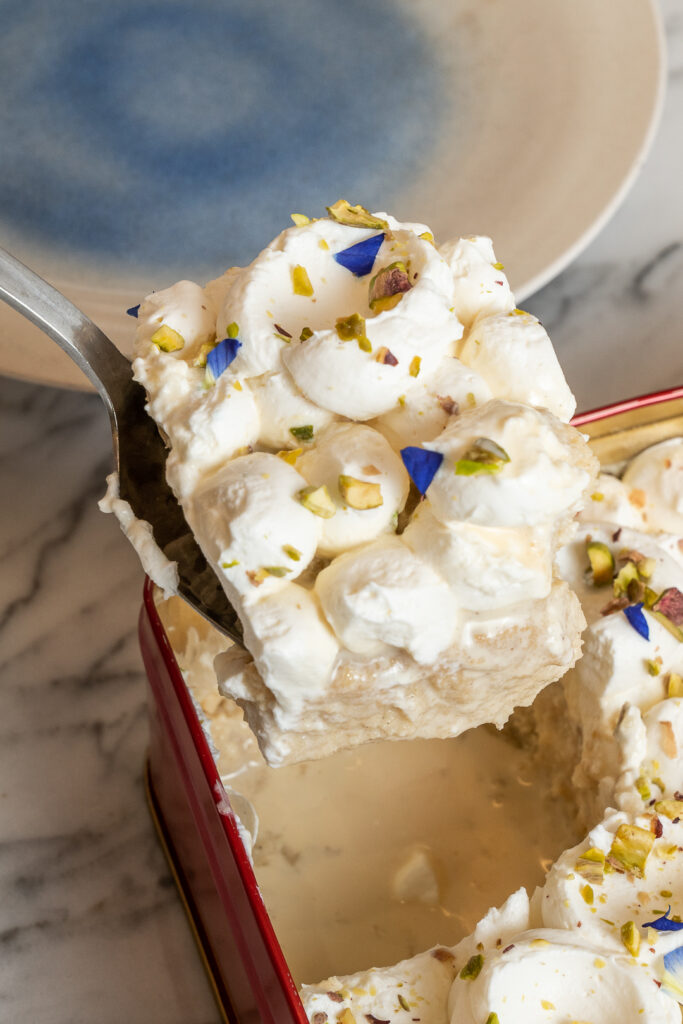 In 2020, they launched their Afternoon Bakes, a limited offering of pastries and baked goods—on sale only for a week, until the menu is changed once again. This kept the Half Saints' team afloat, keeping them creative and busy (and most of all operational), while still holding on to the restaurant's mission of "nourishing the hearts and souls of people."
Messages from customers saying that Half Saints' food made their day also influenced their pandemic strategy.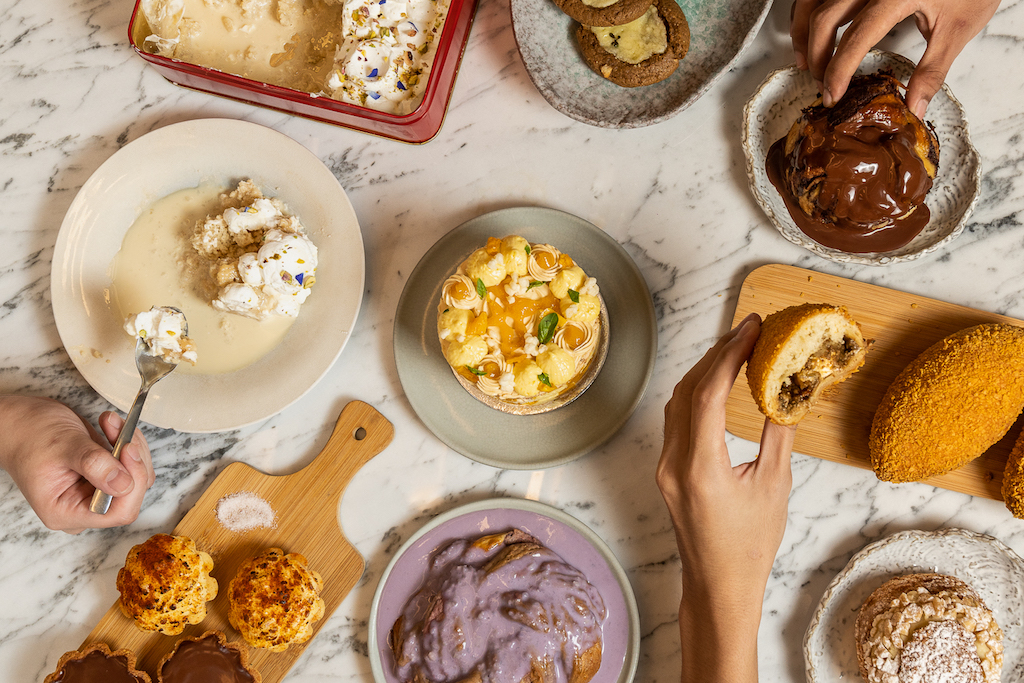 Afternoon Bakes was an avenue for Half Saints to experiment while ensuring they could minimize wastage from their inventory and products. New pastries would be developed and tested in just a few days, set to be sold for the next week. "Some ideas would be executed successfully, some we just have ideas floating. At that time, we just thought, let's just have fun," Roque shares. "If nobody buys it, it's okay, it's only for one week. If it's successful, okay, [we come up with the] next."
[READ:
Why the women behind Half Saints reinvented their already successful menu
via F&B Report]
The overall success of their Afternoon Bakes led to them ultimately investing in a new space this 2021. Right beside the restaurant, they opened the bake studio—a visually lighter and more flexible space in contrast to the restaurant's more intimate, industrial design.
"Everything here was [in the old space], so you can imagine, it was cramped, and it wasn't a nice environment to really make pastries, so we decided to finally invest. The demand for our bread and pastries was as demanding as the demand for the food we had at the restaurant," Roque says.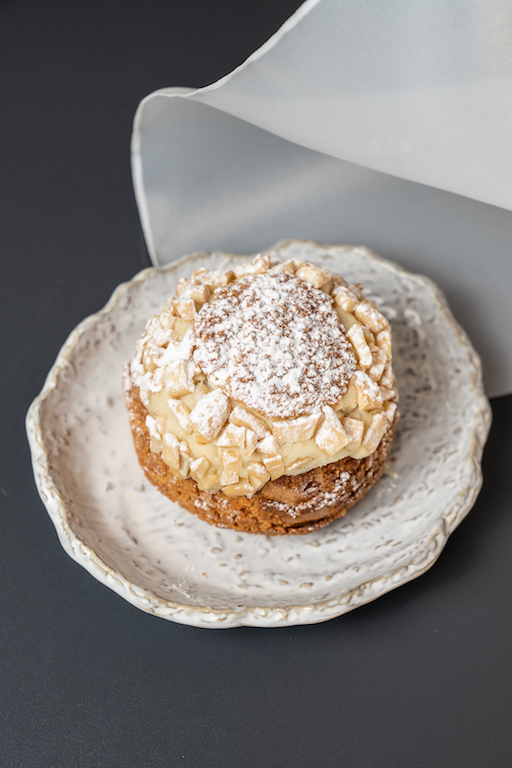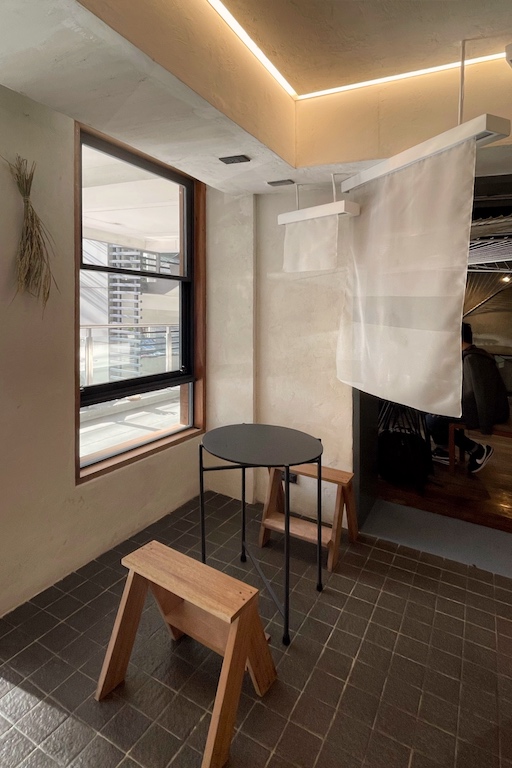 The bake studio is inspired by the star of Half Saints' Afternoon Bakes, the Merci Buko—a choux au craquelin filled with coconut cream custard and coconut meat. Elements of the pastry are incorporated into the studio's design: The white cloth panels are akin to the strips of coconut meat, while the stone floor takes inspiration from the cream puff's pili nut topping.
But the real highlight of the studio is its flexibility. The studio's bar, for example, is fixed with wheels, making it easy to move around the space to suit specific needs. "We can move it towards the window if it's pick-up season, [and] if we need more kitchen space. If we need more dining space, we can move the bar towards the kitchen," Roque explains. Even the furniture is light and easy to move.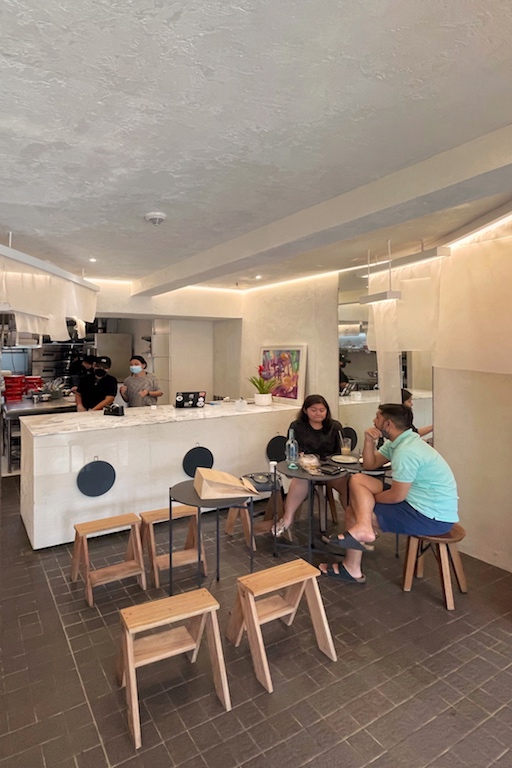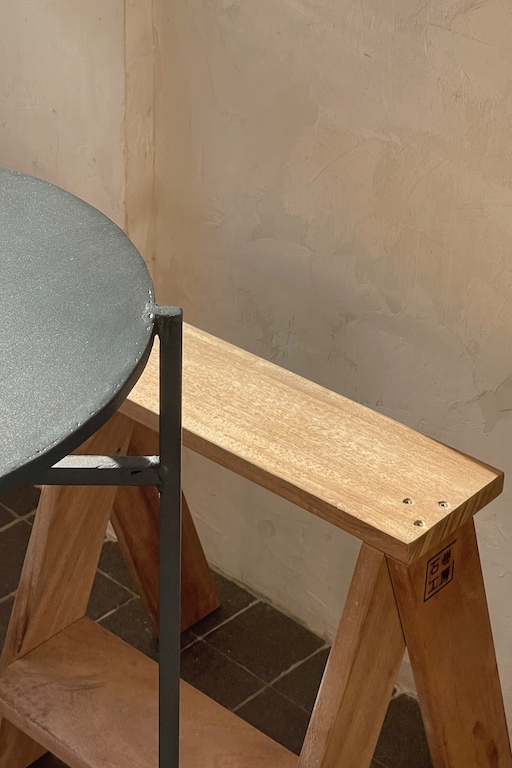 The cloth panels that decorate the studio are also removable to make the space apt for small exhibitions or events. Roque reveals this has always been something they wanted to do, but have only been able to achieve now with the new bake studio.
To be able to craft an additional menu and open a new space is ultimately impressive. It's no easy feat, especially while navigating these unprecedented times.
Chatting just by the bake studio's moveable bar, I congratulate Roque, but she says it's too early for that. I suppose so; most things are still unpredictable at this point. But if I may place a bet on my intuition here, I'd say that as long as they stay armed with creativity, mettle, and a sharp focus on their restaurant's mission, they'll just keep growing. Growing even better, at that.
Half Saints is located at GF, The Ignacia Place, 62 Sgt. Esguerra Ave., Quezon City. They are open daily from 12:30 p.m. – 8 p.m. for dine-in and take-away.