So you've heard about smishing, or if my guess is right, and at this rate, it likely is, you have probably received these sketchy job offers, quick money loans, or even texts that say you've won a hefty prize.
As irresistible as they come, these are meant to steal your information whether personal or financial. These could be your credit card number and PIN, or because they are prevalently in use now, your e-wallet details. All you have to do is click a link they've sent and you'll soon be in a wormhole of fake websites asking for your information. Yikes. So the first lesson is to never click any of those links, and as satisfying as it is to flip the script on them, resist the urge to reply.
You can also block that number. But as you know, they can still reach you because somehow your contact number is on their "list." So here's a small trick that will stop those pesky texts from reaching your inbox in the first place: this little feature called message filtering.
How to enable message filtering
By enabling message filtering, you won't be notified upon receiving these spam texts. Instead, what it does is sort messages from unknown numbers into an "unknown senders" tab in the Messages list.
To enable this feature using Google Messages on an Android device, click on the three dots beside the search bar on the Messages app. Select settings, then Spam protection. Once there, turn on the button that enables said feature, which tags suspected messages as spam.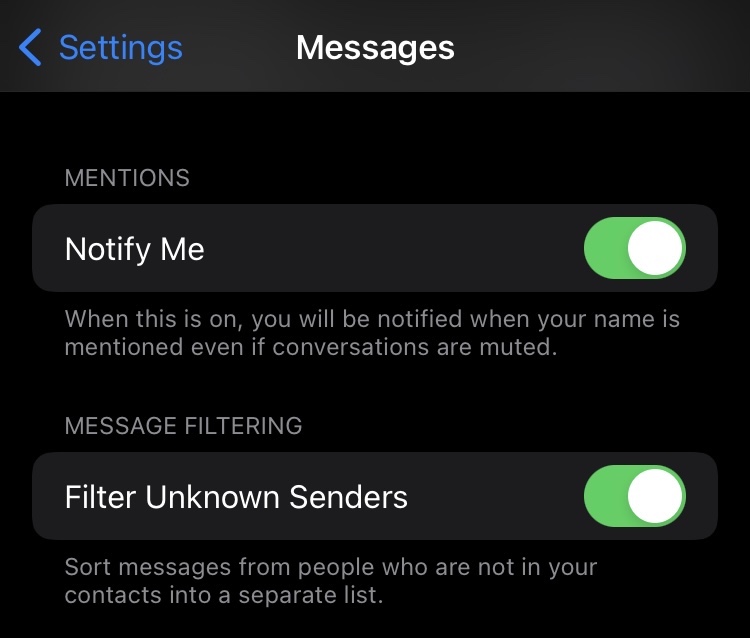 On an iPhone, go to settings, then click on Messages. Scroll down until you find Message filtering. Turn on the button that says "Filter Unknown Senders" and you're good to go. Here's a small catch though: You'll have to constantly check it to see if a legitimate message from someone you know whose number is not in your contact is in there. A small price to pay while we wait for the government and telecommunication companies to come up with a solution.
But what are the government and telcos doing?
Last we heard, one major telecom player has invested $7.25 million to boost its anti-spam capability since the pandemic started. The government, meanwhile, has organized an interagency group consisting of 10 government agencies, including the Bangko Sentral ng Pilipinas and Department of Justice, to "catch those behind the epidemic of smishing and text spams luring Filipinos into spurious investment schemes and work-from-home jobs."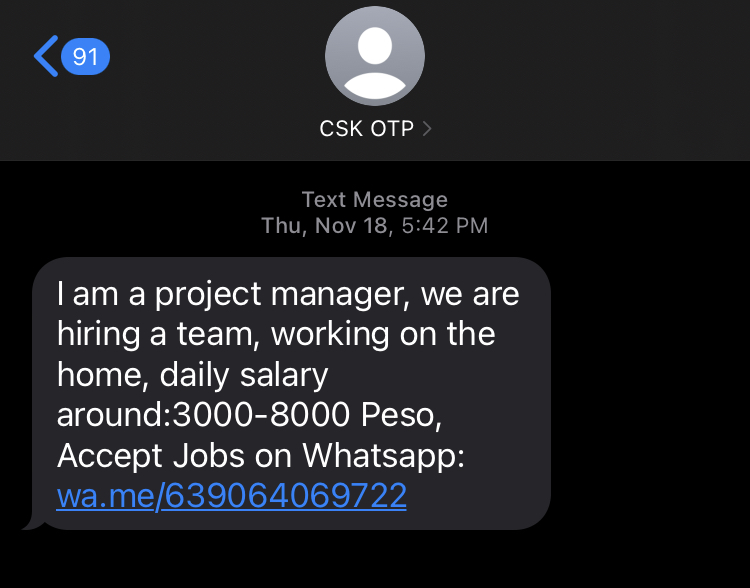 The prevailing theory behind these text scams, according to the National Privacy Commission (NPC), is an "organized global syndicate." And then there's this portable device called a text blast machine that can transmit up to 100,000 texts an hour by tapping nearby cell towers, thereby functioning as portable cell sites that can send out messages in bulk but not receive them. Such devices are apparently on sale on Facebook, Lazada, and Shopee.
The way the government sees it, there are ways to go about this smishing problem. One can be to adopt a mechanism similar to the US that enables the receiver to identify a number via caller ID. This is only applicable so far to calls but the NPC is hopeful that such technology can be used to block SMS scams in the future.
Legislators are also pushing for the passage of the SIM Card Registration Act, which will require SIM cardholders to submit traceable personal information, which will then be stored in a SIM card database. Noble right? But with the security issues surrounding government databases and data management, critics can't help but ask if this will result in a bigger problem. The bill only awaits the signature of President Rodrigo Duterte for it to become a law after it was ratified in early February by the Senate and the House of Representatives.