Malabon, the so-called local Venice for being prone to rising waters, is also a city steeped with heritage. It is probably most known for the pancit Malabon and its variety of kakanin, but it also boasts several heritage houses and churches.
A popular tourist attraction in the city involves embarking on a tricycle tour, which takes visitors either through these various heritage sites, or through the city's home-based eateries. In fact, to say Malabon is rich in these homegrown food businesses is an understatement, because it'll be near impossible to find a restaurant that isn't named after someone or their mother. Or daughter.
[READ:
The cultural importance of the original Dolor's Kakanin
via F&B Report]
But more than the strong familial pride you can obviously get a sense of through the various establishments, there's also a distinct Malabonian generosity you can expect at these restaurants most-recommended and frequented by locals.
Betsy's Cake Center
10 Rizal Ave Ext, Malabon, Metro Manila
Daily 8 a.m. to 1:30 p.m.
Betsy David, the current owner of the eponymous cake center, shares that she had taken over the reigns of the pastry shop from her mother. A natural cook with a home economics background and a strong innovative sense, David grew the business from initially selling breads and jelly rolls, to now having a wide variety of cakes (including fascinating hybrids like the branzival, a combination of brazo de mercedes and sansrival, and the Ramona, which melds together yema, chiffon, buttercream, and chocolate mousse) and pastries. Popular items include the tocino del cielo, which are tiny, sweet leche flan-like treats made with only eggs and butter; and their generously filled cream puffs, which apparently sell fast.
And despite nominally being a "cake center," Betsy's also serves hot meals. Must-trys are their selection of cuapao, from which you can choose four of their housemade fillings of pork, chicken, vegetables, and even truffle mushroom. "May truffle dito, akala niyo," David cheekily tells us during our shoot.
The only catch is that Betsy's closes early at 1:30 p.m. every day, so be sure to make it your first stop if you decide to visit.
Judy Ann's Crispy Pata (formerly Jamico's Restaurant)
201 Gen. Luna St. Malabon
Daily 10 a.m. to 10 p.m.
No, it's not named after the actress. It is named after the daughter of the family that started Jamico's Restaurant in the '70s, another institution in the Malabon food scene. As their restaurant signage suggests, they're most known for their crispy pata.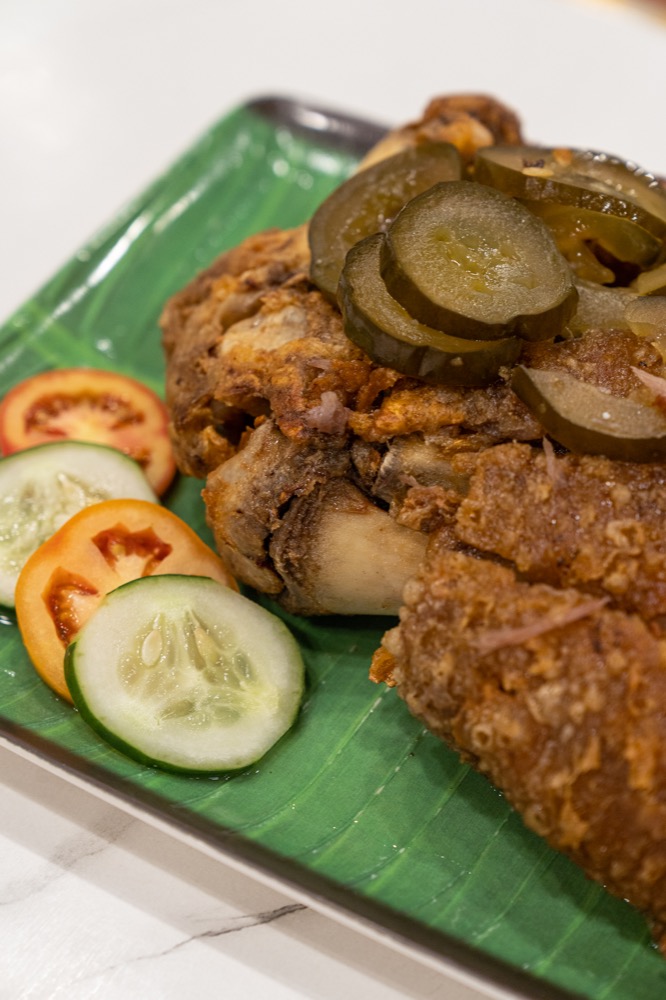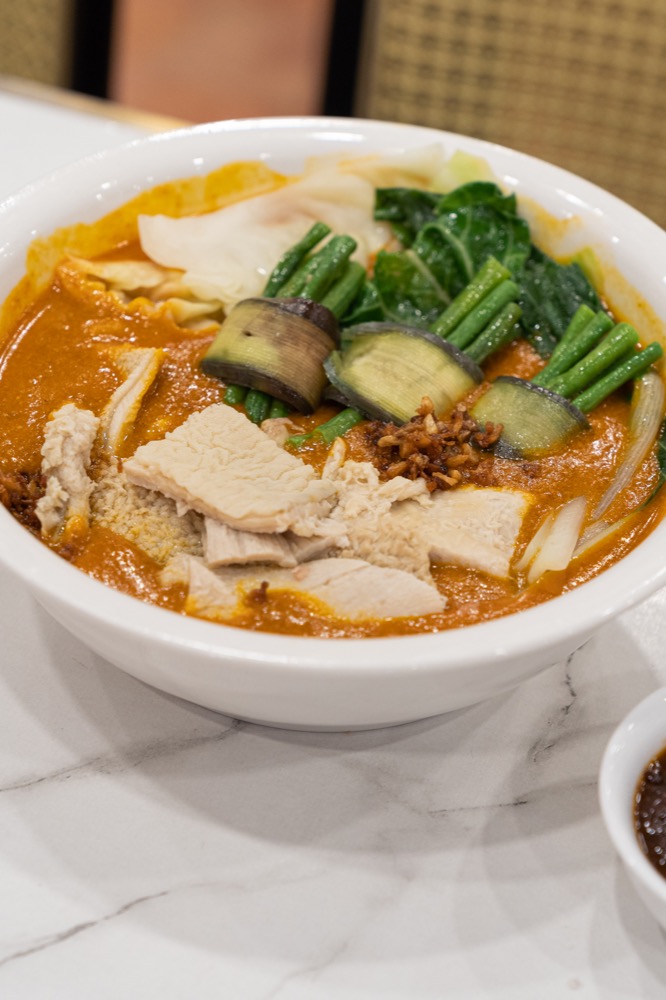 What sets Judy Ann's take on the putok-batok ulam apart is that it has a tinge of sweetness to it. It also comes topped with a serving of pickles, the tartness of which can help cut through the salt and fat. The tender meat and crispy skin can be enjoyed on its own, or dipped in their housemade soy sauce-vinegar mix. Or possibly also even enjoyed alongside other dishes, like the equally delectable kare-kare.
Nanay's Pancit Malabon
37 Gov. Pascual Ave. Malabon
Daily 8 a.m. to 6 p.m.
Nothing like a true Pinoy merienda than having a bilao of pancit. At Nanay's Pancit Malabon, you can order it in various sizes (the different bilaos and their corresponding prices are hung across its walls, and you order by telling them the price. As in, "Isang 300 po," as I did during our shoot.)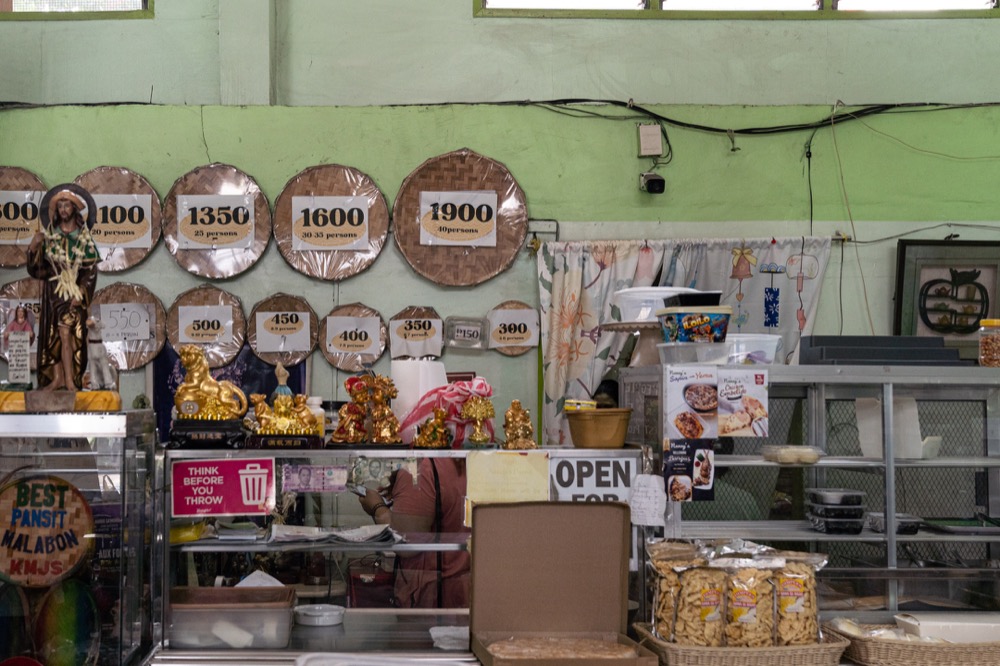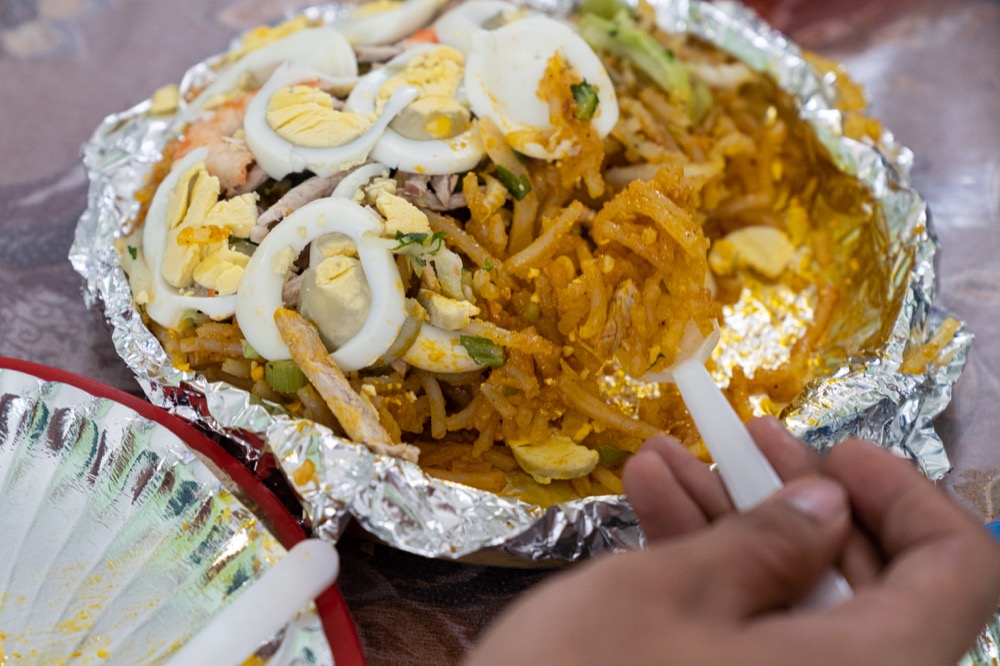 It's perfectly seasoned without any more need for calamansi or condiments, though they do have a mild fish sauce available on each table. Each bilao is bursting with noodles and generously topped with slices of egg.
It's a humble establishment (no aircon, sorry), but the filling meal and affordable prices make up for it.
Arny Dading's Peachy-Peachy
254 C. Arellano St. Malabon
Mondays to Fridays 6 a.m. to 7 p.m., Saturdays and Sundays 7 a.m. to 7 p.m.
Food is a family affair for the Yambaos, who started Arny Dading Peachy-Peachy back in 1983. It's named after the husband and wife, Arnulfo and Eduarda. Their first and most iconic product remains to be their "peachy-peachy" (how they prefer to spell pichi-pichi), made with fresh cassava. Their pichi-pichi comes in four flavors: original, pinipig, langka, and ube, and can be topped with either cheese or coconut.
Aside from continuing the pichi-pichi business, the Yambao children have all also ventured into their own niche food interests, which now also make up Arny Dading's vast inventory. They have frozen products such as bangus, longanisa, tocino, and fish balls, as well as homemade ice cream and ice buko, fruit juices, peanuts and dried seafood snacks, and even condiments like atchara, chili oil, and patis.