Good news: Free Wi-Fi will be available along Edsa starting June 12
We hope it's faster than the flow of traffic
Jun 11, 2017
Yes, you read that right. There will be free internet access along Edsa starting June 12. This is one of the promises President Rodrigo Duterte made during his first State of the Nation Address in 2016.
"To make the Edsa project happen, the Department of Information and Communications Technology employed strategies, which include providing access points in all MRT stations and in between stations and enhancing infrastructures for cellular services along Edsa," the Presidential Communication Office told Inquirer.net.
According to Inquirer.net, the "high-speed Internet services" will prioritize "the stretch of Edsa from Cubao to Guadalupe."
If ever you travel along Edsa every day, don't put that free Wi-Fi to waste. Here are some of the apps that you should put on your phone.
Sakay.ph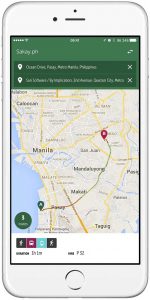 If you're passing through Edsa to get to the innards of Quezon City, Sakay.ph will give you instructions on how to commute from wherever you are. While the bus you're riding hasn't moved an inch yet, it is best to use that free Wi-Fi to find out the best commute route once you're out of Edsa.
News and reading apps


Welcome to the age of information. If you find Facebook annoying due to fake news and trolls, then you must get a trusted news app. If you don't want to read hard news, then go for long form essays or fiction. With the free internet access, you can probably finish two or more long form essays.
Duolingo

Are you planning a two-month vacation in Italy? Or maybe you'd want to read Antoine de Saint-Exupéry's The Little Prince in French? Then, download Duolingo. The app offers bite-sized language lessons. In fact, you can learn new things in just five minutes. As of now, Duolingo offers lessons in 22 languages. Soon, the app will also offer lessons in Korean and Japanese.
If Edsa is included in your commute route, you can probably finish a level or two each day.
Headspace and other meditation apps

Did you have a bad day at the office? Or, are you feeling extra tired? Don't let the traffic put you down further. Put your earphones on and seek inner peace with meditation apps. Headspace is one good example. The app helps you meditate for ten minutes and that's probably a good way to start your two-hour commute.
Elevate


Some people just love to play games during their commute. However, there are those who dread meaningless games. If you're one of them, Elevate is probably the right game for you. The app is a fun brain training app that helps you improve your memory and thinking skills. Using this app during your commute will make your trip seem fast.

Netflix and other streaming apps

If you're on the road for an hour or two or even more, you can use that time to unwind with an episode or two. Maybe you're obsessing over Master of None or Designated Survivor. And, we're not going to stop you from doing so as you can reap some health benefits from watching TV shows.
This new development is definitely not a solution to traffic, but, at least, it keeps you from getting bored. Just a word of caution: Never use public Wi-Fi to access personal and sensitive information. And in case the internet speed is slow, put that phone back in your pocket and read a real book.
Header photo courtesy of Inquirer.net/Edwin Bacasmas
Read more:
These podcasts will get you running before, during, and after work hours
Labor force, rejoice: You'll never be late for work again
Armi Millare made us a travel playlist
The solution to Manila's traffic problem may be in Pasig River 
TAGS: Edsa Elevate Free Wi-Fi Headspace Netflix News read sakay.ph