This National Letter Writing Month, we dare you to write a letter to your future self
It got us thinking, is letter writing a lost art?
Apr 13, 2018
When was the last time you wrote a handwritten note? You know, the kind that you used to pass around in class, or a well-written letter you so desperately wanted to give your crush but never did? That kind. If the answer is no, then it's time to get your pen and paper ready.
April is National Letter Writing Month. It's about encouraging, introducing, and inviting people to write at least one letter to anyone—be it to a friend, a family member, or your (future) self. Handwritten letters demand attention and mindfulness. We pause to think of the right words because we can't just hit the "delete" button if we get it wrong.
Before we had SMS, Messenger, or FaceTime, there was snail mail. I remember collecting stationery as a kid, including stamps which got me into writing letters in the first place. I'd sheepishly ask for my classmates' addresses and write to them, then snail mail the letters through the local post office.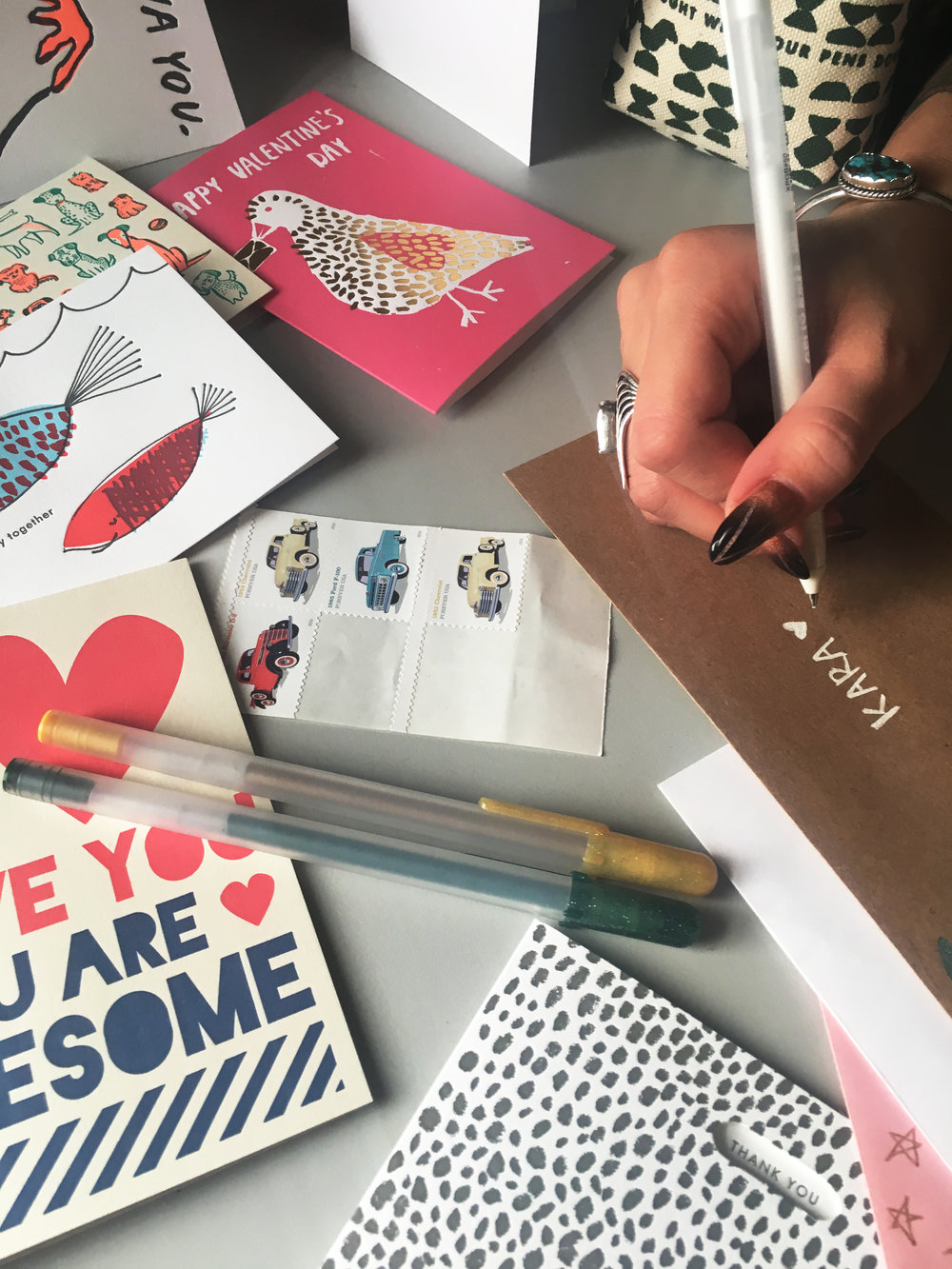 Write_On, a mission-driven campaign that wants to promote joy, creativity, expression, and connection through handwritten correspondence. As a challenge, they created the 30-day writing challenge where you'll write 30 letters in 30 days during April. If this is something you can't commit to, you can try our route: Write a letter to your future self.
Think of it as a time capsule, where you'll hide it for a few years (maybe five years from now, up to you) then retrieve it once the time has come. You can write where you are in life or what you're feeling at the moment, and you'll be surprised at how much things have changed by the time your future self is reading the letter. It's a fun activity that lets you get in touch with yourself, plus you get to practice letter writing again.
If you still want to take on the 30-day writing challenge, here's a little guide from Page Stationery:
Write a sweet note to a family member and tell them why you love them.

Send a note to a favorite teacher/professor who had a big impact on you.

Share kudos with a local business who always provides you with great service.

Fan mail out with a note to a brand/company you are obsessed with and tell them why you are a part of their tribe.

It's tough being a kid these days, so share a note with a special kid in your life.

Let's get deep and send a letter to your future self. What are you looking forward to reminding yourself about in 20 years?

Oh, that significant other in your life. Why not write a note saying what you love most about them?

Your celebrity crush should feel some old snail fan mail love this month! (Dear

Rob Lowe

…)

The time is now to connect with a state or local representative to express your thoughts on an important issue.

Giving makes you feel so good. Send a sweet note with a donation to a charity you support.

The postman, the FedEx guy, or trash collector all deserve some written gratitude.

Sneak a note to your neighbor complimenting them on their beautiful yard or how much you love being invited to their cookouts.

Get off your phone and write a note to that person you only email or text with.

Reach out and tell someone that changed your life—whether they know it or not.

Take a moment to write a letter of encouragement for someone you know is having a difficult time. A snail mail hug!

Write to a favorite author or artist and describe what their art means to you.

Share a favorite recipe and a fond memory of a friend.

Connect with that one college roommate and remind them of that one time you both did that silly or stupid thing.

Tell a coworker you see every day in a little note why you enjoy working with them.

(Remember, we will accept a Post-it note!)

Send a letter of thanks to someone who is currently serving or did serve in the armed forces.

Pick someone who inspires you and give them a written high five.

How cool is it send airmail to someone who lives in a different country? Try it!

Craft a love note to your mother that is not a Mother's Day card.

Send greetings to a new or soon-to-be-born baby describing the wonderful world they are about to enter.

A letter of congratulations someone you know did something awesome today!

Nothing beats a hug but a written letter of sympathy is the next best thing.

Reach out and share with someone currently seeking refuge in shelter words of encouragement.

Compose that perfect letter to the editor of your favorite publication. You may be surprised—and be published.

Pass on some words of wisdom or write a letter of recommendation for a new graduate.

Thank your grandparents or share a note with an elder at a local home and remind them of why they are the part of the greatest generation.
Header courtesy of Unsplash
Read more:
21 calligraphy stores to check out in the Philippines
Here are the best notebooks for bullet journaling
Read more from Bea Llagas:
Self-care is the most important wellness trend of 2018
TAGS: calligraphy culture events fixture journaling letter writing national letter writing month nolisoliph stationery writing