Here's a stress-free guide to cheese plating
Schedule your cheese and wine night now
Apr 16, 2018
I'll be honest, I was only introduced to the glorious combination that is cheese and wine late last year. Aside from the fresh cheeses we're already familiar with—ricotta, mascarpone, mozzarella, and cheddar—there are far better options in the cheese realm that are worth having a night over, accompanied by good wine.
Cheese boards can either be fun or scary, depending on which end you're at. We thought it's about time you learn how to create your own cheese board (provided that you're completely inexperienced), in five easy steps no less.
How many cheeses do I need?
It depends on how many guests you're having, but according to resident cheese expert Joe Baird of the California Milk Advisory Board (CMAB), a good rule of thumb is to have three to five different cheeses.
How do I choose my cheese?
You have two options: by texture or by source. You can choose from hard, soft, soft-ripened, fresh, or semi-hard; or decide if you want cow's milk cheese, goat cheese, sheep's milk cheese, or buffalo. If this is your first time creating a cheese board, we suggest you choose texture/type.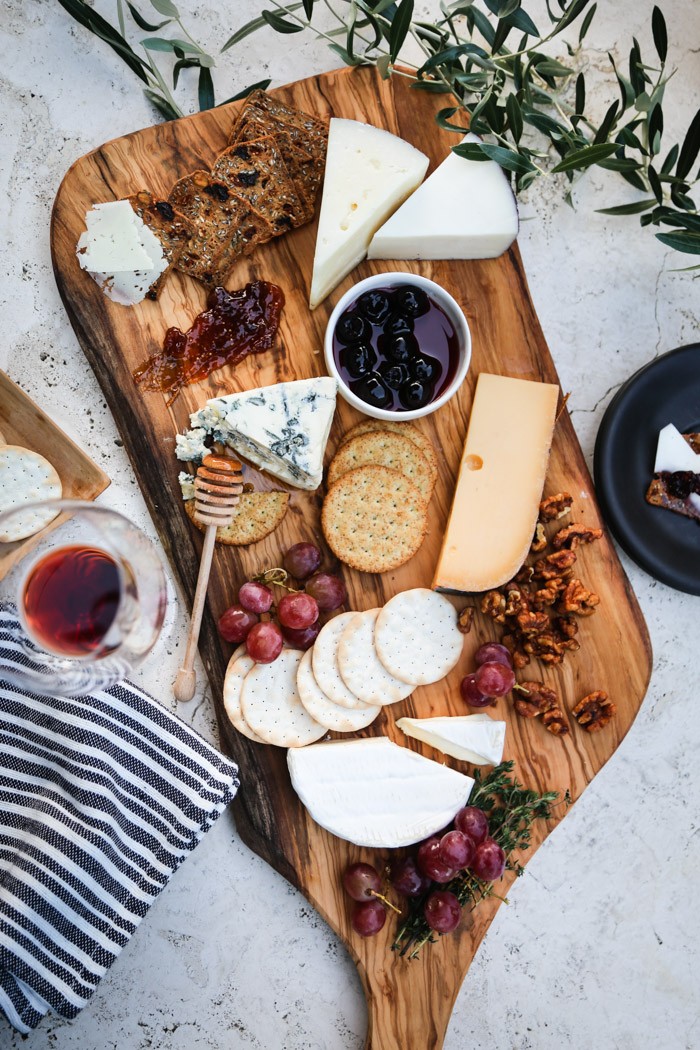 Choosing complementing snacks
Charcuterie is optional, but Baird suggests a maximum of three types of meat. Throw in a bunch of fresh grapes for sweetness, assorted jams (natural!), bread, nuts like walnuts, cashews, and almonds, and of course, crackers. Baird says to never skimp on the crackers. The more the merrier!
What kind of wine should I get?
It's easy to follow standard cheese and wine pairings like blue cheese with cabernet, or smokehouse jack with chardonnay. But most importantly, trust your gut. "Chances are, if you like eating something and drinking something else, you're going to like eating and drinking them together," says Holly Kenna from Bedford Cheese Shop.
Putting it all together
This part comes down showing your personality, especially if this is your first cheese board. Keep the meats apart or in-between cheeses so they don't look cluttered. You can place a bowl of olives or small jar of jam in the middle to make it look clean and more organized. If you're feeling extra, you can even garnish it with edible flowers. Keep in mind that your board has to be accessible for everyone, so guests won't have a hard time reaching and passing the cheese board as you go.
Lastly, enjoy your cheese and wine night!
Header courtesy of Unsplash and Wholefully.com
Read more:
Why you shouldn't shy away from that glass of wine
Read more from Bea Llagas:
These are the foods you should be eating if you're anemic
5 healthy food trends to help you win your fitness goals
TAGS: california milk advisory board cheese and wine cheese board cheese plating cheese plating 101 food trends how to make a cheese board nolisoliph wine pairing