Think you know exactly what's in Bhutan?
#NolisoliTravels with Sandra Soriano
Jun 1, 2018
In case you missed it, Hacienda Macalauan's Sandra Soriano recently took us on a virtual tour of Bhutan on Instagram. She shared some photos from her week-long trip, and to be honest, those short snippets seemed nothing short of mystical—at least for me.
Bhutan is, for many, a far and exotic destination tucked deep into travel bucket lists. We know a few things about how we could get there, but aside from the mountain-side temples and stupas, and the people dressed in colorful kiras and ghos (the national dress of Bhutan for women and men, respectively), what exactly can we expect?
If you want to create your own Bhutan itinerary, let me stop you right here. The thing is, customizing an itinerary—on your own—isn't possible. At least not without the help of a Bhutanese government certified tour operator. Although traveling to Bhutan is said to come at a steep price, it is, for the most part (if not all), very much worth it.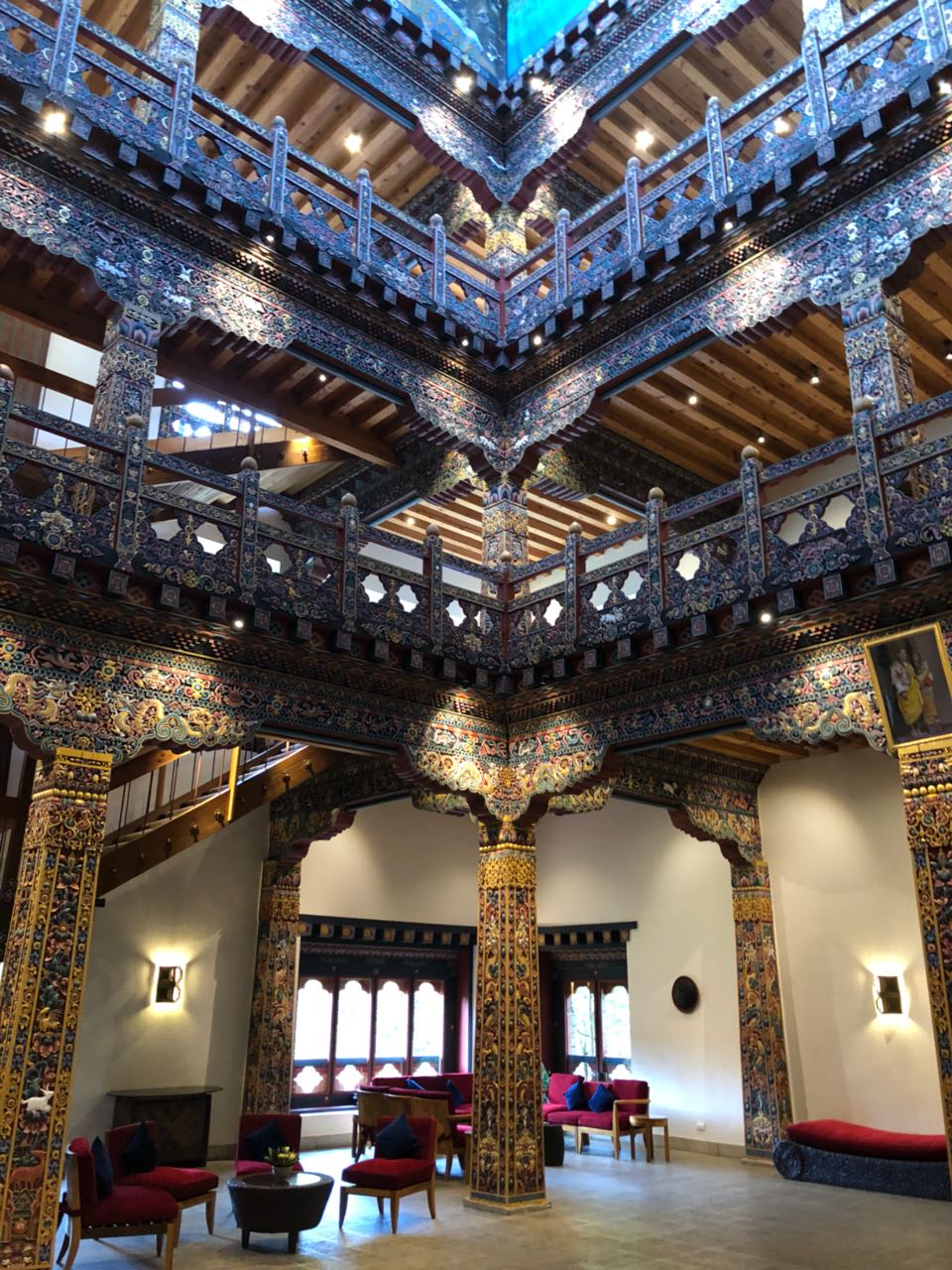 For transparency's sake, the "steep" price I'm talking about is a whopping $250 per day. But this generally covers everything—accommodations, meals, transportation, a tour guide, and even trekking arrangements if you wish to go hiking.
For her trip, Sandra enlisted the help of Himalayan Adventure/Dharma Bhutan. While itineraries have to be "approved" by Bhutan's Tourism Council, it doesn't mean that you'd be following a templated, run-of-the-mill, basic tour. You can still very much visit spots you'd like—just as long as you've arranged it with your tour guide.
Some tips from Sandra:
If you want to shop for rugs and other Tibetan goods, Paro is the place to go. Other goods are also available at the Handicrafts Emporium and Craft Bazaar in Thimpu.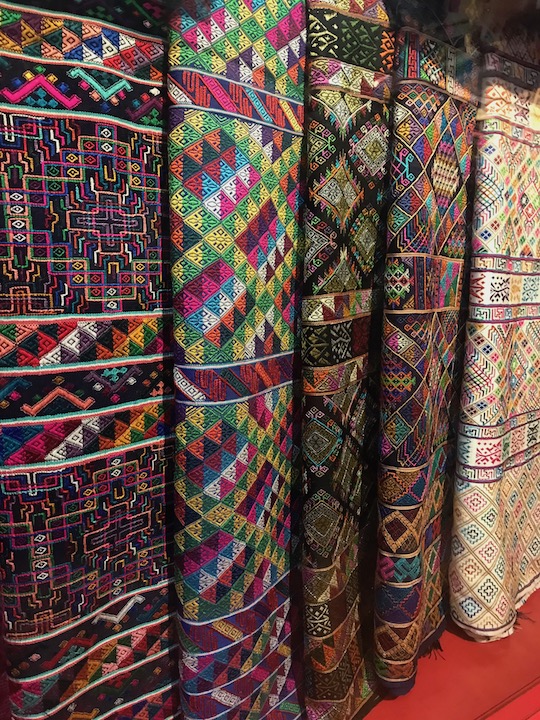 Sandra and her friends' trip, which took place towards the end of April, "coincided with a lot of 'auspicious' days" so they were able to witness ceremonies and prayers in the Dzongs they visited. If visiting Dzongs will be part of your itinerary, keep in mind that taking pictures and videos are not allowed there.
Many of the accommodations have traditional Bhutanese architecture and design elements. Be sure to maximize your stay in each by taking advantage of the spas in the hotels. A must-try: Bhutanese hot stone baths, which are also said to have "meditative effects."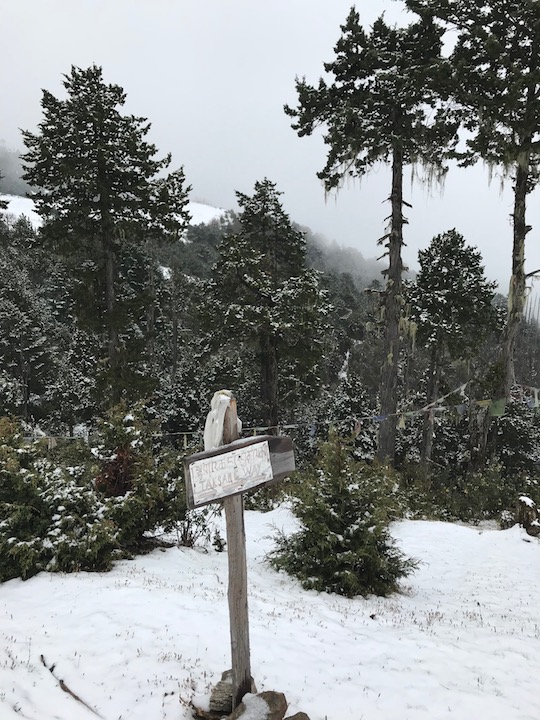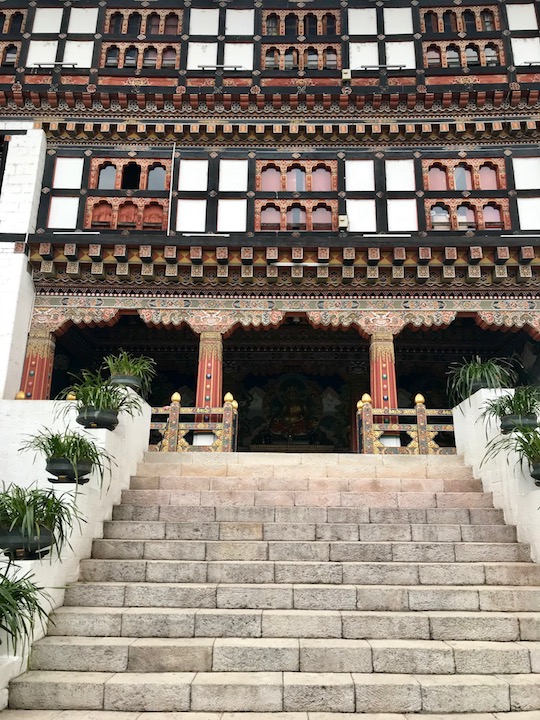 Be ready to hike. As Bhutan is a mountainous country, and many of the destinations are located on mountains, it's only natural that you'd end up on a hike one way or another. Be sure you pack at least basic, hikeable clothes and shoes. Here's a quick guide for beginners.
Sandra also recommends reading "Beyond the Sky and Earth: A Journey in Bhutan" by Jaime Zeppa as preparation for the trip. The book is an autobiographical work detailing the author's experiences and personal transformations during her three-year stay in Bhutan. It gives a good glimpse into life in the country.
Can't miss: Punakha Dzong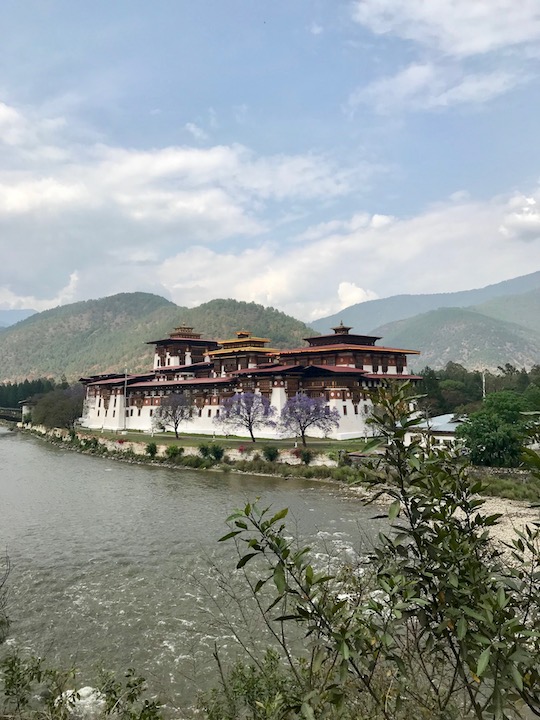 Known as the "palace of great bliss," the Punakha Dzong is the second oldest, second largest, and most beautiful dzong in Bhutan. It was the administrative center and seat of government of Bhutan until 1955.
Can't miss: Taktshang Monastery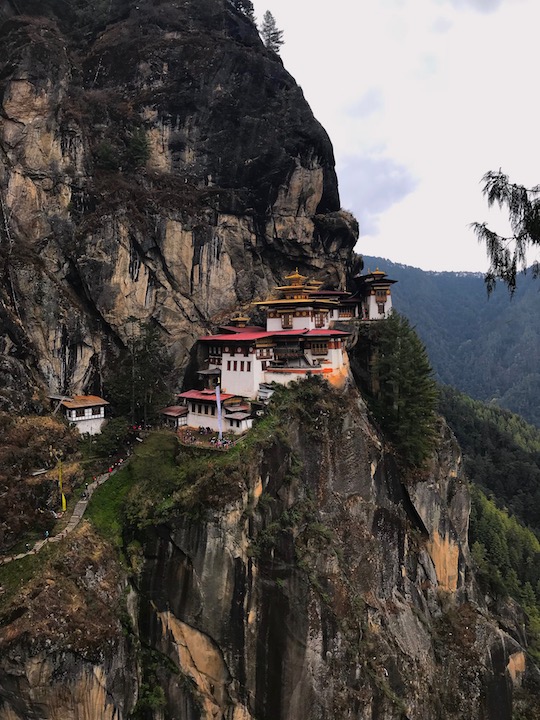 Taktshang or Tiger's Nest Monastery is located on the cliffside of upper Paro valley. It is a Himalayan Buddhist site and temple complex, which requires quite a hike to get to.
It hangs from the side of a cliff at 3,000m altitude. Legend has it that Guru Rinpoche, an 8th cenury Indian Buddhist master, flew here from Tibet on a tigress from Khenpajong.
It also appears to be the most popular image of Bhutan, becoming its "unofficial symbol" thanks to being the top spot used in travelogues, newspapers, and other media about Bhutan.
A deeper look into culture: Chimmi Lhakhang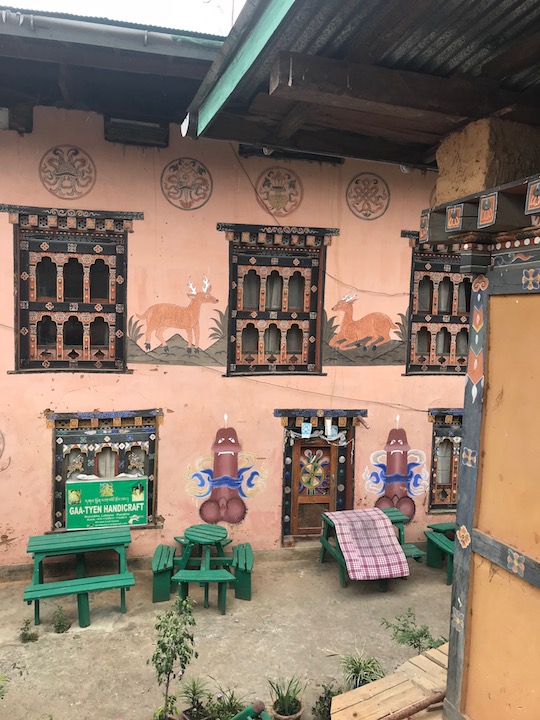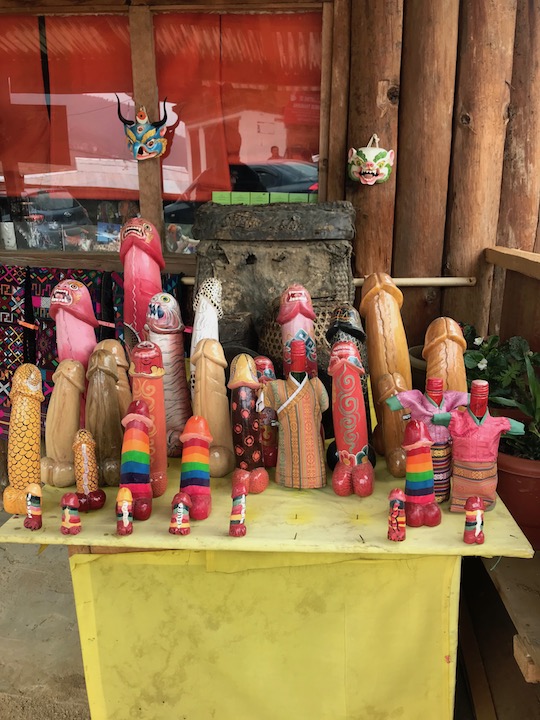 Located in Sopsokha village and surrounded by hundreds of prayer flags, Chimmi Lhakhang is a monastery built in 1499 dedicated to the "Divine Madman" Lam Drukpa Kinley. He was called the "mad saint" because of his unconventional way of teaching the Dharma.
At Chimmi Lhakhang, phallus symbols are painted on walls and carved wooden phalluses are hung on house tops. This tradition is said to ward off evil spirits. Chimmi Lhakhang is also a temple for fertility.
What to eat: Lots of chili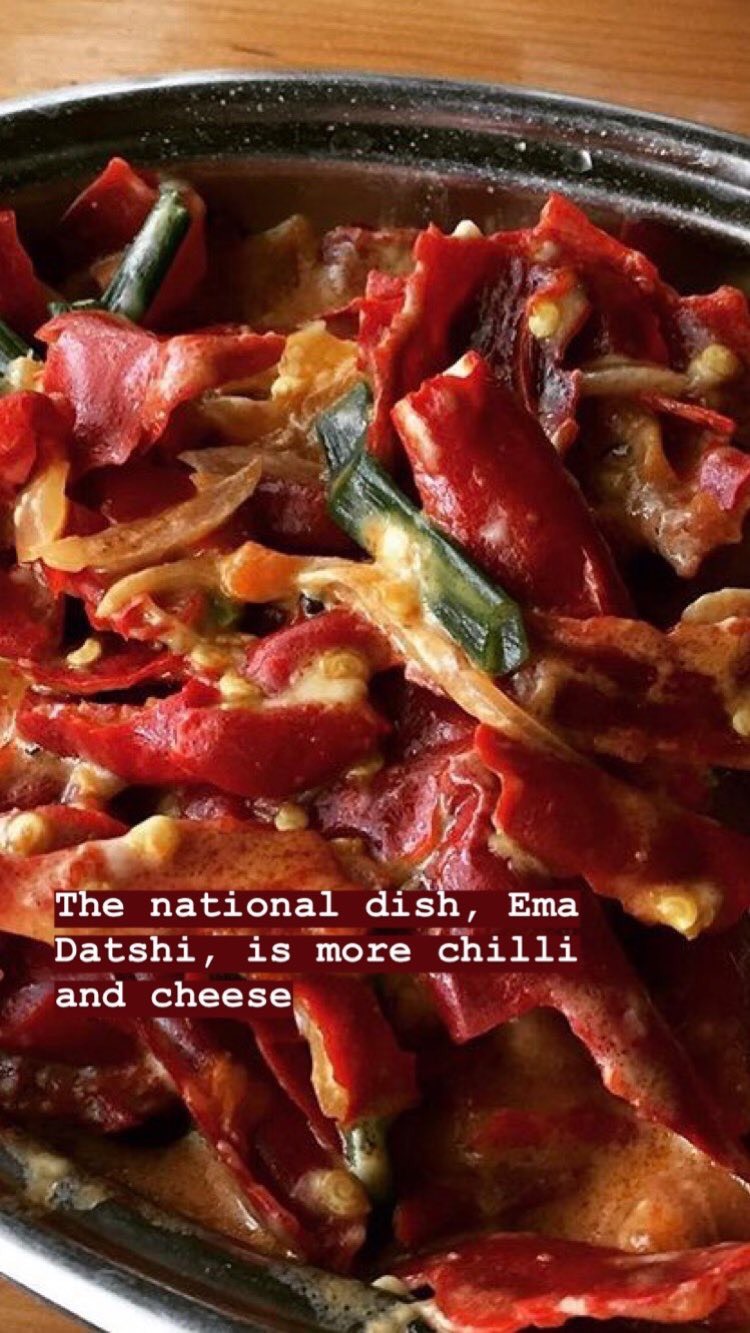 Ema datshi is the national dish of Bhutan, and is one of the most famous dishes in Bhutanese cuisine. The name of the dish literally means "chili" and "cheese"—characteristic of the main ingredients of the dish.
The chilies used are a mix of different varieties, from green to red.
In fact, chilies play a main role in Bhutanese cuisine, being present in almost every dish from breakfast to dinner. It may be attributed to the fact that chilies could help provide that sensation of heat—useful in the midst of cold winters.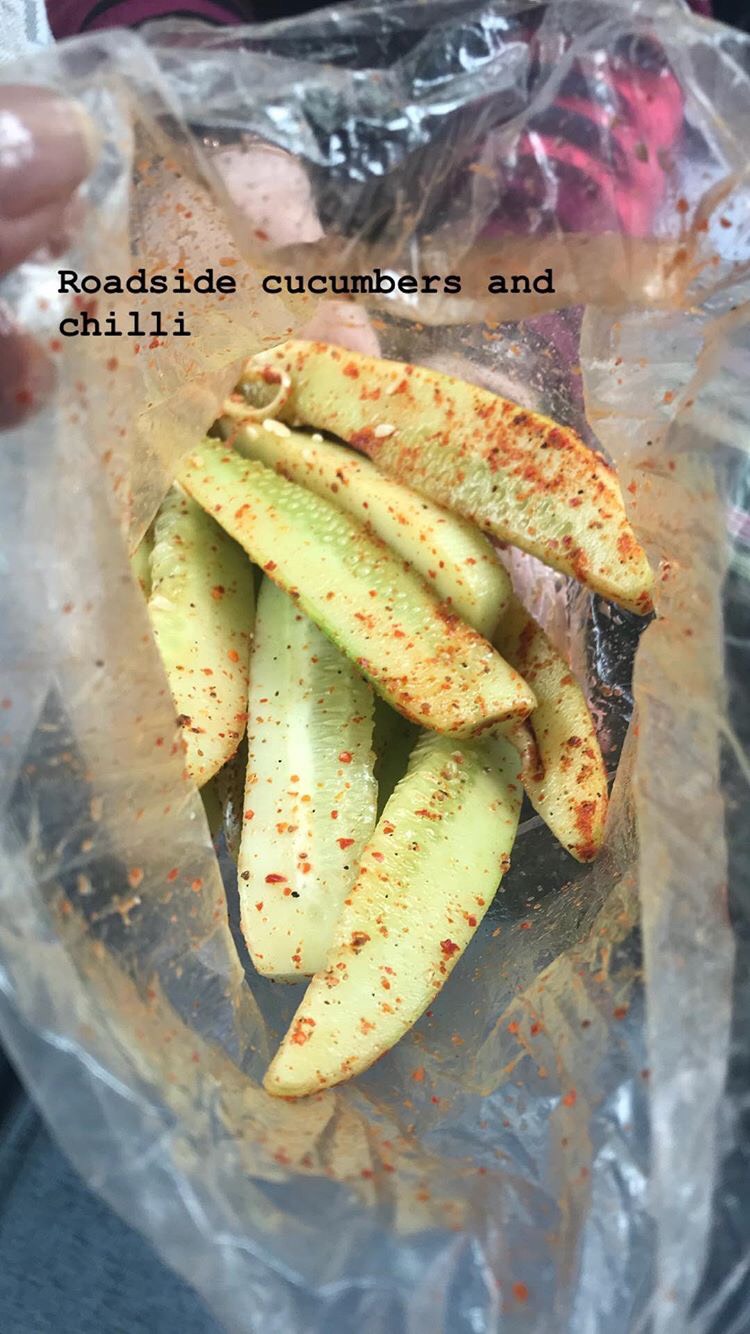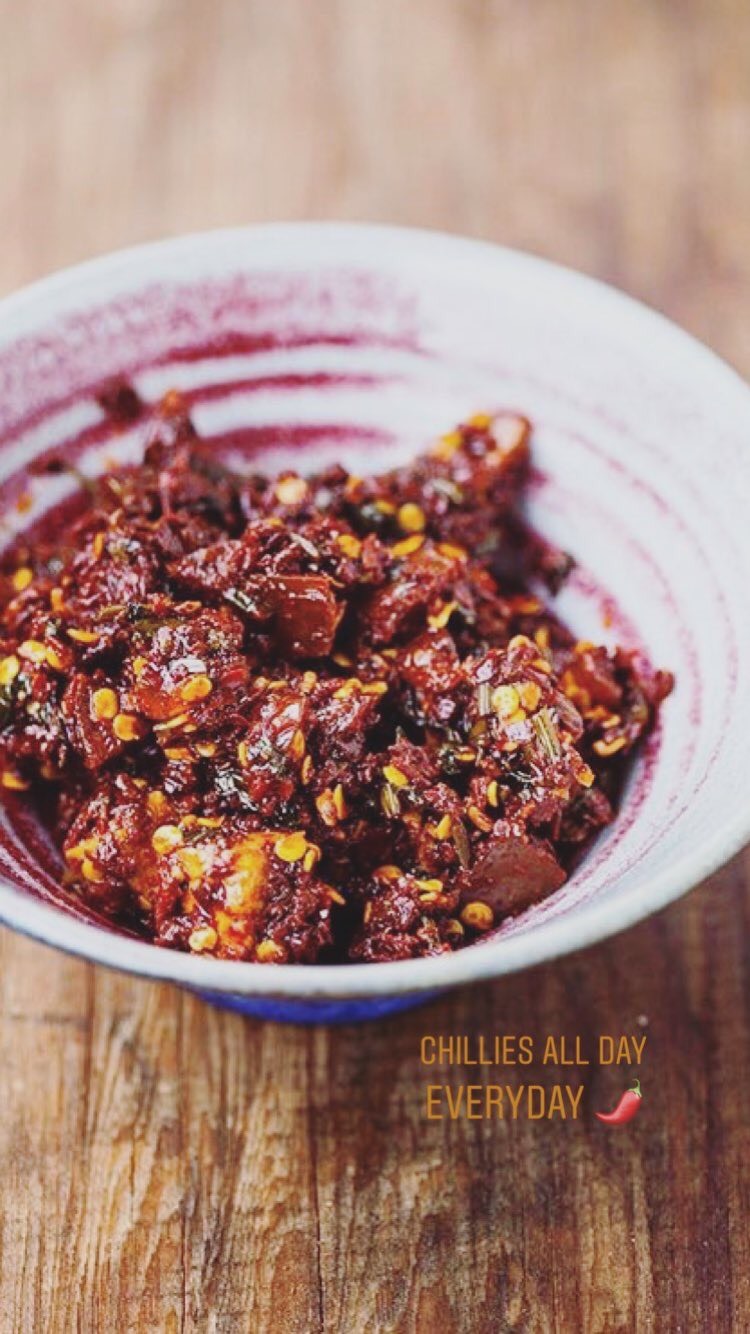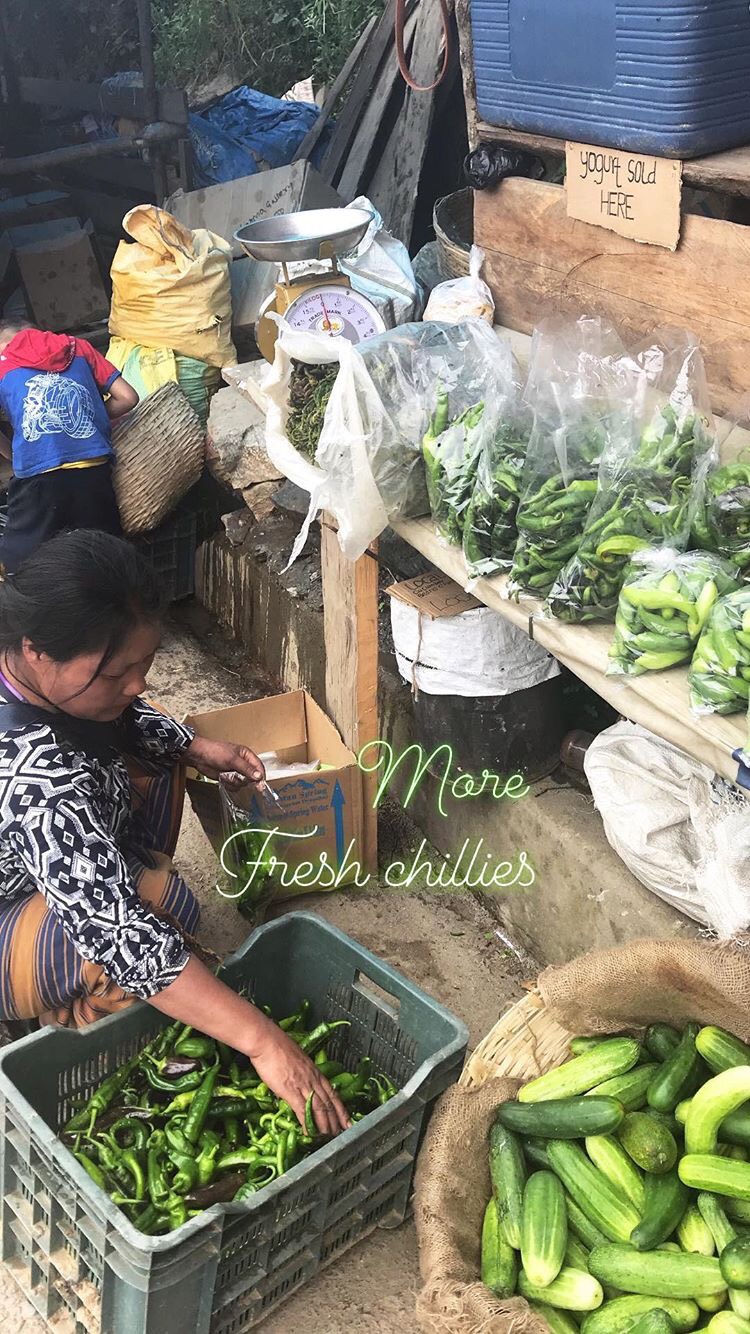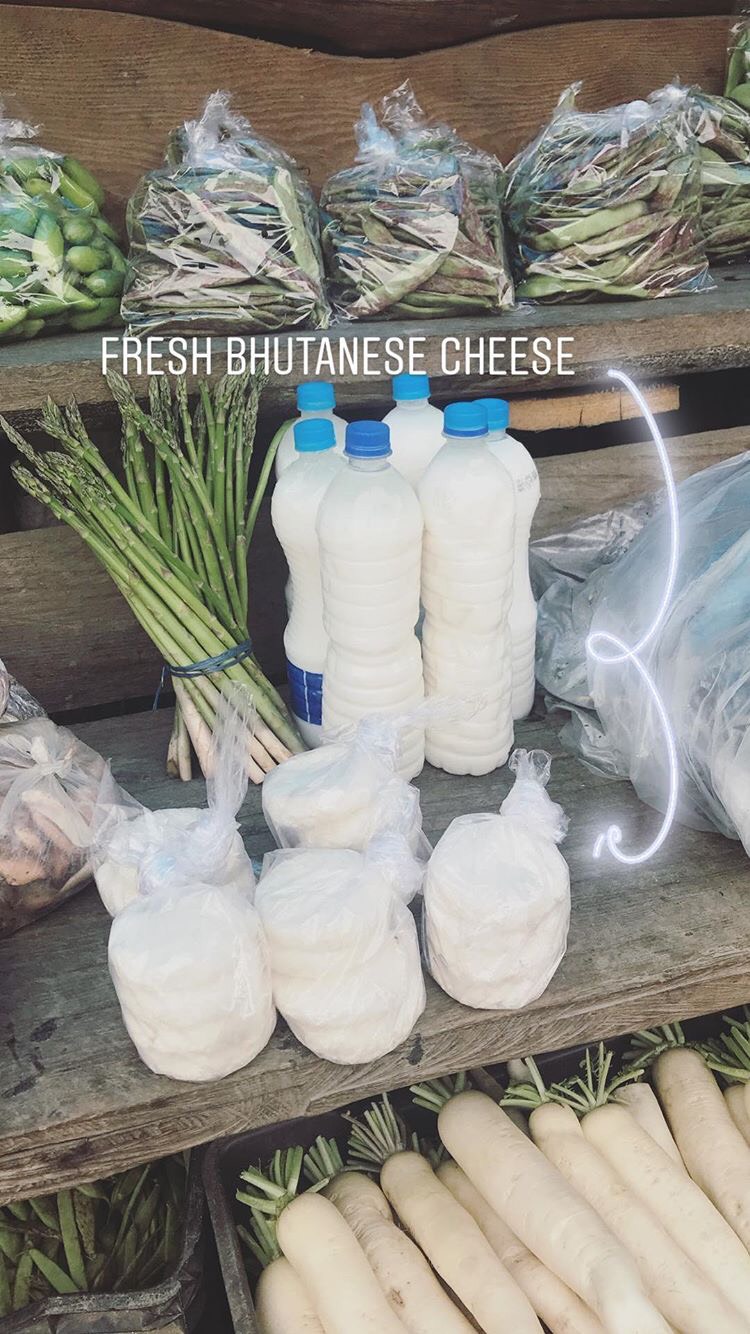 What to drink: Butter tea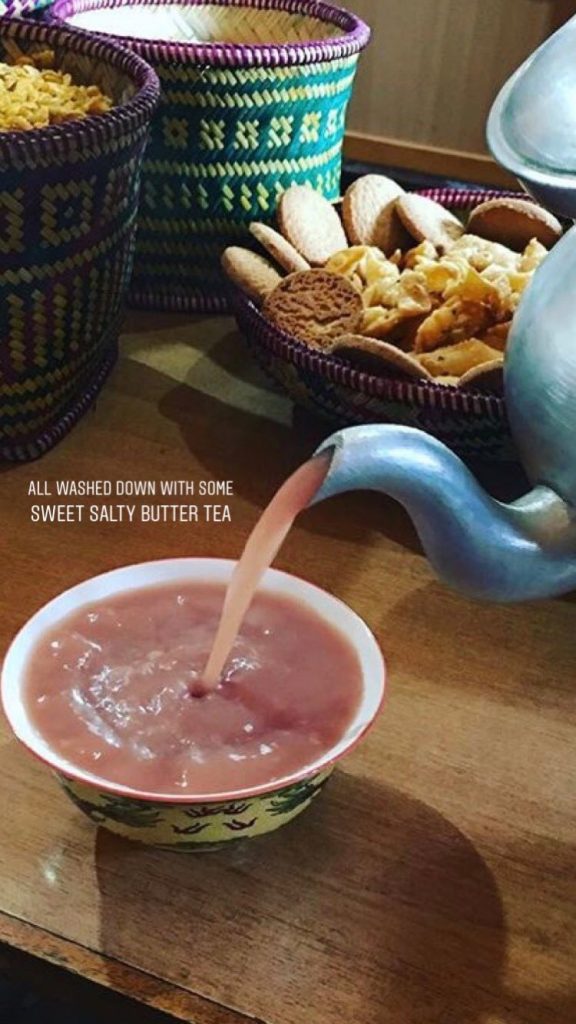 Also called po cha, butter tea is a common drink among people in the Himalayan regions. It is made using tea leaves, yak butter, water, and salt. Although oftentimes butter made from cow's milk is also used.
Butter tea is a part of Tibetan life, and is also always served to guests.
Some basic butter tea etiquette, according to Tibetan tradition: Drink the tea in sips. After each sip the host will refill the bowl to the brim. If you don't want to drink, just leave the tea untouched until it's time for you to leave; then you can drain the cup/bowl.
Remember: Enjoy the journey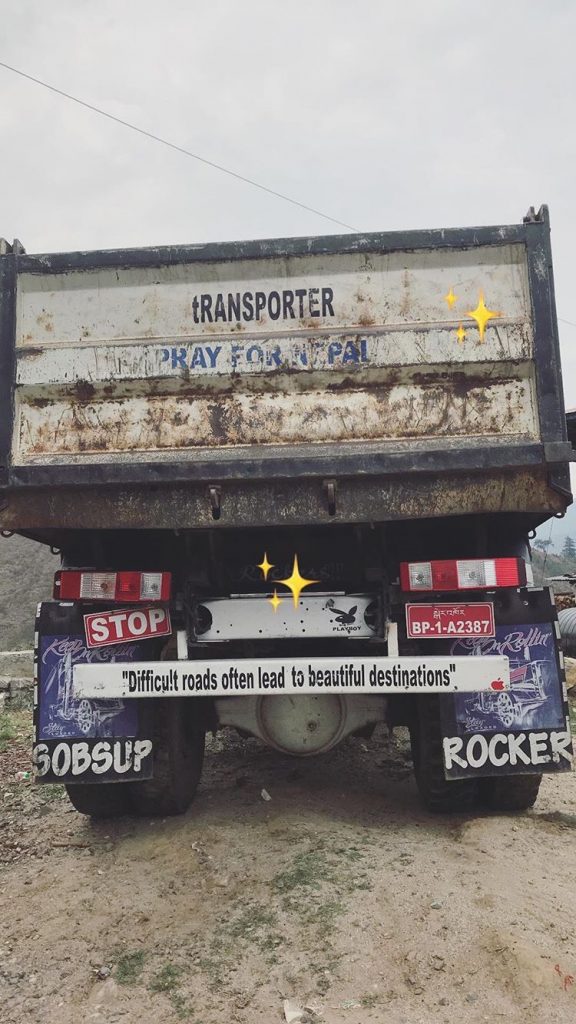 The most important thing, once you find yourself standing in the mystical land of Bhutan, is to enjoy it. Don't worry about the cost, or the hike. It's not every day you'll be there, after all. And as tempting as it is to document every single moment there, be sure you're fully present to experience it, too.
Don't miss moments like this: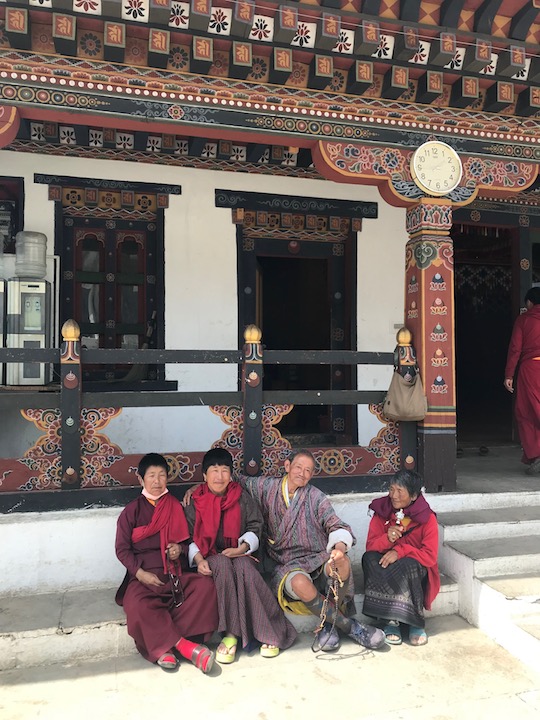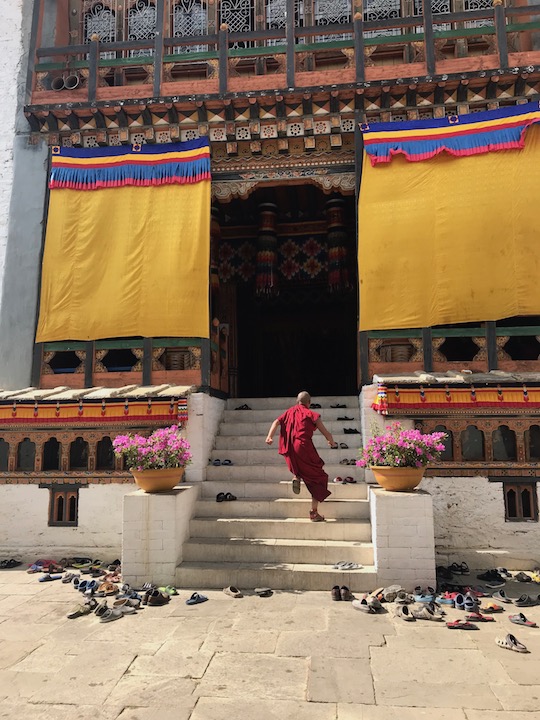 Photos courtesy of Sandra Soriano
Read more:
Want the Philippines to progress? Look at Bhutan
TAGS: Bhutan bhutan tours bhutan travel fixture how to travel to bhutan nolisoli nolisoli.ph sandra soriano tourism travel what to do in bhutan where to go in bhutan