For most Filipinos, the idea of traveling abroad seems like a once in a lifetime chance to see the world outside of our native land. This is why many save up or wait patiently for airline ticket promos to afford traveling abroad. But what if your hard-earned international trip turns into a nightmare?
This is what exactly happened to three first-time Filipina tourists who were looking to experience what it's like in Hong Kong but were denied access and sent home by the immigration officers.
Worst nightmare
Grace Ann Bartolome, one of the three women, can't believe what happened to them, which she considered something straight out of a television show. She wondered why they were singled out of the hundreds of people in the airport that unfateful day. She even joked that it must have been their overjoyed faces that led to their demise.
Bartolome, in a Facebook post, said it all started when they landed in the airport where a man in a blue uniform printed with the word "immigration" on it approached them. They were asked standard questions like whether it was their first time in Hong Kong to which they answered yes, politely, as to every other question thrown at them.
The man asked them to follow him to what looked like an office where they were asked more questions and pressed for supporting documents which they willingly presented. This took some time according to Bartolome, who along with her two best friends were later escorted to a much bigger office where the real nightmare began.
Shattered plans
Much to their dismay, the officers told them they were no longer going to see Hong Kong. They were asked to sign documents which state that they agree to the decision. This is where they started to break down in tears thinking of their shattered plans, all the while begging the officers to let them go. All they heard from them were the words "Sorry pretty ladies but our decision is final."
They were told that they are to board the 7 p.m. flight back to Manila, but instead of using their previously bought round-trip tickets, they are to book new ones straight out of their own pockets.
When asked why they were denied entrance to Hong Kong, the officers said nothing and simply left them in a room where they stayed for almost 10 hours before they boarded for Manila.
Despite being traumatized by what happened, Bartolome said they were thankful that they were at least brought home safely. Towards the end of her post she jokingly said not to get near any airport personnel who wears a blue polo.
Why were they denied entry to Hong Kong?
After taking to Facebook, Bartolome's post received thousands of comments from users who are equally puzzled about their circumstance. Some were quick to assure the ladies that they were simply victimized by Hong Kong's strict immigration rules; while others presented their theories as to why Bartolome and her friends were denied.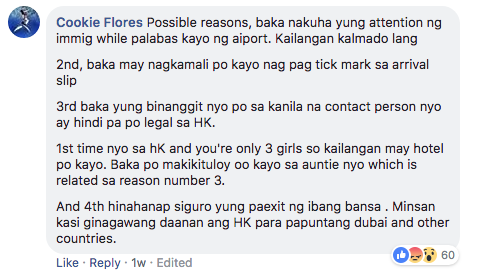 Some pointed out that they were singled out probably because they mentioned a relative picking them up from the airport. There were alleged instances where tourists turn out to be jobseekers or are using HK as an entry point to Middle Eastern countries.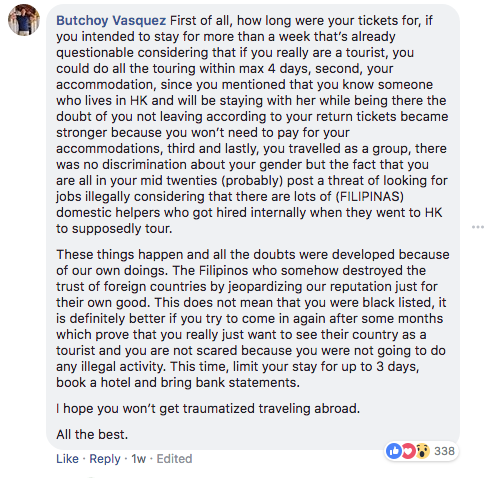 In connection to this, other users also suggested that it might have been better had they booked hotel accommodations instead of divulging that they will be staying with a relative who may or may not be a legal resident.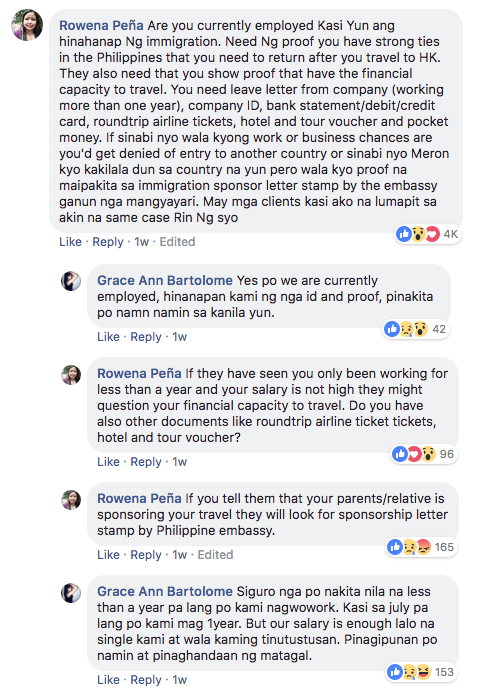 One user, in particular, advised Bartolome that in their succeeding trips best to secure documents from their employers as well as bank statements to convince immigration that you are only staying for a short period of time and will eventually come back home where you have a stable source of income.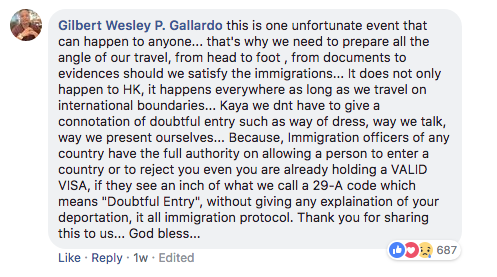 A former airport employee assured the ladies that this is not an isolated case and that it can, in fact, happen in any airport and to anyone. He even explained that certain protocols are observed and that they may have been flagged as a 29-A code meaning "Doubtful Entry."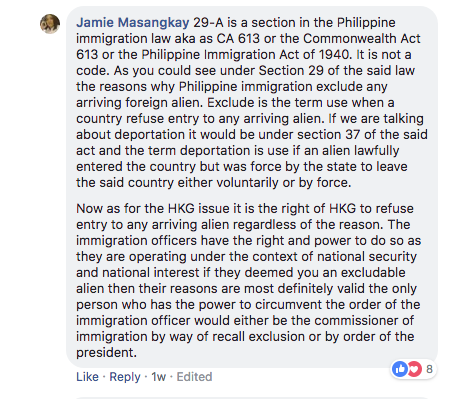 Another user even cited the Philippine Immigration Law which sheds light on some related issues. The Facebook user also emphasized that it is in the power of Hong Kong immigration to deny access to "aliens" as long as it is justified under the context of national security and safety.
Have you experienced a similar scenario? Let us know your thoughts on the issue.
Get more stories like this by subscribing to our weekly newsletter here.
Photo courtesy of Grace Anne Bartolome on Facebook
Read more:
What happens when someone dies in the middle of a flight?
We're calling it: Cebu's new "resort airport" will be the world's next favorite
NAIA will have new terminal assignments starting Aug. 31
Writer: CHRISTIAN SAN JOSE