Fashion designers parade inabel weaves in pop up exhibit
Get to know inabel fabric well on Sept. 21 to 23
Sep 17, 2018
It's time to take it slow. And by slow, we mean slow fashion. The fast and high-stress culture in the metro overshadows the intricate things in life. With the culture of modernization and industrialization at its peak, we often look past the fact that we live in a country with a rich cultural identity. We settle easily for factory-made products, often seeing most of our traditions and heritage as emblems kept within museums, instead of a culture that can still be efficiently used in our lives.
To show how our traditions can be instilled in this contemporary and fast-paced setting, local designers have begun a line of works made of inabel, a traditional handwoven fabric done on ancient looms by women from northern provinces of the Philippines. Otto Sacramento of Ottomondi, Niña Corpuz of Niña Inabel, and Edgar Madamba, representing his titular design label, will display their pieces in the exhibit "Pinto x Aura: Inabel." It will run from Sept. 21 to 23 at the Upper Ground Floor (in front of the Uniqlo store) of SM Aura, Taguig City.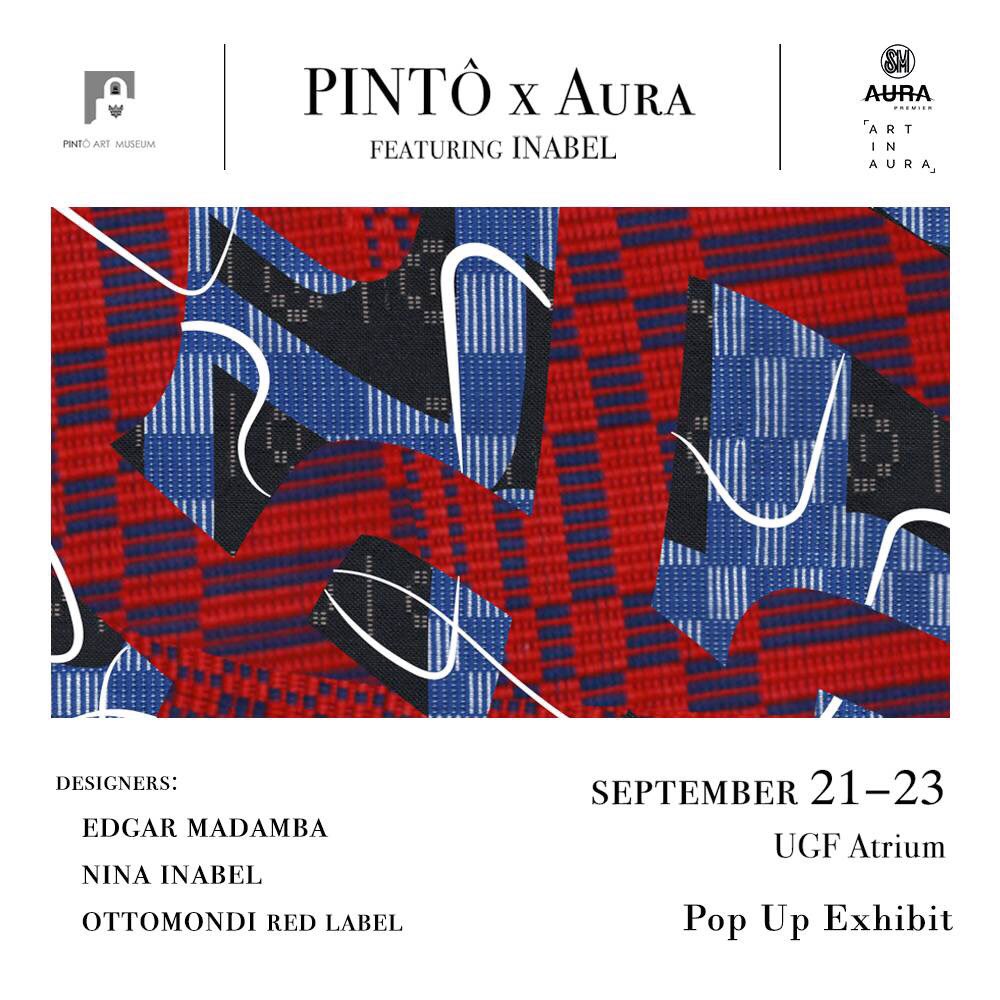 Co-presented by Pinto Art Museum and SM Aura Premier, the upcoming exhibit does not only aim to educate people on traditional weavers and inabel but also introduce the concept of sustainable fashion to the market. We cannot rely on factory-made products all our lives, especially when we have these sustainable—and not to mention more creative—options.
Most of the designs to be exhibited are fit for casual attires. As stated by Pinto Art Museum founder Joven Cuanang, the fabric will be reintroduced as "wearable in high fashion as well as for daily wear." Cuanang, who has hosted and produced previous fashion shows and exhibit that feature inabel, is in hopes that the exhibit will increase the demand for cotton farming and inabel weaving. It could bring great improvement to the economies of rural communities.
Instead of diving into factory-made products immediately, let's recognize the talent and efforts of our fellow Filipinos.  To say that weaving is challenging would be an understatement. Aside from the intricate efforts needed to be applied in making each strand, the demand for handcrafted products have also unfortunately dropped over the years. It's time we revive these traditions and inculcate it into our daily lives.
Header image courtesy of Inquirer.net
Read more:
Self-taught local designer makes painstakingly intricate bag
Glorietta store sells sustainable clothes for P100 to P500
This new activewear line blends fashion and function
Read more by Amierielle Anne Bulan:
Help fight child malnutrition by dining in restos that "feed more"
TAGS: Community designer exhibit fashion Inabel nolisoliph rural